A recent youth movement has Ireland aiming for new heights.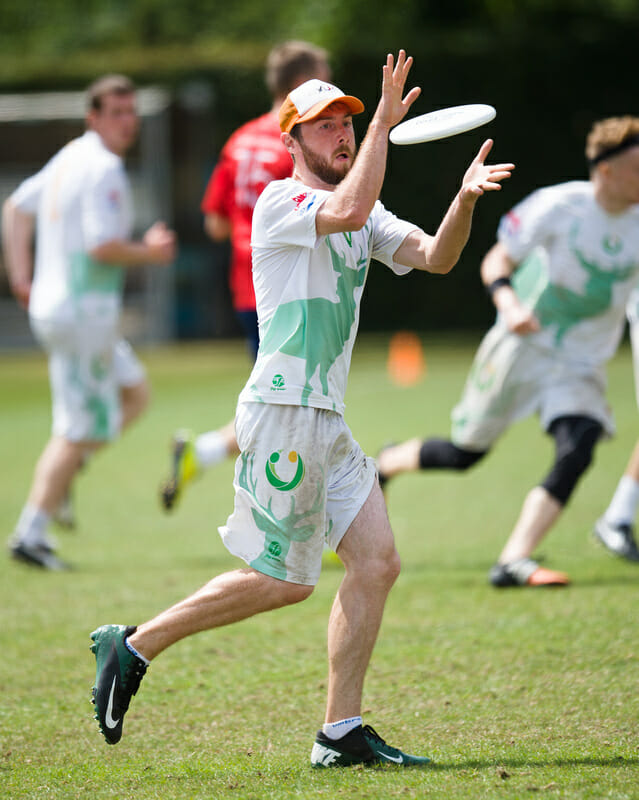 There is a storm building in Europe — spinning in the streets of Salzburg, ploughing across French fields, and lurking in Swedish parks — and it's heading straight for London. With WUGC nearly upon us, it is time to learn a bit more about some of the men's teams who will be competing in England next week, squaring off against the best the world has to offer.
From Spirited Fun To Competitive Fire
From the Giants in the north to the southern Banshees and every Fairy Fort in between, Ireland has always been a spiritual place. Irish ultimate reflects those roots through their conduct on the pitch. Ireland have won multiple spirit awards across all divisions and age groups internationally; their Men's team in particular have won the Spirit award at every WUGC they have attended. For most of Irish ultimate's existence, that was their crowning trait: show up, have fun, and make friends. However in recent years, Irish teams have experienced unprecedented success at Mixed and U23 levels. This success coupled with the ever-improving junior system is changing Irish ultimate's perspective, and propagating a new type of faith.
Ireland didn't attend Worlds four years ago in Sakai, and in the intervening years, the Men's team fell somewhat into the background of focus domestically. Most of the country's attention was drawn to either the various youth divisions or Mixed. The results were quite impressive. The past five years has seen a huge improvement in both the infrastructure and execution of youth programs throughout the country. This is helping to raise the national standard by providing the new generation of players with more opportunities than were previously available. The success of these programs manifested itself on the international stage with the U20's earning Ireland its highest ever finish in a World Championship Open division, coming in ninth in 2014 — only to be surpassed by the U23's coming in eighth the following year.
The Open club scene also benefited from this development of young players, as new clubs sprouted up around the country while old clubs found themselves reinvigorated with fresh talent and opposition. Mixed competition also rose to prominence during this time, a development that started in the Beach division and was carried on through U23's to the senior level at Euro's last year where the Irish managed an impressive Silver medal.
All of this success has had a philosophical effect on the Irish ultimate community. Once appearances at international events were a novelty — a nice week away, where you get to see some of the best ultimate available and enjoy the odd competitive game amid the sound beatings. Now the culture has changed and ambition is rising in Irish hearts, driven by the various contingents that have tasted success internationally and are hungry for more. A new type of spirit is developing; the fighting kind that has seen Irish underdogs upset the odds time and again throughout history. No matter the situation the Irish always think they can score the next point. Team captain Dónal Murray said: "Once that comes, a freight train of Irish belief comes soon after."
But belief is not enough, it must be coupled with action. Ireland has been hard at work this last year to install a more professional system. The IFDA (Irish Flying Disc Association) is looking to tie down the calendar as early as possible, allowing for players to better plan their real lives around ultimate. The IFDA follows the typical European model of appointing national squad leadership annually. The first trials were held in October to establish a training squad that was whittled down over the winter and ultimately ending in a final squad of 26 players in January. This is the largest Irish Men' team ever, a response to the previous incarnations' difficulties with injuries and drop-outs, as well as a testament to the expanding player base on the island.
When it comes to managing these players, the leadership is relinquishing some rigidity from previous years. Players are advised on the ideal fitness and throwing regimens on a personal level. The team is split into several small groups that are encouraged to lean on and push each other. The unprecedented squad size also means players have more time to rest recurring minor injuries and ensure they reach London in peak physical condition. Through this conscious practice Ireland Open are ensuring their squad arrives in London as competitive and spirited as ever.
Players To Watch
John Doherty
Commonly referred to as an "engine with legs," Doherty simply does not stop. If it is running defenders ragged on offense or making opponents appear deceptively open for deep shots, Doherty seemingly never tires. A definitive power in the air, he also has the ability to put full-field throws with a swiftness that defies physics.
Ian French
Longstanding architect of some of Ireland's most beautiful offenses, Ian 'Frenchie' French is a hallmark of Irish national teams. He was at the forefront of Ireland's advancements in the Mixed division over the past four years but has now returned his attention to Open competition. Machine-precise throws and stunning footwork means he always seems to get where he wants and you never seem to know where that is.
Barry Walsh
Former national MVP and critical member of Ireland's previous two U23 Open teams, Walsh is relentless. He embodies both sides of Ireland's Spirit. Regularly one of the loudest supporters on the sideline and calmest voices on the pitch he gives everything to the point he is playing. Walsh has built his reputation on big Ds and warm smiles.
What To Expect
This Irish team has not had much experience playing together. As such, their approach towards team spirit is yet to truly face the inquisition of international ultimate. Despite this, early forays into Europe have proven positive. A hard fought third place finish at the Confederations Cup shows that they are definitely a threat to the other mid-table European teams. At Windmill Windup two weeks ago, the Irish celebrated a confirmation of their newfound faith when they cast down historical overshadowers Great Britain in the quarterfinals. While beating the current European champions was a revelatory experience akin to a burning bush, the surprise result of the tournament was swiftly tempered by a tough loss to France in the semis. This reveals the dichotomy of Ireland's potential: at times they can beat the best, at times they can slip back into old habits.
Despite the disappointment of knocking out the top seeds only to lose the next game, the overall impact of Ireland's time in Amsterdam was positive. Confidence is slowly growing in the Irish camps and should it be allowed build to a crescendo in London, it will be an undeniable experience. The Irish may have spent an eternity looking up at the stars, now they are starting to reach for them.