A Season Ruined, A Year Of Redemption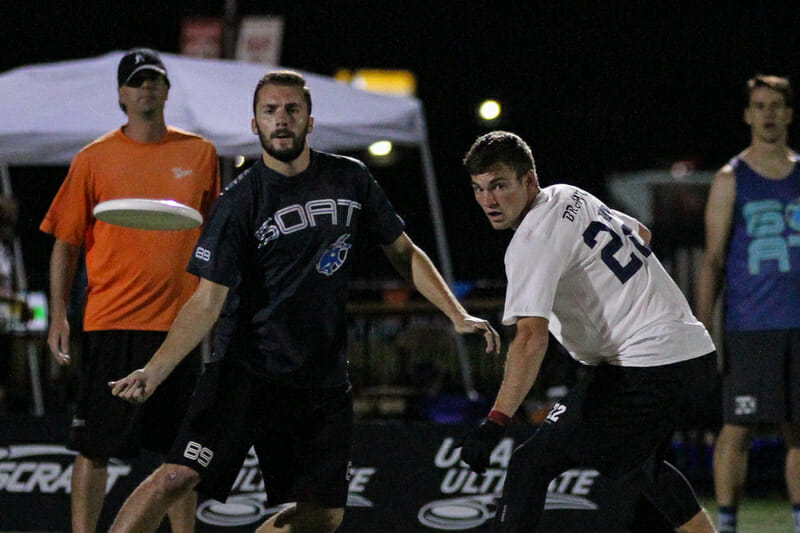 The article is presented by Nike Ultimate Camps; all opinions are those of the author. Please support the brands that make Ultiworld possible and participate in Nike Ultimate Camps!
Mark Lloyd scored his first point of the 2016 Toronto Rush campaign in the most benign of plays: cut deep, run down a half-field backhand huck, goal. But for Lloyd, and the people who know Lloyd's journey, that wasn't just a score. It was confirmation that he had made it back.
Watching the highlights from that May 1 matchup against the Ottawa Outlaws on a gray, chilly day, you will also see him throw his hands up after catching his breath. That score1 put the Rush up 20-11, so why celebrate? Because Mark Lloyd's newly-repaired right knee ACL helped him reach that disc in the end zone.
The Layup
Mark Lloyd has been a staple of the Toronto ultimate scene for years, but the sport that did him in for the 2015 season with the Rush — and subsequently with GOAT — was basketball. A rec league basketball game to be precise. In a semifinal matchup between GOAT and GOAT Alumni, Lloyd grabbed a rebound in the dying minutes of the game, went up for a put-back layup, and it happened. Lloyd says he landed from that off-balance jump straight-legged, and his knee buckled. He did not hear the classic "pop" sound associated with an ACL tear, but Mark worried something was wrong. He saw a doctor, and after manual manipulation, it was determined that his knee was alright.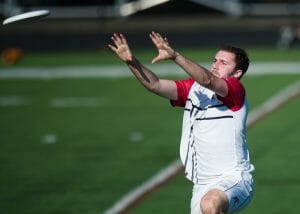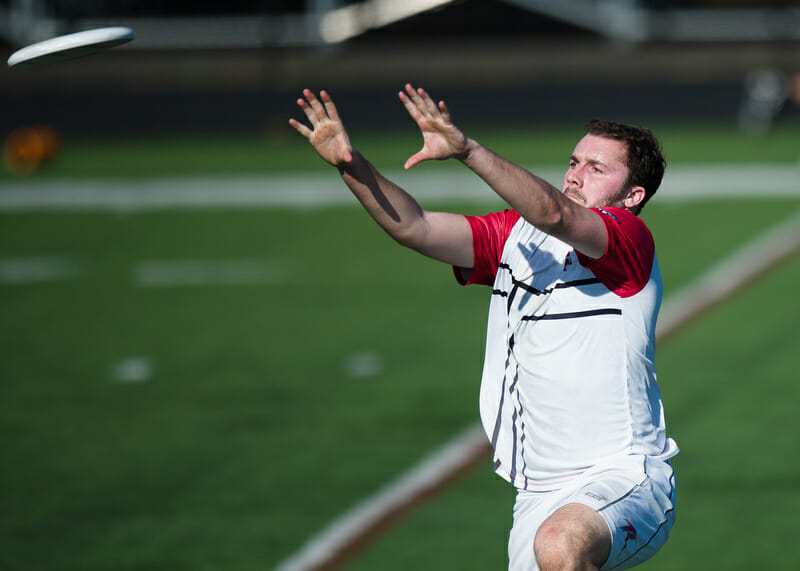 A few days later, Lloyd was with his Rush teammates warming up for a matchup against the Outlaws, when it finally tore all the way. Lloyd set up one of his incisive cuts with a hard plant, he hyper-extended his knee, and that was it. Lloyd says he knew right away.
"I knew it wasn't going to be ideal," he said last month. "But for the sake of my teammates I didn't want it to be focused on too much." He didn't play a second against Ottawa that day, instead he headed south of the border, to Buffalo, to get an MRI for his knee.
Lloyd drove himself to Buffalo after the injury, which he admits now was "maybe a mistake." In talking about the drive from Toronto to Buffalo, Lloyd remembers distinctly hoping that maybe he'd be playing in a brace by the end of the season. When the news came about the severity of the injury, the bargaining stage of depression took full hold. "I'm proud of the composure I held," Lloyd says. "Obviously I was upset, but I was trying to talk about options that weren't surgery. It was a big summer."
The summer of 2015 for Mark Lloyd had a lot on the horizon. Canadian Nationals were being played in his hometown of Winnipeg, and Lloyd's Toronto GOAT team was set to go on a redemption tour. GOAT lost the 2011 Canadian national finals to Vancouver's Furious George and in 2015 they were primed for a run back to the title game. Beyond that, GOAT was gearing up for another run at USAU Club Nationals after losing to eventual 2014 National Champions, Denver Johnny Bravo, in the semifinals the year before.
"[The injury] meant I was losing not just a season," Lloyd recalls, as he processed the news of his injury, "but also a big personal moment for my career [in ultimate]." He had a strong visualization of how that year was going to go, and became teary-eyed thinking about the implications of his ACL that now lay in tatters.
He then sent an email he never wanted to type, letting his teammates know he was done for the year. He also posted the news on Facebook, after an MRI showed there was a 90-100% chance he would need surgery.

Canadian Universal Healthcare For The Uninitiated
For Canadians, universal healthcare is part of life, and can be a huge benefit. But for a determined Mark Lloyd, that system was going to take too long for him to have a chance to get back on the field in 2016.
"You have your family doctor, who you have to go through to get a referral to a surgeon at a hospital," Lloyd explained. "Going through this multi-step process just to be able to meet with a surgeon was going to take weeks. After meeting with a surgeon, scheduling the actual procedure would take another three to four MONTHS. Add on that the expected recovery time of six months to a year, and you've effectively missed another season of ultimate. There are ways to expedite the process, if you have connections to doctors within the Canadian health system."
For Lloyd, there were no such connections.
He instead sought help from his father, Robert Lloyd, who works at Cisco in the Bay Area, and who helped form the Rush with Mark and Robert's brother Jim. Robert had connections to Stanford Medical Center, just up the road from his home in Saratoga, California. Mark Lloyd was able to enlist the services of a doctor who oversaw all the knees on the US Ski Team. After a brief consultation, surgery was scheduled for July 23, 2015.
Return To The Rush
Since it would be a few weeks before Lloyd went in for surgery, he returned to work with his Rush teammates in a coaching role, and was even able to do some light running and warm-ups. Lloyd says he was not pushing too hard on the knee, but said, "I wanted to milk the month and a half for what it was, and try to keep the muscles around my knee strong before surgery."
Lloyd's role in coaching the Rush was not his first foray into the world of team management. He had previously coached Canadian Juniors, as well as at the high school level. Lloyd added, however, that coaching his peers while standing on the sidelines helped him develop his leadership skills, and said the experience helped him change how he communicated to the players, adding, "It's easier to preach when I can do it." Lloyd said the time on the sideline helped him to learn how to lead in a new way.
The surgery on Lloyd's wrecked knee took place the week before AUDL Championship weekend in San Jose. He says the procedure went as well as it could have, but it left him immobile. He was excited for the weekend to come, and had high hopes for the team, who were entering the weekend as the top overall seed in the playoffs. But without one of their key players suiting up for the competition, the Rush lost to the eventual champions, San Jose Spiders, in the semifinal round.
It was tough for Lloyd to watch; he spent the day on the sideline, nearly unable to move due to the swelling and pain after surgery. He talks wistfully of his team's performance: "If I was playing, or we had played better, we could have won." The game ended 25-20 in favor of San Jose, and Lloyd laments not being able to participate in that weekend the same way his teammates did, even though they lost.
The one takeaway, as far as he is concerned, is what that loss taught the team heading into 2016. Lloyd expects the team will have learned from the experience, and so far this year, his 10-2 Rush look primed to push for another run to Championship weekend.
2015 GOAT: Revenge And Disappointment
The summer of 2015 for Mark Lloyd was about halfway through. After the Rush's season came to its disappointing end, Lloyd had to stick around in California for another week — flying so soon after surgery would have opened him up to the risk of blood clots forming while in the air. Lloyd impatiently waited out the time, anxious to rush back to Winnipeg for Canadian Nationals — and GOAT's triumphant return.
In 2015, GOAT was returning a core of players who had been playing together since the team lost so painfully to Furious George in 2011, the last time the national championship earned the victor a bid to compete at Worlds. Lloyd's usefulness as a coach was diminished with GOAT compared to the Rush, because so many of the guys on the team had played together for so long, and their chemistry was already well-established. Still, Toronto cruised through pool and bracket play, making it back to the final and earning another crack against Vancouver.
"I was a bundle of nerves," Lloyd remembers, with a tinge of nervous laughter still in his voice. He said his main effort for that game was to help keep the team focused on the task at hand, he didn't need to remind them of the moment they were in, just "minor tweaks." GOAT, without Lloyd on the field playing, beat Furious George 15-13 to take back the title of Canada's Best.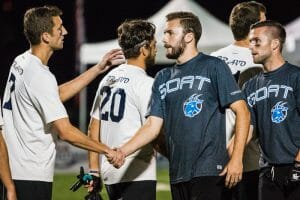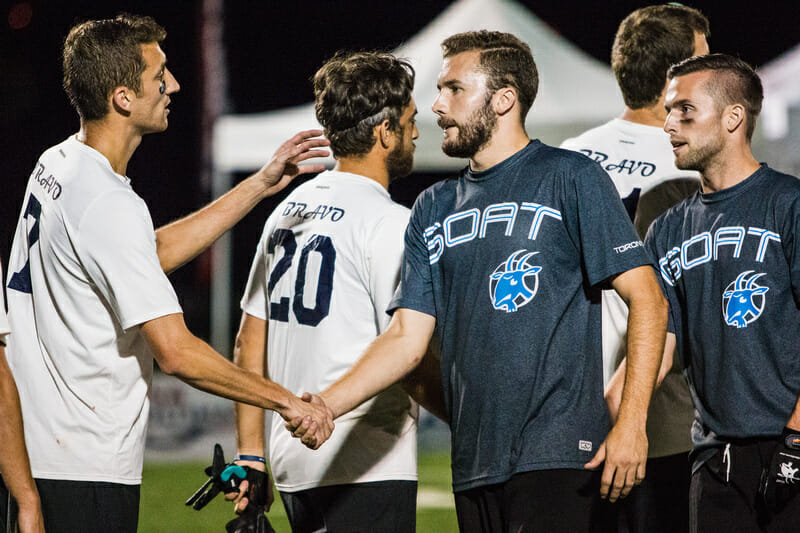 Just a couple months later, however, GOAT's lofty aspirations to make a run at USAU Club Nationals, were met with disappointment. At Northeast Regionals, GOAT made it to the championship game, losing to eventual National semifinalist Ironside 15-12. Lloyd was no longer with the team as they competed in the USAU Series, but followed closely as they qualified for Nationals, only to crash out in prequarters against Doublewide.
While his teammates were tasting defeat in Texas, Lloyd spent the fall not only focusing on his rehab, but also already looking towards his return to GOAT in 2016, taking stock of the pieces the team had in 2015, and where they could build. Lloyd remarks on the team's season, "It was a year where we had a lot happen," though he still believes "we're always capable of beating any team." But 2015 was not their year.
Perspective In Recovery
The moment Mark Lloyd found out definitively that he tore his ACL and needed to get surgery, the decision he says came with a certain relief. "Once you find out your ACL is torn, you're upset, but there's relief. When you don't know, you're more anxious."
Lloyd felt a similar relief after coming out of surgery. "I kept waiting to feel worse," he remembers. This was the beginning of his recovery, the time for him to rebuild the strength in his knee that he's relied on his whole life. Lloyd remembers feeling angry about the situation he was in, but said it was just moments, never taking hold.
"ACL [surgery] recovery is all about perspective," Lloyd opines. His method was to break his recovery into manageable chunks; first it was surgery, then it was standing, then walking in pain. Lloyd would continue to remind himself in moments of quiet reflection, "I'm here now, where was I two weeks ago?" Progress was steady, with few setbacks, and Lloyd says he even hit some of his goals early.
"The first two months [after surgery] were amazing," Lloyd said, but paused, and thought about the trajectory of his recovery.
At two and a half months, he was running again, two weeks ahead of the three month track he was on. A true Canadian, he was already looking forward to being strong enough to get back onto the ice to play hockey in winter. But from that point through the next four months, his recovery slowed. Lloyd says it was slower not because of variations in his physical therapy, but rather his body stopped responding in the way he was expecting.
From months six through eight, his movements would begin to pick up again, and he made bigger and bigger gains. He even played a couple of half-speed points at a spring tournament in Las Vegas. As anyone who has returned from an ACL tear will tell you, that moment — your first point back on an ultimate field — is a seminal point in recovery. Lloyd was playing with a knee brace on, went to make a cut, planted on the knee, and survived!
He remembers what changed in that moment. He recalled that the cut was not as sharp or as quick as moves he used to make, saying it was not the pain, but his mental state that caused the hesitation.
Building Team Canada
A big motivation for Lloyd and his recovery was not just walking back onto the Rush in 2016 or being prepared for the US Club series with GOAT, but playing for Team Canada at WUGC in London. As per Ultimate Canada rules, the 2015 CUC Champions (GOAT) were given the honor of picking this year's team and Lloyd was one of a few players working across the country to put together the team. Other members of the committee were Scott Hastie (GOAT head coach), Jeff Lindquist, and Derek Alexander, with Kevin Underhill of Furious George also representing.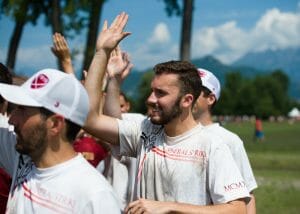 When picking the team, at least for tryouts, Lloyd says in addition to on-field quality, they were looking for the right attitudes. As a leadership group, they were focused on building a team culture, looking for a system that all players could buy into, and how the team should act. They even looked at poaching ideas from other successful teams, mentioning Mike Payne's Revolver culture of IHD (Intensity, Humility, Discipline).
One aspect he thought was essential was that the players should decide how this culture was applied. Lloyd talked about building the team as a unit, "This is Team Canada, we're not adding pieces [to GOAT's roster], we're creating a team together, nobody's in as a 'pickup' player."
The team was also built with a focus on Spirit, building a "Spirit Plan" that can be implemented in the heat of competition, as confrontational situations arise. Lloyd praised the team's efforts leading up to WUGC, saying the team was fun and laid back. He felt they were ready.
Stepping Back Onto The Line
Mark Lloyd's return to the Rush in 2016 was about as successful as you can hope for. A run-through D on the first point he played, making strong cuts, distributing the disc, and even running down that half-field huck for a score, all against the Ottawa Outlaws during Toronto's home-opening weekend. Lloyd talks about scoring that goal against Ottawa, saying, "I never celebrate goals, but that was a personal celebration that I had made it back."
As the season has progressed, Lloyd is playing more and more points, logging 22 versus the Empire on May 14th, a year after the injury that took twelve full months off his playing prime.
Lloyd, the true professional, goes back and watches tape, comparing it to 2015. Watching himself in 2016, he says frustratingly, "I found things I'm not doing like I would before." He believes the mistakes he's making this year are due to his mentality, something he has not had to worry about before. "I always felt I had a strong mental game," Lloyd remarks. "The mistakes are because I'm thinking, not playing. I'm still working through the mental game, but I'm getting there."
One of the biggest takeaways Lloyd harks back to is the perspective that the ACL tear gave him, "[ACL] surgery teaches process," he says.
The ultimate question for him though was this: "Do you trust your knee?"
"I do. But, I trusted it before."
Mark and Team Canada take on the USA in the semifinals of WUGC 2016 today at 12:30 Eastern Time. Watch the game live here.
Want to be part of the next generation of great Canadian players? The Nike Ultimate Camp Toronto will be held at Havergal College July 11-15.
---
At 1:03:45 of the video linked above ↩