A wild back-and-forth game set the tone for the 2016 season.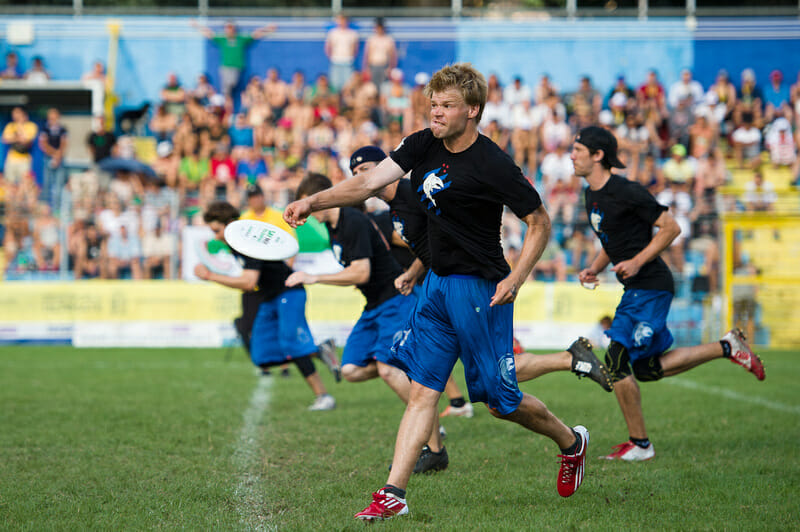 This post is presented by Disc Store. All opinions are those of the author; please support the brands that make Ultiworld possible and shop at Disc Store!
KINGSTON, RI — It's rare that a matchup with as much hype as San Francisco Revolver vs. Seattle Sockeye lives up to the billing, but these two teams delivered an instant classic today at the US Open with Sockeye edging out the defending champions from the Bay on double game point, 16-15. It was the kind of game that demonstrated how a rivalry can bring out the competitive instinct in teams even in early July, with little on the line other than pride in your team and your city.
"We try to not think about who we are playing, and focus on ourselves but it can be hard when you're playing a team like Revolver," said Sockeye captain Reid Koss. "We know what we're getting from them, and it can be one of the best challenges you get."
The game began on an inauspicious note for Seattle, as their O-line turned the disc right off the bat when Zane Rankin threw into a poach. Revolver moved the disc quickly up the break side preventing Sockeye from ever establishing a mark, and Jordan Marcy goal gave Revolver the early lead.
Seattle would quickly change the narrative, however, getting a quick hold after Justin Lim beat his man deep. A few throws later, Mario O'Brien found Donnie Clark at the front cone for a goal. The Seattle defense went to work after that hold point, piling on three straight breaks that left Revolver searching for answers.
"Part of it was execution errors," said Nathan White. "But there is other stuff we can improve on, sets we can work on to generate better, open looks."
Revolver responded to bring the score to 4-2 initiating from a vert stack and using the width of the field, with Joel Schlachet hauling in a nice over the top flick to the break side for the goal.
Totally unfazed, Sockeye came out in a horizontal stack, and Simon Montague put a perfect flick to Matt Rehder who created acres of space on a powerful juke cut. That combination will certainly be something Sockeye is hoping to utilize over the course of the season.
Seattle, famous for their small ball movement, will kill teams that can't hold the force. Revolver knew this, and for much of the game forced them to operate in the deep space. All weekend, Seattle had been putting it deep, and not necessarily by choice, as we saw more hucks from a standstill than normal from a team that usually thrives off of movement.
More often than not, though, Sockeye found success with their hucks, particularly the shots coming from offseason pickup Montague. He had his fair share of turnovers, but his ability to stretch the field with his throws was crucial for Sockeye. The Seattle leadership told him to keep on shooting, even when the going got rough in the second half.
"Things started going badly when we tried to force things that were working too well in the first half," said Montague. "But I know that I have some tools that work and I need to have faith in them."
Revolver answered back with a deep shot of their own that kept Revolver within shouting distance when Chris Kosednar placed a perfect backhand huck into the waiting arms of Grant Lindsley to make it 5-3. Kosednar played a great game, and was a rock for Revolver all weekend, one of the only truly consistent performers on a team that was uncharacteristically up and down.
The following point, Revolver came out in a sag, taking away the initial throwing lane from Montague before melting into straight man once the disc was out of the big thrower's hands. He would get it back however, and put a high release backhand break to Matt Rehder. Seattle scored soon after on a layout snag from Justin Lim that gave them a 6-3 lead. Revolver's defense was being aggressive and making plays, but was unable to close down that final inch of space required for a block.
Revolver's offense settled down, finding a rhythm once Eli Kerns started putting flicks into the break space for Simon Higgins to chase down.
With the score 7-5, Revolver defense switched to a flick force and were able to get a block when Greg Cohen laid out to stop an inside flick break from Phil Murray. Revolver couldn't capitalize on the break opportunity however, as George Stubbs dropped a disc near the endzone and Sockeye scored to take half on a diving catch from Justin Lim.
Revolver's offense started the second half looking shaky, with two turnovers on throws that popped up in the gusty wind that picked up in the second half. Sockeye similarly struggled, and Revolver was able to punch in the hold on their third try after a nice break from Kosednar found Kerns on the break side, and Kerns was able to put an unmarked throw to Higgins for the hold.
With Ashlin Joye stepping down this season, Kerns got the call up and was given the keys to Revolver's offense. Against Sockeye, he demonstrated the talent that earned him his position, notching six assists and a goal in an explosive performance. There was also some room for improvement, with a few turnovers on hucks that didn't have enough touch on them and more than one instance in which he hung onto the disc too long instead of taking an easy option.
"I knew that at some point I would end up in this role," said Kerns after the game. "I definitely thought it would be a few years down the road, but I'm just focusing on distributing. The sets and flow are a little different on the O-line. I need to be cognizant of staying out of the cutters' way until I'm needed as a safety valve."
As Revolver's offense starting to find their groove, Seattle's offense continued to roll. Against a straight up mark, the fish patiently moved the disc side to side until Zane Rankin found Matt Rehder over the top with a nice flick blade that settled into the big target's hands for one of his four goals to give Seattle a 9-6 lead.
Two points later Seattle punched in the first break of the second half. After Josh Wiseman just missed coming down with a layout grab in the endzone, Sockeye worked it straight up the force side, burning the Revolver handler covers for big gashes of yards with Donnie Clark eventually scoring at the force side cone on an assist from Trent Dillon. It gave Seattle an 11-7 lead, and the way the game had been going, seemed to be the end for Revolver.
Teams like Revolver are rarely out of games until the final point is scored, and their fortunes started to turn around on the very next point. Kosednar gave Revolver a hold on a flick that sat up perfectly for Christian Johnson in the endzone, and that score was quickly followed by a break on a searing 50 yard cross field flick from George Stubbs to Seth Reinhardt.
Stubbs was relatively quiet for Revolver, tallying that lone assist as his only positive stat. Perhaps he is still finding his legs, but thus far he certainly hasn't looked like the player he was on Ironside.
Revolver had the chance to add another break on the following point after a huck from Montague to Rehder hung up and Seattle's big man couldn't reel it in over a pile. However, displaying amazing instincts and reactions, Rehder got the disc back almost immediately with a layout handblock and Montague found  Justin Lim in the endzone for Lim's fifth goal, which took the score to 12-9.
After a hold, Revolver would get another break to bring the score within one and turn the drama up a level. Zane Rankin overthrew Lim and Greg Cohen found Sam Kanner in the back of the endzone. On the next possession, Revolver's defense came screaming down the field, showcasing a new level of intensity.
"We know Revolver is always going to be that team that comes out and plays the hardest man D you'll see all year," said Koss. Sockeye felt the brunt of that defense all second half, and Revolver tied the score at 12-12 after suffocating handler defense and imposing poaches in the lane flustered Seattle. That defense forced two turnovers, the second of which was on a block from Zach Travis who then tore downfield for the bookends as he reeled in a fading huck on the break side.
Seattle ceded possession again on a huck, and Revolver was within feet of taking the lead when Mike Caldwell got a heroic layout block in the endzone to reclaim the disc and the momentum for Seattle. Sockeye wouldn't give Revolver another chance on that point, putting in the hold on forehand rip from Murray to Rankin.
Sockeye pulled to Revolver leading 13-12, and madness ensued as one of the wildest sequences of the weekend played out in a few frantic moments.
Christian Johnson took off deep and made a spectacular bid hunting for a goal, only for the disc to bounce off his hands. Johnson's defender Husayn Carnegie picked up the disc and tried to start a fast break, but Johnson scrambled up off the turf and point blocked Carnegie on the goal line.
As the crowd was still trying to figure out what had happened, Sockeye's Spencer Wallis got a second consecutive hand block, and then immediately threw a huck to no one, giving possession back to Revolver. Kosednar tracked back and received the disc, then launched a huck to Lindsley in the back of the endzone, finally ending the point. The whole sequence occurred in less than a minute, and when the dust cleared, the score stood tied at 13-13.
With cap approaching, the teams traded holds until the score reached 15-15 and double game point.  Sockeye received the disc and quickly moved it up the field, with Mario O'Brien, Caldwell, and Montague getting the majority of the touches. As the disc got closer to the endzone Revolver's defense intensified. Sam Kanner and Lucas Dallmann went step for step with Sockeye's handlers in an intricate dance of disc movement on the goal line.
About eight yards out of the endzone, O'Brien found himself trapped on the flick sideline with the stall count rising and delivered a clutch around backhand break out into space on the far side of the field. Montague was able to corral the disc despite the best efforts of a furiously bidding Dallmann and dropped a high release flick perfectly into the pocket of break space that Matt Rehdar cut into for the score and the win.
It was a wild game that featured several emotional swings, often on the same point, but for Sockeye's captain Koss, the secret to Sockeye's ability to weather those swings was simple: "We kept believing in each other. When the game gets crazy, we're going to keep putting the same line out there, because we're going to trust that they are the best players to put points on the board."
Revolver also felt that the game's emotion played a key component, and while they were proud of their second half comeback, they know there is still hard work left to be done this year if they are going to be able to repeat as National champions this fall.
"We did a good job in the second half of taking away their first and second looks, in the first half they got a couple easy ones." said Revolver's defensive stalwart Nathan White. "We still need to take away their third and fourth looks though if we're going to get the job done."
It will be the first time in the Triple Crown Tour era that Revolver will not emerge as champions at the US Open.
After losing two out of the last three National finals to Revolver, Seattle's win today was a chance to exact a little retribution and set the tone for the season to come. We'll see tomorrow if they can keep this momentum going and bring the first crown of the TCT home to the Northwest.