Fun-loving Machine all business on the field.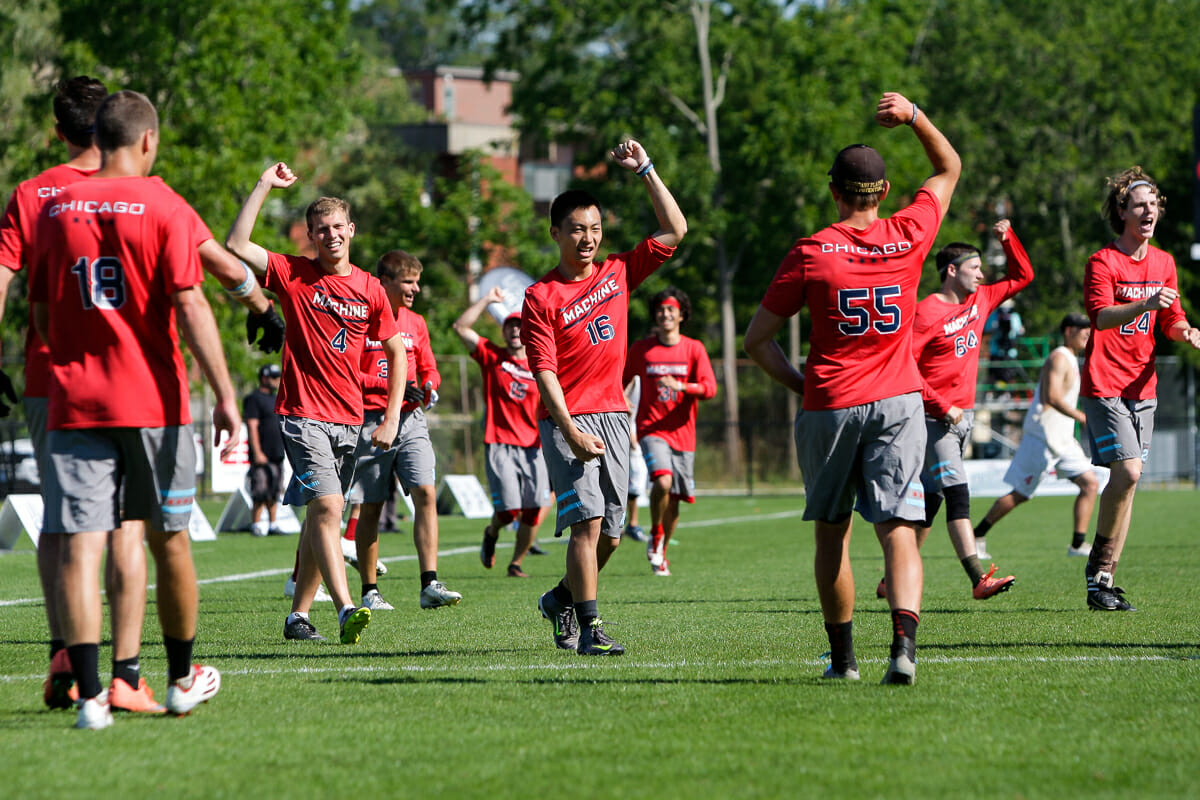 This post is presented by Disc Store. All opinions are those of the author; please support the brands that make Ultiworld possible and shop at Disc Store!
KINGSTON, RI — On a blustery Fourth of July in Rhode Island, the team from the Windy City conquered their opponents and the elements to seize gold at the US Open.
Chicago Machine took down Seattle Sockeye 15-12 in a convincing display of offensive firepower and defensive savvy. Machine joined Slow White and Brute Squad as first time US Open champions, and Sockeye became the third Seattle team to fall in the finals today, ensuring another ignominious 'silver sweep' for the delegation from the Emerald City.
The final act of the US Open has set the stage for a wide open regular season, as Chicago emerged from a final four of historical powerhouses to take the title and position themselves for a year in which they'll hope to improve on their semifinal finish from 2015.
Machine was coming off of a blistering offense performance yesterday evening against Ironside, hitting on everything and not surrendering a break in the second half. They kept it rolling this afternoon, and, while not as clinical in the windy conditions, were still efficient, surrendering only a single break all game. The team demonstrated tons of energy and enthusiasm from the sidelines, but make no mistake: on the field this team is all business.
From the first point of the game, Machine's offense was focused and efficient, maintaining their rhythm from Sunday night's semifinal. Facing man to man defense from Seattle and a stiff headwind, Chicago diligently worked the disc up the force side in the face of biding defenders and active marks.
Pawel Janas put an O/I backhand over the shoulder of a defender into the hands of Cullen Geppert for the goal. Machine's opening hold was emblematic of their performance: it was confident and gave them a lead they would never relinquish.
Machine's defense earned a break on the next point after a junk look bamboozled Sockeye's offense and produced a turn. Chicago capitalized on the opportunity almost immediately when Travis Carpenter ripped a flick huck to Jack Shey in the back of the endzone for the score and the 2-0 lead.
Sockeye sniffed out the same defensive look on their next possession and exploited a seam in the coverage on a big backhand from Matt Rehder to Donnie Clark for the goal. Seattle's deep game had been an important part of their offense all weekend, and while they hit on their fair share of hucks in the final, their completion rate of 4 for 9 wasn't efficient enough to get the job done.
Looking to stop the downwind hucks from Seattle, the Machine defense showed zone on several points, especially in the first half. For the most part, Sockeye reacted to the zone by crashing handlers into the soft spots in the cup, dinking and dunking their way down the field. It did prevent them from ending points quickly, and in the windy conditions a few passes that would normally have been easy completions resulted in difficult catches or turnovers. "We hadn't seen much wind this weekend," said Sockeye coach Roger Krafts. "So for this game we needed to adjust."
Machine's offense wasn't flawless in the first half, but Seattle never made them pay. At 4-3, Jonathan "Goose" Helton misread a floaty huck from Pawel Janas, which gave Sockeye a chance to break, but stagnant cutting lead to a quick turnover. Given a second chance, Machine converted on a nice snag from AJ Nelson to push their lead to 5-3.
The teams traded holds to 7-5, with the main highlight a fantastic play in the endzone from Helton who held off Matt Russell and snatched the disc out of the air just before Husayn Carnegie came flying in from the back side, missing a spectacular block by inches.
Loading up a D-line looking to take half, Machine got the game's first upwind break. After Zane Rankin just missed reeling in a huck on a huge layout, Machine pushed the disc upwind with a crisp backhand huck from Matzuka and a powerful hammer into the wind from Helton that gave Chicago the 8-5 lead at half.
The energy imbalance was palpable, as Machine seemed fresh whenever they were on the field while Sockeye often seemed a step behind. Both teams were missing significant depth, and the Chicago coaching staff credited their conditioning regimen with their success in the game.
Machine came out firing in the second half, breaking right off the bat. Von Alanguilan, whose impressive play on defense all weekend has made him a fixture on Machine's D-line, intercepted an in-cut and dished to Neal Phelps who fed Travis Carpenter for the goal.
After a Sockeye hold, Trent Dillon elevated for a block over Helton, and gave Seattle a chance for a desperately needed break. It was not to be, however, as Sockeye turned on the first throw and Matzuka promptly threw a clever scoober directly over the mark for another Machine score.
It was the story all game: any time Chicago gave Seattle a chance, the Seattle D-line couldn't capitalize. Particularly going upwind, Sockeye's handlers were reticent to test the gusts, which allowed Machine to really clamp down on in-cuts. The Sockeye handlers didn't show enough precision in the handler set to create easy throwing lanes, and had several turns on high stall tricky dump throws.
"We definitely had some lapses on our upwind offense," said 2016 Sockeye addition Trent Dillon after the game. "But I don't think it's any cause for panic. I fully trust that Roger is going to examine that and figure out exactly what we need to do."
Sockeye would finally get the break they had been craving all game just before soft cap rang out on a beautiful flick break from Trent Dillon to Dongyang Chen. The goal closed the gap to 13-11, but it was too little, too late, as Machine's offense was able to put in holds on their final two possessions to close out the game. Sockeye had two chances to break on the final point but threw them both away, the first literally and the second figuratively, as Matt Russell tried to call a time out when Sockeye didn't have one, resulting in a turnover just outside the endzone. Matzuka picked up the disc and delivered a backhand to Bob Liu for the winning score.
The loss must be sour for Seattle, as they had their chances to get back into the game but just couldn't convert. Of course, it's early in the season and the team knows that the real prize isn't won in July. "I actually think its positive to lose this, because it's so early," said Seattle coach Roger Krafts. "If you win this, you sort of get a big head. So it's fine. Obviously it sucks for guys to lose but I think big picture it's totally fine."
Machine is well aware of the dangers of getting a big head, as they tasted regular season success in 2014 only to crash out in the prequarters at Nationals. "We're a much more veteran team now that we were in 2014," said Machine coach Andy Neilsen. "What we said in the huddle was that this is a nice piece of validation but the work of the season remains. And that's a good thing. So we're trying to take joy in the work and this is just a signpost."
Victory this weekend is a fantastic start to the 2016 season for Machine, but of course the real story will be how they build from here. After seeing that they can beat the best teams in the country, they'll be working hard to ensure that this isn't the only hardware they acquire in 2016.