Seattle could not slow Boston's offense.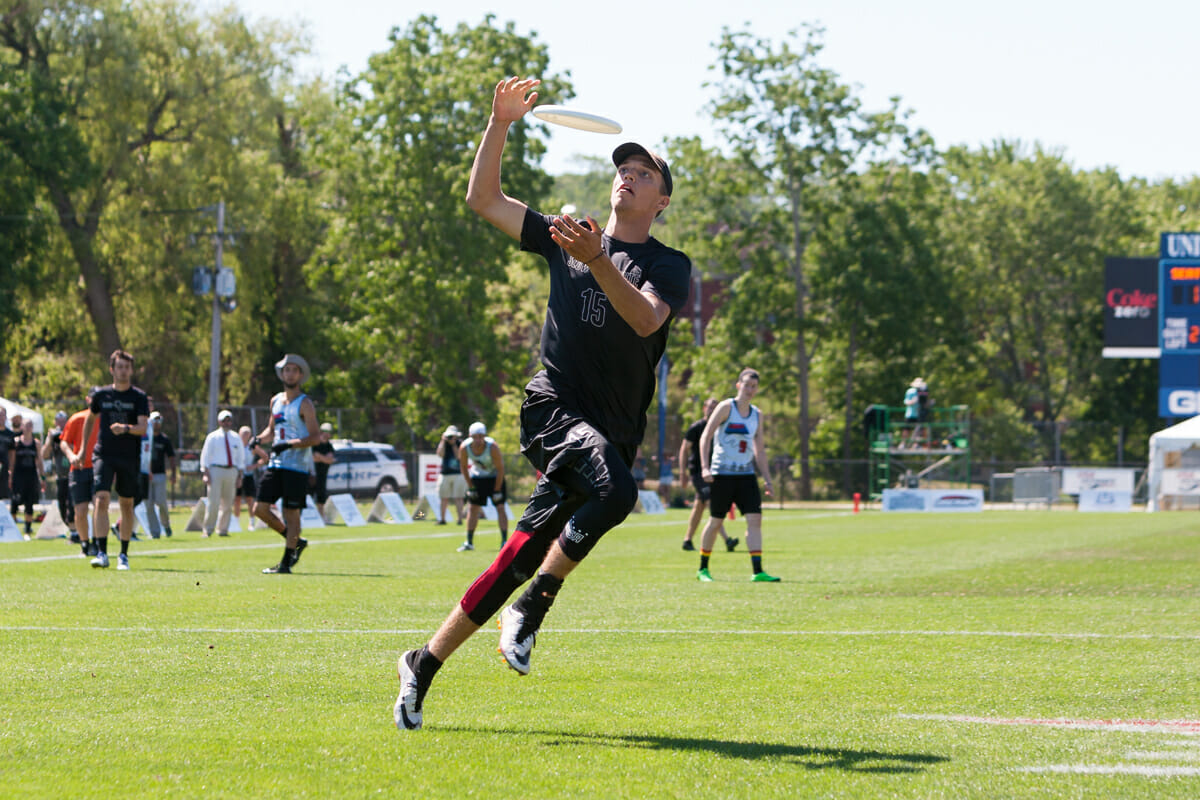 This post is presented by Disc Store. All opinions are those of the author; please support the brands that make Ultiworld possible and shop at Disc Store!
Avenging their earlier loss in pool play, Boston Slow White made a statement by defeating Seattle Mixtape 15-10 to claim their first ever U.S. Open title and the first for a Boston team in any division. With energetic play and a superior game plan, Slow White set the tone for the rest of their season and claimed the title of current number one mixed team in the country.
Boston was prepared for the high flying offense that Seattle had used in pool play for their come-from-behind win and made the adjustments they needed to minimize Mixtape's ability "to make big, fun, exciting plays," a main goal for the Slow coaching staff. Slow recognized that the largest need was to stop Seattle's deep game, not only by discouraging their looks but also by pressuring the hucks they did throw with help from across the field.
For head coach Marshall Goff and assistant coach Mike Miller, their squad executed this by improving on their marks and using smart poaches to get blocks. On the mark, Boston took away the easy throws that Seattle uses to propel their handlers into power position and move horizontally across the field. The marks across the board became more shaded around as the stall progressed so that early stall uplines and inside throws were more difficult and late stall arounds had to lose yards to get off. Trusting this system was key for the reset defenders who could be looser and prevent upline cuts.
Downfield, the off-side male defender had the sole responsibility of keeping his eyes on the disc. As long as his man was in dead space, that defender was a free safety and could go after every huck that went up, which greatly lowered Mixtape's usually impressive shooting percentage. Miles Montgomery-Butler, Ben Katz, and Davis Whitehead got numerous blocks with this spy technique. Seattle's offense only completed 8 of its 15 hucks.
The first point was representative of the effectiveness of Boston's defensive strategy. Seattle was afraid to shoot deep when a defender jumped into the deep lane and a miscommunication on the reset gave Slow the disc. Lexi Zalk, who was Boston's most effective woman on both sides of the disc, found Shaun Doherty for the upwind break and the initial lead. Doherty and Katz took the Khalif El-Salaam match-up for the majority of the game and did admirably even if they were only able to limit him a small amount.
Seattle will need to find a way to rely less on the impressive El-Salaam if they want to improve this season. He was involved in 7 of their 10 goals on the day (2 goals, 5 assists) and was also their best defender on Slow White rookie Tannor Johnson, who was an absolute force on the Boston O-line.
One way to improve the production of their depth would be to use their women more aggressively on offense instead of just deep targets. After the game star Mixtape cutter Claire Revere said that she wanted the team to use its women more. Mixtape was less willing to work the disc underneath in general and especially to their women.
This is surprising for a team with such strong female players who can take on any other set of female athletes in the game, but Seattle's women only registered two goals and zero assists in the finals. Both Zalk and Miller noticed that they had a distinct advantage on defense knowing they could bracket and poach off of the Seattle women. "They don't use their women as offensive weapons when they could," said Miller.
Offensively, Slow had a more balanced approach and could grind the disc underneath or shoot to their athletes at will. Mixtape only managed six break chances on the day and only put in two. Even with Revere and El-Salaam crossing onto defense, Mixtape had trouble pressuring Boston's offense. Their O-line rarely looked flustered. Hannah Baranes and Johnson were finding space in and deep and Olivia Hampton and Alex Trahey were anchors in the backfield.
As the first half wore on, the frustration grew for Mixtape's O-line; Dominic Cavalero and Brad Houser's trigger fingers itched for action and sent hucks flying. With the game at 5-3, El-Salaam sent a huck into double coverage that came back on a foul call but then hit Cavalero who threw a nearly identical huck into the same double coverage as the stall count rose and his resets failed to break free. Slow got the block and then marched the disc down the field for a break, with Zalk hitting one of her three assists with her patented flick blade to Annie Fisher to go up by three.
Given the early season nature of the US Open, it is easy to understand how a team designed like Mixtape looked sloppy. Missing five men and two women, Mixtape was badly in need of reinforcements that were not to arrive.
This explains some of their fatigue but what should be concerning is that they were losing top end match-ups. Johnson had five goals and one assist in the victory and was still just as effective no matter who he faced. Henry Phan, a standout for Mixtape earlier in the weekend, looked ineffective on both sides of the disc and had trouble leading the D-line's offense without El-Salaam on the field. He had four turnovers.
Seattle got more chances at breaks in the second half but could never execute on offense. At 11-7, Phan had an errant throwaway. At 12-9, Daniel Walton got a deep block but Jesse Bolton bounced a swing over El-Salaam. And at 11-8, Mixtape appeared to lose track of time between points and Cam Bailey had to jump onto the field and pull to avoid a time penalty, giving Slow an easy four throw hold.
After the game, Bolton recognized how well Boston had played and noted that "once we have practices together and practice our sets, we're definitely going to improve."
Slow is in a similar mindset despite the win. "We can only celebrate this for a moment before we need to forget it," said Miller before listing a plethora of improvements the team needed to make.
Don't be surprised to see these teams meet again deeper in the season.