Nearly every Nationals contender in the women's division will converge in Colorado to prove where they stack up at this point in the season.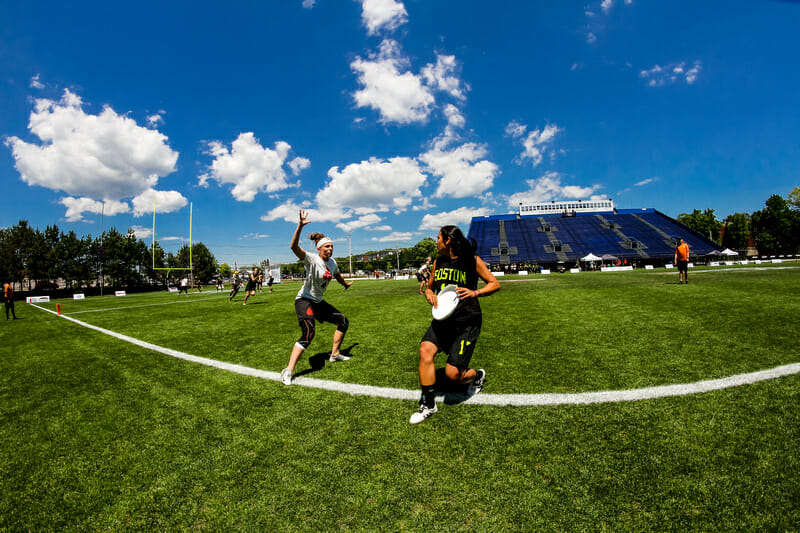 The Pro-Elite Challenge is one of the marquee events of the women's club season. Every team in attendance is ranked in the top 20 and in contention to get to Nationals. Only #7 Toronto 6ixers and #9 San Diego Wildfire are missing from the division's most competitive outfits. This really is the tournament to set the tone beyond the top tier.
Additionally, this is the only chance for many mid-tier teams to get a crack at the powerhouses that top the rankings. The semifinalists at this event last year were all eventual top six finishers at Nationals — the other two teams in that group, Riot and Fury, were not in attendance at the PEC — and undefeated against teams from outside of that group. This weekend will show if a similar gap exists this season and who the top challengers are.
Tournament Profile
Date: February 30-31, 2016
Location: Aurora, CO
Top 25 Teams: 16
Traffic With A Chance To Set the Bar
For three straight years, Vancouver has fallen in the quarterfinals at Nationals. In every club women's Power Ranking that Ultiworld has released over the past three seasons, Traffic has been either #5 or #6. It's safe to say that they have been at or near the line between the title contenders and the rest of the field. The Pro-Elite Challenge is Traffic's season opener and will likely provide a bright line for who is really in contention for top honors.
There hasn't been an official roster announcement, but this also means a first look1  at who they'll have cleating up this season. The biggest new names are former players returning to Traffic: Danielle Fortin and Mira Donaldson. Rising UBC juniors Ellen Au-Yeung and Naomi Morcilla add great speed, and Vancouver gets more youth in Team Canada U-20 rep Cofellas Mot. Amira Maddison and Rena Kawabata also return the roster, while Nicola Parker and Megan Kidston bring a wealth of experience from the Canadian circuit.
They'll be replacing some key players from last season. Gone are Ashlee Davison, Alli Short, and Carolyn Churchland, some of the team's best matchup for opposing big deep threats. Traffic is also going to be without veterans Eva Cham, Jen Kwok, and Kira Frew. The team is losing players who fill in a variety of roles, so there will be some personnel shifting around.
It will be challenging to go up against teams that already have played a tournament or two, but many of the players are already used to that process. Inconsistency is to be expected, and the likes of #3 Molly Brown, #13 Underground, and #16 Green Means Go can punish them for that. But do expect them to quickly help define the tiers at the top of the women's division.
Second Chance To San Francisco
At the US Open, Fury missed the semifinals of a tournament for the first time since 2014.2 It's hard to imagine they weren't playing deep into brackets during their string of titles dominating throughout the mid-aughts and beyond. They don't come up short often.
The good is that they have likely been very motivated at practice. Claire Desmond and Kaela Jorgenson, who both missed the US Open, will be taking the field for the first time this season3 and have the capability to provide a huge impact. Fury will still be deep and diverse.
But the challenge will be bringing a higher level of defensive intensity and offensive execution. Look for them to further develop their side stack offense and hone in on their defensive strengths. Fury's talent is certainly championship-level on the surface and they'll only be held back by their ability to deliver. Missing semifinals again would be an unprecedented start for a Fury season.
Scandal Attempting To Hold Top 4 Spot
Despite significant turnover — moreso than the other US Open attendees from the Pro Flight — the D.C. women got off to a strong start to their season in Rhode Island. They edged #2 Riot by a goal in pool play, kept tight with #3 Molly Brown, and crushed #15 Bent on their way to a semifinals appearance. The last time Scandal was ranked in the top four, they were hoisting a second straight National Championship.
Certainly nobody is crowning the crew from the capitol yet. While their new faces looked impressively steely in their first taste of elite competition, Scandal's offense was wholly reliant on the throws of Jenny Fey and Kath Ratcliff. Players like Molly Roy, Sarah Itoh, Jessie O'Connor, and Kristen Franke have the ability to direct offenses, but didn't get it going consistently at the US Open.
They'll get put to the test in pool play, drawing difficult first day matchups with Fury and Schwa. With so much youth, there's a lot of room for significant and noticeable growth for Scandal. Another strong weekend would be a great sign for the health of their championship contention.
Brute Squad And Riot Lead The Pack
For all of the talk about the top tier, there's an argument to be made that #1 Brute Squad belongs in one all of their own. Their 15-0 record includes just a single game won by a margin smaller than six goals. Early season victims include Riot, Scandal, and Fury.
Boston has done it with defense. Fury is the only team that has scored double digit goals against them in a game this season. Kami Groom, Chelsea Murphy, and Cassie Wong were all playing exceptionally well at the US Open, but their whole team showed the ability to apply rhythm-breaking pressure to opposing offenses. A very solid offense led by last year's Player of the Year, Leila Tunnell, gives them a balanced and consistent level of performance.
There's no doubt that Brute Squad is an early season favorite to repeat. Can anyone come close?
The top rival is Seattle Riot, but their position seems much more vulnerable. They narrowly bested Molly Brown in the semifinals and were outmatched against Brute Squad. In pool play, they couldn't put away Scandal and were on the receiving end of an upset.
But the talent on Riot is unquestionable, as is the wealth of experience the team is armed with. Most of these players have played together for a long time and the team is great at imparting it's identity to their new recruits. As they adjust to their new vertical stack offense and institute their other sets on defense, Seattle should see improvement. But it'll have to be at a greater rate than the other elite teams to remain a top title threat.
Northwest Flexing Its Muscles
The seeds planted in Northwest women's ultimate are starting to really flourish. Four elite college programs are housed in the Northwest, with multiple Nationals-quality teams outside of even that insanely competitive core. And while Riot and Traffic have gained some talent from those teams to help keep them on top, the influx of high quality college players is really reaping rewards for the next tier of Northwest teams, #8 Portland Schwa and #12 Seattle Underground.
Each team looks like they could make quarterfinals at Nationals. Schwa is 9-4 with victories over Wildfire and Underground, and an appearance the Elite-Select final. The second Seattle team is 8-5, having beaten Ozone, Heist, and Schwa.
Veteran presences that were once Northwest college stars anchor Schwa. Underappreciated names like Jennifer Tibbals — one of the best downfield players you haven't head of — and Margaret Wilson-Moses guide the Portland squad. Rookie Ella Hansen, another product of the Oregon Fugue pipeline, is already in the thick of things.
Meanwhile, Underground's large roster turnover means a lot of young players are getting heavy reps. Tess Young, Maddie Gilbert, and Hallie Dunham all made their name in the Northwest and all play key roles. While they've been more inconsistent than Schwa, they could get better rapidly and challenge unsuspecting opponents.
Other Stories To Watch
While the Pro-Elite Challenge won't be Nightlock's first actual tournament, it'll be most of the elite scene's first look at them in a competitive environment. It's doubtful they were enamored with their opener at Solstice, which included a loss to #9 Wildfire. But they are a talented, well-rounded outfit adding some strong players like Sabrina Fong and Bethany Kaylor, who fit the mold perfectly.
We'll get to see who the team to fear is in the Southeast region is when #11 Raleigh Phoenix and #14 Atlanta Ozone face off in pool play Saturday morning. The two teams have a "frenemy" sort of relationship, but take a lot of pride in winning their region and have put up mixed results after seeing some big name turnover this offseason. Handler play and execution are likely to decide their first meeting.
The questions about Molly Brown right now are directly linked: how deep are they and what is their ceiling? Their bright spots were impressive at the US Open, but somewhat shorthanded, they really relied on a core group led by Opi Payne and Claire Chastain to punch in goals, both on O and D. Tina Snodgrass and Becca Miller will get their first reps of the season and could really give them the depth they need to go toe-to-toe with the likes of Brute Squad.
A 2-5 showing at the US Open put a quick damper on excitement around #17 Showdown. There won't be any easy games for them in Aurora, but on paper, the talent and experience are there. Katey Forth, however, really needs someone to step up and help on offense, as the Texans struggled to get a lot going against the top defenses they've faced. Their collegiate rookies will get a chance to continue their growth and could get them back on track.
---
Except the All Star Ultimate Tour game, which they won. ↩

they lost in the Pro Flight Finale quarterfinals to rival Riot, an unfortunate early draw ↩

Again, not counting this week's All Star Tour exhibition. ↩