The Toronto squad takes down Winnipeg's General Strike in a closely contested final to capture their first national title.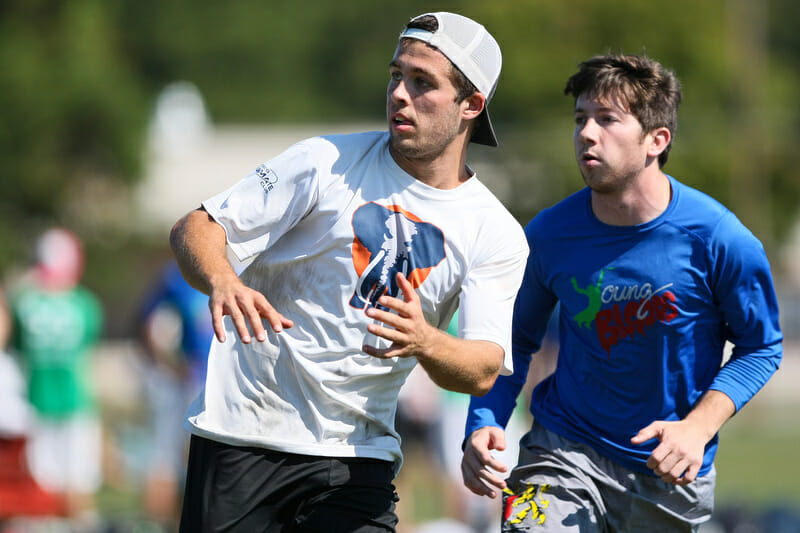 EDMONTON – As was the case in the women's division, the Canadian Ultimate Championships crowned a first-time winner in the open division this past weekend in Edmonton.
Heading into Sunday's final, #3 seed Toronto Grand Trunk had never previously placed higher than third at CUC, and even that high-water mark came a decade ago. Winnipeg's General Strike has seen more recent success — having finished second to Furious George in 2012 — but were also looking to take home their first Canadian Championship gold medal. With many of the country's biggest clubs staying away from this year's tournament as they focus instead on their Triple Crown Tour requirements, both finalists looked to capitalize on the opportunity. In the end, it was Grand Trunk who was left standing, knocking off Winnipeg 15-12 in a tight game where neither team made many mistakes.
Toronto came out looking clean and methodical, playing with lots of patience but hitting the deep threat whenever it opened up. As the teams traded holds to 5-5, both teams were were getting big contributions from young players who added a new spark to the final, punctuating points with huge hucks. Three of Toronto's early goals came on deep strikes to Jeffrey Woo, who appeared to have magnets in his hands as he came down with discs even when it looked like he had no play on them.
With their offensive line operating mostly free from errors, Grand Trunk's defense was quick to punish any mistakes made by Winnipeg. A couple costly miscues from General Strike late in the first half saw Toronto pull ahead for an 8-6 halftime lead.
After a Grand Trunk hold out of the break, Winnipeg got back on track with Jesse Greenberg throwing a cross-field flick huck to Hugh Wichenko who brought it down between two defenders. With some momentum from that big play, General Strike was able to get their first and only break of the game to get the game back to within one score. But Grand Trunk was not willing to give up their lead, sharpened up, and scored a quick offensive point before breaking Winnipeg right back to restore their three goal margin at 11-8.
That lead was not to be broken as the O-lines traded points through the second half. General Strike played fairly well and were at times unlucky not to be able to close the gap. At 12-10, another big throw went up from Toronto to the General Strike endzone. It floated just enough for Winnipeg defender Steven Brown to get a hand on it, but his contact only popped the disc up into the air. As it wobbled away toward the sideline, Toronto's Cooper Toogood showed incredible determination to chase down the deflected pass, make an incredible one-handed layout catch, and toe the lie to score the point.
As the holds continued, another stunning layout grab from youngster Connor Armstrong gave Grand Trunk the win, 15-12. Armstrong, a deserving MVP of the final, could not have achieved his success without his combinations and chemistry with Paul Tatulea, who had four assists and one goal in the game.
"We took an opportunity with a lot of players that haven't toured in the past and for those opportunities to work out for us means a great deal," said Derek Fan, a captain of Grand Trunk. "We poured our blood, sweat, and tears into practicing and tournaments and I'm really happy for each of us because, we did it!"
Fellow Toronto captain Danyal Amjad spoke glowingly about the future of Grand Trunk. "This is a team that always picks up young, talented, athletes. This year's team — we had great personality, hard workers and great fighters, and that's what the future holds. We're going to get more and more athletes and fighters who will play hard."
General Strike battled intensely until the end, and will continue to build their program back in Winnipeg. No doubt this fiery team will be back in a Nationals final in the years to come.
"We stuck to our game plan pretty well," said Strike captain Jordan Chochinov. "The future, I think, is limitless for this team. There's young talent coming up throughout the city, there's young talent on the team. A number of the guys aren't even close to peaking yet and I look forward to hopefully being a part of this program and seeing it grow."
CUC 2016 Belongs To The Youth
So much for the value of experience. The youth contingent was instrumental to the success of every team across the men's division this year in Edmonton. Grand Trunk and General Strike showcased their young talent throughout the tournament and those players excelled in the final as well. Grand Trunk's offensive line was built around center handler Connor Armstrong, who had just returned from a silver medal performance at WUJC in Poland. Armstrong's combinations with Paul Tatulea — a standout at the University of Toronto — were virtually unstoppable, as the dynamic duo help lead their team to victory.
General Strike trotted out a host of athletes from the successful University of Manitoba men's team. Alan Scarth was huge for their defense, putting on big marks and coupling it with calm offense on the turn. On Winnipeg's offensive line, the Ladyman brothers, David and Matt, controlled the play working together on and off the disc.
Top-seeded Mio Grape, a new team out of Vancouver, brought their fair share of young excitement to the fields as well with much of their offense coming from Aidan Wiebe and Cole Keffer. Both athletes are members of Team Canada and their chemistry on the field spoke for itself as they combined for many scores.
Top-Seeded Mio Grape Falls To Third Place
In their first year as a team, Mio Grape impressed in their tournaments leading up to Nationals. Winning British Columbia Regionals with ease, they earned the number one seed heading into Edmonton.
But at the Championships, Mio was missing some key players, as they were away at a tournament with Furious George. Determined not to let that affect them, they started the tournament well until their face-off against number three seed, Grand Trunk. With the wind in a factor in the game, Trunk beat them on universe, kicking off a string of close scores for Mio in their next games.
Mio Grape is a young team, made up of many athletes from the University of British Columbia. In their semifinal against General Strike, the D-line couldn't get a break and that made all the difference. Mio managed to bounce back in an all-Vancouver match-up for bronze against Blackfish, beating their hometown rivals 13-11 for the podium finish.
Alberta Flatball Club And Whiskeyjacks Shine In Front Of Home Crowd
Alberta FC and Whiskeyjacks brought a flare to the hometown field that tested the best of teams.
Veteran team Whiskeyjacks from Calgary had close battles with the top seeds, falling on double-game point to Mio Grape in pool play and in the quarterfinals to Blackfish. Calgary brought a roster full of veterans who previously played on the talented Invictus, a prominent team from many national championships throughout the 2000's. In the face of the youth movement from so many of their opponents, the old guys provided an impressive showing of ultimate throughout the weekend and ended their tournament in an all-Alberta showdown for fifth place.
Alberta FC is a younger team combined with a few more experienced veterans, who also competed closely with the top teams throughout CUC. Falling on universe 13-12 to General Strike on day two, they fought hard in their quarterfinal match-up against Mio Grape, losing narrowly there as well. In the end, in an exciting game for the home crowd, the experienced plays from Whiskeyjacks dominated the game for fifth.
***
Although Furious George and GOAT will be returning to the Canadian National's scene next year as they try to qualify for the 2018 World Club Championships, the two powerhouse programs may well be taken by surprise with the level of talent ready to compete with them in 2017.