It's hard to overstate the impact of Jesse Shofner on Oregon Fugue and the entire college division -- or to underestimate her potential impact now that she's joined Scandal.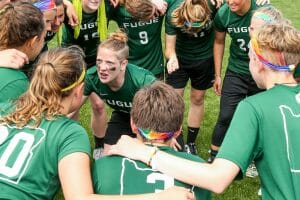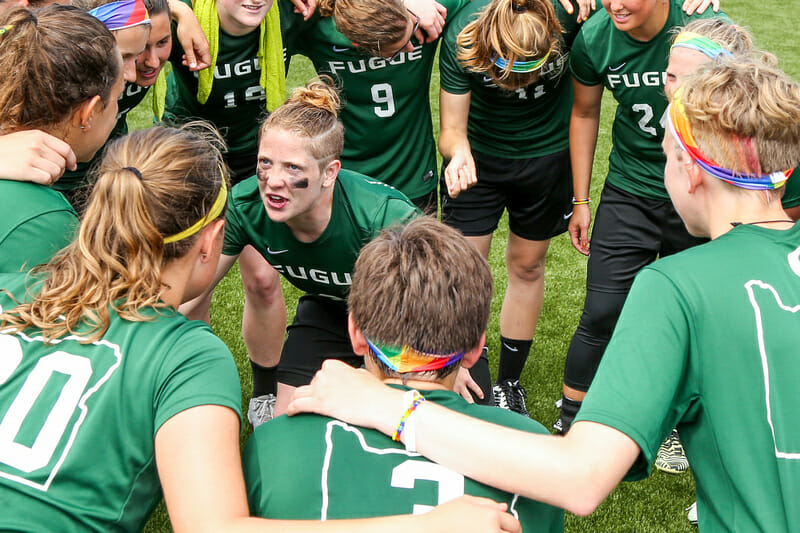 This is Jesse Shofner. A notorious play-maker, a momentum-shifter, a game-changing force of will. She is known as a fire-cracker, intensity and energy bubbling just beneath the surface as she runs teams into the ground, barely containing her passion and excitement with calculated post-goal spikes. You can see it in her eyes after a score: the competitive nature, the fight to win, the desire to be great.
Jesse's talents and dedication to hard work have allowed her to become a long-time local, national, and international winner. She first competed at Club Nationals after just one year of high school ultimate. She was an integral part of the winningest college team in nearly a decade, reaching semifinals at College Nationals in each of her five years with Oregon Fugue, winning the whole thing twice. She has represented her country in multiple international events and has recently been a part of two of the most unique and exciting mishmash groups of the country's elite players: the 2015 and 2016 All-Star Ultimate Tour and last fall's Team E.R.I.C. Manila Spirits team.
But these are the things you likely already know about Jesse. How did she get here? Where did she start? And the most intriguing question of all, where does she go from here?
Curriculum Vitae
Jesse got her start with ultimate in her front yard in Nashville, Tennessee alongside her brother Markham, whose style might look familiar. When she was an 8th grader, Markham started taking his sister to the practices of the high school team, named Brutal Grassburn. Jesse would go on to play four years with the team, often marking up against boys, since female players were few and far between at the time. This first team is where Jesse got hooked on the sport.
"Throughout that [first] year," Jesse recalls, "I learned who Paideia and Amherst were, how awesome field snacks are, and how to rock the go-to youth frisbee girl look: french braids, backwards trucker hat, soccer socks, and baggy shorts."
In addition to the fashion, this is also where Jesse's playing style started to come together. "While playing for Brutal Grassburn, I was taught how to grit, grind, and fearlessly play with and against the boys by some awesome women: Nora Hoover, Margie Quinn, Allyson Lutz, and Tobey Beaver — often wearing what I would later learn was an Ego jersey."
Even those beyond Tennessee quickly took notice of the precocious talent. "Shof's defining traits — her explosiveness and fearlessness — have been there since she was 14," says Washington Element's coach, Kyle Weisbrod, who has coached against Shofner for eight of the past nine years.
In 2008, after just one season at the high-school level, Shofner joined up with a new mixed team named Guillermo y Compania (GYC for short) alongside her brother and earned a bid to Club Nationals at the age of 15.
"I've had two monumental years of growth as a player," she explains. "One, common to most people, being my freshman year of college; the other being that season with GYC. Let's put it this way: I entered that season wearing basketball shorts and came out wearing Patagonia; I learned what cushion defense was (from Yusi Turrell, an amazing handler who clocked years with Lady Godiva); and I learned what a break was, how to get one, and that I wanted more of them."
For the next two years, Jesse played with the local women's team, DeSoto, and would eventually try out for the US's U20 National team that would compete at the 2010 World Junior Ultimate Championships. She wouldn't make the roster.1 She did, however, meet an important friend in the process.
"During the lunch break, I met a girl while sitting on a rock wall — Paideia and Amherst were busy eating with each other, and I didn't know anyone — and we shared a cookie. Her name was Qxhna Titcomb."
Qxhna would later put together the All-Star Ultimate Tour, which Shofner joined in its inaugural year in 2015; she was one of only five players to reprise the role this summer.
Go-Go-Go All The Time
Jesse started college at the University of Oregon in 2012.
"She was pretty raw when she got to Oregon," recalls long-time Oregon Fugue coach Lou Burruss.  "She began as a defender and moved over to offense as her game matured."
And oh, how her play has matured. Most players on high-level teams have specific roles and positions carved out for them that align with their skills and physical abilities. Obviously, there are players who can succeed doing multiple things, but few, if any, have been able to play at any position or role one can think of and succeed in the way Shofner can and has.
When asked how this was possible, Burruss answered, "Mostly, it's because she's really good." But more specifically, he says, "on (defense) her tenacity and on (offense) her cutting speed — she learned early to cut 100% all the time. And on both sides of the disc, it helps that she is go-go-go all the time."
"She's dynamic, creative and not bound by what many think of as the 'conventional rules' of ultimate strategy," comments Weisbrod. "Shof doesn't shy away from the hard work, the toughest match-ups, the most difficult plays, or the spotlight."
That last fact turned out to be the most important one. If you are willing to work harder than everyone else, you give yourself the opportunity to compete at any position. And that's just what Jesse has done.
"She's done a little bit of everything, except deep-deep," Burruss explained. "One of her really great skills is that she isn't one-dimensional and that has really allowed us to move her around and have her play in different spots. The team has also changed a lot over the years she has been on it, so what we've needed her to do has changed a lot as well."
One of the reasons Shofner had the freedom to play different roles during her time at Oregon was the presence of teammates Bethany Kaylor and Alex Ode. These three players are each remarkably talented, each natural athletes, and each super versatile players that can play on either side of the disc.
"They each have a unique style," claims Burruss, "but it was really easy to build a team with those three because you can put them anywhere and they will do good."
"I wouldn't be the player I am today without these two," Shofner concludes. "Alex, Beth, and I all came onto Fugue together and have experienced an interesting dynamic. We are really close, good friends, but we are also very competitive… Because of this inherent competition between us — [and] undying honesty and support and friendship — we have played every practice of the last five years busting our asses trying to be the best; we've always relentlessly pushed each other."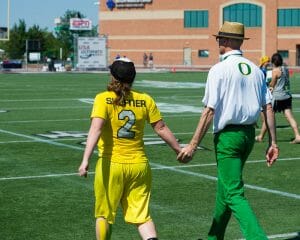 Together, they earned two national championships, two second-place finishes, and another semi-finals appearance in their time at Oregon. In 2016, Shofner was named Ultiworld's College Player of the Year and finished second in the Callahan voting.
There is a long list of choices and chances that finds a player like Shofner at a school like Oregon with a (now former) coach like Burruss. It's impossible to know what type of player Shofner would be today without her brother Markham, her classmate Dylan Freechild2, her teammates on Fugue, and her college coach. Most have said that Jesse has had the fire and energy forever, which is likely true, but there's no doubt that this is one of the most perfect marriages of a player to a system that we've ever seen.
From One System to Another
As the spring campaign came to a close for one of the most successful and effective players in the history of college ultimate, Jesse surprised us all by initially deciding to sit out the 2016 club season.
While a handful of factors likely led to such a choice, including a chance for some free-time away from the sport for the first time in years, the semifinals exit in her final College Nationals appearance was certainly a punch in the gut — "heartbroken" was a word Shofner used in conversation. In fact, she was only a last-minute addition to the 2016 All-Star Tour, an honor that was likely hers the entire way if she wanted it, which she wasn't sure she did at first.
After some deliberation, Jesse joined the Tour, and we got a few more precious weeks of watching the electrifying show that is Jesse Shofner playing ultimate.
While not committing to the club season, Jesse did have plans for the near future; mostly creating art and eating Oreos. She'd work on her portfolio as a Digital Arts graduate, something that is hard to do when you are practicing and competing at elite-level college ultimate during the spring. She'll finish her Theater Arts minor in the fall after earning several more credits — Kaylor boasts that Jesse is "a great artist and actress; in addition to [frisbee], she brings dedication to both of these realms."  She'd even travel the country with her mother, who has a new middle-school book, while applying for jobs.
Now that her USAU college eligibility has wrapped and her schooling is (mostly) done, Jesse is free from her biggest geographical ties. Long-time Fugue and Schwa teammate Bethany Kaylor also graduated, and took a lovely offer and opportunity to move to the Bay Area, where she is playing with San Francisco's Nightlock. Alex Ode headed north to Seattle and joined Riot. Both played for Oregon-based Schwa in previous years, but both chose to explore new options after schooling concluded.
Shofner decided to explore an even different route: not playing ultimate, even in her home state. That is, until she found herself on the sidelines of the 2016 Colorado Cup, talking with D.C. Scandal's Jenny Fey.
"Jenny Fey said 'Come play with me'," Shofner remembers. It was Saturday, the first day of the tournament. A day later, her brother Markham — who Jenny Fey says is "one of her closest pals in DC" — asked her if she had talked to Scandal head coach Alex "Dutchy" Ghesquiere yet. "Is this for real?" Jesse asked. Markham said yes.
The two failed to connect in Denver, so the conversation was bookmarked until the All-Star Tour came to Washington D.C. a week later for their exhibition match.
Shofner described her conversation with Ghesquiere: "After the game, Dutchy and I talked about what it would look like: what role he envisioned for me and what team events they would expect me at. I asked about team philosophies and principles… I asked about team culture." It sounded good. That same night, Jesse spent time with some Scandal players: "They stole my heart when they whipped out Hamilton songs in the middle of a living room."
Another silver lining in the offer was the lighter time commitment; after planning to use the club season for other productive purposes, this route would still leave Shofner a good portion of time to do those things. Ghesquiere told Jesse he would ask the team to confirm their stance on picking up Shofner for the rest of the season. He would get back to her a few days later, and Jesse would discuss the opportunity with her brother Markham, her mother, Fey, and a couple of friends. After some more deliberation, Jesse accepted the offer to join the team.
After wild success in a clear, direct system at Oregon, Shofner now joins another vaunted system under coach Ghesquiere.
"Honestly, I don't know much about this team," Shofner confesses. "I do know that they mean business. I know that I love Jenny Fey, the way she plays and views the game, and I can't wait to step on the field with her. Speaking of can't wait, I can't wait to throw to Sandy (Jorgensen). I'm definitely looking forward to being coached by Dutchy . . . All of Scandal has been very welcoming and they seem like a fun bunch."
The early returns are really promising. Shofner slotted seamlessly into the Scandal squad at Pro Flight Finale and helped the team achieve their best result of the 2016 season — at least so far. With the kind of impact Jesse is capable of bringing on the field, Scandal's ceiling just got a whole lot higher entering the Club Series and they have put the rest of the division on notice that they will again be a force to be reckoned with in Rockford.
The "End" of an Era
Regardless of what else the future holds, one thing is certain: Fugue will always be a part of Jesse Shofner. When asked what the impact of the team has had on her as a player and a person, she replied with one simple word:
"Everything."
Jesse continued: "There is a level of discourse about playing and living that I have never been exposed to quite like this. It helps that the people I have had the privilege to call teammates are intelligent and thoughtful… It's unavoidable that this team has become my family."
Lou Burruss' "Clown Tent" philosophy serves as a base for the team's dynamics and relationships, but it is a fluid, ever-changing idea. What you'll hear most commonly from the Fugue players are the ideas of being accepting of everyone, being supportive of everyone, learning to lead, learn, and grow among peers, and much more.
"It will be a sad day when I can no longer take the field with Fugue," Jesse admitted a couple months ago. "But being a part of Fugue never goes away. Perhaps more importantly, Fugue being a part of me will never go away."
Like her relationship with her college team, Jesse seems destined to always be a part of collegiate ultimate. Her talents and abilities, her spirit, her results, her highlights — all of it will all stay with us as future players mimic her moves, as coaches mimic her system's successes, as well as her own. We'll be reminded of her with every new fast-paced player that graces the ultimate field, until some new generational talent comes along to challenge Shofner's place in the "all-time college greats" discussions.
But I don't see that happening anytime soon.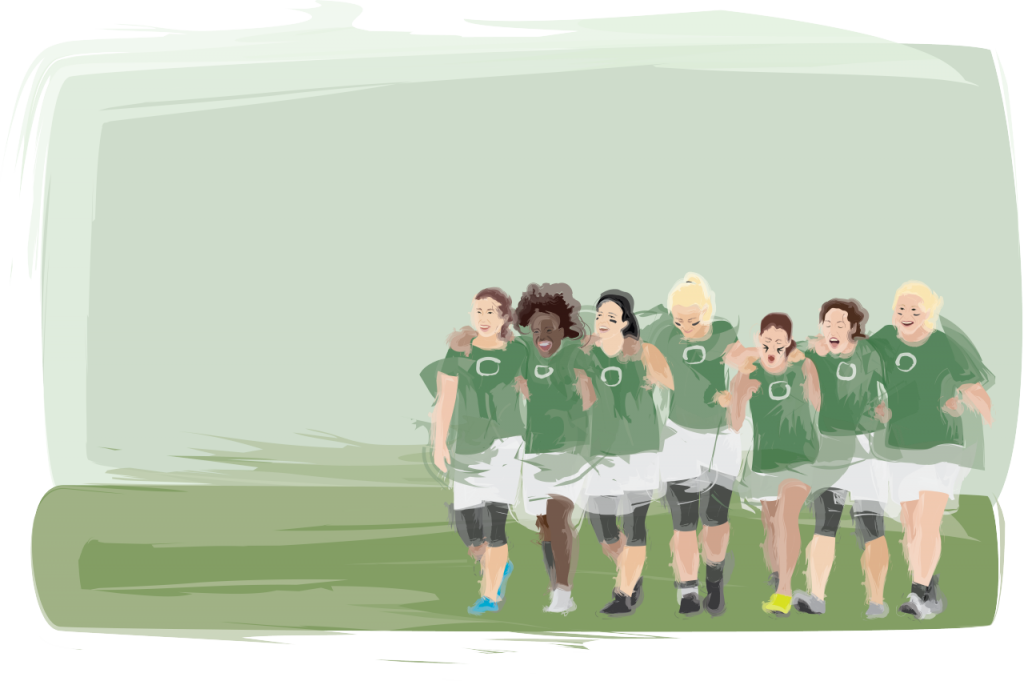 Art credit: Jesse Shofner
---
Shofner would eventually get her chance to compete on the international stage, earning silver medals on the 2012 U20 team and the 2015 U23 team. ↩

whose playing style is clearly in the same vein and with whom Shofner would share advice during their time together at Oregon ↩