With five Top 20 teams fighting for just two bids, it was an unsurprisingly wild weekend in Devens.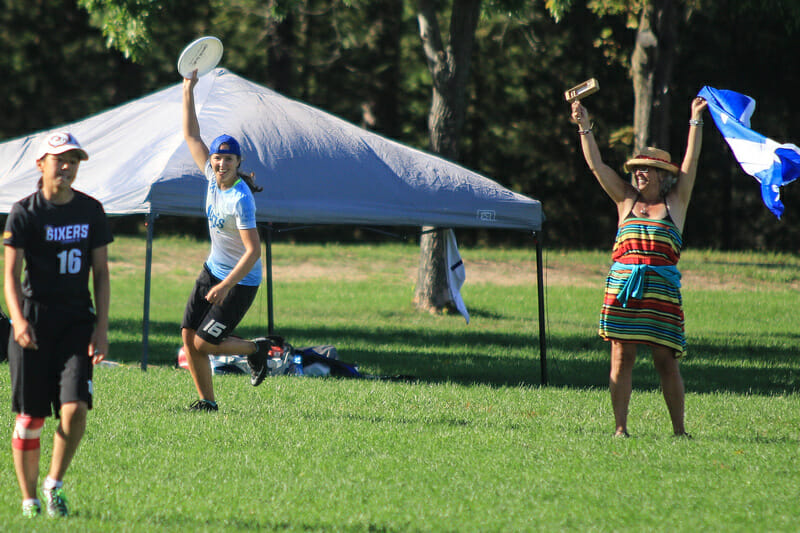 DEVENS, MA – As expected, the Northeast region was wild from start to finish on the women's side.
Despite some unexpected results both in pool play and the bracket, the weekend ended with an unsurprising regional champ in Brute Squad, in brutal heartbreak for 2-seed 6ixers  and 3-seed BENT — both accustomed to the national stage — and unparalleled joy for Iris.
Brute Being Brute
In one of the many upsets over the course of the tournament, New York BENT kicked off the weekend by handing Boston Brute Squad their third defeat of the 2016 season — their first not to come at the hands of national #1 Seattle Riot. Matching up in the first round of pool play, BENT was out to prove they were a serious contender for regional supremacy. Having only scored a few points against Brute Squad in previous meetings this season, BENT looked inspired on Saturday morning, with a confident team-wide offensive performance, capitalizing on rare Brute miscues. On the defensive side, captain Aki Younge and player-coach Judy Jarvis were able to neutralize former BENTer Cassie Wong. Up a break early, they traded points with Brute before taking half 7-6 and then holding to start the second. When Brute earned a couple breaks to catch up early in the second half, it looked as though the favorite would be able to put away BENT as expected, but the team from New York never wavered and went on to win the game with a couple of breaks of their own.
With Devens abuzz over the upset, the game proved to be more of a wake-up call than anything else for the 2015 National Champions. Shaking off the early jitters, Brute rolled past Salty, Vice, and PPF in pool play, giving up no more than three points to any other pool play opponent. Leila Tunnell in particular shined on the offensive line, with several points where she would get the disc every other and lead Brute to the endzone. Angela Zhu had no problem throwing dimes to the endzone, often for Cassie Wong. But really, as always, Brute's performance was marked by team chemistry and depth, with no weak links and relative parity in terms of touches up and down the roster.
After finishing second in Pool A, Boston faced a surprise Pool B winner Quebec Iris in the semifinals Sunday morning. Despite trading points to start the game, Brute soon pulled away, showing more offensive flow than they had the day before. Brute ruthlessly punished Iris's turnovers and ran away with the game 15-7.
While Iris moved on to the back door bracket, Brute faced another Canadian team in the finals. Toronto 6ixers had some admirable disc movement and went on a couple of runs during the game, but Brute was finally firing on all cylinders and, as such, simply couldn't be contained. Final score 15-7. Brute claimed their fourth consecutive regional title and their eighth in the last 11 years.
Brute Squad still has some offensive work to do heading to Rockford — most Brute fans are used to seeing no-turn offensive points, and this weekend they had fewer of those than usual. They'll be looking to clean it up before facing off against any of their title rivals at Nationals. More importantly, this weekend proved that Brute play their best ultimate on Sunday when it matters, which is something every team wants to do.
The Battle For The Second Bid
If Brute Squad's bid felt assured even after the early round loss, the only thing assured for the second bid out of the northeast was that it would be an exciting fight. Beyond BENT's upset of Brute, pool play saw a host of surprising results on Saturday.
Pre-tournament dark horses and 17th-ranked Boston Siege came up short against all three of their Canadian foes in Pool B. While losses to 6ixers and Iris could be understood, a double-game point loss to Ottawa's Stella was a shock, leaving Boston's other squad with a long road through the backdoor bracket to stay alive for the second bid.
In a repeat of last year's pool play matchup, 6ixers (like their Capitals predecessor) came up short against Iris in a tightly contested game. Soft cap meant the game was to 14, and at 13-12 in Iris's favor, nerves were clearly on display as both teams committed multiple turnovers. Despite tenacious defense from 6ixers' Laura Kinoshita and Miriam Tingle, Iris composed themselves first and threw the goal for the 14-12 win.
With both pool top seeds dropping a game, the semifinals actually set up almost to seed. As Brute battled Pool B winner Iris in one semifinal, 6ixers and BENT clashed in the other, a true roller coaster of a game. BENT quickly went up 2-0 thanks to a layout D from Allison Kahn and the break, but 6ixers fought back to tie it at 3-3. The game remained close and the teams traded to 7-7, until Toronto broke to take the halftime lead. But then the weather took a turn for the worse. All of a sudden, the skies opened up to pouring rain and winds were gusting at over 25 mph. For the players, it was a challenge to move the disc even ten yards. With the score 10-9 in favor of Toronto, we saw the first crack of lightning, and play was delayed. Luckily, the break was short, and, with the weather mostly cleared up after the brief storm, BENT felt the pressure to retake the lead. They managed to score one, but gave away a pair of goals and when hard cap went, the score was 12-10.
The loss felt devastating for BENT, especially after the way they'd rallied against Brute. The feelings were compounded when New York were knocked out by Siege in the second place bracket, ending their season on a sour note.
Captain Katherine Cole took a positive outlook, saying, "Obviously, we're disappointed that our season together is over — this is a really special group of women. While we didn't reach all of our goals for 2016, BENT is on a multi-year mission. Every one of my teammates helped to cultivate a program that players love playing for."
No doubt referencing the Brute game, Cole went on to say, "We built all summer and played some of our best ultimate at Regionals. We showed what we're capable of. The next step for us is delivering on that potential every time we take the field."
That statement seems emblematic of a tough tournament for many quality teams that just fell short, including on the men's side.
In the second place bracket, Iris pulled out a universe point win over Canadian neighbors Stella, and also got by a tough, determined Siege in the game-to-go to the game-to-go. Siege looked particularly impressive on Sunday, relying on the confidence and skills of Tulsa Douglas as well as the deep presence of Kathryn Flood, who seemed to be well acquainted with the endzone as she caught one huck after another.
Canadian Rivals Clash In The Game-To-Go
The game-to-go saw Iris match up against 6ixers, who had just come off a finals loss to Brute Squad. In a rematch of the division's most exciting pool play game — featuring several Canadian Worlds and Junior Worlds players — the contest promised to deliver.
All weekend long, 6ixers had relied on their disc movement as well as small, quick handlers like Karen Chan and Joey Cheung getting into power positions. They also had athletic receivers like Laura Kinoshita and Sarah Bobak to generate turns and look for the breakaway option.
Despite a strange regular season, Iris was quietly rolling through the tournament, with just the one loss to Brute Squad early Sunday morning in the semifinals. They're an interesting team to watch because it's not immediately clear what makes them so good — which in turn makes them hard to stop. In pool play, their offense seemed to run through Canadian Worlds star Marie Genest, who would get the disc every other pass and dictate their offense. Yet as the weekend wore on and her legs no doubt got tired, they proved they weren't just a one-woman team. Not even close. In fact, all weekend long they seemed to have the most gas in the tank.
At first, the teams seemed well matched and the offenses were trading points. But then, something clicked for the French Canadians. They were much taller on average than 6ixers, and fit, knocking down 6ixers' deep passes and generating blocks almost at will. The Toronto team was surely tired after facing Brute, and perhaps strategically there was a better way to work the bracket. Regardless, Iris ratcheted up the intensity late in the half and Quebec's Corine Masse scored twice in a row to take and 8-5 lead into the break.
6ixers managed a couple of holds early in the second half, but it wasn't enough to get them back in the game. At 12-8, Iris threw up a questionable 50/50 ball to a guarded Sophie Dagenais, who skied for the disc and then threw the assist to (who else) Masse. The next point, Iris broke again to score after another big sky by Dagenais. At 14-8, the game seemed to be over.
But cap was far away and 6ixers had no interest in ending their season early. Making use of their trademark quickness, Toronto managed an easy offensive hold as Bobak threw the assist to Tingle to make it 14-9. 6ixers scored the next two points as well, breaking to ensure their season stayed alive. Her 6ixers teammates surely owe Jeannette Quach a beer or two, because she managed no less than three layout D's in the endzone when her team was on the ropes. Bobak generated yet another block, but was overthrown in the endzone at 14-11. On the other side of the field, Quach got her third layout D, but 6ixers' offensive miscues continued as they threw it away on their own endzone line. Marie Genest punched in a little IO break to Dagenais for the game-winning goal and the bid to Nationals.
Last year, Brute Squad won the region on their way to a national title, and Iris took second place. With the same results coming out of Devens this fall, it will be interesting to see if Boston can repeat their performance at the Club Championships.
Meanwhile, Iris are continuing to prove themselves to be a force within the region, knocking off a favored Toronto team in the game-to-go for the second straight season. Quebec came up just short of earning a Nationals bid based on their regular season performance, but came up big when they needed to.
While several teams in the northeast that came up short in Devens this weekend may be ruing the rankings algorithm that left the region with just two bids to the Club Championships, it certainly produced plenty of drama that ultimate fans love.