Alloy, Ambiguous Grey, and AMP earn alliterative bids to Nationals, while Bang comes up just short despite a solid weekend in Allentown.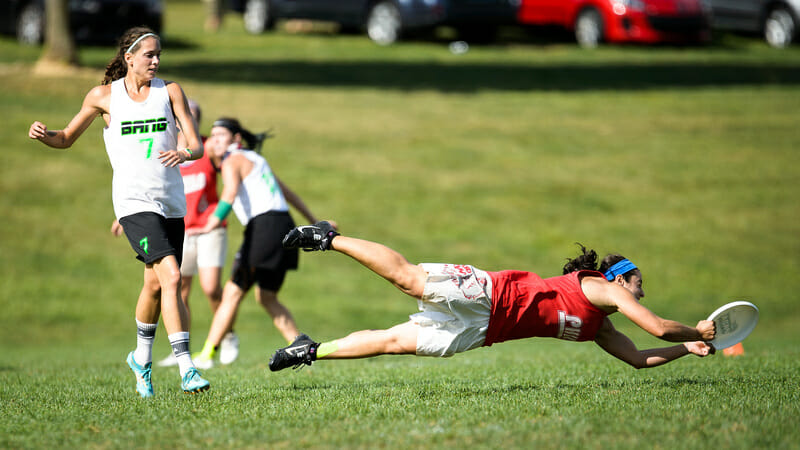 ALLENTOWN, PA – The preview for Mid-Atlantic Mixed Regionals rated the tournament at four fire emojis, which turned out to be extremely accurate. Not only were Saturday conditions were hot and sunny,1 the dramatic action in Allentown turned up the heat on pre-tournament favorites.
With a clear top four in a region with three bids, the top seeds all won their pools easily and then squared off in some exciting (though ultimately inconsequential) crossover games. #4-seeded Pittsburgh Alloy upset #2-seeded Washington DC Ambiguous Grey pretty handily, 14-8. And after giving up two breaks to start the game, #3-seeded West Chester Bang eked out an 11-10 win over top-seeded and national #1 Philadelphia AMP.
Meanwhile, the pre-quarters games had their own share of excitement. #13-seeded Lancaster Distelfink shocked #5-seeded Princeton Jughandle (our sleeper pick for an upset) with a 11-4 rout. And both #9-seeded College Park MxD and #10-seeded Philadelphia Clue notched upset universe-point wins over #8-seeded Baltimore American Hyperbole and #12-seeded Ben Avon LoveBomb respectively to earn quarterfinal berths.
Surprises In The Semifinals
Sunday started off slightly cooler than Saturday, with a steady breeze making for upwind/downwind games on all fields. The quarterfinal rounds saw the top seeds cruise pretty easily into semifinals, with the exception of Clue giving their crosstown foes AMP an 11-8 scare. So despite the two crossover upsets from the last round Saturday, the semifinals were still slotted as if to seed, with AMP v. Alloy and Ambiguous Grey v. Bang. In a format where the two finalists were guaranteed qualification for the Club Championships, these semifinals served as the first games-to-go.
The extra energy AMP expended for their quarterfinal game against Clue clearly factored into their semifinal performance. After going up 5-2, mental fatigue seemed to set in as they gave Alloy easy break chances (including a dropped first pass on the upwind goal line), which Alloy converted to take an 8-6 halftime lead. This is not to say that Pittsburgh didn't earn those goals; they got clutch catches from Anson Reppermund and Kelsey Cowles and unstoppable cutting from Bryan Bernard and Maria Bazjek, plus strong defense from Alex Thomas, Kenny Furdella, and Nicole Fiorentino.
Receiving downwind to start the second half, Alloy extended the lead to 9-6, after which teams traded points until the soft cap sounded at 10-8. After Alloy turned it on a huck, AMP dropped a short field throw, allowing Pittsburgh to punch it in for a three goal lead, 11-8, game to 13. AMP then worked the disc for a short goal, 11-9. Alloy sent a pinpoint huck that rode the wind just over an AMP defender's fingertips for the hold, 12-9. AMP held again to set up Alloy receiving downwind for the game and the bid to Rockford. An Alloy miscue gave AMP a chance to break, but an upwind huck fell short into a Pittsburgh defender's hands. Another off throw from Alloy, and this time AMP would not squander the chance; after a patient red zone possession — including a layout save from Raha Mozaffari — Nick Purifico found Austin Bonelli for the break.
On the ensuing point, Alloy worked it nicely upwind past midfield, but a crossfield blade carried out of bounds. AMP earned yards on a few underneath cuts before Rob Robinson connected with Linda Morse for the score, setting up double game point with Alloy receiving downwind. Pittsburgh wasted no time, though, gaining yards quickly on several big under cuts to get into their red zone offense which had been efficient all game. After a couple swings, Jesse Kummer threw a beautiful forehand break to space, and Bernard was able to toe the front end zone line for the win, clinching a spot in Rockford and sending the top-ranked team in the nation into regional elimination play.
The other semifinal turned out to be a barnburner as well. A few hotly contested foul calls stoked fires for both teams. Ambiguous Grey earned a few breaks early on, but Bang came back to bring it on serve before halftime. From there, the game consisted of mostly2 offensive holds, with Grey eventually scoring on a big huck on double game point for the win.
Alloy Builds To First Ever Regional Title
The finals between Alloy and Ambiguous Grey was a mere formality, with both teams finding it difficult to focus between the excitement of having secured a Nationals berth and the sun beating down intensely for the second straight day. Alloy had more gas in the tank, though, and coasted to a 13-8 victory, making them the first ever mixed regional champ to hail from Pittsburgh.
"[We] started the season with an extremely high ceiling for potential and no real idea where it could take us," said coach Christie Lawry after the game. "The team has gotten better every time we've played together. Despite some big injuries pre and post-season (including 2 of 3 captains), the trust everyone has in the team and our systems is evident and has really kept us focused, positive, and constantly improving."
Lawry was one of the captains to suffer a season-ending injury, but the team continues to benefit from her leadership in her new role.
AMP Avenges Crossover Loss For Final Bid
Meanwhile, AMP and Bang each won their first backdoor bracket games 15-63 to set up a rematch of Saturday's crossover game for the region's third and final bid to Nationals.
West Chester's Greg Martin started the game off with a… well, you know… by skying an AMP defender on a Dustin Sullivan huck for a quick hold. Both offenses came out gelling, with zero turnovers through four points, which averaged under a minute of play each.
But then came a 10-minute point in which some defensive adjustments from AMP started forcing Bang to make tougher throws. Philadelphia's Charles Weinberg came out of the stack to block a huck and Sarah Johnson had two incredible catch blocks in the endzone to rob Bang of would-be goals. Philadelphia struggled to gain big yards on their first few upwind possessions, but after Mozaffari got a layout block on an under cut, AMP took a timeout just outside the goal line. Coming in at a high stall, an immediate cross-field high-release backhand break from Ben Pelleg left all seven Bang players with their jaws on the ground as Michael Ing sauntered into the end zone for the upwind break.
After a few deep turnovers from each team, Bang was able to score on an upwind huck from Regina Wilkinson to a wide open receiver to keep the game at 3-3. But AMP's O-line was still firing on all cylinders, scoring on just four throws for their upwind hold. Another marathon point ended when Calvin Trisolini, an O-line starter for AMP who came over for the downwind D point, found Purifico deep to set up an easy red zone score from Pelleg to Morse. Trisolini finished the game with two goals and two assists.
AMP kept the pedal to the metal, scoring the next upwind point quickly as Luke Ryan hit Allysha Dixon on a front cone cut. Bang responded with yet another upwind hold, but AMP answered in kind. With the cap only 20 minutes away, Philadelphia put the nail in the coffin as Purifico got a layout block on a swing pass, leading to a short goal from Johnson to Ryan that put AMP up five breaks going into halftime. Ryan finished with one assist, two goals, and two blocks.
A long, grueling weekend showed its toll on the West Chester players in the beginning of the second half, as Philadelphia cutters began earning separation more and more easily. AMP got a quick hold on five passes as Emily Shields skied for a Melissa Devlin huck to extend the lead to 9-4. On Bang's ensuing O point, Martin made a fantastic layout grab in the end zone, only to watch the disc pop out as he hit the ground. AMP then worked the disc 70 yards using all seven players for the last upwind goal of the game. The teams traded downwinders from there as AMP clinched the third Nationals bid with a 14-7 win.
As much as credit goes to their D-line for earning breaks, AMP's O-line also deserves plaudits, only surrendered the disc once all game — and even then when the game was well out of reach at 12-6. Their offense finished with eight scores on nine possessions, averaging only about seven throws per possession.
As disappointed as Bang must be for missing out on the bid they earned to Nationals, they have a great opportunity ahead of them next year. Having earned Top Select Flight status, they will get bid preference into some TCT events, giving them great opportunities to earn another strength bid for the region. And with such a young core of athletic players, there is no telling how good they could be with another year of playing together.
Meanwhile, AMP heads to Nationals with some huge question marks looming over them. They showed massive improvement between their early July fifth-place finishes and their late August tournament sweeps, but two DGP losses at Regionals must surely sow some doubt in their ability to pull out wins once elimination play begins in Rockford.
---
Though short rounds and 15-minute halftimes assured teams plenty of recovery time in the heat ↩

Perhaps entirely? Ultiworld unfortunately did not have a reporter on the second semifinal. ↩

Against Sparkle Ponies and Clue, respectively. ↩