Ironside should be in control, but prequarters spots up for grabs.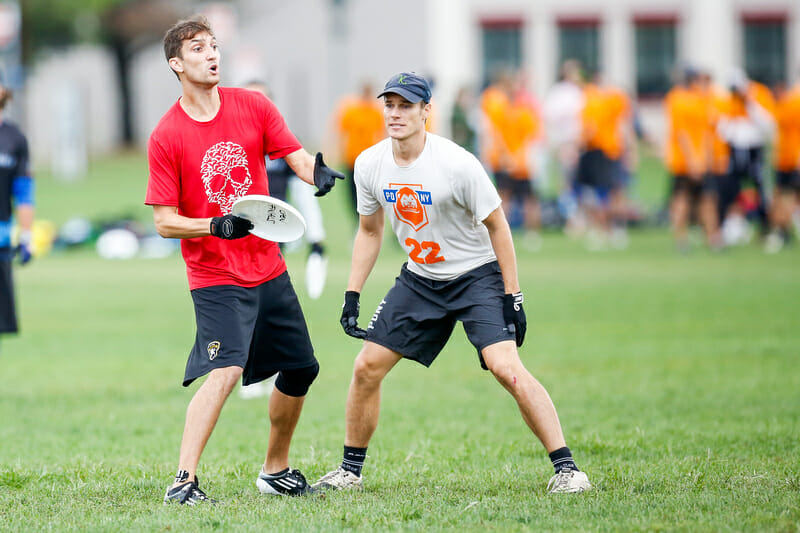 Ultiworld's coverage of the 2016 Club Championships is presented by Spin Ultimate; all opinions are those of the authors. Please support the brands that make Ultiworld possible and shop at Spin Ultimate!
Pool A is often a dud when it comes to Club Nationals, but the characters and teams of Pool A make it one of the more exciting draws in recent memory. Add to that the updated 2016 format, where the bottom finisher is eliminated from pool play, and there should be some compelling games in every round. While picking the pool winner may be easy, the bottom three finishers are interchangeable in all sorts of ways.
Ironside should get through Pool A relatively unscathed. They've earned their one-seed with an impressive regular season, now it's time to take care of business and get themselves a break before the bracket.
The bottom three seeds are trickier to order. The last place finisher will not make the bracket this year, so it may prove advisable for the teams to avoid expending much energy against Boston only to come up short — and be too exhausted to secure wins elsewhere. Ring is very capable of beating either Prairie Fire or PoNY; they've already done so this season.
Boston Ironside [Pool #1, Overall #1]
While there are some results that may be difficult to explain for Boston Ironside, they're clearly getting hot at the right time. With their complete roster final together at the Chesapeake Open, they muscled past tough competition. Their earlier season loss to Michigan High Five isn't as much of a cause for concern after the 13-6, 13-7 wins they got in August. And the strong victories over Truck Stop (14-13, 13-10) are a good confidence booster heading into the season finale.
Northeast Regionals felt more like an Ironside practice, with no team scoring more than ten on the clear favorite. This includes a 15-9 win over PoNY, the two-seed of pool A.
But winning the regular season has never been the goal for a stacked 2016 Boston team.
They've been successful so far this year because of a few key roster additiones that add to an already stacked roster. Of course the most notable addition is Kurt Gibson, who has proved to be the biggest difference maker for Boston in 2016. Jeff Graham is also a big addition, and he looks to be finally healthy going into Nationals.
On top of that, Russell Wallack is back, leading a D-line that is opportunistic. The Ironside defense capitalizes on its tight coverage with layouts from their deep bench. Teams playing against it should not wait around for them to tire out; it won't happen.
This team is consistently in the elite conversation, but they're still waiting on a National Championship. With veteran leadership already in place, Gibson may not be a huge leadership addition for Boston. But what he does add is a playmaking ability and winning mindset (he has three Club Championship titles) that simply doesn't exist in many players in the world right now. It could be what they need.
As for the pool, their matchups look comfortable. They're stout on defense, meaning that the grind-it-out styles of both Prairie Fire and PoNY will likely come up short against their defensive resilience. A 2014 rematch against Ring of Fire should their way as well, even with the athleticism of Raleigh possibly challenging them deep. In that particular matchup, depth will be the difference maker.
Boston's path to semis works in their favor, and they've earned that with a strong regular season. But another disappointing exit for Ironside just seems so likely for the team that's been deep in the tournament and lost so many times. But this is the year where Boston is seemingly all coming together. All that's left now is to let the past stay behind you and take home the trophy.
Likely Ceiling: 2016 Champions
Likely Floor: Semifinals
New York PoNY [Pool #2, Overall #8]
To win the pool, PoNY will have to upset an Ironside team that knows them very well. The two matched up in the Northeast regional final, with Ironside taking the crown 15-9. But a 12-11 win over GOAT in the following game got PoNY back to Nationals. They'll try and break through to join their regional foes as an elite caliber team.
"We try to have no expectations for the tournament," head coach Bryan Jones said. "We want to go as deep as possible."
PoNY utilizes a side-stack that meticulously grinds out offensive points. Billy Katz is a big downfield target for them, but to keep the disc moving he'll have to center it right back to the handlers. Chris Kocher and Isaac Saul get resets regularly and are tough to contain as throwers.
There are striking similarities between PoNY and Prairie Fire in expectations, talent level, and style of play. What it will come down to for both teams is the ability to force a turnover. With both offenses methodically churning downfield, neither will be giving the other a plethora of chances. And this game will likely determine who gets the easier matchup in the prequarter round, and thus a better shot at making the quarterfinals.
"Our mantra this year has been grittiness, unity and smarts," Jones said. "If we're able to exemplify those three traits we'll be successful."
As for the main difference maker, the Drost brothers — Ryan and Mike — could be vital to stifling Prairie Fire. Both on defense and after the turn, they'll need to find a rhythm to consistently score break chances.
A win would be huge. The three-seed from Pool A is likely to draw an extremely difficult matchup in the bracket.
Likely Ceiling: Quarterfinals
Likely Floor: Prequarters
Kansas City Prairie Fire [Pool #3, Overall #12]
The main question for Prairie Fire is simple: which team shows up? If they have a performance akin to their appearance at the Pro Flight Finale, they will be incredibly difficult to stop. That run of games included wins over Sockeye, Johnny Bravo, and then Bravo again.
After that first day of Pro Flight, captain Joe Young was impressed by one aspect in particular. "Our willingness to grind out long points against quality opponents," Young said. "It would be easy to just give up and send it deep again, but we haven't had that kind of attitude."
Part of the reason they were so successful was their ability to reset in the backfield. Agile handlers like Abe Coffin played with sound fundamentals. Naturally, their weakness comes when both the first look downfield is covered, and the handlers are being denied in the backfield. To beat Prairie Fire, teams will need to shift their focus to the backfield and force Kansas City to win the offense away from the disc.
Matt Jackson is a notable returner on defense, who burst onto the scene as one of the best defenders on the stacked AUDL champion Dallas Roughnecks. Beyond that, there are still athletes like Valley Renshaw and, of course, Jay Froude.
According to Young, Prairie Fire had yet to hit their stride when they were impressing at the Pro Flight Finale. Because of the team's roster being spread across that area of the country and the plethora of AUDL teams that the players compete for, their experience as a team has been limited in 2016. But if those wins were any indicator, a Kansas City team in true form could be dangerous.
Still, it's hard seeing the Ironside offense giving the Prairie Fire defense many chances to break them. Without a full slate of outstanding defenders, your chances to change the game against the Boston O-line are going to be limited.
As talented as Prairie Fire is, their pre-quarter draw seems so tough that it could weigh on them in the next round. Quarters seems right here. Again it mainly depends on that matchup with PoNY. If they lose, it's going to be very difficult to claw their way back into a quarterfinals appearance.
Likely Ceiling: Quarterfinals
Likely Floor: Prequarters
Raleigh Ring of Fire [Pool #4, Overall #13]
Ring of Fire hasn't been on a lot of radars this year, but they're not far removed from a semifinals appearance. Most of that 2014 roster that made a deep run is still present, with the big names returning to Nationals.
The offense still runs through Jonathan Nethercutt like it has the past few years. He still has some elite level athletes to throw to: Justin Allen, Jack Williams, Micah Hood, and, most recently, Jakeem Polk, who proved himself with the now defunct Charlotte AUDL franchise in his rookie year.
Although they are seeded behind them, Raleigh has defeated both PoNY and Prairie Fire this year. It was the rest of the regular season that left many scratching their head. Yet a dominating Southeast regional tournament is typical of a Ring of Fire team that is putting things together at the right time. Mike DeNardis is an excellent coach, and a run into the bracket this year could cement him as one of the best in the game.
He'll need help from the youth of Raleigh that will need to step up if they have a chance to get out of the pool. Matt Gouchoe-Hanas was an impressive handler at College Nationals for UNC, and could be an option to relieve some of the pressure on Nethercutt. Veterans like Noah Saul and Tristan Green will need to play a big part in keeping the disc moving and avoiding the questionable hucks that may have worked against lesser opponents.
Pool A should be very afraid of this Ring of Fire team. While their regular season wasn't very impressive, it's starting to seem typical of Raleigh to just show up when it really counts. Their physical defense and loose offense could trip some of the better teams up.
Ring of Fire is here this year to play spoiler. And while they might snag an upset, the teams they face later in the tournament will be prepared for their style of play. The southeast was a weak region this year, and it's certainly possible that the momentum they gained from rolling through the region means little at the national level.
Likely Ceiling: Prequarters
Likely Floor: Done on Day One