Everything to seed so far: Riot, Nightlock, Molly Brown, Traffic, Fury, Scandal all come out with wins. Qxhna Titcomb (Seattle Riot) goes out with a non-contact injury, but severity unclear.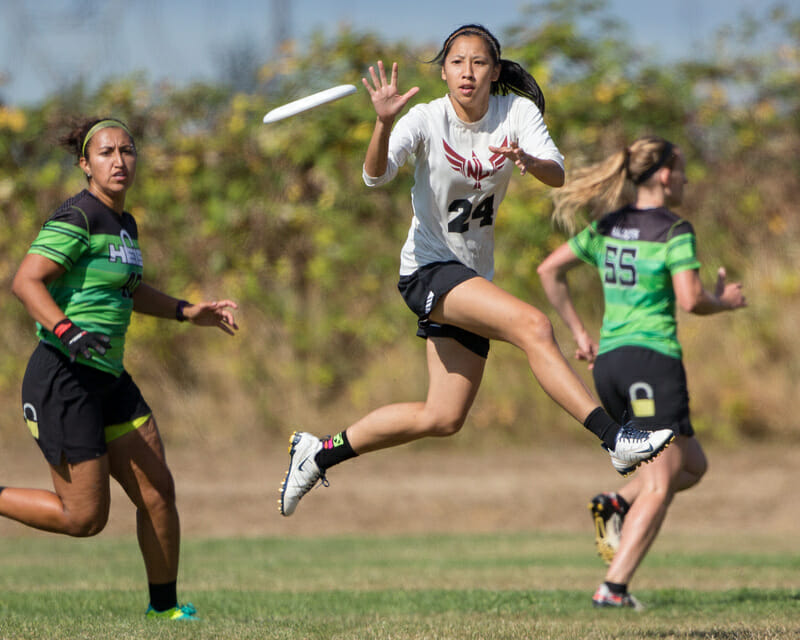 Ultiworld's coverage of the 2016 Club Championships is presented by Spin Ultimate; all opinions are those of the authors. Please support the brands that make Ultiworld possible and shop at Spin Ultimate!
Pool A
Seattle Riot 15-3 Quebec Iris
The game featured many long, slogging points, but the class of Riot (overall #1, seed A1) shown through in their handling of Iris (overall #12, seeded A3). Riot's offense was far from sharp in steady wind, but their defense was able to take advantage of Iris' unwavering desire to play long ball. As the 15-3 score line indicates, Iris was simply no match for the tournament one seeds.
The real story of the game was an injury suffered by Riot handler Qxhna Titcomb. Titcomb went down with a non-contact injury in the second half. She was unable to put any weight on her right leg as she was helped off the field. She sat out the rest of the game with her leg elevated and knee heavily iced.
Coach Andy Lovseth said that Titcomb would not play for the rest of the day but that he was not yet sure of the nature or severity of the injury. The injury, if it prevents her from playing for the rest of the weekend, would of course be a major blow to Titcomb, but could also present a challenge for Riot as the completion level ramps up through the weekend.
For now, Riot is 1-0 with a dominant victory in less-than-ideal conditions, but the true impact of this game will not be known until more about Titcomb's injury is known.
San Francisco Nightlock 11-9 Madison Heist
The first half between the regular Nationals opponents was made up of two big runs, one for each team. Nightlock (overall #8, seeded A2) came out of the gates completely overwhelmed by the wind, while Heist (overall #13, seeded A4) looked right at home and got up to a roaring 5-0 lead.
In an instant, though, a switch was completely flipped. Heist suddenly looked like the team uncomfortable with the wind. Even the team's top players struggled to catch wobbling discs and complete short throws.
Nightlock, though still playing with a wind-caused sloppiness at times, was the much cleaner team for the rest of the half. A team that looked incapable of scoring even on downwind points through the first five points of the game, rattled off break after break, regardless of direction.
A monstrous, turn-causing bid from Sabrina Fong on a Heist huck to the endzone was emblematic of Nightlock's intensity and play-making in their dominant first half stretch. The Bay Area club ended the first half on an 8-1 run for the 8-6 lead at the break.
Heist was determined to get back in the game out of half. A hold and a break leveled things up at eights and when Heist had a chance to break upwind from a few yards out of the endzone it looked like they would go on another run to put the game away. But the disc was turfed and Nightlock went on to hold.
The teams traded quick holds to 10-9 in Nightlock's favor with the game to 11. With an opportunity to force double game point, the wind again became a factor for Heist. The game fittingly ended on a game with double digit turns, as Nightlock broke upwind for the victory.
Pool C:
Denver Molly Brown 12-9 Raleigh Phoenix
Phoenix (overall #10, seeded C3) gave Molly Brown (overall #3, seeded C1) a challenge in the first round, but Denver still closed out the game 12-9. Teams traded early as they adjusted to the wind, but Molly Brown's D-line took over to break in the first half, and they would hold this lead throughout the game.
Jessi Jones was the foundation of Phoenix's offense: she 8 of the team's 9 goals, finding Katelyn Travaglini and Jenny Wei in the endzone. Phoenix looked good, but the wind clearly grabbed discs intended to be dimes.
Molly Brown played their game, and it worked in the wind: they threw aggressively, they took risks, and they generated defensive opportunities. They'll have to boost their efficiency in the wind today, but it's clear that their D-line can take care of business.
Vancouver Traffic 15-9 Philadelphia Green Means Go
There was promise early for Green Means Go (overall #15, seeded C4), but Traffic (overall #6, seeded C2) reigned in their offense to break away and win their first game 15-9.
Vancouver likes their offense fast, and they clearly struggled in the first half to adjust their pace and throws to the up-down wind. Green Mean Go worked through the calm handling of Amel Awadelkarim and Anna Thompson to score easy points up the open side, and Traffic didn't seem ready to challenge them. Kat Ritzmann was everywhere, earning 4 Ds, throwing 2 goals and scoring 1 for Philadelphia.
Then Traffic took a breath, and they sharpened their offense into what you'd expect from the 6-seed. Mira Donaldson and Katie Hikida commanded the backfield, and the young Collefas Mot outran everyone on the field. Traffic outscored Green Means Go 7-2 in the second half to win their first round.
Pool D:
San Francisco Fury 15-4 Atlanta Ozone
Fury (overall #4, seeded D1) excelled in the wind during the first round, handing Ozone (overall #9, seeded D3) a 15-4 defeat. Breaking twice to start, Fury looked comfortable and composed in the wind. Fury used their notorious force middle to fluster Ozone's flow downfield, and they were ready to defend the skies from Katherine Wooten's deep shots.
Ozone played smart person defense with flat marks and tight downfield guarding, but on offense their long shots couldn't connect. They only scored once in the first half, and Fury marched full force to 9-1 before Ozone could score again.
Atlanta had moments of defensive brilliance from Anraya Palmer and Sam Stovall, but Fury's efficiency and skill gave Ozone few opportunities to convert. They broke late to add a few more points to their board, but Fury closed the game out in true elite fashion.
Washington DC Scandal 13-6 Portland Schwa
Scandal (overall #5, seeded D2) worked through the wind to beat Schwa (overall #16, seeded D4) with a score of 13-6. Both teams were sloppy early in the wind, and at times Scandal's offense looked flustered by Schwa's zone. With the exception of first-year player Amy Zhou, Scandal's downfield looked tentative in the wind as their handlers worked laterally.
Schwa had opportunities to break, but their inefficiency on defense meant that Scandal's shaky early offense could still take half 8-2. Veteran handlers Kathryn Weatherhead and Emily Flanders took command of the backfield, but Schwa seemed unready for the wind with one-hand catch attempts and some fumbles.
Sandy Jorgensen ruled the endzone for Scandal, and Sarah Lord connected with her throughout the game. Schwa rallied a break in the second half, but it was already Scandal's game, and they closed out in soft cap 13-6.