Slow White, Drag'n Thrust, and Mischief lock up their respective pool titles. Newcomers No Touching and shame. both notch their first wins and will advance to prequarters.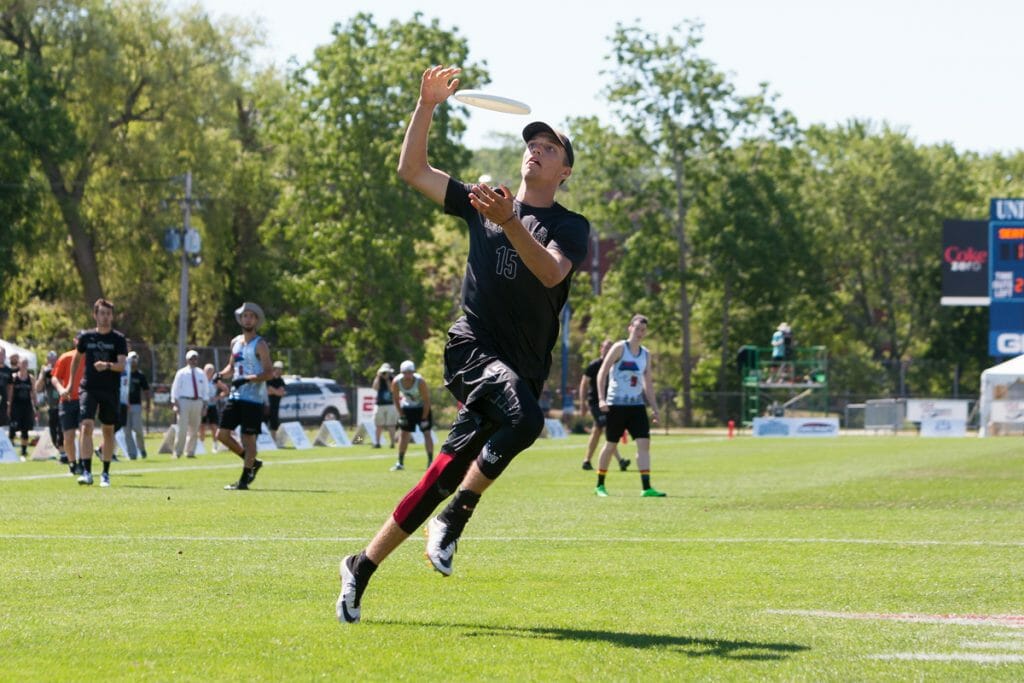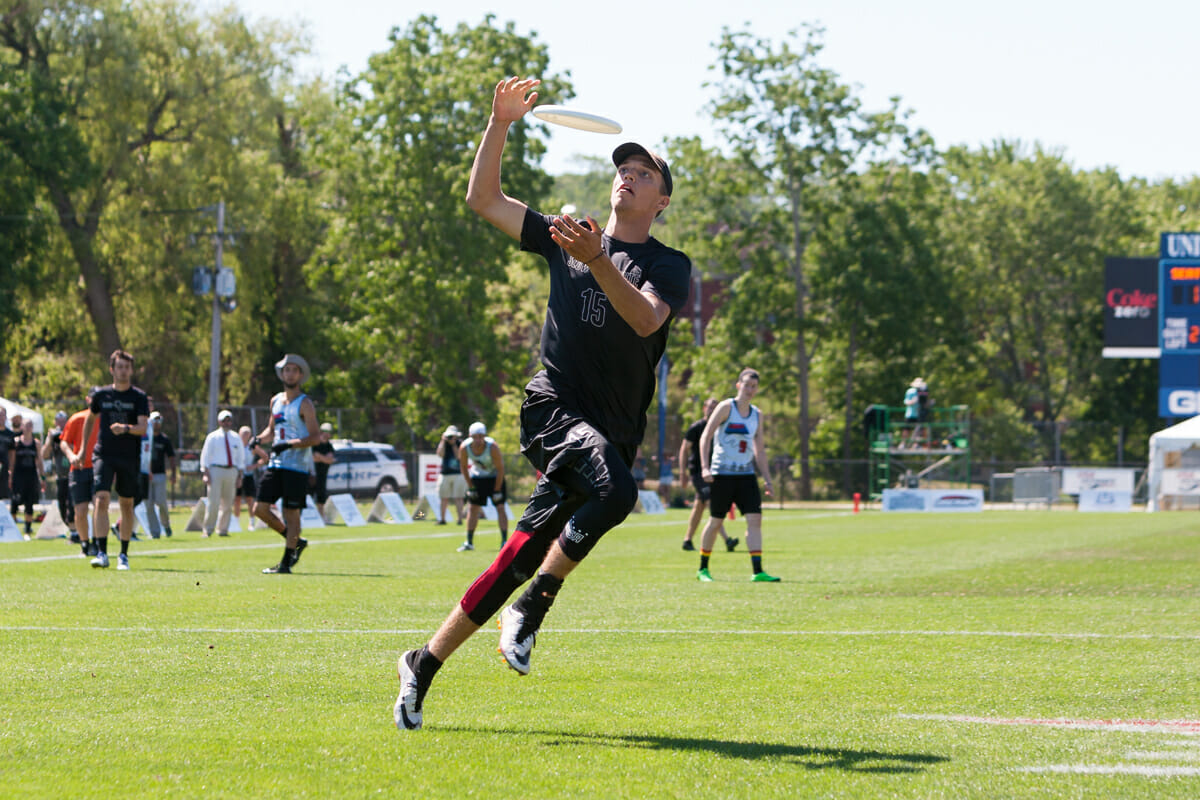 Ultiworld's coverage of the 2016 Club Championships is presented by Spin Ultimate; all opinions are those of the authors. Please support the brands that make Ultiworld possible and shop at Spin Ultimate!
Pool B:
Boston Slow White 15-9 Pittsburgh Alloy
In an unfortunate side effect of the pool play format Nationals uses, Slow White (overall #2, seeded B1) faced Alloy (overall #7, seeded B2) in a pride game, both teams having already secured their 1st and 4th place poll finishes, respectively.
Boston continued the dominant play they exhibited all day and took care of business 15-9.
Slow White will face the winner of AMP vs shame. in the quarterfinals tomorrow.
Madison NOISE 14-9 Dallas Public Enemy
In a similar semi-formality, NOISE (overall #11, seeded B3) and Public Enemy (overall #14, seeded B4) faced off for the privilege to avoid the loser of Drag'n Thrust vs Steamboat in the prequarterfinal round, although both had already escaped day one elimination.
NOISE jumped out to a 4-2 lead and cruised to an 8-6 halftime lead that they would eventually extend to a 14-9 win.
NOISE is set to play No Touching and Public Enemy will see Steamboat, both in prequarters.
Pool C:
Minneapolis Drag'n Thrust 14-10 Cincinnati Steamboat
Minneapolis (overall #3, seeded C1) utilized their trademark strengths of depth and unflappability to power past an aggressive Steamboat (overall #6, seeded C2).
Drag'n opened the game with 4 breaks, with 8 different players contributing to the 4 goals. Steamboat answered pushed back as Jeff Kula found Nancy Haskell for Steamboat's first break. Cincinnati broke again but then let Drag'n rattle off a few more before taking half 8-4.
Minneapolis scored out of half and seemed in complete control, but the tenacious 'Boat would not go away without a fight.
Another hold and Kula and Haskell connected twice more on breaks to bring the game to 9-7.
After a Drag'n hold, though, Cincinnati seemed to run out of…you know…and gave Drag'n a short upwind field on a dropped reset. Jay Drescher gave and went with Brian Schoenrock for the quick break, and Austin Lien put a frosty flick to space for Jimmy Kittleson to reel in for the 12-7 lead.
Steamboat did earn another break but Drag'n closed out the game 14-9.
Drag'n earns a bye to quarters and will face the winner of Mixtape vs Ambiguous Grey. Steamboat will see Public Enemy in prequarters.
Minneapolis No Touching 15-9 Denver Love Tractor
In the Pool C elimination game, Love Tractor (overall #10, seeded C3) started out strong, building a 4-2 lead to start the game and scoring to hold serve at 6-5, but couldn't put together a complete performance to hang with No Touching (overall #15, seeded C4).
Love Tractor would not earn another break after that, allowing Minneapolis to string together a 10-3 run to leave them out of the championship bracket.
Captains Sam Valesano, Graham Brayshaw, and Paul Nordgaard served as field marshals for No Touching, using their experience playing in the Midwest weather to march their offense up the field.
Rookie Wade Moravec was a monster deep threat for them as well. Defensively, their unusual style of defense (men playing tight person while women control space and bait blockable throws) was too much for Love Tractor to handle in the wind.
No Touching faces NOISE in prequarters tomorrow.
Pool D:
San Francisco Mischief 12-11 Seattle Mixtape
In the second 1 vs 2 stunner today, San Francisco Mischief (overall #5, seeded D2) outlasted the strong Seattle Mixtape (overall #4, seeded D1) comeback to win a double game point thriller, 12-11. This gives Mischief the pool D title, and a first-round bye Friday morning.
Mischief started hot, capitalizing on the grim weather. After four multi-turn points, Mixtape was staring at a 4-0 deficit. In those four points, Brett Petersen registered five blocks and one assist. Seattle got one of the breaks back in the first half, but they were still struggling with a stifling Mischief zone. Impatient decision making rushed the Seattle handlers and gave Mischief plenty of short field opportunities early. San Francisco took half 8-5.
The wind began to die down in the second half, but it still took time for Seattle to hit their stride. With Mischief up 10-7, something clicked for Mixtape. A huge backhand from Khalif El-Salaam capped off a 3-0 run and tied the game at 10 all.
A miscommunication on defense ended the run of breaks, and after a hold from Seattle the two teams entered double game point at 11 all. Mischief went back to their roots of smooth offense, and with the wind in their favor they wouldn't be stopped. Mischief took the game, 12-11.
Gina Schumacher, Kevin Smith, and Evan Boucher all had outstanding games for Mischief. Schumacher had three goals while Boucher had a whopping five assists and a goal on top. For Mixtape, Lani Nguyen (one goal, two assists) and Drew Johnson (one goal, one assist) had fierce cutting performances. Jesse Bolton (one assist) and Phil Paul provided a lot of disc movement, especially on upwind possessions.
Both teams will live to play another day, but Mischief holds a clear advantage for the bracket tomorrow. They will face the winner of Public Enemy and Steamboat. Meanwhile, Mixtape will see Ambiguous Grey in prequarters, a rematch of their quarterfinal from last year.
Fort Collins shame. 13-5 Gainesville G-Unit
The much-hyped shame. (overall #9, seeded D3) was able to put together a complete game in their final match of the day against G-Unit (overall #16, seeded D4).
After a few holds to start, shame. went on a 5-0 run to open up a 6-2 lead that they would never relinquish.
Bailey Russel notched three assists and Jade McLaughlin scored three goals as they eliminated G-Unit from championship play.
Shame faces AMP in prequarters tomorrow morning.