After a wild Thursday, everything went to chalk in the prequarters of the Mixed Division: NOISE, Steamboat, Mixtape, and AMP all advance.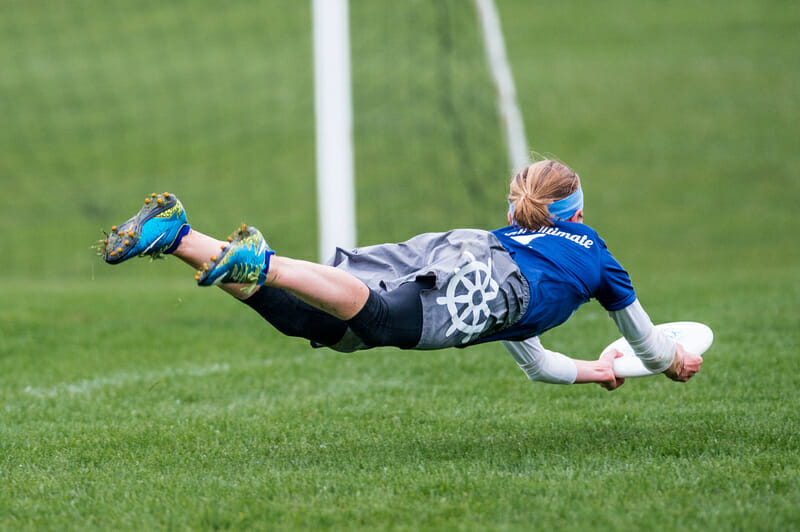 Ultiworld's coverage of the 2016 Club Championships is presented by Spin Ultimate; all opinions are those of the authors. Please support the brands that make Ultiworld possible and shop at Spin Ultimate!
Madison NOISE 15-12 Minneapolis No Touching
The second and third teams earning bids from the North Central region squared off in a close pre-quarter matchup. The squads had played twice already this season, both at Cooler Classic in August, and both of which NOISE (overall #11, finished B2) came out on top.
No Touching (overall #15, finished C3) earned their pre-quarter spot on day one with cool and collected offense in the wind, and would utilize their smooth throws and creative defense to earn an upwind break in the first half, with an 8-7 lead at intermission.
But NOISE responded with an upwind break out of half, and converted the downwinder after that to take the lead.
No Touching would keep pace for a couple holds, but NOISE tacked on another upwind break and finished with a 15-12 win.
NOISE coaches Nick Heckman and Josh Davidson credited their focus on key matchups with the victory. In particular, Michelle VanSchyndel put pressure on No Touching's Sam Valesano that helped force multiple turnovers.
The younger Madison squad (oldest player: 31) was able to run the gas out of the older Minneapolis team (16 players 31 or older) by the second half, which helped seal the win.
Upcoming Quarterfinal Matchup: Connecticut Metro North v. Madison NOISE
Cincinnati Steamboat 15-8 Dallas Public Enemy
Nationals first-timers Public Enemy (overall #14, finished B3) broke seed on day one with a win over Alloy to earn a spot in pre-quarters, but regular season juggernaut Steamboat (overall #6, finished C2) was too experienced and too deep for them to handle.
After trading holds to 3-3, Steamboat earned their first upwind break of the game and followed it with a downwind conversion.
Public Enemy answered back with an upwind break to tie the game at 5-5, but Steamboat held upwind and rattled off two more breaks to take half 8-5.
Cincinnati remained in complete control from there, earning three more breaks and yielding none to ride out a 15-8 win.
Steamboat captain Ryan Gorman noted that their zone defense was critical to their success, stifling all but one of Public Enemy's upwind possessions, and their upwind offense isolated favorable matchups that allowed them to convert break opportunities.
Nancy Haskell (two goals, one block) and Brittany Winner (three goals, two assists) both had dominant presences on the field for Cincinnati.
Upcoming Quarterfinal Matchup: San Francisco Mischief v. Cincinnati Steamboat
Seattle Mixtape 15-12 Washington DC Ambiguous Grey
The rematch of last year's exciting quarterfinal did not disappoint. Ambiguous Grey (overall #12, finished A3) entered the game with a focus on specific defensive sets to frustrate the offense of Mixtape (overall #4, finished D2), and in particular looked to shut down Seattle cutter Drew Johnson. Their free flowing offense came prepared to take whatever opportunities the Mixtape defense gave them, and for the most part they found success with this strategy.
Mixtape broke upwind to start the game and scored downwind to take a quick 2-0 lead.
AG responded in kind with a hold followed by a Zach Norrbom assist to Andrew Allen to tie it up at 2s.
But in what turned out to be the theme of the game, Seattle was able to hold upwind and follow it with a downwind break. An identical cycle occurred again, as Mixtape took half 8-6.
Seattle captain Bert Abbott noted that their defense was able to generate turnovers by forcing DC to use all seven players on the field, rather than rely on playmakers to carry them. Conversely, she gave praise to their offense's ability to do just that.
Although DC was able to take Johnson out of the game, especially in the red zone (one assist, zero goals), Mixtape had other options with favorable matchups.
Evan Klein (two goals, four assists), Claire Revere (two goals), and Cam Bailey (two goals, three assists) all made plays to spark their offense when needed.
Grey was finally able to follow an upwind break with a downwind conversion to tie the game at 9-9.
But after a few holds, Mixtape's Evan Klein got a run through catch block and followed it up with an assist to Jesse Bolton for the break, 12-10 Seattle.
After two more downwind scores, DC again broke upwind, as Antoine Davis got a layout block on the reset, ran 50 yards and laid out again to catch a Zach Norrbom huck.
But for the third time in the game, Seattle's confident O line was able to score upwind. Klein then got bookends to close out the game, 15-12.
Upcoming Quarterfinal Matchup: Minneapolis Drag'n Thrust v. Seattle Mixtape
Philadelphia AMP 13-10 Fort Collins shame.
The stage was set for shame. (overall #9, finished D3), a team with both height and big throwers, to capitalize on the windy conditions that plagued AMP (overall #1, finished A2) both at US Open and in their final pool play game against Metro North yesterday.
They were indeed able to use these strengths, using good field position to score three times upwind throughout the game. But as was a theme around the division, upwind holds from the higher seed proved to be the difference in the result.
Both teams scored upwind to start the game and then traded downwinders to 6-6.
After a single shame. turnover, AMP was able to work the disc up the break sideline all the way to the goal line, where Nick Purifico tossed a backhand break to Ben Pelleg who made a fingertips-only grab for the break. Philly then scored downwind to take half, 8-6.
A team known for its fitness, AMP was able to use their legs to earn separation against Fort Collins defenders. Their O line stayed positive and energetic after turnovers, avoiding any easy, fast break goals for shame's D line. Their defense focused on making deep throws tough for shame's primary playmakers, Jake Juszak, Nick Snuszka, and Jade McLaughlin.
Though AMP opened the second half with a downwind hold to go up 9-6, the game was far from over. A shame. hold was followed by an upwind break.
Philly scored on their first possession of the next point, as Carolyn Normile threw a nasty around backhand break 15 yards into the wind for Purifico to jump into the end zone with.
Two more downwind scores and shame. again broke upwind, and again it was Normile who took things into her own hands. After earning a poach block to save a goal for shame., she broke free of her defender on the open side for a score from Calvin Trisolini.
AMP then broke downwind for the win, 13-10.
Upcoming Quarterfinal Matchup: Boston Slow White v. Philadelphia AMP