Can Ring make it interesting?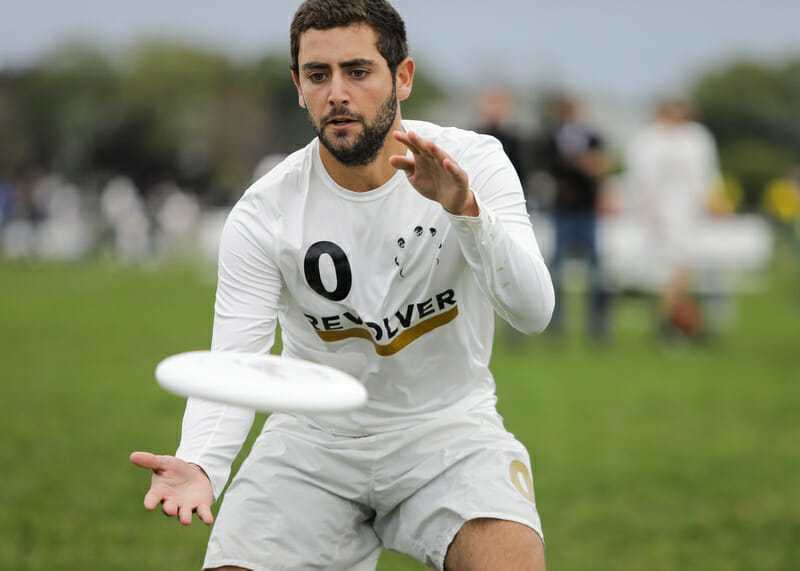 Ultiworld's coverage of the 2016 Club Championships is presented by Spin Ultimate; all opinions are those of the authors. Please support the brands that make Ultiworld possible and shop at Spin Ultimate!
Other than their instant-classic meeting with Seattle Sockeye (a double game point win), San Francisco Revolver has finished all of their games in the first two days of the National Championships with an advantage of six points or more. Breaks have come easily under their heavy defensive pressure and strong marks, and while the wind on Thursday left the offense more vulnerable than usual, the O-line only one turnover against Furious George Friday afternoon.
That doesn't bode well for Raleigh Ring of Fire in their semifinals matchup. The Southeast champs have dispatched two admirable opponents in Chicago Machine and Washington D.C. Truck Stop, but all reports from those games included Ring's adversaries burying themselves in a pile of their own mistakes. Revolver, on the other hand, has improved in each game they've played so far.
What's been most impressive about Revolver is their increasing defensive intensity. Revolver marks have locked down all over the field, but especially on opposing handlers. Russell Wynne, Sam Kanner, and Patrick Baylis have the speed to smother opponents in person defense. Nathan White, with his length and surprising quickness, has often focused on center handlers, or taken the mark in San Francisco's pace-changing zone looks. As head coach Mike Payne boasted before the tournament, "Nathan can be both flat and one-way at the same time."
Against both Furious George in the quarterfinal and Sockeye at the end of pool play, the work of this unit created numerous short field turnovers, or got the blocks necessary early in possessions on deep shots; it's been a full team effort. Revolver's defensive depth and ability to score after the turn increases the value of each opponent's possession. For a team like Raleigh, who thrive on a gunslinging style of offense, turns may cost a lot more.
It's worth noting that it hasn't been that long since these teams met in semifinals. In 2012, San Francisco took out Raleigh 15-9. As much as Ring likes to embrace historical context, and prey on the nerves of their opponents in the bracket, they might need to reconsider that tactic tomorrow afternoon.
But, just maybe, Ring can make Revolver beat themselves.
Ring of Fire has played every game of Nationals as the consensus underdog. In their semifinal, a win would be the biggest upset of the past decade. For the game to go their way, several things would have to happen.
First, they need to neutralize the stars. In the games against Machine and Truck Stop, Ring head coach Mike DeNardis picked individual opposing players to focus a matchup on. For example, JD Hastings covered Machine's Bob Liu, and Justin Allen took mostly Truck Stop's Nicky Spiva. For Beau Kittredge and Cassidy Rasmussen, there are only so many things you can throw at them. Justin Allen, Tim McAllister, and the rest of the Ring D will try, but there is only so much you can do. A "win" in this category would be forcing the Revolver stars to operate in less efficient spots. Keeping Kittredge in the backfield is a small victory that could pile onto a larger gameplan.
Second, Ring needs to try and force Revolver to play their game. Ring won both their bracket games by forcing their opposition to play to their style. Raleigh has been satisfied with throwing the questionable huck, knowing that their athletes have a better chance at the goal. That said, they haven't faced the athletic caliber of Revolver. They haven't yet dealt with people like John Stubbs or Lucas Dallmann.
That leaves Revolver, rightfully, as the heavy favorite. It'll take the full dedication of Ring and big efforts from their top seven offensive players to hang onto the disc to give them a fighting chance this afternoon.