A standout on a team full of stars, Jeff Smith was an unstoppable force and the best player in the division this season.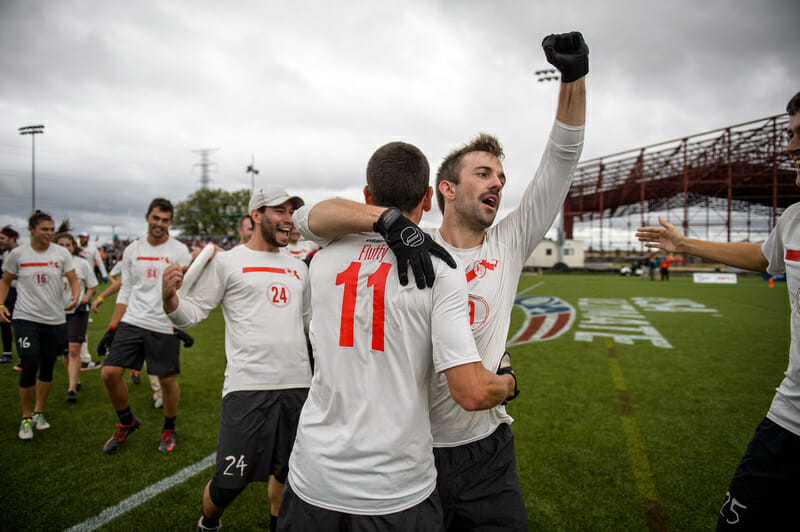 Ultiworld's 2016 Club Awards are presented by BE Ultimate; all opinions are those of the authors. Please support the brands that make Ultiworld possible and shop at BE Ultimate!
There is no question that Boston Slow White's depth of talent is largely to credit for the program's first ever championship this season. That a single player was able to stand out as an individual while also making those around them shine, time after time, is not a slant on the rest of the roster but, instead, a testament to the incredible season Jeff Smith had in 2016.
Last year's All-Club 2nd teamer stepped up his game and served as the centerpiece of a Slow White offense that feasted on defenses all season. Smith takes what opponents give him, playing as a small ball specialist or gunslinger as needed. His lightning-quick throw-and-go motion makes him a one-man zone-breaker, while his deadly flick can pick out receivers anywhere on the field. More than that, he is the heart and soul of Boston's championship squad, embodying the energy and positivity that drives the team's success.
Smith tallied ten assists at Nationals, including three in Slow's quarterfinal against top-seeded AMP — a game in which Boston's O-line was never broken — and four in their semifinal against three-time defending champs Drag'N Thrust. The latter performance came despite Minneapolis captain Jake McKean naming Smith, prior to the game's first point, as the one Boston player they hoped to contain. Despite facing a number of Drag'n's top defenders tasked with slowing him down, Smith was still able to lead Slow White in touches and carry his team to a comfortable victory over a team that has been nearly unbeatable in recent seasons.
With downfield targets as athletic as Tannor Johnson and as tall as Todd Herman, a handler in Smith's position might be destined to rack up the assists. But what separates him from the other pure handlers in the division is his eye for the end zone. When defenses lock down the horde of Boston receivers, Smith will take it upon himself to score. He did so four times in the championship game, usually on short flips into space where he was able to beat his defender on a straight sprint.
While Smith's performance in bracket play at Nationals could easily earn him tournament MVP honors, it's important to note that he's been doing it all season for Boston. At the US Open in July, he contributed a goal and five assists in Slow White's semifinal win over Metro North, and four more assists in the finals against Seattle Mixtape — prompting ESPN color commentator Ian Toner to describe his effort as "putting on a throwing clinic."
After watching Smith tear it up all year en route to a championship, maybe it's time his peers start taking a lesson.
1st Runner Up: Metro North's Chris Mazur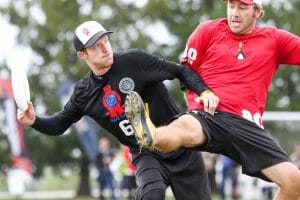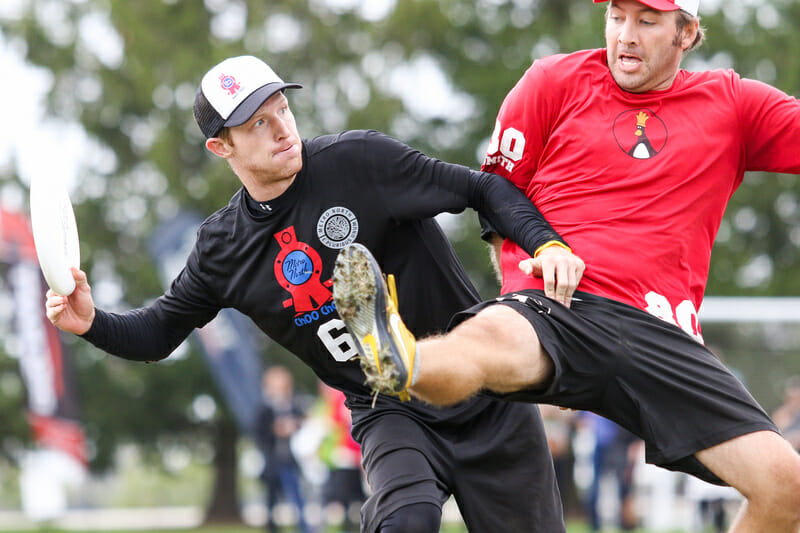 It probably seems odd that anyone who dropped the opening pull of a semifinal match would be in the discussion for Player of the Year. Make no mistake, though: the Metro North newcomer was Mr. Clutch for the silver medalists in more than one game at Nationals. In Connecticut's first game of the weekend against San Francisco Blackbird, Mazur racked up six assists including the game winner on double game point. Later that day, he set the tone on the first point against Philadelphia AMP by ripping a huck into the wind for a score, finishing the game with three assists and two goals in their 12-9 win to help earn his team a bye to quarterfinals.
But no player in the division had nearly as good a single-game performance as Mazur did in Metro North's semifinal win over Mischief. He contributed to seven of their fourteen goals and earned four defensive blocks, not to mention unleashing a mammoth pull that set up the game's final lead change, giving John Geraghty ample time to get down and lay out for a first throw Callahan. It was the kind of performance befitting a Player of the Year, the type Mazur put together several times throughout this season, but just one game short of earning the top spot in 2016.
2nd Runner Up: Drag'n Thrust's Sarah Anciaux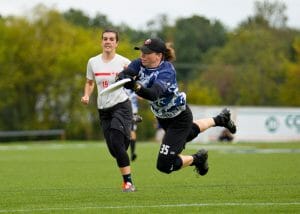 Simply put, Sarah Anciaux is one of the most dominant athletes in the mixed division. She is physically imposing and aggressive, capable of generating layout blocks or skying a pile of players for the score. As Slow White threatened to close out their semifinal over Drag'n, Anciaux twice found the end zone to keep Minneapolis' hopes of a fourth straight title alive. She also drops jaws with the disc, slicing hammers over the stack or threading through the cup like a hot knife through butter.
But on top of her athleticism and skill, she also brings the discipline and smarts that only truly elite players possess. No single moment demonstrated these qualities more so than double game point of Drag'n Thrust vs AMP from the US Open. After Philly earned a block near their own end zone, they began marching up the field for the win, and Anciaux found herself marking fellow Team USA member Raha Mozaffari, who had the disc near the sideline. As Mozaffari faked and pivoted to move her resets, Anciaux waited for the critical moment to strike, baiting a high release backhand that she was all too ready for. The bigger part of her gloved hand stopped the disc cold, setting up a one throw score for the Minneapolis win.
Stay tuned to Ultiworld for All-Club 1st and 2nd teams and additional individual awards later this week.