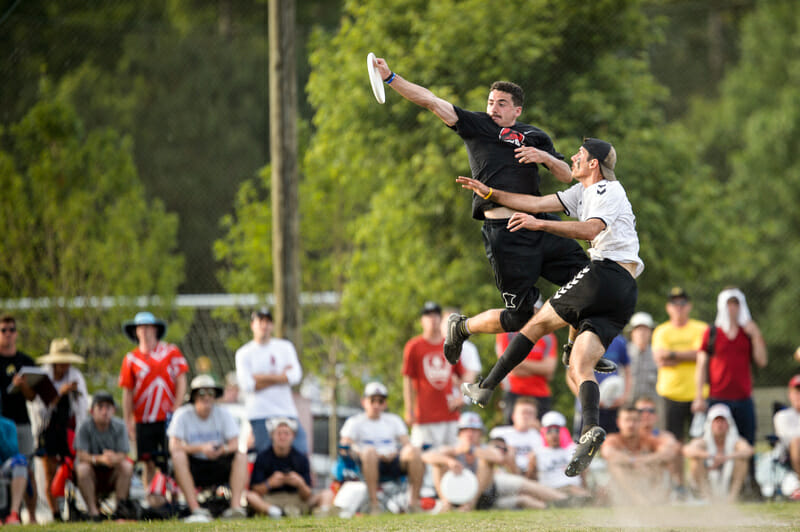 We are excited to present the 2017 preseason College Power Rankings in the Men's Division! These rankings are based holistically on a number of factors: last year's performance, roster changes, conversations with coaches, the "eye test", fall results, and assorted other factors.
25. Vermont (2016: 7th in Northeast)
A resounding win over Brown last weekend bumped Vermont into the final spot in the preseason power rankings. Will they — or another Northeast team — have enough firepower to claim a third bid? Unlikely any team can surpass UMass or Harvard.
24. Iowa State (2016: 4th in North Central)
Quick: who was the top finisher at North Central Regionals last year behind the big three that qualified for Nationals? Did you guess Iowa State? Maybe not. A quietly strong postseason set some higher expectations for Iowa State heading into 2017. Cullen Raasch is a player to watch this year.
23. Colorado State (2016: T-5th in South Central)
Somewhat under the radar, CSU had a good season last year. They lost very close to Kansas and Texas at Regionals. With A&M dropping substantially, CSU could have an opening — if the region gets three bids. Watch out for Cody Spicer and Jake Marrapode.
22. Central Florida (2016: T-9th in Southeast)
It was a pretty miserable season last year for Central Florida, considering their excellent 2015 Nationals. But Michael Fairley returns and they've had a year to groom new handlers after losing their key distributors last season. A lot of Southeast teams could lay claim to this spot, but UCF should bounce back.
21. Brigham Young (2016: ranked #17 at end of season)
BYU may not be a Nationals threat because of their restriction on Sunday competition, but they have risen to be a highly competitive program that would be gunning for a berth at Northwest Regionals every year. They won't be surprising teams this year after a strong 2016, but they should remain a tough competitor all season.
20. Victoria (2016: 5th in Northwest)
Total sleeper team this year. Victoria has had a penchant for melting down at Regionals, but the talent is there. Malcolm Bryson took home the Breakout Player of the Year award in the Club Division this season, and Ben Burelle is a blisteringly fast cutter.
19. Texas A&M (2016: T-9th at Nationals, 2nd in South Central)
There's no doubt that losing Dalton Smith and Ben Lewis is a significant setback for a Texas A&M team that has relied heavily on a small rotation. But real talent remains: Connor Ughetta and Zach Marbach look like key candidates to step into bigger roles this year.
18. Florida (2016: 4th in Southeast)
Billy O'Bryan will pick up the torch this year as Florida's go-to guy after the graduation of Bobby Ley. Florida's roster looks a bit thin, but O'Bryan and Tanner Repasky should be able to keep the Gators in the mix for a Nationals berth.
17. Auburn (2016: T-5th at Nationals, 3rd in Southeast)
Auburn is losing some big players this year (Ryan Landry's graduation may mark the end of an era), but the team retains some exciting young talent including Eric Sjostrom. Auburn's win over Florida this fall is a good sign.
16. Stanford (2016: 2nd in Southwest)
Stanford was supposed to receive the Nationals coronation last year, but Cal Poly had other ideas. Stanford's Regionals woes continue, but they have an excellent core and could — finally — help bring two bids to the region this year. 1st Team All-Region player Elliott Chartock is back.
15. Connecticut (2016: T-13th at Nationals, 1st in Metro East)
Although John Wodatch is gone, Connecticut faces little roster turnover after their best year in team history. Mike Rice should be a standout and Gavin Clemmey — their leading goal-scorer from Nationals — could be a premier deep cutter.
14. Pittsburgh (2016: T-3rd at Nationals, 2nd in Ohio Valley)
Truly the end of an era for Pittsburgh. The mainstays of the last five years of college ultimate — guys like Trent Dillon and Max Thorne — are out the door, and major questions arise about Pitt's ability to remain in the elite tier. Players like Andrew Lehmberg, Sam van Dusen, and Mike Ing will have to step into significantly bigger roles. 2017 could be a bumpy road for 'The Program.'
13. Cal Poly SLO (2016: T-17th at Nationals, 1st in Southwest)
Could we see our first dangerous team out of the Southwest in years? Cal Poly may have been a surprise qualifier last year, but they won't be surprising anyone this year: they are good. Nate Pettyjohn, Cameron Wariner, and some Junior Worlds pickups will have Cal Poly cooking this season.
12. Harvard (2016: 2nd at Nationals, 2nd in Northeast)
Harvard may have the best player in the country on their roster. John Stubbs will be an absolute beast for Red Line again this year, but it really doesn't look like he's going to have a lot of help. Most of the O-line is gone, including the irreplaceable Mark Vandenberg. Harvard's ability to develop some quality role players will determine what they can do this year. Regardless, it is going to be fun to watch Stubbs play on hard mode.
11. UNC Wilmington (2016: T-13th at Nationals, 1st in Atlantic Coast)
There are plenty of questions surrounding UNC Wilmington this year: there's a big coaching shakeup and some key departures including Xavier Maxstadt and Charlie Lian. But when you bring back Jack Williams and Austin McGrayne (and add UNC defensive star JD Hastings), you've got a lot of strong players to work with. Even in a disappointing 2016 Nationals performance, Wilmington got some transcendent plays from Williams, who will be a POTY shortlister this year.
10. Washington (2016: T-17th at Nationals, 2nd in Northwest)
Khalif El-Salaam is in his final year of eligibility for Washington this year and could help make the team truly make the leap into a challenger at Nationals. Steven Benaloh, El-Salaam's fellow first team All-Region player in 2016, will play a key role in any big UW season. The team showed flashes last year but lacked the consistency to make a splash at Nationals. If they can stay healthy, they've got a lot of potential this season.
9. Colorado (2016: T-5th at Nationals, 1st in South Central)
A number of Mamabird's top players got some great experience playing Johnny Bravo this summer and the team looks better on paper than last year's quarters team. Mark Rauls could be the frontrunner for South Central POTY and should be the engine behind the Bird offense. Colorado is always a reliable competitor, but this could be an up-year for the team.
8. Texas (2016: 3rd in South Central)
Texas may have missed out on Nationals last year, but it's hard not to pick them for a triumphant return as they bring every key contributor back for another season. Joel Clutton and Dillon Larberg will be the standouts on an always-talented team. With a veteran-heavy team and a physical advantage over other teams in the region, Texas should be considered the South Central frontrunner.
7. Georgia (2016: T-5th at Nationals, 1st in Southeast)
A terribly unfortunate knee injury to Parker Bray may have diminished Georgia's ability to make a run to semifinals at Nationals, but Bray is back alongside one of the brightest young stars in the Southeast in Nathan Haskell. While Sam Little and some other key leaders depart, Georgia's roster is still packed with strong players and they are well out in front in the Southeast. Can they climb higher than quarters at Nationals this year?
6. Carleton (2016: T-13th at Nationals, 1st in North Central)
Another year, another insane Carleton recruiting class. Dillon Lanier and Stanley Birdsong highlight another excellent crop of rookies who will join some burgeoning stars like Sol Yanuck, Alex Olsen, and Henry Fisher. But don't we say the same thing every year? Carleton has lacked consistency despite a lot of great talent and will need to find a rhythm earlier in the season to get back to being a title contender.
5. Wisconsin (2016: T-5th at Nationals, 2nd in North Central)
With Avery Johnson and Ross Barker returning, the Hodags have to like their chances to be right back in the mix for a semifinals berth at Nationals. Some key contributors — including Aaron Speiss — are leaving, but the army of defenders Wisconsin also has should be able to fill in some of the gaps. This is the last chance for Wisconsin to make a big run at Nationals before some rebuilding; let's see what they've got.
4. North Carolina (2016: T-3rd at Nationals, 2nd in Atlantic Coast)
UNC was super young in 2016 and still made it all the way back to the semifinals. With players like Matt Gouchoe-Hanas and Walker Matthews coming into their own as upperclassmen this year, you have to like their chances to continue to do damage. Their biggest priority? Figuring out who will soak up the goals walking out the door as their only true big from last season — Aaron Warshauer — leaves the team this year.
3. Massachusetts (2016: T-9th at Nationals, 1st in New England)
Despite some still-bubbling rumors that he could return for a fifth year, Jeff Babbitt is expected to have finished his career at UMass. But last year's #1 regular season team should still be extremely competitive again this season. Ben Sadok, Tannor Johnson, and Connor Kline should be one of the most terrifying trios in college this year. A disappointing Nationals will only motivate this team more.
2. Oregon (2016: T-9th at Nationals, 1st in Northwest)
Oregon was just a bit too young last year and fell to Harvard in the bracket at Nationals as John Stubbs and Mark Vandenberg started their insane run. But with Colton Clark, Adam Rees, and Connor Matthews all returning, a strong sophomore class, and a great rookie class featuring Colby Chuck and Duncan Fitzgerald, the Ducks look well-poised for a big season in 2017.
1. Minnesota (2016: National Champion, 3rd in North Central)
It's not just that they enter the season as the defending National Champions. Minnesota is just downright nasty-good. Ben Jagt, Sam Bumsted, Wyatt Mekler — the list of very strong returners is a long one. Add in some key transfers (especially Charlie McCutcheon) and one of the best rookie classes in the country and you've got a recipe for success. Minnesota does lose the tremendously talented Ryan Osgar, but we know they can win without him: they did so in multiple games deep at Nationals as he nursed an injury. Watch out for the Grey Duck again in 2017.