Here we go!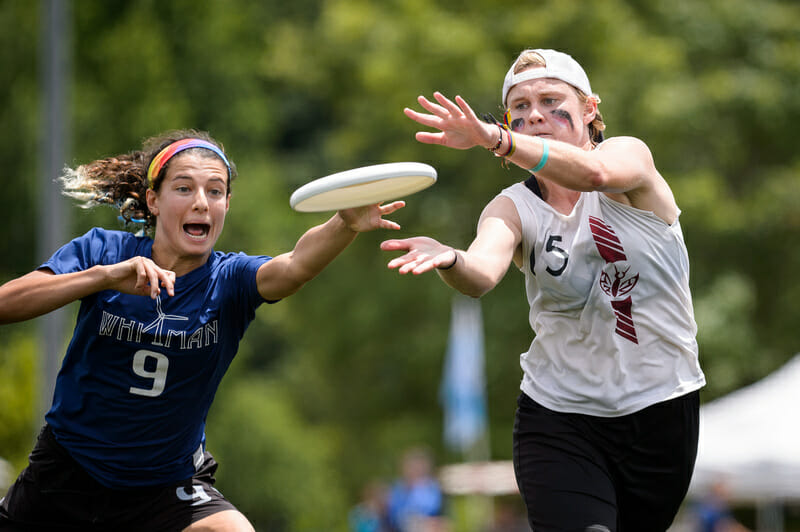 We are excited to present the 2017 preseason College Power Rankings in the Women's Division! These rankings are based holistically on a number of factors: last year's performance, roster changes, conversations with coaches, the "eye test", fall results, and assorted other factors.
25. Minnesota Ninjas (2016 Finish: 4th in North Central)
It's time for the new generation in Minnesota. The team is experiencing massive turnover – 15 players in total – which drastically lowers their ceiling. But two straight years of excellent incoming talent should help keep them afloat. Hannah Cowan, Ellie Sjordal, Kayla Blanek, Louise Beck, and Makella Daley form the returning core for a new look Ninja squad.
24. Vermont Ruckus (2016 Finish: 3rd in New England)
As one of the breakout teams of 2016, Vermont fought their way onto the national radar with their consistent performance over the course of the season and at Regionals. This year's team will have to prove they were more than a one-hit wonder. Kyle Weatherhogg is the lone returning All-Region selection of the team's four in 2016, but the team is stocked with returners like Olivia Benjamin and Becca Stormberg. Tina Fahndrich is the top name to know in their incoming class, which has additional talent in Emily Bridgers and Ashley Brogan.
23. Notre Dame Womb (2016 Finish: 3rd in Great Lakes)
Julia Butterfield and Sarah Lipscomb were breakouts on the WOMB team that made it to Nationals. They come into this year as the potential stars on a team trying to get back. They'll need MK Andersen and Mary Hermann to play big enough to earn a second bid for the Great Lakes with Michigan looking very strong this year. Notre Dame looked undisciplined last year, but have great athletes if they can develop the skills to complement them.
22. Georgia Tech Wreck (2016 Finish: 2nd in Southeast)
Is Wreck the best team in the Southeast? While they lost Callahan nominee Julia Ting, they return almost everyone else from last year's second place team, including Taylor Hartman and Ashley Brown. They added multiple strong youth players, including U20's Ollie Peterson. With a group of veterans veterans who got club experience with Outbreak and a soft region, GT looks ready to take the next step to be nationally relevant.
21. Wisconsin Bella Donna (2016 Finish: T-9th at Nationals, North Central Champion)
Bella Donna won the North Central last year in tough fashion, but they did it with Anna Hrovat-Staedter and Lorraine Guerin. They'll look to Anneke Vermaak to handle a heavy load, and asking a deep cutting group to step up. Caitlin Murphy could be in line for a big season with her athleticism and a larger role. The North Central, however, won't go easy, and Bella would do well for themselves to put together a stronger regular season.
20. Southern California (2016 Finish: T-17th at Nationals, 3rd in Southwest)
After qualifying for Nationals in 2016, USC looks like a potential bid bubble team coming from the deep Southwest region. They return a strong handler pairing of Julia Johnson and Alyssa Perez, who will lead the charge to earn a SW bid. If they can overcome losses like Connie Chan, they should remain in the picture and may have a higher ceiling than even last year.
19. Carleton Syzygy (2016 Finish: 2nd in North Central)
Last year's team may have missed Nationals, but they return nearly everyone from the squad that finished second in the North Central. Caroline Sheffield and Katie Ciaglo are strong handlers and Claire Thallon is a tough matchup. Syzygy will gain some additional talent with a strong freshmen class including Emma Goidel, Maya Powell, and Emma Gautier.
18. Colorado College Lysistrata's Tools (2016 Finish: T-13th at Nationals, 3rd in South Central)
The South Central won't – and hasn't – made it easy for Colorado College, but the continued development of their current talent and the experience gained from another trip to Nationals should be helpful letting them stay competitive. Frances Gellert will handle a major spot in the backfield with Erika Hiromitsu, while there are high expectations for Corey Baron and Robin Fassett-Carmen. Someone will have to step up as a cutter with the team's two leading goal scorers from last Nationals – Chloe Rowse and Patty Weicht – both moving on.
17. Tufts Ewo (2016 Finish: 4th in New England)
It has been a couple of disappointing seasons for Tufts, but a strong returning class has them poised to get back into the national conversation. Jojo Emerson returns in a starring role as a handler, with Rachel Kramer and Valerie Wilocq operating from upfield. Their incoming class, featuring Margo Urheim and Claire Dunn, a Dutch U20 team member, should be able to make an impact right away.
16. Ohio State Fever (2016 Finish: T-17th at Nationals, 2nd in Ohio Valley)
Fever lost a solid group of veterans, headlined by Stevie Miller, but they have a new generation of stars waiting to take over. Sadie Jezierski hasn't had to wait, already a playmaking dynamo who had a strong club season with Rival. But U20's Cara Sieber joins teammate Sophia Stumphauzer, to help form a young but dangerous Fever core. But with Pittsburgh looking strong, it'll be important for Corin Pruitt, Mary Turner, and company to step up and secure a second bid for the OV.
15. North Carolina Pleiades (2016 Finish: 2nd in Atlantic Coast)
It has been a constant story of good, but not good enough for UNC these past few seasons. They have not been able to secure a second bid for the Atlantic Coast and Virginia's rise to power has made them the region's lone representative at Nationals. UVA has won the region five straight years while North Carolina hasn't been to Nationals since 2012. Perhaps Jenny Wei, Vany Nguyen, Joy Chen, Bridget Johnson, and Elisabeth Parker can open the door again for Pleiades.
14. Cal-Berkeley Pie Queens (2016 Finish: T-9th at Nationals, 4th in Southwest)
While Cal's return to Nationals did occur while they had the Callahan winner, Marisa Rafter, at the helm, they might try to do it with their depth this season. Jackelyne Nguyen, Allison Griffith, and Anna Wysen give them competitive top end, but they have good club experience in other parts of the roster. As a team that really likes to run 14-20 deep, their additional experience should help get them back to Nationals.
13. Washington Element (2016 Finish: T-13th at Nationals, 4th in Northwest)
We have seen Element go through a large veteran turnover before, and this is a program equipped to make that transition. Sophie Johansen is poised to enter the game's top handler ranks, and will be helped by grad student Lily Moline from Florida. Nicole Cramer, Ellen Goldberg, and Kate Dusenbery will use their size to gain the advantage downfield and Element will remain disciplined and focused. They'll need it all in the superpowered Northwest Region.
12. Western Washington Chaos (2016 Finish: T-13th at Nationals, 5th in Northwest)
There's so much to like about WWU. Maddie Gilbert is a total package star who the nation should get to know. Tiffany Phan is a hard nosed handler and defender. They add Team USA U20 handler Ruby Cassidy to the backfield with last year's exceptional freshman, Samiya Ismail. She's not the only experienced rookie they are getting either. The ceiling is very high, but after losing leader Abbie Abramovich, the question is if they will have the mental fortitude to win the big games they've failed to in the past.
11. Texas Melee (2016 Finish: T-9th at Nationals, 2nd in South Central)
One of the biggest pieces of offseason news was the 5th year return of handler and ace defender Andrea Esparza to Texas Melee. Along with Domenica Sutherland and Marisa Land, Esparza gives Texas a very solid group of backfield veterans. They'll have one of 2016's breakouts, Julia Schmaltz, as one of the division's top deep targets and add some more experienced youth. They have a very real chance of winning the South Central region.
10. Virginia Hydra (2016 Finish: T-3rd at Nationals, Atlantic Coast Champion)
Even as the names and faces change for Virginia, the consistency of the team's performance keeps expectations high. Last season was their best yet, advancing to the National semifinal. Tess Warner and Keila Strick headline this year's team and they'll be really happy to get All-Region grad student Brandi Skanes from Michigan State. But expect their success to be driven by depth and execution once more.
9. Michigan Flywheel (2016 Finish: T-9th at Nationals, Great Lakes Champion)
After a top 10 showing last season, news that 2nd Team All-American Hannah Henkin would return this season vaulted Michigan into the division's upper tiers. Along with Tracey Lo, Flywheel will return one of the division's best handler combinations. Grace Denney and Nina Janjic will asked to step up in place of Emma Boyd, Leah Baron Simmons, and Lizzy Benedetto.
8. UCLA BLU (2016 Finish: T-5th at Nationals, 2nd in Southwest)
You already know about Han Chen, but get used to seeing her dominate, an early season frontrunner for Player of the Year. Now without Kristen Pojunis, Chen needs players like Maria Kazantsev, Camille Wilson, and Kathleen Lo to play bigger and better. UCLA lost some other strong vets, but will benefit from adding D3 All-Region selection Talia Hodes from Mount Holyoke and YCC-seasoned group of freshmen.
7. Colorado Kali (2016 Finish: T-5th at Nationals, South Central Champion)
A second straight trip to Colorado is a good starting point for a roster that lost very little from 2016. Nhi Nguyen, Megan Ives, Jean Russell, and Kelsey Bennett are all back, giving Colorado the most team-skill they've had in a long time. If Kirstin Johnson has a smooth recovery from a ligament tear, she only adds to the that edge, with crisp break throws and emotional leadership. And their incoming classes continue to look solid.
6. Pittsburgh Danger (2016 Finish: T-13th at Nationals, Ohio Valley Champion)
2016 was the best season in Danger history. This year could be even better. Do-it-all talent Carolyn Normile is back and in the thick of the Player of the Year conversation. Linda Morse's size and powerful and backhand will be highly valuable. Katie Schreiber is joined by her Team USA U20 teammate Jessie Sun, strengthening Pitt's young depth. A semifinals ceiling is in play.
5. Oregon Fugue (2016 Finish: T-5th at Nationals, Northwest Champion)
No Kaylor, no Shofner, no Ode, no Bartruff, no Burruss (still), but who is willing to bet against Fugue? Hayley Wahlroos and Ella Hansen give two pretty damn good reasons to stay in Oregon's corner. They still have the throwers, with the aforementioned duo plus Lily Weaver and Kaitlin Brunnik, along with Sara Angstadt-Leto downfield. If Morgan Caldwell continues where she left off at Nationals and the team can develop some other strong cutters, Oregon still has the pieces to be elite.
4. British Columbia Thunderbirds (2016 Finish: T-5th at Nationals, 2nd in Northwest)
While the Donaldson era at UBC is over, most of the rest of the core that's been so strong these past few seasons is back. Ellen Au-Yeung, Victoria McCann, and Naomi Morcilla (fresh off an excellent rookie season with Traffic) lead a deep, fast, and aggressive UBC team that's getting more Canadian U20 reinforcements. The Thunderbirds may also get some vets back that skipped last season.
3. Dartmouth Princess Layout (2016 Finish: T-5th at Nationals, New England Regional Champion)
The insane level of top end talent on Dartmouth would make them the title frontrunner in most seasons – and maybe they are in some eyes – and the fact that they are number three speaks to how strong Stanford and Whitman are. Angela Zhu is one of the best women in ultimate right now – club or college – and Jaclyn Verzuh is one of the game's toughest matchups. Julianna Werffeli and Piper Curtis are both top talents in their own rights. This is also not a shallow team. Health got in their way last year, but the rest of the division probably won't have that luxury in 2017.
2. Whitman Sweets (2016 Finish: 2nd at Nationals, 3rd in Northwest)
While Whitman doesn't quite return as much as Stanford from their national runner-up team last year, they've got a wealth of weapons and some incoming talent to help replace their graduates. Claire Revere is a POTY frontrunner, and she has Nina Finley, Margo Heffron, both Soo sisters, and Alex Hardesty in toe. Team USA U20's Chloe Caruthers-Liske headlines a strong rookie class. Whitman isn't going anywhere.
1. Stanford Superfly (2016 Finish: National Champion, Southwest Regional Champion)
The reigning champs are going to have a lot of players aiming for a second straight title. Aside from Anne Rempel and Veronica Cruz, everyone who got a medal last year is back, including Monisha White, Hallie Dunham, Courtney Gegg, and Shayla Harris. They are deep, athletic, and experienced. Very little stands in their way of another deep run at Nationals.