More high-level college action coming your way from Columbia, MO this weekend.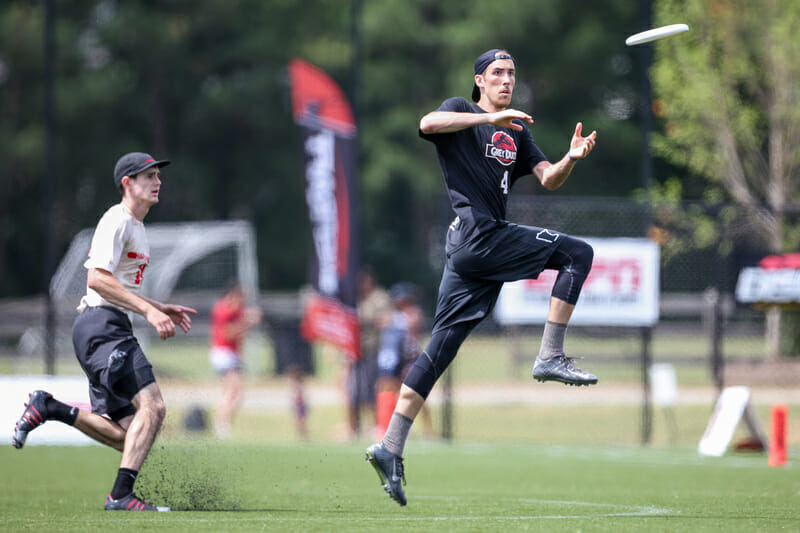 While many east coast powerhouses converge in Georgia, Missouri Loves Company is going to be a huge preview of what both the North and South Central regions are bringing to the table this year both in Division I and Division III. The format of the tournament — with pools A and B serving as power pools — will showcase premier matchups between some teams in Ultiworld's Top 25, including #1 ranked Minnesota. In the other pools are a host of regional and DIII Nationals contenders, all looking to play big games late into the weekend. Here are a few things to look out for.
Power Pool A
In Pool A, #1 ranked Minnesota tops off a talented list of teams including North Central rival Carleton CUT and a resurgent Texas squad. Minnesota and Carleton will head to Columbia with experienced rosters and, in the case of Minnesota, legendary talent. Ben Jagt was already firmly in the Player of the Year conversation before the moment the first pull of the season went up and this weekend will be an opportunity for him to make a statement.
Carleton has exciting returners with both Sol Yanuck and Henry Fisher returning from a semifinals run with Ring of Fire last month. Yanuck's creativity with the disc and game IQ looked better than ever in Rockford and Henry Fisher's pure size is frightening for any defense. The rookie classes from both Minnesota and Carleton also help put these programs in a league of their own.
Texas will very likely be giving both North Central squads a run for their money with Dillon Larberg and Joel Clutton returning alongside a roster stacked with veterans. Texas A&M is another strong program crowding Pool A, but there are certainly some question marks surrounding how they will perform after losing Ben Lewis and Dalton Smith. The quest to define themselves without those key players will begin right out of the gate on Saturday as they face off against their in-state rival Texas in the first round of pool play.
Power Pool B
Pool B also offers plenty of national heavyweights, as Wisconsin and Colorado come in as top seeds in the pool. Wisconsin has tremendous potential again this season with the Hodags returning Ross Barker and Avery Johnson alongside their large defensive unit. Their game against Colorado will pitt that unit against Mark Rauls and a very reliable Colorado offense. Colorado may rank lower than Texas right now, but they have always shown tremendous potential every year and their game against Wisconsin could easily be one of the best of pool play in Columbia.
Further down in the pool are BYU and possible North Central darkhorse Iowa State. Cullen Rasch has returned for a second year with Iowa State after transferring from St. Olaf. Add Notre Dame and Arkansas to the mix, both regional-caliber teams in the North and South Central, and you have the plenty of capable squads hunting for upsets and some big Sunday games.
Lower Pools
The number of Nationals-caliber DIII teams competing at MLC will also give us a good preview of who to watch out for from the North and South Central. Carleton GOP, Colorado College, and Air Force were all DIII Nationals qualifiers last year; each are returning a large core of their players. All of these programs are arguably among the top 10 in the country; Air Force may have come as a surprise spoiler with a semifinals finish at DIII Nationals but they are returning most of their big athletes and throwers. GOP has a good offensive system running through handler Abe Eichner. Colorado College lost one senior last year and has the talent to go all the way for the South Central. MLC's format may favor the heavy hitters in Pools A and B, but for anyone looking to see where some of the lower tier teams will fall, each of these programs could shake things up in their pools.
MLC is also hosting a large number of regional caliber teams and a possible spoiler or two including teams out of the Great Lakes region. Kansas came tantalizingly close to the regional finals in the South Central last year before falling to Colorado. Illinois, Purdue, and Northwestern were all Sunday teams in the Great Lakes region last year and will be looking to battle their way into Sunday contention this weekend.
With lots of parity to share in both power pools and the lower tiers, anything seems possible. The Sunday matchups will be very high profile, especially for the big North Central teams slated in the top 10.