A look at how DIII is stacking up ahead of the spring season.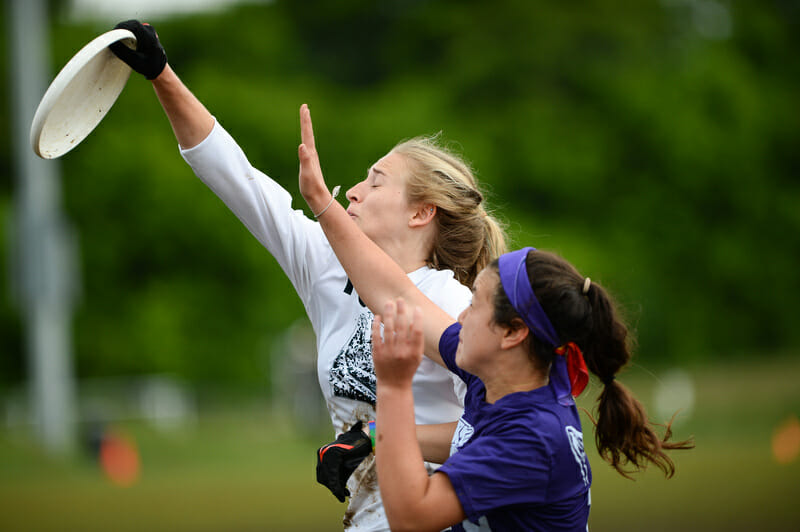 As we aim to increase coverage of the division, Ultiworld is excited to present the first iteration of our 2017 DIII College Power Rankings in the Women's Division! These rankings are based holistically on a number of factors: fall results, roster composition, conversations with players and coaches, the "eye test," and assorted other factors.
For most DIII programs, there is a vast difference between the spring and fall seasons. Many teams in the division pick up a lot of players new to the sport, which means the fall is spent teaching and navigating varying commitment levels. Many teams emphasize "learnaments" over tournaments, where teams build chemistry and rookies can build confidence.
25. Messiah
Messiah has been growing steadily over the past few years. The Falcons had a tough loss to Haverford this fall after losing their two All-Region standouts from last year and will need handler Olivia Mingora to step up to hold their own in the heated Ohio Valley.
24. Colby
Colby is also a new addition to the Power Rankings; the Dazzlin' Assettes beat both Bowdoin and Bentley at Lobster Pot this fall, and put up a fight against strong DI squad Middlebury.
23. UNC-Asheville
The Hellbenders are led by 1st team All-Region selection Allison Bashford who fearlessly lays out for any disc. The team is certainly capable of competing with anyone in the Atlantic Coast, having already taken down Elon (winning once in three tries this fall) and solidly beating Davidson.
22. Grinnell
Grinnell has built a strong program — the team splits X and Y rather than a traditional A and B — that brings fantastic spirit to every game they play. Rookie Karen Erhardt joins the Stickies after playing for team Japan at U-20 Worlds this past summer and will immediately have a big role.
21. Swarthmore
In a region full of DIII teams all vying for the Nationals spot, the Warmothers have not qualified out of the Ohio Valley since 2013. Looking to change that this year is 2nd Team All-Region selection Tessa "Kirby" Jones, who regional counterparts fear for her impressive handling prowess.
20. Lehigh
Gravity lost nine seniors, several of whom had high school experience, including Emily Wilkinson, an All-Region 2nd-teamer. They last represented the Ohio Valley at Nationals two years ago, and this year looks to be a building year for the squad, taking on 15 new players.
19. Elon
Elon is also rebuilding after losing a strong senior class including Aelish Aoki, who had the fourth highest overall assists at Nationals. The team played UNC Asheville three times, coming out on top twice, landing Wild Rumpus "favorite" status in the Atlantic Coast heading into the spring.
18. Lewis and Clark
Artemis has seen steady growth in both competitiveness and commitment in recent years and that trend continues. This fall, they knocked off prohibitive Northwest favorite University of Puget Sound in a game between split squads.
17. Portland
UPRoar has really stepped up this fall, thanks in part to the recent growth of women's ultimate in Portland. Several players played club in the summer and the captains have worked hard to push their team to nationals caliber. Makena Strand and Demri Horton's chemistry make them a formidable duo.
16. Oberlin
The only Ohio Valley team present at 2016 Nationals, Preying Manti underperformed in Winston-Salem and ended up tied for last with Georgia College. Having graduated only four players, retaining three All-Region performers, and still boasting a solid 40+ players involved with the squad, the team's trajectory portends there is a lot more to expect from Oberlin this spring.
15. Bowdoin
Bowdoin has one of the largest programs in the country with 50+ players. Chaos Theory has thus spent the fall going to four casual tournaments to introduce their many new players to the game. The team struggled to win games without former Junior Worlds player Ana Leon and with half their returners currently abroad. However, Coloradoan freshman Anna Martens has stepped up into big handling role for Chaos Theory.
14. Claremont
The Greenshirts take the prize for the largest departing 2016 class, with ten players graduating, including captain trio Kaitlyn Anderson, Amelia Haselkorn, and Sarah Laws. Several juniors are presently abroad, which further hampered the team's results this fall. Still, the program has weathered worse turnover in the past and the Seattle youth scene continues to provide a solid pipeline of players, including all three captains. Claremont's experience playing against the Southwest's top D-I teams at two tournaments this fall and sophomore captain Rose Soiffer-Kosins should certainly help them get up to speed quickly and remain competitive.
13. Amherst
Despite two losses to Mount Holyoke already, Sparkle Motion is a stiff competitor for the New England region crown, giving the other contenders a hard fight each time. The team only lost two seniors after finishing eleventh at DIII Nationals last spring. It's hard to pinpoint exactly where Amherst currently is with only two fall tournaments and playing rookies evenly, but they are certainly a team with a lot of promise.
12. Haverford and Bryn Mawr
In 2014, the Sneetches finished third at Nationals, but have not returned since. However, with a small class graduating last year, it seems the team is ready to prove themselves again. They attended four tournaments this fall, mostly to develop their rookies, which means this important work is being done early. The team should be able to hit the ground running in the spring and play some tougher competition in order to prepare themselves for the regional showdown in the Ohio Valley.
11. Wesleyan
Wesleyan brings the Metro East into the power rankings after beating out teams from much larger schools to take 2nd at Northeast Classic this fall, losing only to Vermont. Senior Tessa Hill, a DIII varsity squash player, had the second most goals at Nationals last spring and can be expected to step up big for the Vicious Circles.
10. Luther
Along with regional rivals Carleton and St. Olaf, Freya makes the top ten rankings, emphasizing the high level of competition in the North Central region. The team had a strong showing at Nationals but lost a third of their players. They took their team to three competitive tournaments this fall including Ames to Please, where they lost to both Carleton and St. Olaf. However, captain Rachel Johnson, with YCC experience under her belt, returns to wreak havoc and force the rest of the region's teams to bring their A-game when facing off against Freya.
9. Mount Holyoke
Daisy Chain surprised many people last year as the program suddenly became a national contender. Perhaps the spring rankings were slightly inflated, but the team definitely made its mark. Mount Holyoke already has two wins over Amherst this fall and took second to Bates at Lobster Pot. The team has a lot of momentum going forward; the question is whether it will be sustained in the spring and how the team looks after it sets its roster.
8. Carleton
The reigning champions lost a dynamic duo with Lisa Qiu's fierce backhand break and Elly Fireside-Ostergard's refusal to let any disc touch the ground. But Eclipse consistently draws hard-working, tenacious ultimate players to its program and this year is no exception. This fall, Carleton lost to St. Olaf but solidly beat Luther. Returners such as Leah Roche are stepping up and the team, like many in the North Central region, has already selected its spring roster.
7. Bates
Cold Front has been holding it down in the New England region, winning Lobster Pot and taking down regional competitors like Mount Holyoke and Amherst. Losing ten seniors does not seem to have hurt the program too much, as a second big class of athletic rookies has stepped in to fill their shoes. Senior Kate Cuthbert and her Minnesotan high school experience return to the team bringing decisive throws to space that make any cutter look good. Josie Gillett who made a name for herself as a freshman last year with the highest number of assists (39!) at Nationals has been crucial to this team's focus and success as she returns in the captain role.
6. Puget Sound
Clearcut only lost three players from last year, but Becca Ebert, Ellen Mueller, and Yvonne Wetzig were a huge part of the team's Nationals semifinal finish last year. With a huge rookie class, the team has focused more on teaching the game, while testing themselves against top D-I competition. Ellen "Cady" Kalenscher returns for a second year of captaining after a strong rookie season with Portland Schwa and Ellie Engel is a huge threat on both sides of the disc. When the six juniors who are currently abroad return, you can be sure Clearcut will be a national threat.
5. Valparaiso
Valparaiso had one of the smallest squads at Nationals but this did not inhibit the Chicks Hucking Discs as they fought hard against top teams like Luther. The hard work has paid off and nearly the entire team has returned. Valparaiso has so far had a strong fall showing, advancing to the semis at Glory Days and pushing past DI teams to win No Wisconsequences. They even have a win over Truman State (although the game was called early due to a downpour). Do not discount the Great Lakes region when looking for top DIII teams.
4. Williams
Williams have not played in nearly as many tournaments this fall as the other national contenders, but after finishing fifth in Winston-Salem this past spring, LaWufa retained nearly all their stars. Despite graduating Ali Hill, a leader on and off the field, Williams has the speed of cutters like Haley Lescinsky and Caroline Weinberg to give their opponents much concern. Williams still has a lot to show to earn this spot in the top four, but they are quite a threat to the New England region.
3. Rice
Since switching to DIII in 2014, Torque has been in the national championship game each year. The team consistently showcases incredible on-field chemistry and discipline, and every year's cohort of players work very hard to maintain their program's standout reputation. Torque has lost the sticky fingers of handler Angela Aie and the fearless cutting of Valerie Pinillos. However, tall, athletic junior Brandi Ransom–who scored the most goals at Nationals last year–returns to catch more from captain Emma Wine's sneaky lefty flick. Additionally, Kelsey Nanneman, one of the most dependable and consistent cutters in the division, returns with hopes of adding to Rice's dynasty.
2. St. Olaf
Vortex is led by junior handler Tulsa Douglas, who came through the formidable Amherst high school program and also has club experience under her belt playing with Boston Siege this summer. But she was already on everyone's DIII radar after tossing the second most assists at Nationals last spring. Douglas' mental toughness and grit are essential to her team's success. The team also gained vital experience for their rookies at four tournaments this fall, losing to Truman State 4-6 in a windy game at Ames to Please, but taking wins over their regional competitors, Carleton and Luther.
1. Truman State
TSU claims the top spot for the preseason power rankings. The Missouri-based team tied for fifth at Nationals, but could have finished higher had key handler Sam Daugherty not been out with a bad ankle sprain. Losing Daugherty and other seniors has not held this squad back this year, however, as over twenty of the players present at Nationals have returned. Several TSUnami players gained experience and skills playing club over the summer for women's teams such as Kansas City Wicked and Chicago Nemesis. Emilie Willingham captains this team, dictating the pace of the game and easily breaking any mark. Often on the other end of her throws are cutters Callie Warren, Christy Crouse, and Haley Johnson. These standouts helped TSUnami take down many D-I teams during the fall at Grinnell and make semis at Glory Days. With a target now on its back, we'll see how TSUnami pushes to maintain the top spot when the regular season comes around.