Because brackets are fun.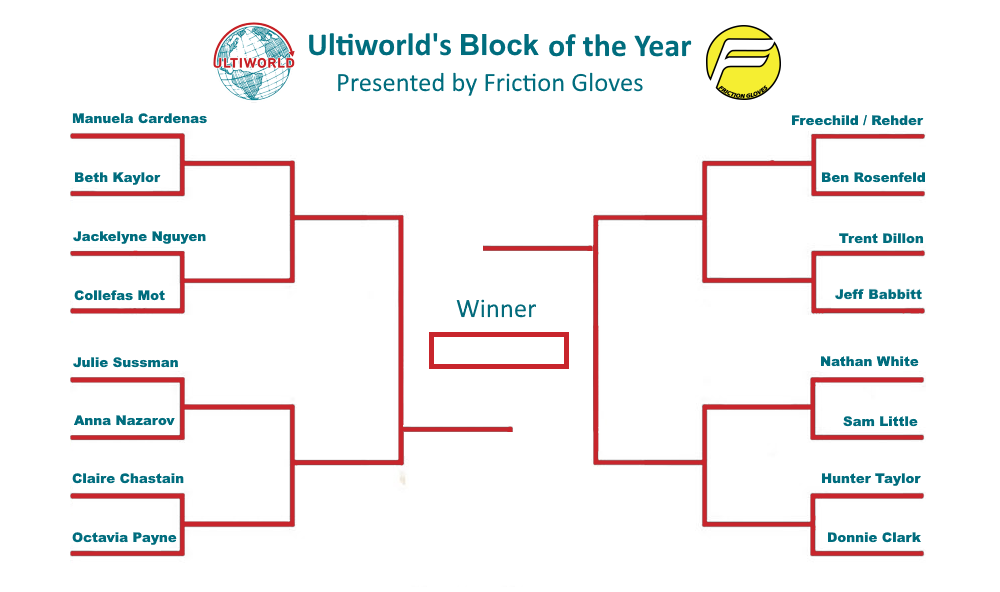 This article is presented by Friction Gloves; all opinions are those of the author. Please support the brands that make Ultiworld possible and shop at Friction!
Well, that was fun. What do you say we rack 'em up again and have another go. Block of the year. Time to redeem yourself, Ultiworld nation — don't let Pat Stegemoeller down again. And this time, we'll refrain from playing favorites in the commentary.1
The first round of voting starts now and closes on Monday, January 16th, at 12 PM Eastern.
Round 1
Matchup 1: Just… Wow
Manuela Cardenas – Colombia (WJUC Girls)
As we tweeted when this video first surfaced: Dios. Mio. This isn't the first time Manuela Cardenas has flashed absurd athleticism in international competition with the cameras rolling. The Colombian teenager was one of the most impressive individual performers at this past summer's WJUC tournament, here absolutely flying in for an insane block against New Zealand.
Bethany Kaylor – Oregon Fugue (USAU Women's College)
The only person to make an appearance in both our Catch and Block of the Year brackets, Bethany Kaylor was a monster throughout 2016. While Kristen Pojunis's stock was skyrocketing in the opening months of last year, Kaylor was one of the few players capable of slowing her down, notching this massive layout block on Vendetta at President's Day in February.
Matchup 2: The Top Shelf
Jackelyne Nguyen – California Pie Queens (USAU Women's College)
You'd be forgiven if while watching this clip, you mistook Jackelyne Nguyen for Marisa Rafter. By roofing a pile of Hydra foes at the D1 College Championships in Raleigh, the Pie Queen sophomore produced a block that eclipsed nearly everything in the wildly popular Callahan video of her award-winning teammate.
Collefas Mot – Canada (WJUC Girls)
Almost cruelly, many incredible highlights and individual performances were lost in the absolute embarrassment of riches to be found in Nathan Kolakovic's reel from the WJUC finals. Still, perhaps more than any other moment in that five minute feast for the eyes, Collefas Mot ripping the sky a new one left our jaws on the floor and emphatically announced the arrival of yet another dominant young athlete on the international ultimate stage.
Matchup 3: Rockford Redux
Julie Sussman – Boston Slow White (USAU Mixed Club)
The foremost trait of a fantastic female mixed player is fearlessness. While many women shy away from the division at the mere thought of clashing with a male opponent, Julie Sussman has never let that calculation stand in the way of her making a play. In the Club Championship final, with her team reeling after giving up a string of breaks and surrendering an early lead, Sussman poached off her mark, jumped the route, and expertly undercut the Mixed Offensive Player of the Year, Chris Mazur, to swing the momentum of the game back in Slow White's favor.2
Anna Nazarov – San Francisco Fury (USAU Women's Club)
The best players are considered such because they come up with big plays in the biggest moments. With her team's season on the line, Fury's Anna Nazarov launched herself for a game-extending layout D in the Club Championship semifinals. With a huge crowd packing the sidelines, this block at 14-11 became one of the more iconic moments in a game that captured the essence of a rivalry and won't soon be forgotten.
Matchup 4: Molly Brown Showdown
Octavia Payne – Denver Molly Brown (USAU Women's Club)
Perhaps stretching the very definition for inclusion in this bracket, Opi's three-block point at the US Open could not be left off the list. It wasn't just that she got three layout Ds in successive possessions during a single point; it's that two of them came against one of the most dominant physical forces in the game. The performance — dubbed in the moment as "putting Jorgenson on Opi Island" — could not be adequately captured in a single 15-second gif, so it is presented here in it's full form.
Claire Chastain – Denver Molly Brown (USAU Women's Club)
Despite her teammate's continued dominance as a prolific defensive force, Claire Chastain may just have made the most impressive block for Molly Brown this season. Her shoulder-high bid (literally — look at the height of Chastain's body in comparison to Scandal's Amy Zhou) during quarterfinals at the Club Championships was executed with impeccable timing and picture-perfect form.
Matchup 5: We Can Be Heroes
Dylan Freechild and Matt Rehder – USA (WUGC Men's)
The Men's final at the World Ultimate and Guts Championships was one of the cleaner ultimate games you may ever see. With neither team blinking through eight straight turnover-free holds to start the game, it was clear that generating turns was likely to require a Herculean effort. It took not just one but two great blocks by US players to create the first turn of the game. First, Dylan Freechild had to reenact his famous 2012 layout block against Doublewide, then Matt Rehder had to follow the play and clean up the deflection to ensure the disc didn't find it's way back into the Japanese endzone.
Ben Rosenfeld – Brandeis Tron (USAU Men's DIII College)
Up 12-10 in a National Championship game to 13, Georgia College was calmly marching the disc up the field against a Brandeis zone, in search of their first DIII title. But Tron's Ben Rosenfeld was having none of it, coming up with the play of the game to bat away a crossfield hammer and keep his squad alive. Brandeis would covert the break chance to extend their season, but ultimately fell to Disconnected.
Matchup 6: Callahan Rematch
Trent Dillon – Pittsburgh En Sabah Nur (USAU Men's College)
Callahan campaigns are as much about iconic individual moments as they are about college-career-long achievement. In a game between the award's two frontrunners at the Stanford Invite, Dillon produced exactly one of those moments against Jeff Babbitt's UMass squad, making up a ton of ground and to get a massive layout block on a huck. Not shown in this gif: Dillon completed the bookends by skying for a goal at the other end a short while later.
Jeff Babbitt – Massachusetts ZooDisc (USAU Men's College)
In what was one of the games of the year, UMass battled UNCW in an early season scuffle in Charlotte. Tied at 10s in a game to 13, each team was starting to lean heavily on their studs. As a back of the stack cutter went looking for a huge gainer, Babbitt chased down the pass to get the catch block D and send the crowd into delirium.3
Matchup 7: Stuff City
Nathan White – San Francisco Revolver (USAU Men's Club)
Nathan White was a runner up for both Player of the Year and Defensive Player of the Year in Ultiworld's 2016 Club Awards, in large part because of his astounding mark. With his gargantuan proportions, disciplined positioning, and impressive mobility, White's mark was good for nearly a handblock a game. That proved true even in the latter stages of the Club Championships against some of the best handlers in the game. In the semifinals, he absolutely stuffed a force side flick huck from Jonathan Nethrcutt on the goal line — the first time any of us could remember Nutt, with his varied release points, getting handblocked. White produced a similarly impressive block on Jared Inselmann (quite lanky himself) at a key moment in the finals the following afternoon, a D that could just have easily have been slotted into this spot in the bracket.
Sam Little – Georgia Jojah (USAU Men's College)
When your team is getting crushed and looking totally outclassed by an opponent, it's tough to stay focused enough to come up with a big play. Tasked with marking the consensus best player in men's college ultimate during a disappointing blowout at Easterns, Georgia's Sam Little induced Jeff Babbitt into his only turnover of the weekend. Trapping the UMass star on his own endzone line, Little got a point block on an attempted swing pass then chased down the disc to grab a layout Callahan — proving once and for all that perhaps he can do it all by himself.
Matchup 8: Pro Big Or Pro Home
Hunter Taylor – Raleigh Flyers (AUDL)
Hunter Taylor is athletic. He's also a hell of a defender. The Virginia Tech product produced a number of face-melting layout and sky blocks over the course of the 2016 AUDL and Club seasons, but this roofing of league MVP finalist Mischa Freystaetter stands out above — way, way up above — the rest.
Donnie Clark – Seattle Cascades (AUDL)
With a raucous Madison crowd on hand cheering for their hometown team, AUDL Championship weekend felt like one of the biggest ultimate spectacles of the year. Through three quarters, the Radicals had dominated their semifinal against Seattle and looked like they would comfortably advance to the finals the following night. But momentum swung in the fourth and the Cascades grabbed their first lead of the game at 26-25. With under 30 seconds remaining and his team trying to hang on for the improbable comeback win, Donnie Clark used every inch of his length and speed to chase down an open huck look, come up with a huge block, and stun the hometown fans.
---
Almost surely not true. ↩

Pro tip: check out the Ironside players in the background of the replay in the gif losing their minds. ↩

This was far from Babbitt's only insane, go-go-gadget block of the year and, in reality, he probably could have populated an entire bracket unto himself — but we limited him to just one entry. Feel free to imagine your favorite Babbitt block here instead. ↩