UNC look to be favorites heading into their home tournament.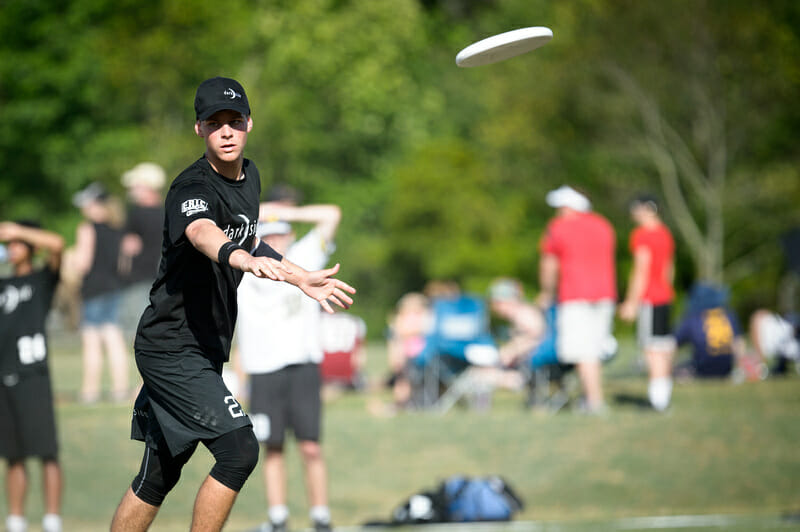 The college season is finally under way.
For the first time since 2014, UNC Darskide will host Carolina Kickoff in Chapel Hill, NC. The early season tournament has frequently hosted national contenders in the past, but this weekend the home team will take the field as one of three members (along with Georgia Tech and Connecticut) of the Ultiworld Top 25 in attendance. A variety of key players in the Atlantic Coast and Southeast regions will compete this weekend, looking to establish themselves as return contenders on the national stage or snag a statement win early on to boost their record and profile.
Darkside Primed For A Hometown Win
#5 UNC Darkside currently stands as the top team in the tournament, an adjusted position after longtime rivals UNC Wilmington needed to drop from the tournament at the last minute. UNC ended the fall quietly at Classic City Classic, featuring their younger players in the absence of experienced talent and finishing outside the tournament's top four. This weekend, Darkside returns to the field with Matt Gouchoe-Hanas healthy and a full preseason of development under the belts of their newcomers. The 2015 champs look poised to make a good statement at home this weekend.
UNC's sophomore and junior classes are stuffed with talent. Their depth has had plenty of time to develop this season. "Our young guys have gotten a lot of reps this past fall and in practice," junior Norman Archer said.
Archer returns to Darkside this year along with Nick Macleod, an exciting development since both were absent for the 2016 season. The 6 foot-plus Archer brings a full array of abilities as a cutter and thrower, while Macleod has owned his role as an experienced mid.1 They'll join teammates Walker Matthews and Elijah Long, both youngsters who took on important contributing roles.
Darkside is looking forward to playing at home this weekend.2 "For a lot of our younger guys, it will be the first time their friends and family see them play. That's definitely motivating," said Archer.
Sideline energy has become the trademark of UNC the past two seasons. They'll look to infuse their play at home this weekend with their positive outlook and general silliness. "Making sure people are engaged whether or not they are on the field is important," Archer commented. "We want to find the right balance of intensity and goofiness that will help our team throughout the season."
Southeast Competitors Rebuilding After A Down Year
The biggest matchup for UNC on Saturday will likely come at midday against Florida, a team in the process of rebuilding after losing Bobby Ley. UNC will also face the Central Florida Dogs of War. Both southeast programs failed to qualify for the College Championships last year and are in the process of getting themselves back onto the national stage. Kickoff will provide them a good chance to test each other as well as UNC.
Michael Fairley returns for Central Florida and will be a key player to watch out for from the Dogs of War. Both Florida and UCF could potentially set the tones for their regular seasons early this weekend, but their fall results still leave lingering questions marks about how deep they are and how high their ceilings really are.
#23 Georgia Tech has been quietly building itself into a well-coached regional contender in the Southeast, but like their Florida brethren, they have yet to score a signature win against an elite program this year. Tech has not seriously contended for a bid for the Southeast since graduating Nick Lance.
Can UConn Ride 2016 Experience To Consistency In 2017?
With UNC Wilmington absent this weekend, #24 Connecticut will be the top team to watch in Pool A. UConn showed they were capable of hanging with the best teams at CCC and are looking to build on their success in 2016 this season. Despite having graduated John Wodatch, UConn's roster features 24 upperclassmen and has the look of a team that is ready to break out early in the season. UConn's less experienced players had the opportunity to play in two short one-day tournaments in addition to the fall pre-season without their senior playmakers. Head coach Bryan Jones remarked on UConn's losses at CCC: "It was a good place to see where our weaknesses were. Our games against Pitt and UNC showed we have some growing to do." The focus on developing into an elite program will get a good jump start in pool play.
While he will not be in attendance at Kickoff,3 Jones has made it very clear what UConn will be looking to achieve during their first tournament. "Goals for the weekend will not be about outcomes," he said. "It's a given that we aim to win every point, but we'll need to grow offensively and defensively."
UConn has an opportunity to assert themselves against a very talented UNC squad, while giving their roster more chances to develop early in the season.
The Field
Auburn Aetos are the other 2016 nationals qualifier in Pool A. They'll arrive in Chapel Hill after playing to mixed results in the fall.  Auburn traded wins with Florida and notched a solid win over NC State at CCC. On Sunday in Athens, they were unable to hold their own against UConn and fell 15-8. Auburn is certainly in a rebuilding mode alongside their southeast peers at the tournament. Successfully holding off UConn on Saturday and the possibility of playing against other southeast programs on Sunday could provide a good indicator of how Auburn stacks up against the rest of the field in the Southeast and Atlantic Coast.
The often talented, but inconsistent North Carolina State Wolfpack will also debut this weekend. They have an excellent rookie class, but were unable to notch a signature win against elite programs in the fall, despite taking Florida to double game point and beating inter-region rival Virginia Tech at CCC in the fall. Wolfpack's six rookies from YCC Champions Triforce is enough to put them on anyone's radar, but they have struggled to close bid-earning games in recent years.
Notre Dame and Clemson are the other teams lying on the fringes of their respective regions, but they will be able to gain invaluable experience playing up against tough opponents this weekend.
Video Coverage
Ultiworld will be providing video coverage for the opening weekend of Division I Men's 2017 action. Ultiworld games will be available for replay with a College Season Subscription (2017 options will be announced next week).  Check out the filming schedule below!
Saturday
UConn vs. Auburn
UNC vs. Florida
Central Florida vs. Florida
Georgia Tech vs. Clemson
Auburn vs. Notre Dame
Sunday
Quarterfinal (TBD)
Semifinal (TBD)
Final (TBD)
---
Fans will remember Macleod from his celebrations during UNC's championship run. ↩

Due to field renovations, Kickoff has not been held in Chapel Hill proper the past few seasons, even though UNC hosts. ↩

Jones will be overseeing coaching duties for WCBU at Lei Out. ↩