How last season's breakout star is hoping to lead Superfly to another title.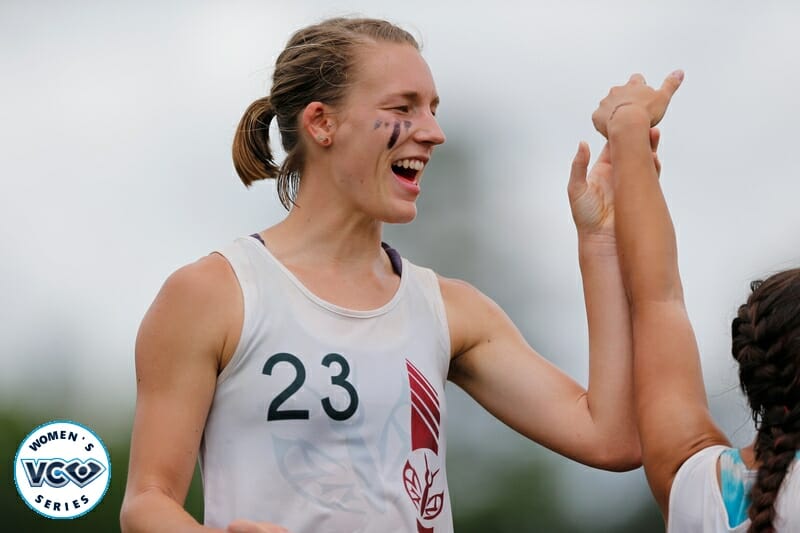 This article is part of a series presented by VC Ultimate to spotlight teams and individuals shaping women's ultimate. All opinions are those of the author. Please support the brands that make Ultiworld possible and shop at VC Ultimate!
Even if you had never seen her play, you wouldn't mistake Stanford Superfly's Courtney Gegg for the average rookie. The imposing figure she cuts commands cursory respect immediately. The graduate student, already 25 years old, lacks the fresh-faced youth of the typical first or second year undergrad. Once you see her play, you have to ask about her.
I remember being like that. Watching Gegg out run, out jump, and out muscle her competition in her first season was mesmerizing. She's that recruit college captains and coaches fantasize about: a big athletic body unafraid of contact with a sharp mind eager to learn, someone who picks up the game naturally, but plays with a smile on their face. Her gifts go beyond the obvious physical ones, and they form a package that crushes on-field opposition. And somehow, she's getting better. Fast.
Now entering her third season of ultimate, Courtney Gegg is poised to be one of the biggest names in the college division. She's already won a college championship, come up just short in another, and added 2016 Breakout Player of the Year and a 2nd Team All-America selection to her rapidly growing list of accolades. Most players would feel like they had a successful career if their resume matched Gegg's first two seasons.
So why does she still feel like there's so much work left to be done?
***
The first sport Courtney Gegg tried in college was not ultimate. After spreading her time across cross country, basketball, and softball in high school, she decided to condense her multi-sport schedule into one jam packed activity: triathlons. Cycling in particular captured her attention. She still cycles actively when ultimate doesn't demand her attention.
As so many relationships with ultimate begin, Gegg was introduced through a friend. Future Revolver star Nathan White was a classmate during Gegg's undergrad days at UC Davis, and the two developed a close friendship. Once her path to grad school included Stanford, where Nathan's sister Monisha was captain, he planted the seeds on both sides and proposed a deal to Gegg.
"I'd teach him how to drive stick shift in return for him teaching to throw," recalls Gegg. When pressed, she added, "His driving to this day still makes me nauseous."
"By the time she came to practice in the fall of my junior year, I had hyped her up to the whole team," says Monisha, who is now entering her final year of college ultimate. "It didn't matter. There was no way she could disappoint."
The rookie class of 2015 consisted of seven players, none of whom had ultimate experience. Perhaps the most clear source in my mind of Stanford's current powers is how that group became one of the division's best recruiting classes, even in the era of elite youth. One of the biggest reasons — literally, too, at 6'0″ — is Gegg.
"It's cool that one can compete at a super competitive collegiate level with no knowledge of the sport in fall quarter," beams Gegg.
Saying Gegg "competes" is like calling World War 2 "a disagreement." In her first year at Nationals, she led Superfly in goals with 161 and helped get her team to the final — topping their stat sheet in that game with three scores — just a few goals away from a national title. She followed that up with a 22G/11A line at last year's College Championships that landed her second in goals scored at the tournament and made her arguably the most valuable player on the way to a National Championship. She earned a 2nd Team Ultiworld All-America selection to boot.
Given what she's accomplished so far in her career, I'm hard pressed to think of someone else who did so much in so little time. And this is just the beginning.
***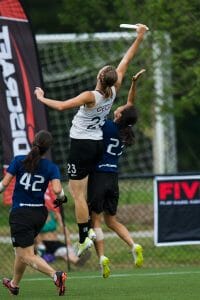 It's only been about two years since Courtney Gegg picked up a disc and she enters 2017 as a potential Player of the Year. Does that sound outrageous? She's one of the foremost forces on #1 ranked Stanford Superfly, whose title-defending season will be piloted by a vast majority of the contributors from the last year's champion.
Gegg is a relentless cutter, a spectacular athlete with an imposing frame whose also a grinding hard worker. The California native may be blessed with an abundance of vertical inches and powerful muscle groups, but she's also an intense competitor.
"Getting praised makes me unsatiated with my current level of play," says Gegg. "[It] lights a fire within."
"She's very driven and that was apparent from day one," says Anne Rempel, who recently completed her college career with Superfly after playing with Gegg as a fellow graduate student.
As an example of Gegg's drive, Superfly has 90 minute sprint workouts starting at 7 AM during the spring — Gegg would frequently bike 10 miles beforehand.
On top of ultimate, she balances pursuing a Bioengineering PhD at the one of the most academically demanding institutions on the planet. With Gegg's intensity of focus, she throws herself fully in to whatever she is doing.
"When I'm playing frisbee, I am playing 100%. When I am in lab, I am 100% working. When I'm up in my commune, I'm present with those people with my whole head and heart," she says. She also, as she puts it, "ruthlessly prioritizes."
Reflecting on beginning last season, with the wounds of a title game loss to Oregon still fresh, Gegg admits to getting overwhelmed. "I was lost at the beginning of last year, stretched too thin with my research," says Gegg, adding that it became challenging "to be confident or to be 'in it'."
But this season, Gegg has the sails open and is ready to go full speed ahead, even into choppy Whitman-and-Dartmouth infested waters.
It adds up to an already fierce player whose ability is growing exponentially. The array of assists she threw at the 2016 College Championships gave a view of the tip of the iceberg. This season, a lot more will be exposed and defenses will have their hands full.
"When she gets the disc, she now sees the field like a vet; she hits cross-field openings, S cuts, break side cuts," says Monisha, "and deep shots, with some of the nicest flick hucks on our team."
And while she was already arguably the best deep threat in the college game, she's been working on that, too. Better reads, better timing, higher leaps, better hands — the whole package.
"Now I can put pretty much anything to her, and she'll come down with it," claims Monisha, Stanford's primary deep thrower and one of the division's elite shooters.
Like many west coast teams, Stanford's entire roster is given nicknames with clandestine origins. Gegg's is Blaze. For a player whose fire within is threatening to burn down defenses all over the division, it seems pretty appropriate.
***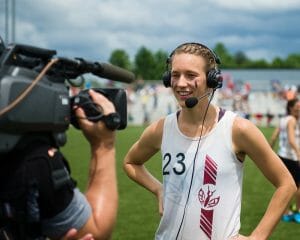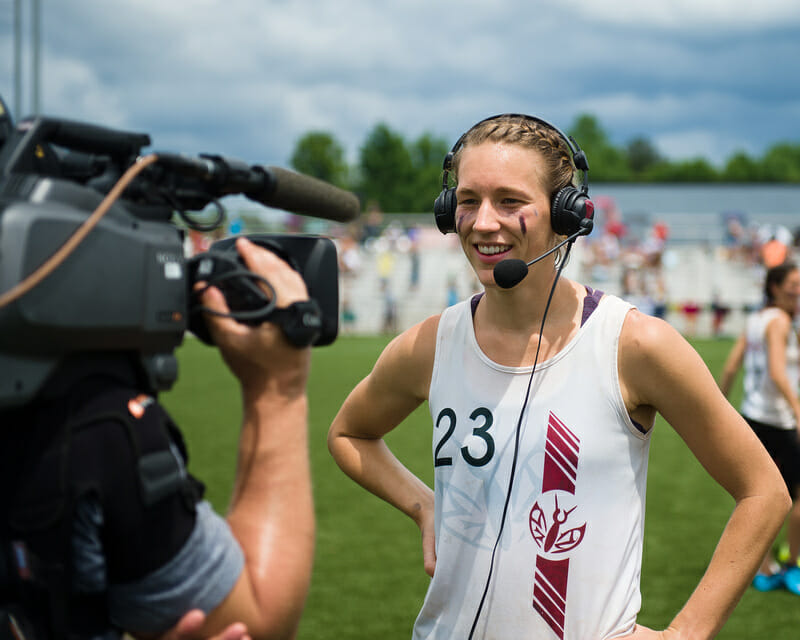 One of the things that sets Gegg apart is that she not only has a vicious hunger for improvement, but that she never backs down from it. When asked how she stays motivated after already reaching the peak of college ultimate, she denied that she was anywhere near it.
"Angela Zhu, Beth Kaylor, Jesse Shofner, Claire Revere — I want to be like those college players. I have so much to learn!" she says. "I feel like I'm good at a lot of things, but I want to completely own those things."
Gegg sees challenges and charges headlong into them. She pointed to preparing to go toe-to-toe with Dartmouth star Jaclyn Verzuh for the first time, one of the few elite women's college players over six feet tall. "I'm looking forward to matching up with Jaclyn," she says, adding that she's had to practice attacking the disc in the air so she's ready for Verzuh's leaping ability. "I think she'll really impress me."
However, it's more than just how to play better individually. Gegg has voiced that she wants her team to present themselves to the community more effectively. When she was still an outsider during her time at UC Davis, she didn't get the best impression of Stanford students.
"I didn't much care for Stanford students in undergrad because they all seemed so privileged," admits Gegg. "There we were working hard to earn our meager money, while The Stanford Fund funds Stanford club sports… They seemed stuck up, full of themselves, elitist."
Now on the inside, she sees how hard her Superfly teammates work, how caring they are, and how their intentions didn't always line up with what might be perceived by onlookers with their own inherent biases. She brought this up to her Superfly teammates, asking the team to be conscience of how using seemingly innocent, "nerdy" cheers or singing songs could be influencing a negative perception of the team by those on the outside. But she doesn't feel she has been able to yet impact the team culture in this regard. Being who she is, she blames her own inability to communicate the issue to her teammates. Still, she is thrilled to be a part of the team this season, to the point where she could barely talk about it over her own giddiness.
"I'm not sure what's gotten into me this season, but if you ask any of my teammates, they'll be the first to say I'm stoked for us!" she exclaims. "There's no holding back how excited I am to come out and show how beautiful I think this team is."
***
Throughout our conversations, Gegg praises her teammates, their energy, her opponents, and the broader ultimate community. Courtney Gegg loves what the sport has to offer, a gift she's excited to share with anyone who will listen. But she's most eager to share just how amazing Superfly will be this year.
"Courtney dislikes being in the limelight. She doesn't want to be flashy or well known. She sets personal goals and expects a lot of herself as an individual player, but she does not want attention drawn towards herself," says Rempel, who was surprised Gegg even participated in interviews for this piece. "She just wants to play another point, get another D, and push herself and her teammates to expect excellence from themselves."
That attitude is infectious and Gegg clearly pushes her teammates. "She's supportive, she celebrates her teammates' successes, and she's caring — but she will absolutely call you out if you slack off or don't go 100%," says Monisha.
In return, they push her back. "Damn, there's nothing as rewarding as making my teammates proud," Gegg admits.
Perhaps therein lies the secret to remaining perpetually unsatiated. Believing that no number of accolades, trophies, and titles offer the same fulfillment as the cheers of teammates. For Courtney Gegg, 2017 promises plenty of both.
---
Tying her for third overall at the tournament. ↩