#1 Stanford went undefeated, #2 Whitman went 3-3, and the Southwest showed they going to be very strong this season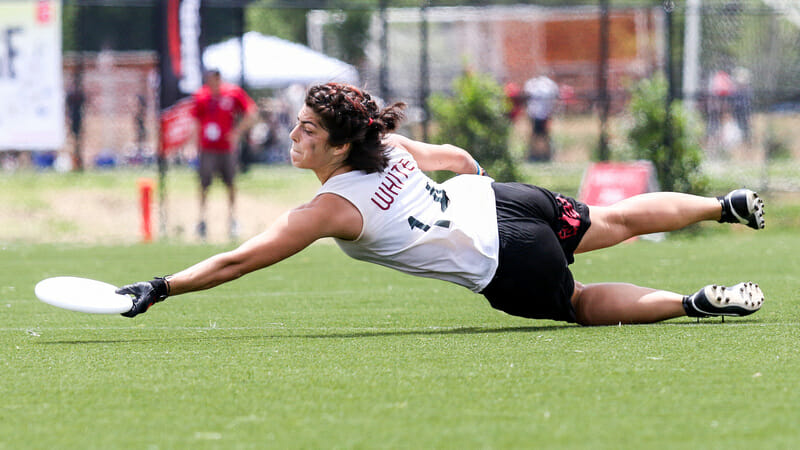 Santa Barbara Invite was supposed to be the casual warm-up lap before the 2017 season excitement really got underway. Pool 1-seeds were supposed to show up and roll their way into the semifinals, then the heavyweights would duke it out in the first of many inevitable Sunday rematches throughout the spring.
Things did not go as planned.
This year's Invite featured upsets in three out of the four pools, and two upsets in the championship bracket. The only team whose results went to chalk was Stanford; below them, the other Southwest teams battled fiercely to reshuffle the deck. What do we know after this weekend? That top teams aren't invincible and that we should expect a lot more noise from the Southwest this season.
Stanford Is As Good As Everyone Suspected
It's easy (and fun) to build up hype going into a tournament. Will the underdogs rise up? Can the defending champions keep their title? Who will achieve glory, who will fall? You get the picture.
Rarely does a team fully live up to the hype surrounding them. But this weekend, #1 Stanford Superfly did. They didn't just cement their top spot in the college rankings; they surveyed the property, dug a foundation, poured concrete, and put up a home at the top.
Stanford devoured bagels all day Saturday as they shut out San Diego State, Victoria, and Arizona in pool play. Stanford's stars were usually the players on either side of a score, but the team incorporated their rookies into nearly every point they played. It's a smart play for an already small roster with just 11 returners, and it'll pay off having experienced legs come May.
Rookies like Ellie Norby, Bridget Connor, and Marie Payne saw a lot of minutes throughout the weekend, from the first pull to the final point. Some of their skills were raw, but they were already operating in Stanford's system with confidence.
Courtney Gegg and sophomore Hallie Dunham put on a show together on Stanford's D-line. After every turn, Gegg would inch toward the endzone, her eyes on the handlers. Dunham would crank a fake and more often than not reward Gegg with a picture perfect dime to snatch out of the air. When teams backed Gegg, she carved under and launched hucks of her own.
RELATED: An Insatiable Blaze: The Fire Within Courtney Gegg
Superfly's Sunday presented bigger challenges — a 2016 championship final rematch with Whitman (Stanford won 13-8) and surprising defense from USC (Stanford fought back to win 13-10) finally balanced out their stats. But the team rarely seemed discomfited. It's January, and they're already ready for Cincinnati-caliber games.
Whitman Sweets Falter
#2 Whitman had a tough first dance with the division. Ranked second in the country going into the weekend, Whitman left Santa Barbara with a 4-3 record and many unanswered questions. How did they lose to the unranked UCSD Psychos? Why did they barely edge out teams like Cal-Poly SLO and UC Davis? And what will this team look like in a month at Stanford Invite?
Excuses for Sweets' performance can be found wherever you look. They played mixed lines for every game. It was the first tournament of the season. It was Gwen Ambler's first weekend with the team, and she likely experimented with a range of line combinations and plays.
But some of the disconnects happening on the field cut deeper: they're processing the impact of losing big portions of their downfield offense, and it shows.
The big shoes left by Brenna Bailey, Marlena Sloss, and Elissa Picozzi had to be filled by players like Caitlin Scott, Tessa James, and Sarah Finger who didn't see many minutes at the College Championships last year. Their connections with each other and the handlers aren't as intuitive.
The difference in pace and timing was apparent when Claire Revere, Linnea Soo, and Alissa Soo were cutting downfield. All three made highlight reel plays for Whitman, and Revere's absence on Sunday 1 showed in Whitman's offensive flow.
January tournaments are designed for ironing out offensive wrinkles or determining team chemistry. Whitman's missteps would be normal for most teams, but Whitman isn't most teams. Instead, their losses to three Southwest teams will likely have big implications on the early bid picture, and with President's Day Invite around the corner, the Southwest region could end up holding a lot of cards come May.
As for Whitman, they have more reshuffling to do if they want to see Stanford again in the final.
California Pie Queens Show Potential
After losing their top seed position in Pool D, the #18 California Pie Queens rallied on Sunday to fight past UCLA and Victoria in the bracket. While their 13-4 loss to Stanford was brutal, Cal's journey to the final proves that they shouldn't be slept on.
When they're keyed in, the Pie Queens are a patient, focused team that can swing the disc 30 times before they find an option they like. Handlers Anna Wysen and Alison Griffith went high and low to burn zones, and their composure didn't ebb even deep into the weekend.
California only recently set their roster, and nearly a third are rookies. Amanda Wiseman, Sydney Horanic, Amy Holm, and Alison Haddad saw big minutes on Sunday. Horanic not only tackled the task of guarding Gegg during the final — she asked for the challenge.
"[I told the team that] the weekend I'm gonna remember is the game against USC and the game against UCLA," said California's head coach Manisha Daryani. "Those are the big games. That's where we demonstrated our greatest potential for being a contender in this region."
USC Barrels through Weekend
While other teams gently coached rookies through their first real tournament or worked diligently on team chemistry, the #12 USC Hellions of Troy ripped through their games with the demonic energy and force of their namesakes. They managed to upset their pool, advance to semis, and take the tournament's only lead over Stanford Superfly before losing 10-13.
Led into the fray by senior captain Julia Johnson and co-captain Alyssa Perez, USC's weapons of choice were an impressive trap zone and Johnson's cannon shots deep.
"Their zone D was very tricky for us to figure out; they got a lot of points off while we worked that out," said Stanford coach Robin Davis after their semifinal match. "Their trap especially — it was hard for us to break that mark. And on offense, it took us a few tries to find something to slow them down."
USC implemented a 4-person cup throughout the weekend that would lead teams to the sideline and then corner them. The cup would shift what it took away based on what the sideline saw downfield, so that a handler rarely had a safety valve to reset the disc. Perez and fellow veteran cutter Connie Chan pushed the tempo downfield, and their defensive grit in USC's zone earned several blocks just behind the cup.
On turns, Johnson rewarded any cutter who would sprint deep with beautifully shaped backhand rips. Teams tried everything to stop her throws, but only Courtney Gegg's wingspan seemed to give Johnson pause.
"Her throws are insane," said Stanford's Davis. "Even when we put a poach in the lane, she could just snake it around our poach."
Johnson and USC's next event is President's Day, presenting them an even stronger field. A repeat performance there will have the rest of the division firmly on notice.
UCLA's Potential Is Still Vast
#14 UCLA BLU turned in a solid first weekend of the season despite falling in the quarterfinals to the California Pie Queens. BLU's offense was helmed by captains Camille Wilson and Kathleen Lo, as well as Han Chen and Jane Elizabeth Gunnar downfield.
BLU is still a long ball team, but the distributors and receivers are more diverse this season. Wilson and Chen still have light triggers, and handlers Lauren Kean and Sylvia Liang also took turns looking deep. Throughout the weekend, UCLA implemented their "brick house" zone defense, forcing teams to either reckon with their quick-moving cup or take their chances deep.
BLU is a fast, athletic team with a much higher ceiling than their fifth place finish might suggest. They were a few late breaks away from an easy road to the final, where Han Chen could have gone toe-to-toe with the likes of Gegg or White. UCLA's 7-0 first half over Whitman in the fifth place game perhaps speaks more to the Sweet's struggles this weekend, but it should also be a warning not to sleep on this talent-heavy BLU team.
Southwest is Strong
On top of the success seen by the region's traditional powerhouses, the rest of the Southwest region turned in an impressive slate of performances this weekend, sowing the seeds for a competitive and bid-heavy Regionals later in the season.
The UC San Diego Psychos held seed despite their upset over Whitman, but their only losses were close games with UCLA and Victoria. The team's experienced core has a lot of firepower between Maria Zavala, Leanne Go, and Kelli Iwamoto; they play big, fast, and athletic. Cal-Poly SLO Motion got their licks in against Whitman, and they executed strong offense led by Danielle Tran. UC Davis Rogue's Amanda Meroux and Olivia Hart helped their team challenge upper-tier teams like UCLA and Whitman.
"You have seven very good teams in this region, and when you're talking about bids to Nationals, you have an early picture now: this is going to be a dogfight," said California's Daryani after the final. "It's always going to be a dogfight… when you look at the whole weekend, and the competition against Southwest teams, it tells you that any Southwest team can beat any Southwest team."
Most of these teams will have another chance to face off in a few weeks at President's Day Invite, but their performances this weekend promise a full season of battles to earn enough bids for the crowd.
---
Revere elected not to strain a preexisting back condition on Sunday after several tough bids on the turf during pool play ↩