The #1 team in the nation showed why they are so feared.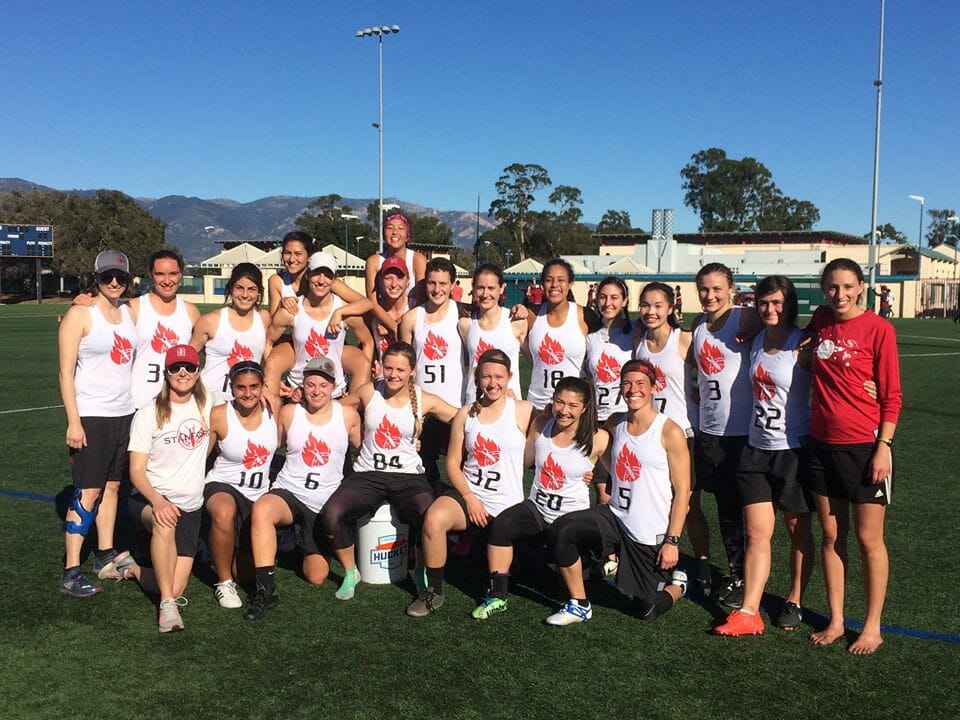 SANTA BARBARA, Cal. — A 13-4 victory over the UC Berkeley Pie Queens was the coup de grâce for Stanford Superfly's dominant Santa Barbara Invite weekend. The reigning national champions only allowed 22 points in six games, and 45% of those were to USC during their semifinal match. Stanford was in a different league this weekend, and their performance in the final was simply more evidence for the jury.
California and Stanford cleared their throats for the early points, trading easy holds. Cal's offensive line wasn't always on the same page, however. Cal gave the disc back twice at 4-3 after long backhand break throws soared to the end zone with no Cal cutter nearby. Finally, Stanford's Courtney Gegg boosted the disc to rookie Ellen Norby, who found Caitlin Go for the break to make it 5-3.
Then they broke again, and again, and again. Once Stanford set their zone, Cal didn't score again until deep into the second half. While Cal maneuvered better in zone today than they had in their pool play loss to USC, Stanford's zone forced just enough desperate throws or needle threads from Cal that Caitlin Go or Michelle McGhee could steal discs.
Whenever Superfly earned the turn, sophomore and 2016 Rookie of the Year Hallie Dunham was ready to go to work. Dunham's offensive efficiency was undeniable. She took what she wanted on the field, from low backhand breaks to endzone-seeking flick bombs. No matter that she had the flu and was ill enough that her coaches had her go rest at the hotel during the semifinal round; she still had four assists and a goal during the final.
Dunham's favorite target was Courtney Gegg, who earned three goals and an assist of her own. Her stats list would have been higher, but as the score climbed, she was benched in favor of giving younger players experience. That's the kind of game Stanford had.
RELATED: An Insatiable Blaze: The Fire Within Courtney Gegg
Stanford's younger players were the quiet stars of the final and the weekend for Stanford. A typical line for Stanford during the final included a handful of marquee players (e.g. White, McGhee, Go, Anne Marie Gordon), and then two to three rookies. Marie Payne, Ellie Norby, and Bridget Connor saw a lot of touches during the final, and while they had a few shaky resets and tentative cuts, they didn't look like the typical January rookies. They know the Stanford system, and they could make plays happen.
"I thought our rookies played really well," said Stanford coach Jamie Nuwer. "They had a completely seamless transition into our offense and defense. There were some points where I thought, 'I can't really tell who the rookies are on the field,' and I think that showed in our score."
The points blurred together as Stanford tucked away goals. Shayla Harris had bookends to take half, 7-3. Dunham and Gegg threw to each other to score twice out of half. Go pulled out bookends late in the game at 11-4, and Rachel Thomson scored the final point.
Cal's handlers Anna Wysen, Yun-Yun Lin, and Alison Griffith bore the brunt of Stanford's force throughout the final. Stanford's four-person cup pushed Cal laterally across the field again and again. When Cal tried to sneak through the middle, Stanford defenders got there first. Griffith and Wysen showed creativity and skill resetting the disc ad nauseum – although they fell back on high releases a few too many times.
But they couldn't catch a break. Every fumble or questionable throw was devoured by Stanford and slung into the endzone for breaks. Cal managed to score once in the second half, but they couldn't assert themselves defensively.
Cal threw a range of defenses throughout the game, including a force middle that flustered Stanford. "This weekend was a chance for us to experiment…," said Cal head coach Manisha Daryani. "We were going to experiment with a lot of defenses, and a lot of matchups. Stanford is a team where if you can find the right matchups, you can be successful. This is a marathon not a sprint, and if we're talking about what we're going to do in May, this is a good chance to start to see what's going to work and not going to work and tinker accordingly."
The marathon began this weekend, and Stanford undeniably won the first mile. Their small, talented roster walked into the weekend already ranked as the best team in the division, and they leave somehow better and stronger.
Video of the final will be available to Ultiworld subscribers later this week. College teams can get an early-bird discount on a Team Pack through the weekend.