Bloodthirsty cap off an impressive, undefeated weekend in Santa Barbara.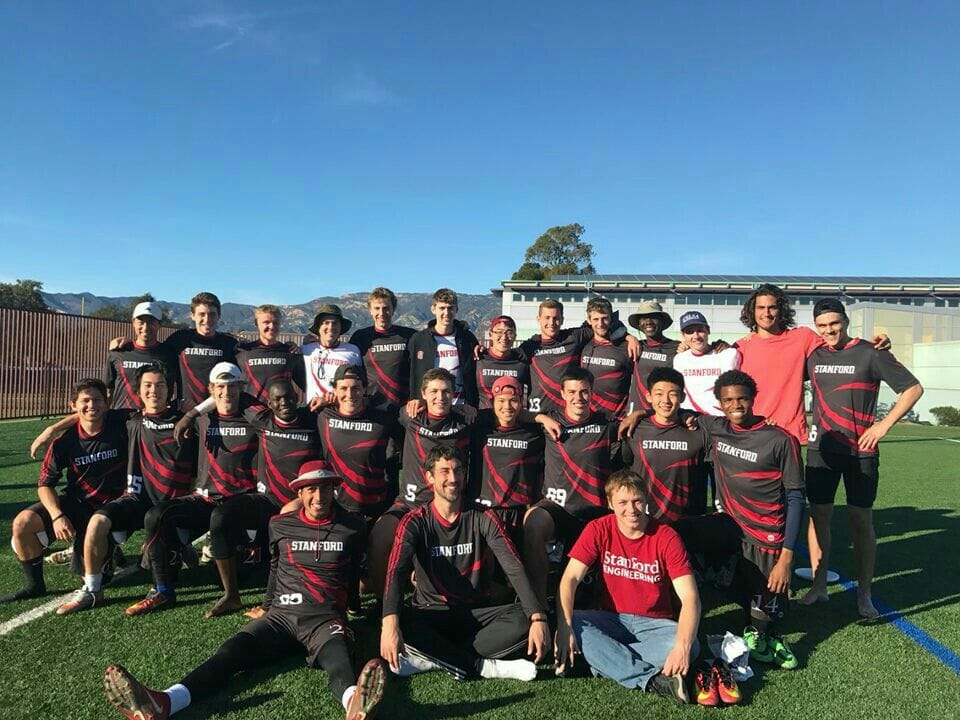 SANTA BARBARA, Cal. — Back in the final for the second straight year, #14 Stanford Bloodthirsty saw off Western Washington Dirt 9-6 to earn a repeat tournament victory at the Santa Barbara Invite on Sunday.
While the conditions were perfect for ultimate — it was beautiful day of SoCal sunshine with almost no wind — the final was unfortunately cut short. Originally scheduled for 3:00 pm,1 the game actually started a round early due to Western Washington's flight schedule, but still couldn't be played all the way to 15. It served as a flashback to the 2016 final, when Stanford grabbed a forfeit win after weather delayed the final until late in the afternoon and Washington was forced to leave before the first pull. This time, Bloodthirsty was able to notch the victory on the field, claiming a clean 7-0 sweep on the weekend en route to the tournament win.
Second-seeded Stanford entered the final on a high note, having played their best game of the tournament the previous round, crushing their Southwest rivals Cal Poly SLOCORE in the semifinal 13-8. They met a Dirt team riding a high of their own, in the wake of grinding out a double-game-point win over their in-state rival, top-seeded #11 Washington.
Receiving to start the game, Bloodthirsty came out in their standard side-stack set. Western was prepared for this look and bracketed the isolation cutters to effectively stifle the pull play, but Dirt couldn't bait Bloodthirsty's offense into a turnover. Stanford ground out the yards patiently before putting up a hanging huck that Drew Mathieson skied for to hold. Just as they had in the quarters and semi, Stanford continued to trust their receivers to make big plays on contested deep passes.
Then it was Western's turn to come out firing. Led by Dennis Casio, Dirt attacked the breakside under to start the offense and looked to aggressively attack the deep space. Dirt turned the disc over twice, but were strong enough on D to earn it back and eventually punch in their hold.
The teams traded to 3s in similar fashion to the opening salvos. Though WWU continued to shut down pull plays with poaches, Bloodthirsty rode patient handler motion to trusting deep hucks to get their holds. Cyrus Ready-Campbell was a force for Bloodthirsty all of Sunday and played a huge role in establishing the deep game. In contrast, the WWU offense was expending much more effort per point, nearly always requiring two or more possessions to hold. Western was heavily reliant on fast inside breaks and aggressive deep looks, but the looks they were taking did not leave much margin for execution error or fatigue. On the last game of Sunday, neither of those things are in short supply and Dirt repeatedly turned over huck and break looks that were a tad off — just out of bounds, just out of reach, or just a bit too far.
Both teams gave up their fair share of turnovers, but Dirt's tight O-line was forced to grind out multiple turns per point while Stanford cycled their defenders. With Dirt receiving down 4-3, Bloodthirsty's D-line finally made them pay. After a WWU huck reception was ruled out of bounds, Stanford connected on a quick huck and eventually cashed in the first break of the game.
The next point, Dirt threw a laser inside flick that was too fast for their open receiver to run onto and Stanford promptly answered with another beautiful flick huck from Elliott Chartock to Nolan Walsh — a common connection on the weekend — to go up 6-3. Earning a two break lead, the play took a fair amount of air out of the game. Western continued to work hard for every point, but their fatigue was evident in their offensive decision making, even though their defensive effort remained admirable.
After finally stopping the bleeding with a tough hold — multiple layouts to save possession, near blocks, and tight windows — Dirt pulled to Stanford down 6-4. Despite earning a turn and hungrily gunning for a break, it was not to be; after Dirt missed long on a huck, Walsh beat his man under and turned up-field to launch a brilliant IO flick huck to space for Drew Mathieson to run onto, taking half for Stanford, 7-4.
The ease and efficiency of the score for half was not to be harbinger for the start of the second. Western ground out a sloppy, multi-turn hold out of the half, then generated four chances at what would have been a critical break the following point before Stanford punched in their own hold. Dirt's D-line offense was struggling with the same issues as their O-line: hucks too far, breaks thrown too fast, Stanford's defense too tight. By this point, the momentum seemed to have swung fully to Bloodthirsty, and while the teams agreed to cap the game at 9 so Western could get to their flights, the atmosphere on the field felt as though the game was already over.
Dirt got a hold on another multi-possession point to close the gap to two, but was in need of three straight breaks if they were to come back for the win. Instead, Stanford made quick work of closing out the game, as Chartock found a leaping Gabe Hernandez for the 9-6 victory.
Stanford repeated as Santa Barbara champions on the strength of stellar play from Chartock, Walsh, Ready-Campbell, and Hernandez. Bloodthirsty entered the weekend with a short roster of eight returners and ten rookies due to a pile of injuries, and didn't use strict offensive or defensive lines. The aforementioned quartet played both ways and were outstanding in their respective roles. Walsh and Ready-Campbell were dominant downfield, helping to assert the deep game early and, later, use their open under cuts to hit others deep. Chartock and Hernandez were brilliant in the handler space, slipping open for resets, consistently shredding marks, and laying out to save possessions.
It was also clear that despite these standout performances, Stanford won as a function of their depth on defense. Contributions came from the full roster, and, as Stanford assistant coach Jordan Marcy noted, "the rookies stepped up big and played a lot of point in all the games." Bloodthirsty's depth helped them fight fatigue and allowed them to out-grind Dirt on the longest points, routinely making hustle plays to chase down discs and save possessions.
Though happy with the early success, Stanford realizes that it has a long way to go to ensure similar results come May. Assistant coach Nathan White was quick to list off a string of skills to be sharpened in the coming weeks, expressing that "there were some obvious things we need to work on: executing dump sets, being able to throw better dishes to people who are tightly guarded, and running through the disc." Marcy added that the team has some progress to make in "not getting beat deep; it was a theme for the weekend."
While Dirt was disappointed to lose the final, they exit the weekend excited about their potential this spring. "We feel great about our performance this weekend, especially with it being our first tournament as a team," noted the WWU captains. "We've been working hard at practices and putting in the time on/off the field to get better and it really showed this weekend with our play."
Their coaches were enthusiastic about how quickly the team gelled in their first tournament together and piled praise on the rookie class for a strong showing. Dennis Casio and Adam Choi turned in strong weekends for WWU, with Casio shining particularly brightly on offense.
Still, Dirt leadership was cognizant of what went wrong for them during the final, agreeing that fatigue affected them and that their emotional and mental game slipped as a consequence of their dramatic path through the bracket. The anxiety of their impending rush to the airport also took its toll.
"We feel like we didn't play our best game in the finals. After having back-to-back universe point wins, a lot of our guys were physically and mentally drained. We had some errant turnovers on offense and we weren't winning the game with our legs like we did in our previous games. We also really rode our sideline energy up until the finals, but that was lacking during our final game… Worrying about if we were able to make it home definitely had an impact on the mentality of some players that affected sideline energy."
Simon Pollock contributed reporting.
Correction, January 31, 2017: an earlier version of the story reported that Washington did not plan accordingly for the 2016 finals. That game was delayed because of inclement weather. 
---
Staggered after the women's final, to allow the game to be filmed by Ultiworld. ↩