You can focus on the fun and games without missing out on an opportunity to improve.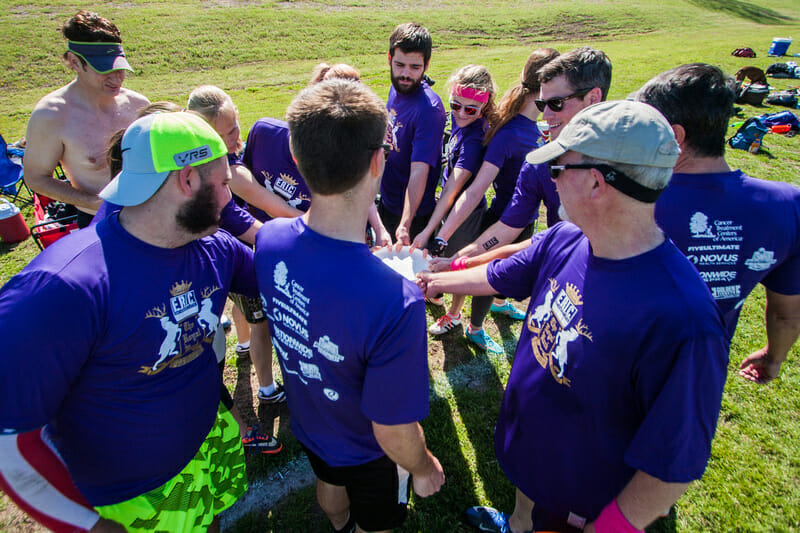 This article is presented by Spin Ultimate; all opinions are those of the author. Please support the brands that make Ultiworld possible and shop at Spin Ultimate!
Hat tournaments are a staple of the ultimate off-season. Fun for sure, but it can be challenging to improve your game when you're playing in an environment with less talent, intensity, and chemistry than your regular club or college team.
Hat tournaments can never replicate in-season play, but there are several ways you can still add to your game while playing in a more casual environment.
1. Try A New On-Field Role
Have you never, ever handled a day in your life, but you're getting curious about the backfield? Has handling for the last two years straight caused you to lose your downfield perspective? Are you exclusively a go-to cutter defender on your club team, but your college team needs you to play handler defense next year? Hat tournaments are a perfect opportunity to play in a role outside the norm for you. Whether you want to try an entirely new role, revisit an old role that's become rusty, or just improve your versatility across the board, hat tournaments are a great low-stakes environment in which to experiment. Communicate to your new hat tournament teammates the role you want to fill and make sure you get the reps you need to improve.
2. Go For A 100% Completion Rate
If you're susceptible to tunnel vision or if you're a known risk-taker, hat tournaments might be a good place to focus on your decision-making with the disc in your hands. Work on looking for the easy open options first and committing to handler resets early in the stall count. You can even track your turnovers over the course of the day; make a mental (or even physical) note when you identify that you took an ill-advised huck or threw to a risky 50-50 matchup instead of looking to swing. Be sure not to be too hard on yourself for incompletions — practice differentiating between true receiver errors and poor decisions on your part.
3. Pull The Trigger
This goal and the previous one are mutually exclusive. If you're on the other end of the spectrum — always limiting yourself to easy dumps and wide-open downfield looks — hat tournaments are a great environment to work on expanding your throwing repertoire. Maybe you've been working on your huck form, but hucking isn't part of your role on your college team; maybe that inside forehand has been feeling pretty good during warm-ups, but you're still hesitant to use it in game scenarios. The low-stakes environment of a hat tournament is the perfect time to find opportunities where you can execute that new throw you've been working on.
4. Play At Full Intensity
If you find yourself playing too tentatively or getting lazy on defense, you could focus on playing consistently at full intensity during a hat tournament. Tentative or lazy play often comes from fear — fear that you won't get open if you cut anyways, or fear that you'll get beat deep if you try to fully take away the under. But again, the stakes are low at a hat tournament. Try playing at full intensity, making every cut at full speed and fighting for every D. Yes, you might occasionally cut someone off or get beat after over-committing on defense, but you'll likely also learn that you can do more than you thought you could. You might also find you have more speed or endurance than you anticipated. Expand your boundaries by playing at full intensity.
5. Flex Your Leadership Skills
Given the range of experience levels present at hat tournaments, chances are your team will include some players who are newer to the game and eager to learn. Use this as an opportunity to engage with those players and try teaching some of the skills you've already mastered. By challenging yourself to articulate the finer points of skills you've already acquired, you'll refresh the details of that skill for yourself while also helping others learn. Be careful, though — avoid giving unsolicited feedback to players that don't want it. Always check in with someone before offering feedback to make sure they're interested. Additionally, you can think about using your voice in team huddles when making strategy adjustments, particularly if this is a role you'd like to grow into on your club or college team.
6. Be A Good Teammate
Regardless of the circumstances, you can always work on being a good teammate. Just like any other skill in ultimate, this is something that you have to practice in order for it to become second nature. If you recognize that you struggle to stay positive and constructive during regular season play, make it a focus point during a hat tournament. The lack of chemistry and range of experience levels at hat tournaments creates an environment that will beg you to get frustrated, so it's an ideal place to get some mental toughness reps. Stay engaged with the team, keep your tone positive, and bring up the sideline energy. A huge component of being a good teammate is communicating effectively from the sideline, so use a hat tournament as an opportunity to keep that stream of communication coming.
7. Fall In Love With Ultimate Again
If you're struggling to stay excited about or invested in your club or college team, a hat tournament might be the right time to let go of your regular-season stress and fall in love with the sport of ultimate again. Maybe you're coming off your first season as captain and are feeling bogged down by all the unexpected challenges thrown your way; maybe you feel like you can't get away from all the inter-team squabbles that really take a toll on your focus and energy. Hat tournaments provide a wonderful escape from all the convoluted team dynamics that sometimes make it difficult for you to remember why you play ultimate in the first place. Take a deep breath and just enjoy playing your game.
***
The low-stakes environment of a hat tournament opens up opportunities for you to improve your game that don't always exist during the regular season. Pick one or two goals to focus on and see what you can do. You might surprise yourself with how much you grow.