The week in college ultimate.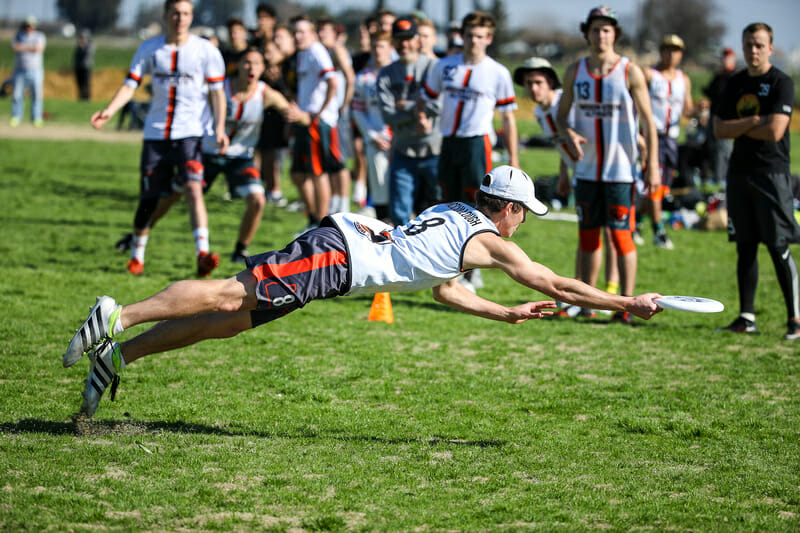 During the spring season, we will publish a bite-sized weekly recap of the action across the College Division. This will serve as a supplement to our standard tournament reporting and will offer a high-level look at the latest happenings and the biggest stories of the week.
Want your tournament listed here? Submit a recap of what happened right here.
Men's
Oregon State Claims Stanford Open Title, Earns Big Break
The #23 Oregon State Beavers have been auditioning for the role of Northwest contender and they've earned their way through final cuts, fighting through a tough bracket to win the Stanford Open and a spot at the Stanford Invite. OSU narrowly defeated Nevada 11-10 in quarterfinals, pulled away from a solid UC Santa Barbara team 12-8 in semifinals, and beat Southern California on double game point in the final. Do they belong with the big names? They'll have to prove it on the field, but they've certainly built a little buzz through their first three tournaments.
LSU Upsets Purdue To Take T-Town Throwdown
Purdue Undue and LSU were the top two seeds and heavy favorites at T-Town Throwdown, and proved why by steamrolling their competition on a collision course to meet in the final. Aside from one 3-point victory, neither team was tested over the course of the weekend. However, it was LSU who took down their out-of-region foe in a hotly contested double game point win, 15-14. The loss drags Purdue out of the Top 25.
D-III Update: Air Force Strong & GOP Upset At Stanford Open, UAH Finishes Third At T-Town
The big tournament in the D-III Men's division this past weekend was Stanford Open, with four teams from our Power Rankings in attendance. #2 Air Force Afterburn continued their impressive 2017, finishing in sixth with a 5-2 record and their losses coming by a combined three points.
As a result of all three other ranked teams falling into the consolation bracket, we were treated to a couple of D-III Top 25 matchups on Sunday. #7 Carleton GOP started off the day with a decisive 11-3 win over #24 Lewis & Clark Bacchus. The Gods of Plastic followed up their beating of the defending Northwest region champions with another sound victory, this time over defending Southwest regional champions, #15 Claremont Braineaters, 13-6. GOP started off the tournament pretty poorly — a loss to Cal Poly SLO-B stands out — but won their last four games to give themselves momentum going into the rest of the season and positions the North Central well as the bid picture starts to shape up.
Elsewhere, #14 Alabama-Huntsville Nightmares had a notable showing at T-Town Throwdown, going 5-2 on the weekend and finishing third. Their only losses were to the two finalists, and the feather in their cap for the weekend was a 15-10 victory in the third place game over the host team, Alabama. This strong display from the Nightmares should put regional foes #9 Georgia College on notice that their stranglehold on the region is far from secure.
Quick Hits
Women's
UC Davis Takes Down UC San Diego To Advance To Stanford Invite Again
#25 UC Davis Rogue claimed their third straight Stanford Open title, notching them a place in the Stanford Invite again this year, going through a strange format and #24 UC San Diego Psychos by a score of 7-4 to do so. Due to windy weather and short rounds, teams faced uncontrollables and each other, resulting in a lot of single digit winning scores and small margins. But Davis and UCSD were clearly the class of the tournament and played few close matches on their way to the final.
Davis, who eliminated San Diego at Regionals in 2016, has parlayed winning the Open into Invite success before and could do it again. Meanwhile, both teams take the field at Presidents' Day this weekend, so perhaps their clashes will continue.
Cornell Wins First Tournament, Georgia Tech Finds Themselves In A Quandary
Cornell Wild Roses made their 2017 debut at Luminous and did so in spectacular fashion, cleaning up against a field of regional-level contenders. They defeated Kennesaw State 13-10 in the final, relying on a sizzling deep game and disciplined zone defense to rise above the field. Traditionally a player in the Metro East, Cornell is looking to reclaim the region from Ottawa, and this is a great start for them.
But the biggest story out of Emerson, GA was the stumbles of #19 Georgia Tech Wreck. A brief look at their resume from the weekend: 3-3 with big losses to Tulane and Emory, teams that look borderline to make Southeast Regionals. Many were scratching their heads at home, but at the field complex, it was clear Wreck was fielding a team devoid of its top 6-8 players. With extremely open lines and a focus on development, Georgia Tech's informal B-team may have cost the Southeast it's chance at a strength bid. It's unclear at this point whether their results will stand for their A-team or be attributed to a different squad.
D-III Update: Stanford Open, Antifreeze, Luminous
This past weekend, #5 Puget Sound Clearcut, #7 Carleton Eclipse, and #17 Claremont Greenshirts, all represented their respective regions at Stanford Open. With winds getting as high as 25 mph Saturday in short rounds, pool play scores were low and rookies were frustrated. Carleton's smaller squad proved resilient, despite the wind. Veteran handler Leah Roche was consistently ripping upwind hucks and sophomore Abigail Herscovici snagged a layout Callahan to beat Nevado-Reno.
But it was Clearcut who came out on top for the D-III teams, beating out a couple D-I teams to take fourth place. The team won in a fierce quarters match against Carleton, 11-9. Tall, athletic cutter JM Gunn put up huge scores for Clearcut and was crucially heads-up for windswept throws. Claremont beat #25 Lewis and Clark Artemis in pool play, but then lost to them on day two when the Greenshirts decided to focus on developing rookies. Claremont finished tied for 15th and Carleton finished tied for fifth.
Meanwhile, #3 Rice Torque hosted and won Antifreeze this past weekend, which brought together four mid-tier Texas teams. Texas-San Antonio was the only team to play Rice closer than a six point margin. Key to Torque's success were Sam Paulsen's consistent flick hucks, a huge sideline layout grab from Julie Doar, and the entire rookie class's defensive awareness.
A brand new team has emerged in the Southeast region and has started to turn some heads. North Georgia Aurea scored a pair of wins over D-I teams Tennessee-Chattanooga and Alabama at Luminous. They broke seed to finish 13th after coming in as the lowest seeded team. Perhaps they can challenge Georgia College to take the low-hanging fruit that is the Southeast's only invite to Nationals.
Looking Ahead
It's the season's first big(ly) weekend! There's a full slate across the country.
Warm-Up: A Florida Affair (M) brings a wide-ranging field together and marks the season openers for #3 Carleton, #4 Wisconsin, #7 Minnesota, #10 Texas A&M, #11 Texas, and #13 Pittsburgh, among many others.
Four Top 25 West Coast teams top the pools at Presidents' Day (M/W) on the Men's side, which certainly lines up for an exciting Sunday. Six top ten teams take the field on the Women's side, giving us our first look at #4 Texas, #5 Western Washington, and #8 Colorado. Plus, #23 Carleton will establish some cross-coast connectivity.
Easterns Qualifier (M) is always a fun tournament and #22 NC State is the favorite, but faces some tough opposition in what looks like a field filled with parity.
Dust Bowl (M/W) brings together a host of South Central teams, including D-III #6 John Brown in the Men's Division, plus #22 Kansas and D-III #1 Truman State in the Women's Division.
While the Atlantic Coast fills out most of Towsontown Throwdown (W), the No. 1 seed is Metro East rep Rutgers.
Other events: Big D in Little D (W), Santa Clara (W), Cupid's Revenge (W), Jersey Devil Indoor (M/W)