BLU's zone defenses stifle the Melee attack.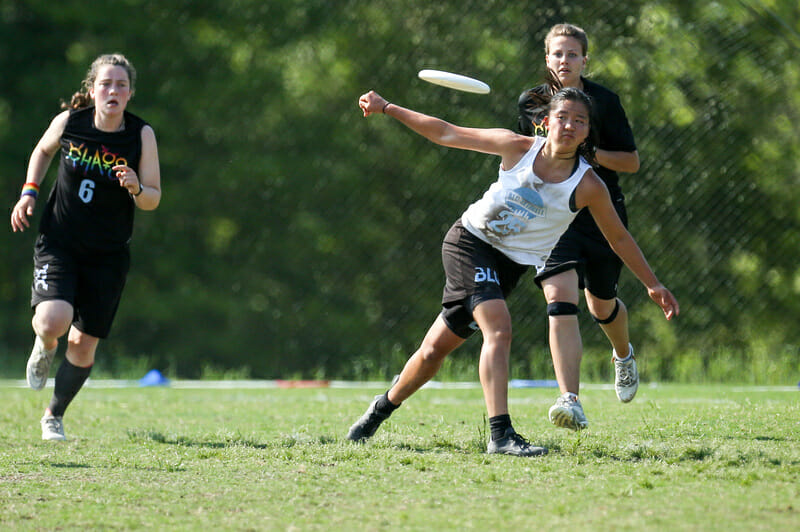 Ultiworld's reporting on Presidents' Day 2017 is presented by VC Ultimate as part of their season-long support of our women's coverage; all opinions are those of the author. Please support the brands that make Ultiworld possible and shop at VC Ultimate!
LA JOLLA, CA — UCLA BLU outlasted Texas Melee in the Presidents' Day tournament final 9-6, in a rematch from pool play where UCLA had won 8-6. By Monday afternoon #16 UCLA was finally firing on all cylinders, while #4 Texas Melee was trying to trying to recover from a grueling and astonishing semifinal upset over the tournament and the division's #1 ranked Stanford Superfly.
UCLA set the tone in the first point. They ran a 4-person zone around Texas' handlers to retard quick movement between them. Both teams had played tough semifinals, and the fatigue showed in early drops and throwaways. UCLA senior phenom Han Chen, however, was ready. Her ferocious layout D early in the first point boosted UCLA's energy, and she tossed an almost casual hammer for the first break, 1-0.
Texas' handling corps played heavy minutes throughout the final. Shiru Liu, Domenica Sutherland, Laura Gerencser, and Dre Esparza have great chemistry, and their capable resets and give-and-go ball created most of Texas' scoring opportunities in the game. Sutherland pushed the tempo of the backfield, and her low backhand breaks were impossible to deny. Liu, Gerencser, and Esparza took their time in UCLA's various zones, with Liu's deep looks faring better upwind than the rest of her team's shots.
UCLA set two different zones on Texas in the first half: they began with a big 4-person trap cup and Chen downfield, then they shifted into a 3-3-1 that gave Texas swing resets but challenged movement in the center.
"I like having a few different zones because when a team gets comfortable with one, it's important to switch it up," UCLA coach Alex Korb said after the game. "Even if one isn't the most effective, if you make them throw 100 throws, it pays dividends later."
Fatigue from a long weekend showed for both teams early in the half. A few poor decisions and tired drops from UCLA extended points, while Texas' downfield looked completely wiped after turns. Their cutters weren't able to grind like they had earlier in the weekend.
"We peaked in our second game, and then we were done," Esparza joked after the game. Their downfield rotations weren't helped by the absence of their crucial downfield target, captain Julia Schmaltz, who had to leave the tournament early for class.
"She's a super athlete, and she could have brought the energy we needed in that last game," captain Laura Gerenscer said.
In a long point at 4-3, both teams dialed in defensively. UCLA's 4-person cup generated several turns, and Chen started gunning toward the endzone. Texas answered a UCLA handblock in the cup with a Gerencser handblock in UCLA's red zone.
Endzone to endzone they tested each other. UCLA never crumbled from their zone, even on the goal line, and Chen destroyed each of Texas' offensive marches upfield with a long bomb back downfield. Finally, UCLA connected on an offensive chance as Liang punted deep to Chen for the break to build UCLA's lead to 5-3.
Texas responded with a quick hold through Gerencser and Esparza's crafty handler movements, but they couldn't capitalize on their own chances to break. Marissa Land and Sara Lee played big minutes for Texas in the downfield, but it wasn't enough to take control of the game as half approached.
Han Chen, Kathleen Lo, Camille Wilson, and Sylvia Liang created UCLA's best offensive moments in the final. Han Chen marshaled UCLA's offense during their O-points, and her hucking accuracy was near-perfect in a tournament with a wealth of overthrows on the short fields. Wilson intuitively created cutting spaces for herself to kickstart BLU's downfield, and Lo and Liang were usually the fastest players on the field. When these four players connected, UCLA's offense was intuitive and unstoppable.
"[Liang] has always been a good cutter for us, but in the past she's been overshadowed by Vendetta, who graduated last year," Korb said of Liang's performance in the final. "It's great to see players like her stepping up into their own, and realizing they can use their own amazing skills."
UCLA held for half 7-5 on a high bid from Sylvia Liang, contested by a diving Sutherland who grabbed the disc seconds behind Liang. For better or for worse, Texas had played themselves into a familiar position: for the second time at this tournament, they entered halftime trailing UCLA with less than 20 minutes until hard cap, and UCLA set to receive out of half. Texas needed to break quickly out of half in order to keep the game within reach.
It wasn't to be. Instead, UCLA held with polished offense from Wilson, Lo, and Chen. Texas' defense didn't seem prepared. BLU set their 3-3-1 zone against Esparza, Gerencser, and Sutherland, and the Melee handlers couldn't advance the disc up the rails. They were left swinging ad nauseaum until UCLA could force an error. They held once out of half, but time was running out quickly.
UCLA marched through the final points with focused precision. The hard cap horn blew during the point at 8-6, with UCLA in the endzone. Chen scanned the field, looking for her best option. The answer — for Chen — is always a crossfield hammer. Liang caught the hammer with room to spare, and UCLA defeated Texas yet again.
"Every year, they never believe early in the season how good they're going to be," Korb said after the win. "I have to convince them. They say, 'Oh no, we graduated so many players!' And they did. They graduated a lot of O-line handlers, like Vendetta, so it takes a lot of convincing that, no — you guys are all good.
"One of the things I try to beat into the team is 'accept your greatness.' Usually they finally do it around Sectionals or Regionals, so hopefully they'll start to accept their greatness earlier and we can peak even higher."