A big weekend for D-III on the men's and women's side, with upsets aplenty!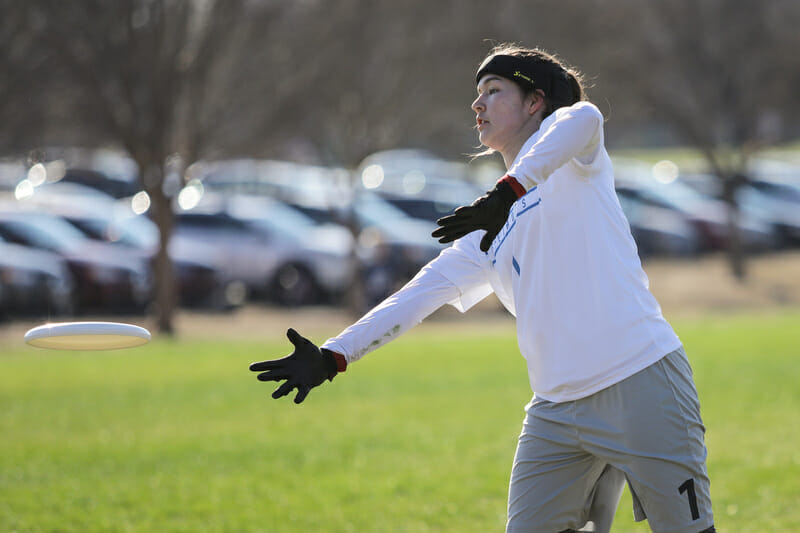 During the spring season, we will publish a bite-sized weekly recap of the action across the College Division. This will serve as a supplement to our standard tournament reporting and will offer a high-level look at the latest happenings and the biggest stories of the week.
Want your tournament listed here? Submit a recap of what happened right here.
Men's
Alabama-Huntsville Reigns Supreme at Music City
D-III #14 Alabama-Huntsville Nightmare came out on top of an all D-III final, crushing #18 High Point Bagheera 15-6. High Point's roster of 12 ran out of steam and couldn't keep with a high quality UAH team. UAH continues their strong season, now adding a tournament win to a semifinal finish at T-Town Throwdown. Their undefeated weekend at Music City firmly plants them as the new favorite in the Southeast for the D-III contingent, ahead of reigning National Champion Georgia College.
Northeastern Undefeated in Crowded Bring the Huckus Field
No. 3 seed Northeastern Huskies claimed this year's title, with an 8-0 performance featuring just a single close game1. That sends their record to 14-1 this year, with a one point loss to George Washington as their only blemish. Their opponent in the final, D-III #10 Williams WUFO, proved no match, and Northeastern won 7-3. Northeastern defeated Princeton in semifinals, handing the Metro East rep their only loss on the weekend, while No. 2 seed Williams got by No. 5 seed Boston College.
On top of less than ideal weather, Bring the Huckus has been followed by a cloud of controversy regarding tournament mismanagement by tournament organizer, Ultiment. Wind, 80 minute round times (including on Sunday), and small fields all combined to keep scores low over the whole weekend.
Quick Hits
Host LSU avenged a pool play loss to Texas State in semifinals and outperformed UT-Chattanooga in the final, 15-10, to win Mardi Gras. Don't look now, but LSU is 19-2 and has beaten both teams they have lost to, but also has not played any elite teams.2
D-III #4 Bryant went 4-0 to win the Bryant's Winter Tournament round robin, including thumping D-III #19 Bentley.
Market Crash's final featured the top two seeds, UNC-Charlotte and Davidson, and it was D-III #24 Davidson DUFF who took home the victory.
No. 1 seed Carnegie Melon Mr. Yuk took home the Huckin' in the Hills crown, running over Akron in the final after Akron was pushed to the brink in their semifinal.
D-III Update: Bring the Huckus & Music City Action
It was a lively weekend in D-III Men's, with eight ranked teams competing at three events. The big winners this weekend were #8 Alabama-Huntsville, #10 Williams WUFO, #13 High Point, #4 Bryant, and #14 UNC-Asheville Bulldogs.
UAH came out as the lone tournament winner, facing High Point in the final at Music City and demolishing them. The Nightmares stock is on the rise and they were easily the top team at the tournament. High Point and UNC-Asheville went a combined 9-3 at the tournament, including splitting results in two games against one another. Meanwhile, Bryant went 4-0 at their home round robin and Williams went 6-2 at Bring the Huckus on the way to a final appearance.
#24 Davidson DUFF also merits mention, going undefeated in seven games at Market Crash, and fighting their way back into the top 25.
On the other side of the coin, Messiah Falcons struggled at Bring the Huckus, going 4-4 and finishing 19th overall. Most notably, they couldn't overcome Haverford, losing 9-8. There were thoughts initially that they could win a bid for the Ohio Valley and get to Nationals, but that looks like a less likely outcome given where they are at now.
Women's
North Carolina With Statement Win at Commonwealth Cup
Two big victories over the other ranked teams led #14 North Carolina Pleiades to the upset tournament win at Commonwealth Cup. UNC knocked off #17 Pittsburgh in the semifinals and edged #13 Virginia Hydra on double game point in the final to claim the cup. It was the strongest result thus far for the Atlantic Coast hopeful, and it came without star Jenny Wei, who is still too injured to participate in play. Their performance in the final avenged a pool play loss to their regional foe.
It wasn't a clean weekend for Pittsburgh Danger, who struggled in multiple pool play games despite not facing another ranked team. They needed a three point run to come back to beat UNC-Wilmington on double game point and narrowly held off Penn State to win that game by a goal. Playing without Linda Morse all weekend, they dug a 5-0 hole in the semifinals against UNC and never recovered.
There are certainly questions after this weekend about who is the favorite in the Atlantic Coast. The region seems to have capable teams to push the favorites, including No. 6 seed Delaware, the fourth semifinalist. But it isn't the first time UVA has fallen to an in-region opponent during the regular season; North Carolina defeated them last year in February as well, but Hydra still claimed the AC title when it counted.
Williams Wins Big D-III Matchups, Bring the Huckus
It was a great weekend for D-III #4 Williams LaWUFA, who went undefeated and won their seven games by an average of nearly 6 goals. Big performances from Mia Wang, Ava Anderson, and Hayley Lescinsnky helped Williams conquer the cold and wind that blanketed the tournament. Perhaps most important for Williams, they tallied wins against a handful of D-III opponents: #13 Haverford, #14 Amherst, #15 Bowdoin, and #21 Swarthmore. Williams defeated West Chester 11-7 in the final.
D-III Update: Big Weekends for Williams, Amherst, and Portland
We already discussed how successful Williams was at Bring the Huckus. #8 Amherst also had a strong showing breaking out of its No. 8 seed to finish third. #12 Bowdoin solidly beat out #15 Haverford & Bryn Mawr Sneetches for fifth — the Sneetches struggled this weekend only winning 2 of 8 games. #22 Swarthmore fell far behind the pack finishing tied for 13th.
After their strong showing at Flat Tail Open, it was not much of a surprise to see #6
Portland Uproar
dominate the Northwest competition at PLU BBQ this weekend. Led by Demri Horton and Makena Strand, Uproar beat Pacific Lutheran in the final. Lewis and Clark took fourth just above two D-I B teams.
Join Summit saw three D-III teams compete: #20 Elon Wild Rumpus, #23 UNC-Asheville, and Georgia College. The three teams all got to play each other
Saturday
, with Elon coming out worst winning no pool games. But Wild Rumpus let loose
on Sunday
beating Georgia College and then UNC-Asheville to take fifth. Georgia College finished seventh.
Finally #16 Oberlin Praying Manti represented the D-III at Commonwealth Cup. The team played several mid-tier D-I teams and seeded 19th finished 22nd out of 32.
Quick Hits
Joint Summit featured an upset away from the spotlights of major tournaments, where NC State defeated #23 Georgia Tech Wreck in semifinals on double game point. After closing out a short-rostered GT, NC State eked out a victory over Clemson in the final.
D-III #6 Portland Uproar continued a banner year, crushing the competition at PLU BBQ, including a 13-2 victory in the final over the host, Pacific Lutheran. They move to 12-2 on the season.
After both taking Ls in pool play to TCU, Indiana and LSU bounced back on Sunday to make it to the final at Mardi Gras. No. 2 seed Indiana came away victorious, 15-9, winning their first tournament of the season.
Looking Ahead
As we enter March and get into the midseason, the calendar is flush with ultimate, coast to coast.
Headliners don't come much bigger than the Stanford Invite (M/W), featuring 13 top 25 men's teams and 15 top 25 women's teams. Ultiworld will be on hand to bring you live coverage of one of the biggest weekends on the ultimate calendar. Here's our Live Streaming Schedule3:
All times are PT
Saturday
9:45 AM: Stanford vs. Tufts (M)
11:30 AM Dartmouth vs. UBC (W)
1:15 PM: Oregon vs. Wisconsin (M)
3:00 PM: Women's Prequarter – TBD
Sunday
9:40 AM: Women's Semifinal – TBD
11:20 AM: Men's Semifinal – TBD
1:00 PM: Women's Final
2:40 PM: Men's Final
On to our traditional weekend slate!
#13 Northwestern NUT begins their effort to defend their bid-earning chances in the men's division at Midwest Throwdown (M/W), while #22 Kansas Betty is the No. 1 seed on the women's side. Six ranked D-III women's teams will also clash at this banner midwestern tournament.
D-III #2 Air Force and #3 Colorado College Wasabi are on a likely collision course at Air Force Invite (M).
PLU BBQ Open plays host to D-III #22 Portland, #23 Lewis & Clark, and area competition like Puget Sound and Gonzaga.
The Cherry Blossom Classic is headlined by No. 1 seed Maryland in an AC heavy field that should be informative about how regionals will shape up.
Other Events: Long Island Classic (W), Boise Big Sky Brawl (M/W), College Terminus (M), Safari Games (M), DiscThrow Inferno (M), Chesapeake Classic (M), Spades (W), Messiah Meltdown (M), and West Point Classic (M)
---
8-6 against Delaware in pool play ↩

LSU did defeat Purdue, who was ranked in the top 25 at the time. ↩

Subject to change ↩