Good weather, balanced field should provide fireworks.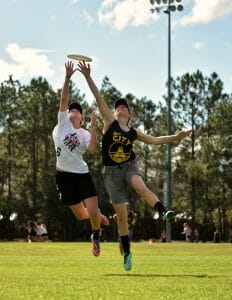 Ultiworld's reporting on Midwest Throwdown 2017 is presented by VC Ultimate as part of their season-long support of our women's coverage. All opinions are those of the author. Please support the brands that make Ultiworld possible and shop at VC Ultimate!
Sunny, 70 degrees, and partly cloudy. Midwest Throwdown? In past years, those two concepts seemed all but mutually exclusive.  MWTD is known for its intense conditions and gritty climate; however, this year, those elements might not come into play.  
Yet some MWTD mainstays remain. This remains many of the teams' first chance to get outside to play during the spring season, and if you only look at the fall records, the field looks daunting. Everybody beat everybody at Missouri Loves Company, and several teams are looking at fierce rematches after nail biting one point games. This year, the weather for Midwest Throwdown may be the easiest prediction to make.  
Tournament Profile
Date: March 4-5
Location: Columbia, MO
Weather: High 60s to low 70s, 15 mph wind
Top 25 Teams: 1 D-I, 6 D-III
#22 Kansas Betty Seeing Red
The reigning MWTD champions from Kansas are the only team attending this year currently sitting in Ultiworld's D-I Top 25. If you look back at MLC, their ranking is confusing. They went 1-6 on the weekend including two losses to MWTD teams Illinois and Colorado State. However, in classic Betty style, they've garnered attention by bursting out of the gate in the spring season. The Kansas women had an impressive showing at Florida Winter Classic, and they steamrolled their way to a tournament win at Dust Bowl.
This year's Betty squad looks calm and cool on offense — until the final twenty yards, where they've often made silly mistakes in the red zone. The traditionally handler-centric Kansas playing style has been shaken up by an onslaught of impressive and athletic cutters like Kelsey Akin and Grace Roth. With captain and handler Jordan Alonzo still out with an ACL tear, expect to see Akin and Roth as well as the versatile Clare Frantz (2015 U23 Mixed, 2016 All-Star Tour) all over the field trying out new combinations. If Betty can stop seeing red near the goal line and turn up their defensive intensity, they'll be poised to renew their MWTD champion title.
Scrappy Women Scorned
Iowa State took a very different path than Kansas to their #2 seed.  The Women Scorned pulled off one point victories over fellow MWTD teams Wisconsin and Northwestern on Saturday at MLC and a huge nine point victory over Illinois on Sunday to finish third overall. These wins demonstrated the traditional Iowa State scrappiness, combined with a heavy amount of quickly developing young talent. Megan Halverson, YCC alum and sophomore for Woman Scorned, is a real threat with her impressive arsenal of throws and her ability to remain composed in high pressure scenarios. She will be joined by Linda Behrer, Brittnee Grimshaw, and Sarah Leichty. All three play savvy offense with plenty of deep looks, and they have nonstop energy on defense.  
While this will be their first spring outdoor tournament, they've been busy playing indoor — both ultimate and basketball, as true Iowans do.  Their deep lines will pose a threat to teams still looking to shake off the winter dust.
Menace Rising
Illinois Menace also ended the fall season strong by taking fourth place overall at MLC and defeating MWTD peers Northwestern and Kansas by five points each. Illinois has been quietly building their program, and this may be the year they put it all together. Allison Chmaj is an intimidating force on defense and can make wildly athletic plays across the field. Juniors Kelsey Thompson and Cora Wessman dominate the downfield play. After finishing sixth last year at MWTD, Menace will look to make a deeper run this year at their first outdoor spring tournament.  If they can build off their fall momentum by solidifying a more cohesive team chemistry, they could do just that.
Northwestern Know-how
Northwestern Gungho recently traveled to Presidents' Day Invite, where they went 2-5 against mostly Southwest teams. Back in their natural Midwestern element (and somehow in better weather), expect this team to take control on offense. Experienced handlers Katie George and Jessica Hoffman know how to move the disc with craft, and downfield Allegra Wilson and Kelsey Dennis have grown into assertive presences.
They will capitalize on quick movement and on having some of the most athletic players in Columbia this weekend. Their third round matchup with Kansas should be especially exciting to watch. The two teams are both highly intelligent: their similar playing styles will make their battle a fierce mental game.
Iron Horse, Iron Will
The women of Washington University will get first crack at the #1 seed Kansas on Saturday morning. For a team like Iron Horse that relies heavily on their intensity and outworking other teams, those could be great conditions for an upset. WUWU clinched an exciting double game point win over Wisconsin at Queen City Tune Up after a game defined by WUWU's defensive energy.
While they'll be missing Christine Lucky, a key defender out with an ACL tear, WashU has no shortage of game-changing players. Nora Shevick and Stephenie Wang are intelligent, patient handlers that will find the explosive Emily Brereton and Sylvia Snyderman downfield. The name of the game for WUWU will be to remain focused and to carry over the defensive spark they've developed earlier in the season.
Bella Defense
Last year at MWTD, Wisconsin met Kansas in the finals and lost 12-9 after a surprising Betty comeback. This year Wisconsin returns without heavy hitters Anna "Robot" Hrovat-Staedter and Lo Guerin, but with several young talented players in their stead. Jackie Welsch and Anneke Vermaak make an indomitable duo on offense for Bella Donna, but Welsch may be out this weekend after aggravating a meniscus injury at QCTU. Brittney Kokinos (Heist) has been a powerful addition with her quick, decisive playing style and unforgiving defensive prowess.  Caitlin Murphy adds to the defensive arsenal and is a solid player who consistently grinds out impressive plays in the midfield.
While their defense continuously made big stops, Bella Donna's offense fell short at QCTU. With only one practice prior, it wasn't surprising that they looked unpolished. They relied on their handlers to furnish deep looks, but weren't able to string together enough of a flow to put up any major wins.  With another month of practices under their belt and focused performances from their top players, Bella Donna could find their way back to the final again this year.   
Colorado State On The Cusp
Just over two weeks ago, Colorado State was wiping the field with teams in Denton, TX, at Big D in Lil D. While the competition there wasn't quite as high caliber as they'll see this weekend, big wins over Rice and Texas State are nothing to scoff at. This season's Hell's Belles feature Kiera Lindgren and Kaci Cessna, who have the keys to the offense. Erin Berg and Rachel Street cut with intensity downfield. The question of the tournament for the Belles will be whether or not they're ready for the mental and physical challenge that a power pool brings with it.
All Aboard The Truman Train
I'm already on it. Last year at MWTD, Truman State beat Illinois to make it into semis as a #10 seed. This team is always full of surprises, and this go-around should be no different. Once again coming in as a #10 seed, TSUnami, the top-ranked D-III team in the country, is fresh off of a nearly perfect record at Dust Bowl, with their only loss coming to Kansas in the final. This season's squad is upperclassman heavy, with powerhouse handler Emilie Willingham (Nemesis) at the helm. Haley Johnson (Wicked) and Christy Crouse will join Willingham in the handler spots, while savvy cutter Callie Warren runs the show downfield. If they can value the disc and stay focused, they could make another — and a potentially more fruitful — run for a top spot.