Iowa State takes home the title after a windy weekend in Missouri.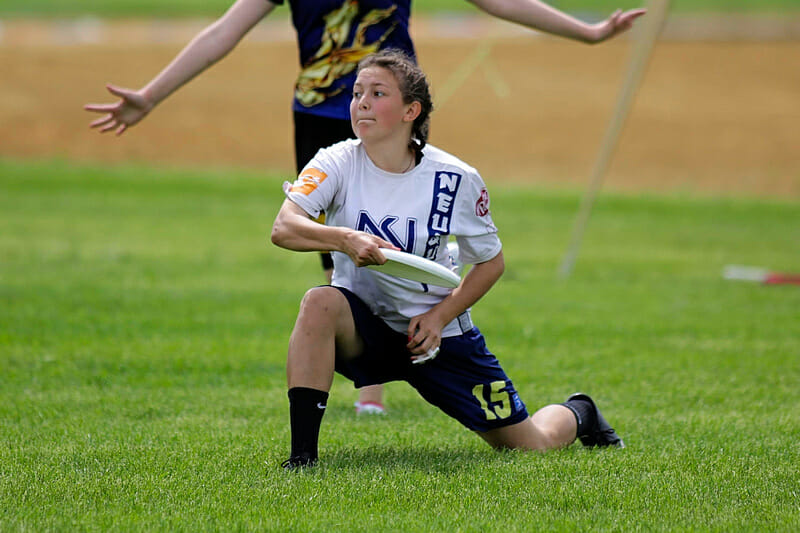 Ultiworld's reporting on Midwest Throwdown 2017 is presented by VC Ultimate as part of their season-long support of our women's coverage. All opinions are those of the author. Please support the brands that make Ultiworld possible and shop at VC Ultimate!
COLUMBIA, MO — Before I got out of my car at the fields on Saturday in Columbia, I pulled off my outer jacket. Looking out at the teams warming up in shorts and single layers, it seemed as though my preview's promise of tame, warm weather had become reality. I stepped outside and my note pad flew wildly onto the ground.
Wind. How could I have forgotten about my old Midwestern friend?
As the weekend unfolded, the teams who weren't able to adjust their game to the wind both strategically and mentally began to falter. After a Saturday full of (quite literal) ups and downs, Sunday's championship bracket remained wide open for any team ready to bring it. In the end, it was Iowa State who went home as tournament champions, their first Midwest Throwdown victory since 2012.
Iowa State Surges Past Colorado State In Final Rematch
While they ended the weekend with a tournament win, things didn't start off so well for Iowa State Woman Scorned on Saturday. In their first game of the weekend, No 6 seed Wisconsin Bella Donna matched ISU's intensity and almost pulled off an upset before succumbing 8-7. Iowa State's Caitlin Durston on Wisconsin's Brittney Kokinos might have been the best match-up to watch this weekend, both women demonstrating intense defensive effort and intelligent offensive decision making. After squeezing out the close first round win, the Women Scorned headed into their second game against Colorado State, where they would receive another surprise.
In what would prove to be a prequel to the championship game, Colorado State Hell's Belles jumped on ISU right from the start. Colorado State was impervious the wind, as handlers Danielle Reimanis and Kaci Cessna tore through ISU's zone with quick five- and ten-yard gainers. Before Iowa State knew what was happening, Hell's Belles were up 6-2. They rode that lead throughout the game, finishing with an impressive 12-7 victory over the tournament's No. 2 seed.
The Saturday upset left the ISU women feeling especially scorned, fueling their run through the Sunday bracket and setting up a rematch against Colorado State in the tournament's championship game.
The final took place on a back field, furthest away from both tournament central and the rest of the action. ISU was buzzing after a semifinal win over tournament top seed Kansas, yet the eerily quiet and removed atmosphere of the field threatened the game's energy. Luckily, two young players ignited it.
ISU's Megan Halverson and CSU's Kiera Lindgren were both 2016 All-Freshmen selections, but they play with the intelligence of much older players. Lindgren started the game with a beautiful layout block that drew screams from the Hell's Belle's sideline. From that moment on, the sophomore controlled the pace of CSU's game, playing off Reimanis and Cessna who continued to cut through the wind with ease — but who also seemed to have lost some of their Saturday spark.
Both teams maintained their strategies from the day before, with Colorado State running through quick handler resets and Iowa State opening up impressive deep looks downfield to Sarah Leichty through Rachel Bates and Linda Behrer. But in the final, Iowa State's zone made all the difference. It was notably tighter than in pool play and it contained Colorado State's deadly combination of Reimanis, Cessna, and Lindgren in the backfield. Woman Scorned jumped to a quick 5-1 lead, and the Belles were unable to recover. Iowa State held on for a 9-7 victory at hard cap.
"We wanted revenge!" said Iowa State captain Rachel Bates. "We were really happy about our win against Kansas, and we fed off of that energy."
Despite their loss, CSU demonstrated an extremely high level of mental toughness and team chemistry. The energy on their sidelines rarely waned, and Hell's Belles fought through a 30-minute marathon point to take the final score, even though it was futile because of the time cap. Either way, this is a team to keep an eye on throughout the rest of the season.
Complacent Kansas
The #22 Kansas Bettys found themselves in a league of their own on Saturday, beating fellow Pool A teams by huge margins. In fact, Kansas didn't fall into a deficit greater than one at any point during the first day. The team worked like a well-oiled machine with Kelsey Akin's incredible low release throws slicing through the wind to find cutters Grace Roth and Brandi Schneider all over the field. Captain Clare Frantz — member of the 2015 U23 Mixed National Team and 2016 All-Star Tour — took a back seat on Saturday, letting younger players get reps.  The day looked great for the Bettys on paper, but the low energy environment came back to haunt them on Sunday.
Heading into their semifinal game against Iowa State, the Kansas women had beaten every opponent they'd faced by at least six throughout the weekend. Their mentally draining huck-and-set strategy, combined with low energy games, set them up to be surprised. Iowa State delivered.
After Iowa State took half 8-5, Betty star Frantz flipped a switch and began to dominate the game in the midfield, receiving the disc nearly every other throw. Although Frantz's push did revive some of the Kansas energy, it was too late. Iowa State didn't take their foot off the pedal and finished out the semifinal with a 13-10 win over the tournament's top seed.
Kansas started slow again in the third place game, needing a comeback to hold off Illinois on double game point and finish the weekend on a positive note.
Bella Donna Building
Wisconsin Bella Donna exhibited some of the most intense defense of the tournament, but ultimately it was an up and down weekend for the North Central squad.
Their universe point loss to Iowa State in pool play demonstrated their ability to play lock down defense against a quality opponent, but also laid bare their inability to string together offensive flow. Wisconsin was attacking into the wind on double game point and managed to force a whopping five ISU turnovers, but could not convert any of them. Although the opportunities didn't turn into a win, Bella Donna maintained a similar defensive grit throughout the tournament.
Molly Berkholtz and Caitlin Murphy have savvy, energetic marks that challenged even the weekend's best throwers. In a style similar to Iowa State's, Wisconsin used Anneke Vermaak's and Brittney Kokinos' powerful upwind throws in an attempt to lengthen the field.
Bella Donna's weekend came to a close at the hands of Kansas in the quarterfinals, though they picked up a consolation win over Winona State to tie for fifth. After a similarly mediocre performance at Queen City Tune Up, Wisconsin appears likely to be on the outside looking in in the North Central. It's clear that the team still needs some offensive polishing, but if they can make progress, there's reason to believe that Bella Donna has the talent and fire to keep things interesting at Regionals.
Menacing Illinois
For the most part, Illinois Menace lived up to their name this weekend and played with an intense first half focus that many other teams lacked. Unfortunately, they weren't able to hang onto this fire in the final points of their games.
Michelle McCarthy is an incredibly intimidating force on both offense and defense, and has a huge step out that destroyed marks left and right. Joline Chang flanks her side with swift reset cuts and saucy throws of her own. Despite the best efforts of these two standout players, Menace was left looking tired by round three on Saturday. A loss to Iowa State in their final Saturday game kept them from taking the pool.
Still, they managed to be the third team from Pool B to advance to the semifinals on Sunday, where they faced a Colorado State team they had beaten on double game point the day prior. But after giving up an astonishing seven-point run to Hell's Belles, the Menace focus seemed to deflate. They continued to lose steam in their third place game versus Kansas, in which the Bettys staged a four-point run for a comeback win on universe.
Menace will need to deepen their lines and recalibrate their mental intensity to last through an entire 15 point game if they're looking to make a deep run this season.
Don't Sleep On Supersnatch
The University of Chicago may have been the most balanced, fundamentally sound team at Midwest Throwdown this year. Even through several injuries, they matched Colorado State's handler flow in pre-quarters and traded points with them in long, grueling battles for upwind breaks. Defensively, they made CSU work harder for resets than any team in Columbia this weekend.
With a balanced, deep roster of confident players, this team isn't one to sleep on.
Missouri State Surprise
Missouri State Barely Legal managed one of the more surprising upsets of the weekend on Sunday morning when the No 19 seed bested Northwestern Gungho 14-8 in the prequarters. Barely Legal had a plethora of team chemistry and capitalized on Gungho's morale breakdown in the wind.
They continued on to take it to Illinois in quarters, not backing down when even Menace began to pull away. This young team had engaged sidelines and worked hard for their impressive Sunday showing.