Centex is back!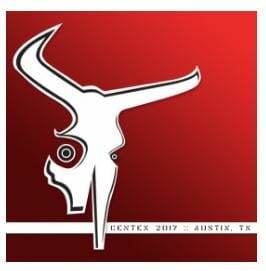 AUSTIN — Let's give a big ol' howdy to Centex, back after a year off1 with fresh, new fields and a fun format.
Tournament director extraordinaire Matthew "Skip" Sewell returns to the helm, as Centex regains its status as the lone major between Stanford and Easterns on the Men's college calendar.
With South by Southwest kicking off next door and plenty of Texas BBQ on deck, cool, damp weather this weekend won't be able to stop the fireworks show we're set to watch at the University of Texas.
Tournament Profile
Date: March 11-12
Location: Austin, TX
Weather: Highs in the 60s, morning rain with a chance of thunderstorms on Saturday afternoon
Top 25 teams: 7
The Format
Centex features an unusual format this year that's a hybrid of the set schedule, Warm Up-style tournament and a typical pool/bracket setup.
The top 12 teams have been placed into the Gold Division, the next 10 into the Silver Division, and the bottom eight into the Bronze Division. All of the Gold Division teams (except BYU) will advance to the championship bracket on Sunday, where they'll be joined by the pool winners out of the Silver Division. We'll explain it all below.
Gold Division


The Gold Division features two games for each team in what are effectively three-team power pools, followed by a pair of pre-determined crossover games, "specifically arranged for regional diversity, parity, and to create necessary data points to rank teams," according to Sewell.
After the power pool games, teams will be separated in three tiers (1-4, 5-8, 9-12) depending on their finish. The crossover games — featuring great matchups like #3 Minnesota v. #5 UMass and #1 UNC v. #11 BYU — will then determine placement within those tiers for Sunday's seeding.
The top three teams will get byes into the quarterfinal round. Everyone else will play a prequarter first thing Sunday morning. The bracket format is below: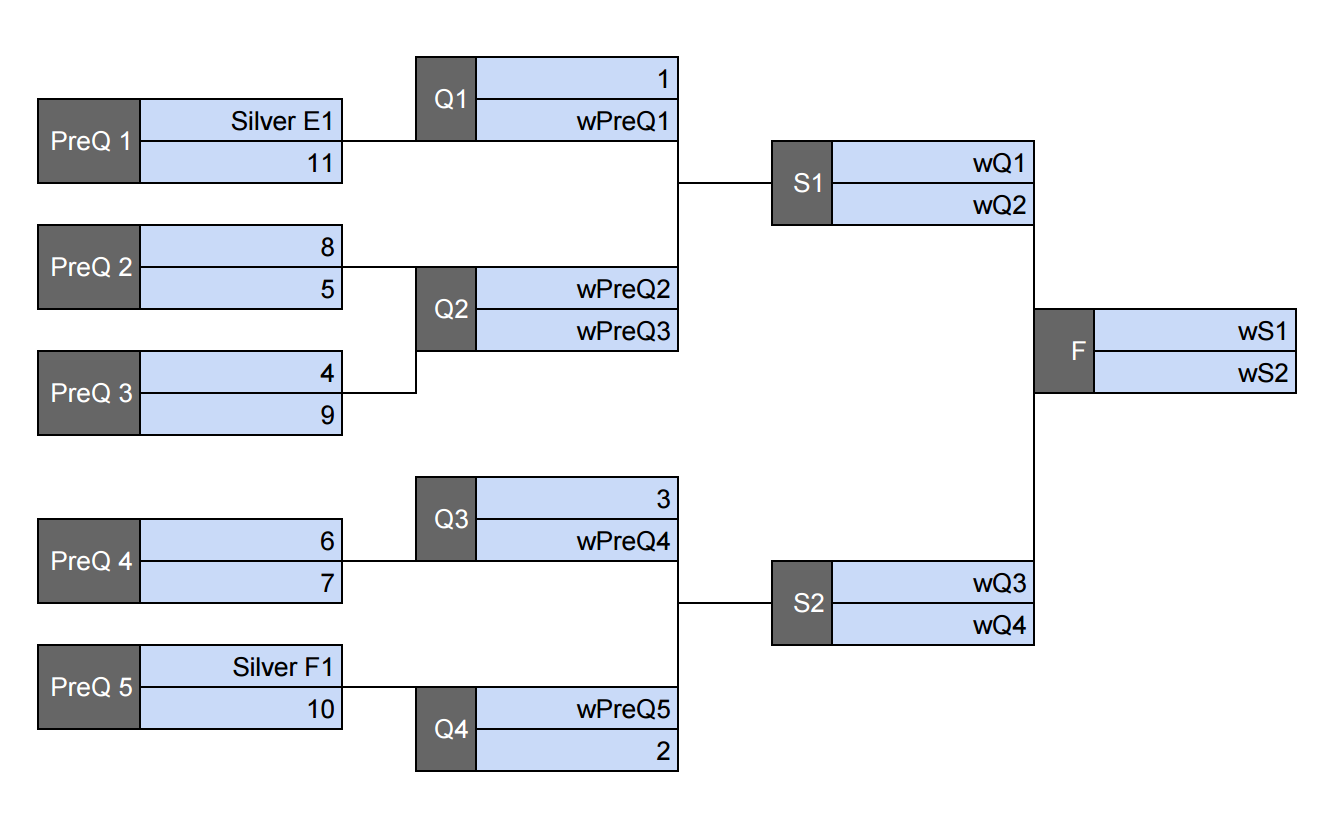 Silver Division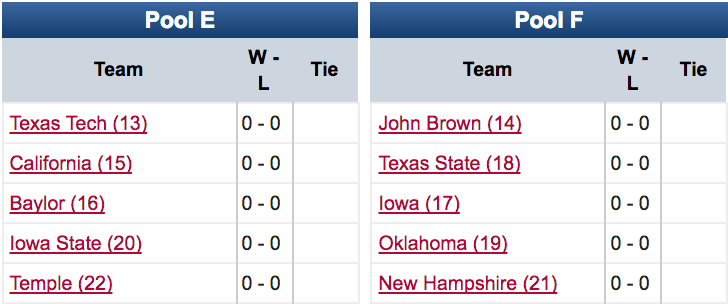 The Silver Division is much simpler: five-team pools, standard pool play. Win your pool and you get to rumble with the big dogs on Sunday.
Tiebreakers
Because three team pools offer the strong possibility of a three-way tie at 1-1, the following tiebreakers will be used in the Gold Division:
Point differential to remove one team, then head to head.
Highest aggregated number of points scored to remove one team
Lowest aggregated number of points allowed to remove one team
Stories To Watch
Just How Good Is UNC?
We know that #1 North Carolina is a deep and talented team. They've opened up the 2017 season with 14 straight wins and their closest game was 15-12, against #8 Georgia in the final of the Queen City Tune Up. They also have thumping wins against #5 UMass and #18 Central Florida.
Yet it still feels like they haven't faced a major test. UMass was missing Tannor Johnson when the teams faced off at QCTU. Georgia had just ground out a 15-13 win over #9 UNC Wilmington before their match with Darkside.
This weekend's deeper field could offer greater challenges, should they see a full strength UMass or #3 Minnesota in the bracket. Could UNC's potent D-line offer Minnesota's offense the same trouble it faced against Pitt in the Warm Up final?
Harvard Bounce Back?
Harvard, unranked despite reaching last year's National final, looked downright dreadful at times a month ago at Queen City. How much progress have they made?
At this point, you know the story: John Stubbs is back, but the team lost Mark Vandenberg and pretty much the entire rest of the offensive line. There are some really raw players getting starter minutes right now.
Still, though: John Stubbs! We watched him single-handedly destroy teams last year…but maybe it wasn't quite so single-handed. Somebody has to throw to him, after all.
Every year, though, Harvard gets better at every tournament. They have a lot of work to do to put themselves in a position to earn a bid for the New England region, but I bet they surprise a few people this weekend.
Minnesota's Offense
It's not so often that you see two elite teams face off twice in the same tournament and split blowout wins. That's exactly what happened with Minnesota and Pittsburgh at Warm Up.
Minnesota saw Pitt in pool play and blasted the current #2 ranked team in the country, 13-8. Minnesota was ruthlessly efficient and outmuscled Pitt on both lines. Heading into the rematch in the tournament final, Minnesota looked the sure favorite.
Instead, Pitt gave Minnesota a dose of their own medicine, finding another gear and smashing Minnesota right back, 15-7.
The difference? Minnesota's O-line performance. While Pitt absolutely should be commended for playing superb defense (their D-line is elite this season), Minnesota was out of sync all game, throwing the disc away and giving Pitt lots of short field chances.
Minnesota's offensive inconsistencies were apparent all weekend in Tampa; that's not something we saw last year when, of course, they made a run to a National Championship.
I have no worries about their D-line. With lots of returners and the addition of downfield stopper Charlie McCutcheon, their D-line is going to get breaks. But the offense needs tinkering. We'll see if they've made some changes in the few weeks since Warm Up.
South Central Reckoning
It seems entirely reasonable for the South Central to get anywhere from one to three bids, given the current state of the rankings. If Texas or Texas Tech were to have an amazing weekend, you could even see four bids as a possibility.
Colorado is obviously a Tier I team this year and will have no problem earning a bid. But Colorado State needs to play well to hold on to their spot in the top 20, and Texas A&M (#23) and Texas (#35) both have serious work to do.
All three of those teams are competitive and will be granted the opportunity to land a bid from their performance this weekend alone. But there's no safety valve. A bad loss here or there and the South Central could be staring at a one bid year.
LSU For Real?
LSU has won three straight tournaments and has a pretty darn good 15-14 win over Purdue — a team that's been in and out of the top 25 — under their belt. Though they've been inconsistent, LSU has showed flashes of strong play.
They'll need to bring it tomorrow in Austin, though, as they have one of the more brutal schedules in the field: they will see BYU, Texas A&M, Harvard, and Texas. Can't say they didn't have a chance to prove themselves!
Really, though, this team has been steadily getting better in recent years. Tom Echols is an under-the-radar player but could shine on a big stage this weekend.
POTY Watch
Right now, the Player of the Year race is wiiiide open. Some of the early favorites — like Harvard's John Stubbs and Minnesota's Ben Jagt — have had muted starts to the year, and some unexpected challengers — like Pitt's Sam van Dusen — have jumped into the race. Here's a non-exhaustive list of players I'll be keeping an eye on this weekend, though more are sure to join their ranks:
Matt Gouchoe-Hanas (UNC)
Ben Jagt (Minnesota)
Tannor Johnson (UMass)
Ben Sadok (UMass)
Jason McKeen (BYU)
John Stubbs (Harvard)
Tom Echols (LSU)
Kaplan Maurer (Arkansas)
Follow along with the tournament live on Twitter.
---