A strong performance from a retooled UMass team.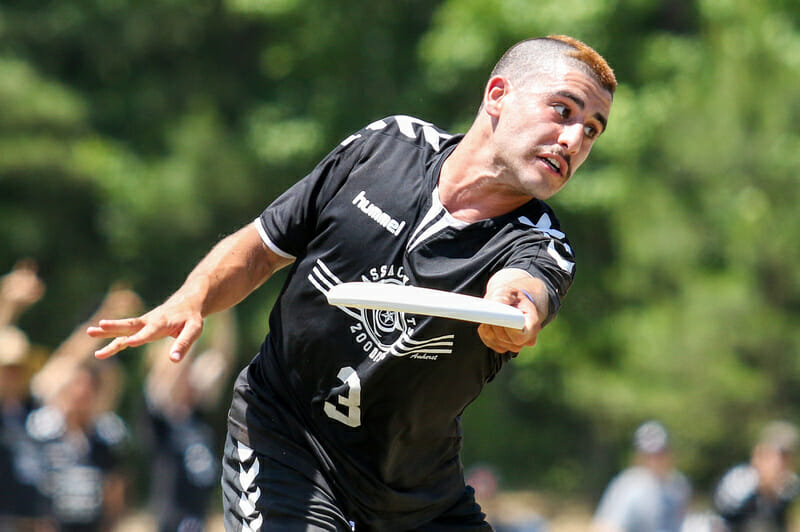 AUSTIN — And then there were none.
The lone remaining unbeaten team in the Ultiworld Top 25, #1 North Carolina, fell to #5 Massachusetts 15-14 in an exciting Centex final. With the win, Massachusetts avenged a 15-10 loss to UNC in the semifinals of the Queen City Tune Up. They never trailed in the contest but had to fight off a three-break second half performance from UNC to win on double game point.
"Obviously it's always good to win, but more importantly it was important to hang in there," said UMass coach Tiina Booth. "That's what we've been preaching to them for weeks."
UMass handler Ben Sadok led the way for Zoodisc with five goals and four assists, carving up the field with speed and a complete throwing toolkit. He was directly involved on nine of UMass' 11 offensive holds.
Each team finished the game with four breaks apiece, effectively ending the game on serve, but UMass created more chances, especially in the first half where they broke three times. UMass' aggressive cup zone also took the steam out of UNC's potent offensive attack, neutralizing big downfield cutter Norman Archer on the weak side and making Darkside handlers antsy.
UMass ran three zone points and got breaks on two of them. "They play a zone that really changes the pace of the game and forces us to be really patient," said Gouchoe-Hanas. "I think that's something that our O-line tends to be pretty good at, but it was tough in this wind and they made us adjust. Ideally, we're playing against man defense; we feel like we have a huge advantage there. So they were smart and didn't let us do that."
The biggest point came late in the first half: UMass had just scored a break after a Gouchoe-Hanas huck bounced out of the hands of a laying-out Nick Macleod. UMass' Giancarlo Cincotta fired a flick up the line to a streaking Will Thornton to go up 6-4.
Then UMass pulled out the zone. In a major change from last season, when zone was the team's primary defensive look, they have hardly practiced or used it this season. "We don't have a giant lurking in the back of it anymore," laughed UMass coach Russell Wallack, referring to 2016 star Jeff Babbitt. But a flexible look — shifting in and out of a three to four man cup — stifled UNC's motion, yielding three turns on the point. Finally, Gabe Fearon hit Brett Gramann to extend UMass' lead to three.
UNC didn't pull out any defensive wrinkles of their own, instead proving to be their typical cagey selves, showing nothing but classic man defense with little switching. UNC did effectively apply pressure on some points, especially as they tightened lines in the later part of the second half, but were never really able to limit the team's formidable handler corps of Sadok and Gramann (2G, 2A).
The teams' personnel also looked different than what we saw from them a month ago at Queen City. UMass' Tannor Johnson was back in action; he didn't play vs. UNC in Charlotte. Although his stat line was lackluster (1G, 1A, 3T), he changes the offensive shape and opportunities for UMass. "Having Tannor is a whole different game," Sadok said on the sideline early in the final.
Conversely, UNC was missing their defensive lynchpin, Elijah Long, who suffered a broken collarbone on Saturday. He's expected to miss six to eight weeks. The team hopes he can make it back for Atlantic Coast Regionals in the first week of May.
UNC's offense still looked excellent for long stretches — MacLeod (2A, 4G) and Walker Matthews (2A, 3G), especially, were impressive — but they were not churning out the four-throw holds the way they had earlier in the season. Certainly, UMass offered up the best defense UNC has seen so far this year.
"Our defensive intensity really rose to a higher level than I expected," said Booth.
Like most elite teams facing a regular season loss, UNC was more eager to get back to work than upset about the outcome. "We got punched in the mouth early and faced some adversity, but came back, so I'm feeling upbeat about it," said Gouchoe-Hanas. "I think that was a really good experience for our team." UNC certainly has to feel good about coming back to force double game point after trailing 11-8. Rookie of the Year candidate Kai Marcus helped bring UNC back with a strong second half, delivering the assist to tie the game at 14 after a Johnson turnover.
The game's final point, though, delivered little drama, as UMass comfortably marched down the field for the win.
UNC will fall from the top spot in the Power Rankings, but are right to be excited about their team's potential. Meanwhile, victory in the final capped a set of brand new statement wins  for UMass on Sunday. They beat Colorado State and Minnesota earlier in the day. Their excellent performance on Sunday, rebounding after tough crossover losses Saturday afternoon, will renew belief in their ability to make a title run.
The teams may see each other again in three weeks at the regular season's final major, Easterns, set for April 1-2 in Myrtle Beach, SC.