Was this the biggest regular season weekend in D-III history? Ranked teams in both divisions took the fields, including both #1 ranked teams.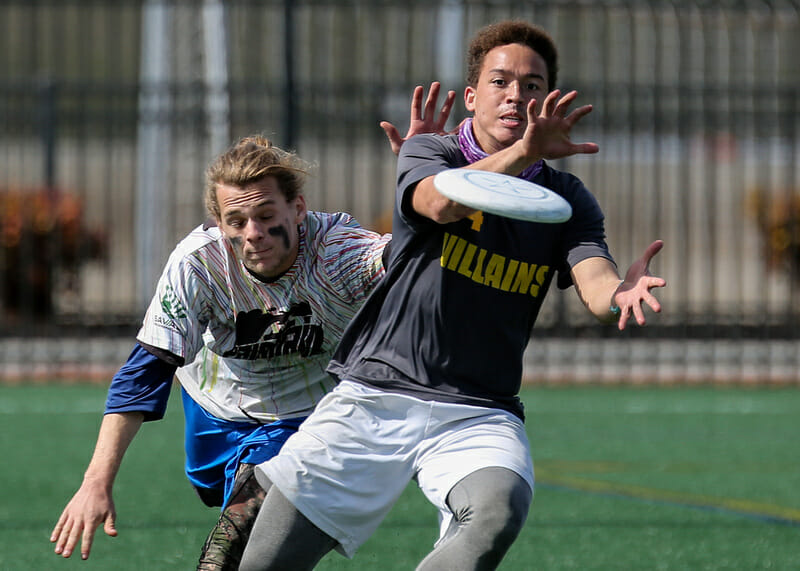 During the spring season, we will publish a bite-sized weekly recap of the action across the College Division. This will serve as a supplement to our standard tournament reporting and will offer a high-level look at the latest happenings and the biggest stories of the week.
Want your tournament listed here? Submit a recap of what happened right here.
Women's
Texas Delivers Big Beatdowns at Centex
There's a saying about the things in the state of Texas, and #2 Texas Melee showed that the margins of victory follow that same rule. While they entered the weekend the heavy favorite, it's hard not to be surprised at their decisive 15-3 victory in the final over #10 Ohio State. Their only close game was a 12-10 win over #9 Tufts, and while the field was weaker than in recent seasons, the weekend demonstrated why Texas is squarely in title contention conversation.
Of course, the stories at Centex often happen elsewhere than the final field, as bids are won and lost parallel with the games. Ohio State likely put the Ohio Valley in a great spot to get two bids. Tufts secured the New England region's situation with another strong weekend. Meanwhile, South Central reps Kansas and Colorado State are probably going to slide out of bid range, and Florida and Iowa State may land around the margins.
For more on Women's College Centex, check out our tournament recap and scores.
D-III Update: Williams Wins Southerns, Women's College Centex
Williams Sweeps College Southerns
#3 Williams LaWUFA continued to triumph and remains undefeated thus far this season. The team won all their games at College Southerns, beating #5 Carleton Eclipse 10-8 in pool play and then 15-7 on Sunday. Williams' strength came from the buy-in of all players on the roster; each individual showed they could throw the continue downfield and open up options that made it tricky for defense to stop. Rather than rely on a star hucker, Williams worked the under game all weekend, exhausting opponents with smaller rosters. In the end, Carleton lost to Auburn on on double game point and finished fourth. Also in attendance, Luther moved up in rankings by finishing fifth and playing Carleton to within three points, 10-7.
St. Olaf And Rice Represent D-III At Centex
Out of the 28 teams competing at Centex last weekend, #1 St. Olaf Vortex and #4 Rice Torque were the only D-III representatives. They finished 20th and 23rd respectively. St. Olaf guarded their #1 spot in the rankings, going undefeated in pool play. They had a tough Sunday dealing with a lot of injuries, which led to a DGP loss versus Wash U and then a 8-6 time-capped game against Boston University with just eight players.
Rice had a rough pool play game against Boston University losing 15-2. Then Sunday, the team played Northeastern to double game point, but lost some steam against University of Chicago, losing 11-6 (St. Olaf beat Chicago in pool play 15-9). They gained a second wind to beat Texas State in another double game point. Emma Wine's consistent hucks and Sam Paulsen's exciting offensive plays were crucial to pumping up this 18-person roster.
Quick Hits
No. 2 seed Michigan State beat Ohio handily — twice, including in the final — to win the Indy Invite College in a late debut for their season.
Both D-III #3 Williams and South Carolina, the top two seeds at College Southerns, went undefeated until they met in the final. Williams took home the crown after a 10-7 win.
Men's
The big news this week in the men's division was mostly all in D-III, so let's jump right into a big D-III Update!
D-III Update: D-III Midwestern Invite, Oak Creek Invite
Colorado College Emerges From Loaded Field At D-III Midwestern Invite
In a field that contained seven teams from the top 25, #6 Colorado College Wasabi emerged as the strongest of them all, capping off a dominant weekend with a 15-7 win over #3 Air Force Afterburn. Wasabi rolled through the competition with a 7-0 record and a +52 point differential, with their closest game on the weekend coming in the semifinals with a 15-11 win over #11 St. John's. It was a strong weekend for St. John's, who went 5-0 before losing to Wasabi in the semifinals and #19 Brandeis Tron in the 3rd place game. In their first performance of the season, Tron has to be thrilled with their 6-1 record and overall performance on the weekend. There were questions surrounding Brandeis coming into the tournament, but their work this at Midwestern Invite shows that they should be considered among the division's elite once again.
The other teams in our rankings had more disappointing weekends in Fair Oaks, IN. The #9 Wheaton Mastodons looked to kick off their 2017 season with a statement but came up short in all of their big games. They were blown out by St. John's in pool play, and they lost an overtime battle to Brandeis in quarters before recovering to win out in the 5th place bracket. The #22 Oberlin Horsecows had a similar weekend, beating the teams below them but failing to make an impression against stronger opposition. They lost to Air Force in pool play and St. John's in quarters before losing to Wheaton in the 5th place game. #20 Indiana Wesleyan Huck Dynasty had the most disappointing weekend of our ranked teams, going 0-4 on Saturday before picking up some wins in consolation play.
Top-Ranked Richmond Struggles At Oak Creek Invite, Dartmouth Rises
In their first action since Queen City Tune Up more than six weeks ago, expectations were high for the #1 Richmond Spidermonkeys. They started off their weekend with two strong wins, but things began to fall apart in their third pool play game with an 11-9 loss to regional rival #23 Davidson DUFF. Another loss in pool play meant Richmond finished fourth in their pool and had to fight through prequarters in bracket play.
A win on DGP in prequarters set up a high profile clash with #15 Dartmouth Pain Train in quarters. Dartmouth broke out early and took an 8-4 lead into half, but the Spidermonkeys came scorching out of half with four straight breaks to bring the score to 8-8. After both sides traded holds to 10-10, Pain Train held again to give themselves a chance to break for the win in cap. Dartmouth managed to break, sending Pain Train through to the semis and Richmond into consolation, where they would pick up another loss and finish a disappointing T-7th. Dartmouth would go on to pick up an impressive 15-7 win over #10 Williams WUFA in the semis, their second win over WUFA on the weekend, before losing on DGP to Virginia Commonwealth in the final. In their first season of D-III competition, Dartmouth's wins over two of the top teams in the division have sent a message that they plan on contending for a national championship and have the talent to do so.
Elsewhere…
#7 Carleton GoP and #18 Georgia College Disconnected finished 5th and 6th, respectively, at College Southerns XVI, with GoP winning their head-to-head matchup 15-10 in the 5th place game.
Quick Hits
The season hasn't played out exactly how Connecticut would have wanted, but UConn did get their first tournament victory of the season at College Southerns. They defeated UNC-Charlotte 15-12 in the final.
At Indy Invite, #13 Michigan and fellow Great Lakes potential bid-earner Northwestern both went undefeated in pool play, but their potential matchup in the final was spoiled by Ohio, who upset Northwestern in semifinals. Michigan beat Ohio, 13-7, in the final.
Looking Ahead
It's one of the busiest weekends of the season as it (hopefully) warms up, bid pictures1 become clearer, and the Series looms.
With just a couple of tournament weekends left before the College Series,2 Northwest Challenge (M/W) is here to shake up the top of the women's standings and decide some bids. 18 of 20 women's teams are in the top 25, including 7 of the top 10. On the men's side, it's mostly a Northwest affair, but that's big for a region that could be rife with bids.
20 men's teams and 10 women's teams are headed to Ultiment's Spring Awakening (M/W).
I-85 Rodeo (W) plays host to D-III #2 Williams, the No. 3 seed, who is currently undefeated. Teams like Princeton and Penn State stand in their way of keeping the clean streak.
Liberty, a surprising potential bid-earner for the Atlantic Coast, will need to play well at their last tournament, Bonanza, to have a shot at shocking the division.
#10 Tufts is the top seed at Jersey Devil, where reigning Metro East champ Ottawa will make their debut, and one of the two remaining undefeated D-I women's teams,3 Cornell, wants to stay that way.
Other Events: Steakfest (M), River City Tune Up (M/W), Beenanza (W), Old Capitol Open (M/W), B-Team Brodown (M), West Chester Classic (W), XDames (W), Meltdown (M/W), The Greatest Crusade (M/W), Trouble in Vegas (M/W), Live Free and Sky (W)
---
Remember, most teams are fighting for bids for their Conference to go to Regionals ↩

Man, that happened fast ↩

with 10 or more games played ↩