The biggest women's event of the regular season and lots of bid picture pieces from around college ultimate!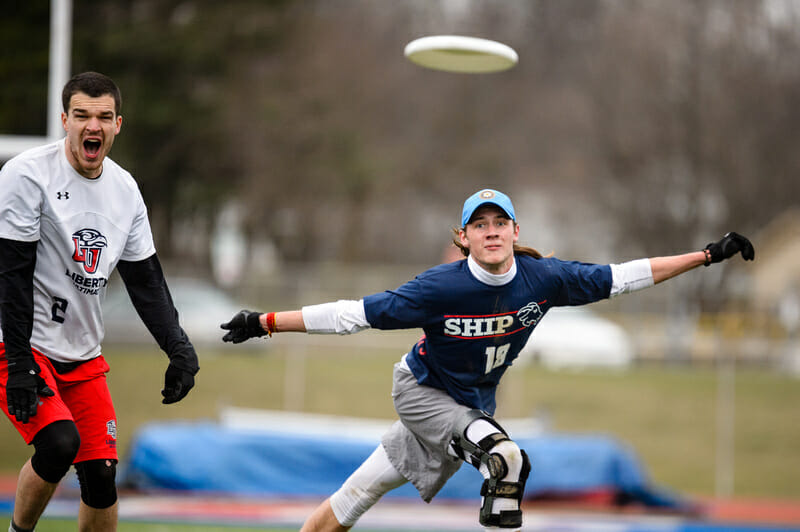 During the spring season, we will publish a bite-sized weekly recap of the action across the College Division. This will serve as a supplement to our standard tournament reporting and will offer a high-level look at the latest happenings and the biggest stories of the week.
Want your tournament listed here? Submit a recap of what happened right here.
Men's
BYU and UBC Go 6-0 at Northwest Challenge
There weren't a lot of surprises at Northwest Challenge: it rained in Seattle and #10 BYU CHI and #14 British Columbia Thunderbirds emerged as the top two teams. While they were the No. 2 and No. 3 seeds, respectively, they were the highest ranked teams coming into the weekend, and both defeated #16 Washington on the way to undefeated records. Unfortunately, the schedule kept them from ever going toe to toe, meaning they'll each take home a co-champion crown.
For more coverage of the men's division at Northwest Challenge, check out our Day One and Two Recap, Tournament Recap, and scores.
#Bidwatch: UBC, Florida at Trouble in Vegas
It looks like UBC will have done all they needed to in order to secure a bid for the Northwest. It's must needed considering they are probably going to donate BYU's bid to the next team up. Meanwhile, Florida cruised through Trouble in Vegas. But it's unclear if the teams there gave them enough rankings juice to move into picture.
With tons of teams around the margin competing at Easterns and Huck Finn, it will be a dramatic final weekend.
For more on the bid picture, check out our Rankings Approximation and Bid Watch article.
D-III Update: Steakfest, Spring Awakening
Middlebury Starts Season with Undefeated Spring Awakening
Better late than never for D-III #14 Middlebury Pranksters, who went undefeated to win the appropriately named Spring Awakening, their first tournament of the season. None of their scores were closer than four and it looks like No. 11 seed MIT, their final opponent, forfeited a chance to ruin Middlebury's opener. While they didn't take on any other top ranked D-III competition, they did get wins over Bates and Bowdoin, perhaps enhancing some connectivity.
Shippensburg Bounces Back to Win Steakfest
Steakfeast 2017 was a topsy turvy affair with an unusual set of results in the bracket. The teams that won the two power pools – West Chester and NYU – both lost in quarterfinals to teams that had already played in prequarters and had finished in the bottom half of their respective pools. One of those teams, host Shippensburg, went on to net four straight bracket wins to take – or rather keep – home the metaphorical trophy. They took down Liberty in the final, evening the score after Liberty got the better of them Saturday.
Recap information submitted by Justin Miller
Women's
Stanford Returns and Notre Dame Breaks Out at Northwest Challenge
It's been quite a season for #4 Stanford Superfly. They came into the season reigning champs and a title contender. Then they were a heavy favorite. Then they tumbled. And now? Well, now they are the Northwest Challenge champions. Stanford conquered Pitt 11-7 in the final to earn the title and steady the ship. You may want to put an asterisk next to that title, as Superfly only went 4-0 to win the season's most elite women's event. Weather took away more of their games and they got a semifinals spot over also unblemished Virginia on tiebreakers. But don't discount the results: Stanford won all of their games by four or more goals, all against ranked competition.
The other big story out of the Northwest Challenge was the blazing play of #25 Notre Dame Womb. Their record coming into the weekend was unremarkable, but they sliced and diced their way through numerous Northwest teams with shocking effectiveness. They knocked off #17 Whitman, #7 Oregon, and #3 British Columbia in succession, including thumping Oregon 15-8. Notre Dame even added a 13-11 win over #6 Cal in the 3rd place game after losing to Stanford in semifinals. This is the most out-of-nowhere performance we've seen at a major event in a long time. Everyone's eager to see what Notre Dame does for an encore in the Series.
For more coverage of the men's division at Northwest Challenge, check out our Day One and Two Recap, Tournament Recap, and scores.
#Bidwatch: Northwest Challenge, Liberty at Bonanza
Six of the bubble teams right around the bid-earning line were in action this weekend: Notre Dame (USAU #17), Whitman (19), Michigan (20), and UC San Diego (23) at Northwest Challenge and Liberty (18) at Bonanza.
Obviously, the Great Lakes had great times after a great weekend. Notre Dame went to the semifinals with some huge victories while Michigan beat Dartmouth handily and all of their losses were fairly close. Meanwhile, UC San Diego took multiple blow out losses to the chin and both of their wins were over some of the tournament's lowest ranked opponents. Already the farthest behind, they are likely out of contention.
With the positive results for Michigan, there wasn't much room for error for Whitman and Liberty. Whitman's huge 13-4 victory over Carleton will help, but they also went 2-4, including a 13-8 loss to Notre Dame. Liberty was blown out by Georgetown (37) in the final and will also suffer from a one point victory over UPenn, who is outside of the top 100.
This weekend will mostly be Atlantic Coast vs. Northwest, with the North Central on the outside courtesy of Iowa State (who was within throwing distance of the bid and crushed everyone they faced at Old Capitol Open). But there's a lot of second order shifting potentially in play with the margins coming down to a single rankings point or two.
For more on the bid picture, check out our Rankings Approximation and Bid Watch article.
D-III Update: I-85 Rodeo, Old Capitol Open, Spring Awakening, and Bidwatch
#2 Williams LaWUFA didn't disappoint at I-85 Rodeo, winning their first four games cleanly. They couldn't withstand the Triangle Tourists in the semifinals, nor Princeton in the third place game, but a 4-2 weekend against solid competition is nothing to sneeze at. Critically, #20 Lehigh Gravity went 2-5, including a big loss to North Carolina-B. They were holding down the last strength bid spot for the Ohio Valley, and may concede it to John Brown and the South Central.
At Old Capitol Open, #10 Valparaiso CHD went 4-2, falling one goal short of making the semifinals, losing 9-8 to Iowa in the quarterfinals. Their only other loss on the weekend was at the hands of Winona State, who blanked them 13-0. That's a somewhat disturbing result, but there's nothing else to indicate it was more than an aberration.
Puget Sound won the majority of their games at Northwest Challenge, even though many were by just a single goal! However, it means they probably did enough to protect their bid for the Northwest. That will give them two bids, putting both them in a great spot with Portland, and both will be big favorites to advance to Nationals.
Lastly, the #25 Skidmore ThoroughBears went undefeated to win Spring Awakening, defeating RPI in the final. They've lost just two games this season, and while their only strong victory is over Lehigh, they could certainly be a darkhorse nationally. They certainly seem like the top Metro East team right now.
Quick Hits
Alas, Cornell's attempt at an undefeated season is over. They lost to #10 Tufts twice, in pool play and in the final, of Jersey Devil Spring. Tufts, as expected, destroyed all comers.
Iowa State blew out all the competition they faced at Old Capitol Open, exactly what they need as they are in the thick of the rankings mix and the field was not strong.
As noted above, Liberty was blown out in the final of Bonanza by regional foe, Georgetown. Both teams are key players in the bid drama.
Auburn didn't play any close games on the way to winning XDames in Tennessee, rolling over a poorly coached Emory team1 in the final.
No. 1 seed Penn State marched all the way to the final, beating North Carolina youth club Triangle Tourists to win I-85 Rodeo.
D-III #6 Bates won both games at Live Free and Sky round robin.
The Spring Awakening winner, D-III #25 Skidmore, played just a single close match, going 6-0 on their way to winning the tournament.
After a 2-2 Saturday at Meltdown, Dayton took advantage of a tiebreaker-backed semifinal berth to win their bracket games and the tournament, defeating Loyola-Chicago 8-6 in the final.
No. 7 seed Central Florida went undefeated to win Trouble in Vegas, including a crushing win over No. 1 seed Arizona in semifinals and 9-6 victory over Chico State in the final.
Host West Chester was the top seed at West Chester Invite, and lost in pool play to West Virginia. The two rematched in the final, and this time West Chester triumphed.
Looking Ahead
As the dominoes fall for bids to Nationals and Regionals, teams are busy preparing for the series, trying to improve their ranking, or even just getting to their 10th game. It's the massive weekend of ultimate in size, scope, and intrigue.
The conversation starts with highly anticipated Easterns (M/W), with a men's field featuring 17 of the top 25 and numerous teams looking to strengthen their resume for the final bid cutoff. On the women's side, the drama will center around if Liberty can do enough to earn a bid for the AC. We'll have live video coverage!
Huck Finn (M), often another central figure in bid drama, is headlined by #5 Minnesota, but keep an eye on #19 Colorado State and if they can capture a South Central bid to Nationals.
Multiple D-III Top 25 men's teams will be on hand for D-III EastUR (M), including #7 Williams, #8 Richmond, and #14 Middlebury. There's still so many questions about what was been a wild D-III regular season!
Speaking of D-III men's, D-III #21 Bentley headlines Layout Pigout (M), which features a good number of solid D-III teams.
New England Open (M/W) plays host to some more strong D-III teams: #6 Bates and #12 Bowdoin on the women's side and #3 Bryant and #5 Dartmouth on the men's side.
35 men's and women's teams are headed to New Jersey for Garden State (M/W). American University is the men's No. 1 seed, while West Chester is the top seeded women's team. But attention will be squarely on women's No. 2 seed, Boston College, who is within bid earning range if they have a stellar weekend.
Illinois Invite (M/W) is a key D-III stage, with D-III #23 Cedarville on the men's side and D-III #3 Truman State on the women's side.
While Atlantic Coast Open (M/W) does have a couple of OV and ME teams in the mix, it's a solid regional field in both divisions that will have big regional implications.
The Ohio Valley is basically gathering to play April CWRUL's (M/W), particularly the women's side, sans the top two teams in the region. On the men's pay particular attention to D-III, where #4 Franciscan and #15 High Point will both compete.
Other Events: Uprising (M/W), West Chester Classic (M), Black Penguin Classic (M/W), Stonehill Get Skyy'd (M), This Tournament Isn't a Joke (M), Delaware Classic (W), Country Roads Classic (W), April Fool's Fest (M), Hundred Acre Wood (M), T-Town Throwdown (W), Texas Tune-Up (W)
---
See author bio ↩