Some very good teams will unfortunately see their season come to an end this weekend.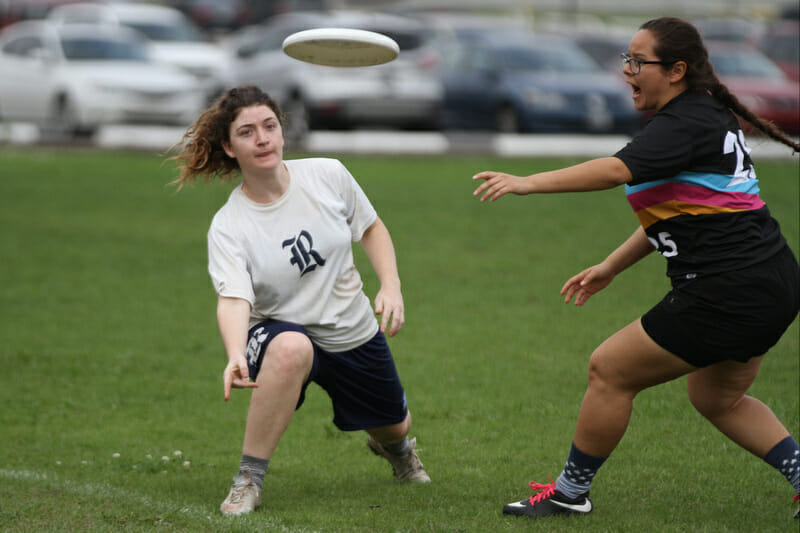 While the D-III division is still growing, some regions lack the size or participation numbers to host multiple qualification rounds prior to Nationals. In those cases, teams fight it out at D-III Conference tournaments to decide who advances to Nationals. That's right, some teams are going to lock up their spots this weekend!
Here's a preview of the three Women's D-III  Conference tournaments with Nationals bids on the line this weekend.
Atlantic Coast
Pegging a favorite in the AC is a tough ask, as it might be the most wide open region in D-III Women's. While #22 UNC Asheville Hellbenders are the highest ranked team in Ultiworld's Power Rankings, they are the No. 5 seed entering the weekend. Just one spot back in the ranking is #23 Elon Wild Rumpus — the reigning Atlantic Coast champion — but they are just the No. 3 seed. There has been precious little competition among the teams this spring, making for a roulette wheel of predictive matchmaking heading into the weekend. If you'd like to spin the wheel on which team will take the one bid to Nationals, be our guest.
The first wrinkle? The forecast. It calls for plenty of rain on both days, which could affect play. Even if things go according to schedule, the ultimate won't be in the cleanest conditions.
None of the candidates for Regional Champion have consistently performed well this year. Elon is 1-1 against UNC-Asheville and their best win of the season is 9-8 over New England Regionals qualifier Massachusetts. No. 1 seed Catholic Nun Betta also has a claim to the best resume in the region, with two blowout wins over No. 4 seed Mary Washington, as well as close losses to AC D-I Regional regulars Maryland and American. No. 2 seed Richmond looks overseeded, with all but one of their eight regular seasons wins coming over developmental teams.
If you're looking at history, Elon is the pick. They won the region last year and lost in a dramatic and contentious final to Wake Forest two years ago. Prior to that, Wild Rumpus had represented the region at Nationals for three straight years, with either Wake Forest or Mary Washington also qualifying. Sydney Harris's versatility and leadership are highly valuable, and athletic rookie La'Shaundranique Marshall has been turning heads this season. The pair could be enough to continue Elon's past success.
But don't write off Catholic or UNC-Asheville. Sophomore Allison Bashford has become of the best known names in D-III women's with her ability to make massive plays. Catholic benefits from Madelyn Demaret and Isabel Vander Bleek's ability to get into the endzone. Even No. 6 seed Davidson has some playmaking ability on the roster and could disrupt proceedings. It's sure to be a weekend where the seeds can get thrown out the window.
Great Lakes
For the seventh consecutive year, the Great Lakes region again has a lone bid to Nationals. In each of the past six, that bid has gone to the Valparaiso Chicks Hucking Discs. That regional dominance looks unlikely to change in 2017, with #8 Valparaiso CHD having logged impressive wins against top divisional teams like Truman State and St. Benedict this spring, demonstrating their ability to again play at the top of the pack. However, with a weather report calling for wind all weekend long in Bourbonnais, IL, all teams will need to bring their best throws and this may be the year for the Great Lakes to send fresh faces to Lexington.
Last year's regional runner up, Knox Mary Todd, will be looking to again face off for the region's bid, but will need to make it past the North Park Allihopa and Wheaton Mastodonnas squads. Both North Park and Wheaton beat Knox in close mid-season matches at Meltdown, and could be the ones to bring the game to Valparaiso for the region's bid.
The tournament's host team, the Olivet Nazarene Lady Penguins, have the smallest team rostered and will be looking to log their first win of the season. Thus far, their smallest margin of defeat came against North Park, making that a matchup worth watching.
Rounding out the region are the Kalamazoo Queen Beez, the largest unknown going into the tournament, with no games recorded on Score Reporter for this season. If their third place finish in the region last year is any indication, they may be in a position on Sunday to surprise the region — and the division as a whole.
South Central
The biggest upset of the D-III women's division bid allocation was certainly the South Central claiming just a lone automatic bid to Nationals. All three teams at Regionals are ranked in the top 20, yet two of those teams will finish their season this weekend. The winner will have survived a harrowing journey and emerge battle-hardened for Nationals.
The No. 1 seed is #9 Truman State TSUnami, who was once the #1 ranked team in the division. They led off our 2017 D-III Women's Primer and looked poised to make their deepest run at Nationals yet. Emilie Willingham is still a favorite to win some individual hardware this season, potentially even the Donovan Award, with a combination of leadership, resilience, skill, and spirit. TSUnami are deep and experienced, getting a lot from players like Christy Crouse and Haley Johnson.
While the regular season wasn't exactly ideal, TSU is 14-6 this season and has some strong results. Among them are good wins over #17 Grinnell, #18 John Brown, and D-I competitor Denver, as well as a close loss to Northwestern. They fell from the top spot after a 10-8 loss to #1 St. Olaf, and were hurt further by a poor performance at Illinois Invite, where they played with only about half of their team.
#11 Rice Torque is the No. 3 seed, and was the second story to keep an eye on in our Primer. You earn that honor with two National Championships and three finals appearances over the past three seasons. But you earn the bottom seed at your Regional tournament by dragging a 9-8 record as an anchor, without a single standout win to hang their hats on. Losing Angela Aie, one of the best handlers in the division, obviously hurt, as did graduating over a third of last year's finalist outfit. But with Julie Doar, Emma Wine, and Sam Paulsen, Rice has to be respected and expected to outperform their regular season record.
The lone team in the region to exceed expectations is John Brown Savage Skies, the No. 2 seed in the trio. They compiled an impressive 16-4 record, with their best wins coming over #14 Luther Freya and North Central D-I Regional qualifier Iowa. It's certainly been the best season in program history. But unfortunately, their history against the powerhouses in their region is not strong, going 0-5 in the past two seasons, including a 14-4 loss to Truman State.
However the tournament goes down, two good teams will play their final games of the season in Kansas City. Rice has the talent and the pedigree to return to Nationals again, but Truman State looks strikingly similar to the team we expected who just had some bad breaks during the regular season.