"gee-gee " : noun | UK | def'n: a horse (slang)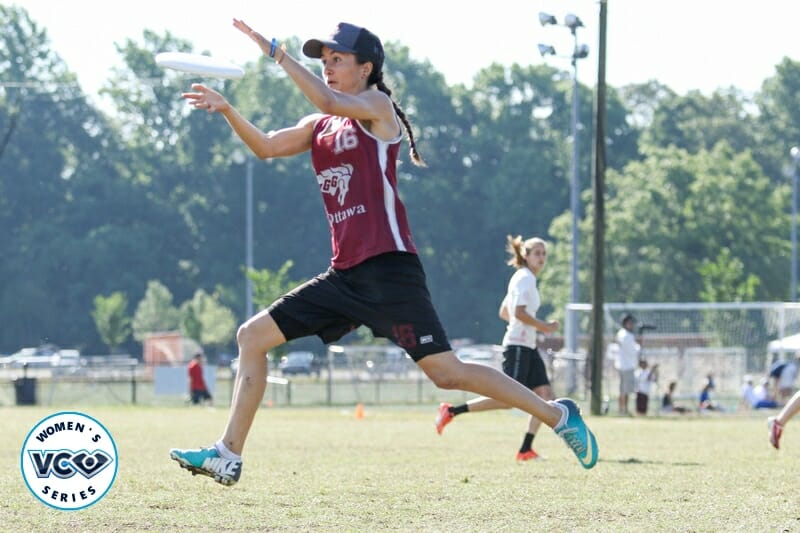 This article is part of a series presented by VC Ultimate to spotlight teams and individuals shaping women's ultimate. All opinions are those of the author. Please support the brands that make Ultiworld possible and shop at VC Ultimate!
Life in the Metro East. In a region that rarely gets even a whiff of a strength bid to the College Championships, teams build their entire seasons around preparing for the dogfight that is their regional qualifier weekend. Operating in this cutthroat environment, the University of Ottawa GeeGees have quietly (and politely) pulled together one of the most consistent and successful programs in the region.
Building A Canadian Powerhouse
The national capital of Canada, Ottawa is home to Parliament, the world's longest outdoor skating rink, and some of the harshest urban winters on the continent. Perhaps surprisingly, the city has also produced some of the best ultimate players in the country — and its university has been a key contributor.
Founded in 2004, the Ottawa GeeGees program has been flexing their guns at Canadian University Ultimate Championships (CUUCs) for more than a decade, winning gold in 2006, 2009, and 2010. But even this success wasn't enough to satisfy their competitive desires.
Canadian college ultimate poses challenges across the board — a lack of population density and an abundance of winter weather1 crams the competitive season into just a few short weeks in the fall. The CUUCs are usually wrapped up by the end of October. With the majority of competition coming from east of the Rockies, the championship weekend almost always lands in Quebec or Ontario. However, the West Coast isn't too fussed — the University of British Columbia and the University of Victoria have traded in Canadian competition almost altogether to play in the USAU circuit for years.2 After achieving domestic success, the GeeGees showed that they too were ready to trot their way into American competition.
For a long time, the U of O has been one of the only Canadian teams that participates in the US College Series. While other universities may wish to compete against the best teams south of the border, the pay-to-play format is the biggest hurdle for teams to try and overcome. After playing in the Canadian Series, extending their season usually means renting out expensive dome space or getting slotted in with terrible hours. Even after that, few teams have the wherewithal to travel in order to reach ten sanctioned games in the spring to attempt to earn extra bids for their region. To make matters more challenging, the slight difference in academic schedules means that USAU Conferences almost always conflict with Canadian year-end exams. Finally, since Regionals usually falls after school is out, it means that players have moved back home or are onto their summer jobs and can't make practices leading up to the tournament; many can't make the weekend at all.
But, the short Canadian season and an ever-growing thirst for the sport is inspiring other Canadian teams to practice through the winter and compete in the spring. The University of Toronto, Queens University, and the University of Manitoba have all taken steps to alter their competition schedule. There have been whispers of more and more teams investing to play in the more developed American collegiate division. Given the shared obstacles they face, many will be hoping to emulate Ottawa's example of sustained success in making the crossover.
After ten years of competing in USAU's College Series, it's impossible to ignore Ottawa's resume. Since 2008, their players have made it onto first or second All Region teams every year. Five rookies have been named the Metro East's Freshman of the Year. Their alumni have gone on to play for powerhouse club teams all over — the recently disbanded Capitals, Stella, 6ixers, Traffic, and even ICENI in England — and have worn red and white on the world stage. At WUGC 2016, eight GeeGees alumni played for Team Canada.3 Generations of Ottawa players have been on Canada's U23, WUGC, WCBU, and World Games rosters. Just this past year, Kathryn "KPoh" Pohran was amongst the coaches at WJUC for the young women who took home gold and who were later awarded Coaches of the Year by Ultimate Canada.
And if we're inspecting the success of Ottawa's players, we cannot overlook Anne Mercier. An absolute juggernaut in the college division, Mercier stormed through the Metro East and led the GeeGees to the USAU quarterfinals in both 2008 and 2009. Mercier's many accolades include being a Callahan award finalist, World Games captain, Ultimate Canada's Player of the Year in 2013, and a star of DC Scandal's handler core during their back-to-back club title run. But her true value is rooted in the respect that her teammates have for her. The phenom has been known for her poise, strategic mind, coaching skills, and leadership qualities; her tenure at the university was one of the key stretches that helped build the Ottawa GeeGees' legacy.
Playing With A Chip On Their Shoulder
Two weeks ago at the Western NY Conference Championships, the GeeGees took down their Canadian counterparts from the University of Toronto, who were competing in the USAU postseason for the first time in their history.4 This result was a reversal from the fall, when Toronto TULA finished second at CUUCs, while Ottawa didn't even make it into the top bracket.
After being handed this unexpected loss on American soil, Toronto coach Jessie Wu commented that there was a radical change in Ottawa's chemistry from earlier in the year. They had a bigger roster, fresher legs, and sharper throws in the wind. Practicing through the winter clearly paid off in making the GeeGees much more polished in April.
Unlike many of the other top Canadian university teams, Ottawa often seems to get short-changed in terms of experienced rookie imports. Without a solid youth feeder system, in order to be competitive at CUUCs the team has to teach everything from throwing to stall counts to defensive strategy… in six weeks?! It takes a bit more time for the GeeGees to pull all the pieces together.
According to Ottawa coach and alumnus Kaylee Sparks, "when it comes to our fall season, we always tell the girls we're there to do as well as we can, but that it's not all about winning. Our sights are always set on qualifying for USA Nationals, so we make sure they know that CUUCs is a stepping stone, not the be-all and end-all of our season." The GeeGees have learned to not shorten the bench too much at that tournament, which gives newer players chances in the fall and early spring that best set the team up for success at Conferences.
Something has to be handed to these women that live in a city that is buried in snow for a sizable chunk of the year. Available practice time in the dome can be as late as midnight or as early as daybreak. Many players move to Ottawa to go to university, so the team becomes their family. Training together, living together, and growing together blur into creating a team that is tough enough to thrive in the Metro East.
"I think, overall, our team has a great variation of abilities, with some players having more experience than others and some being better at certain technical aspects," says captain Anna Blinder. "What really allows us to work together is the fact that we all support one another and whole-heartedly enjoy playing together – regardless of if we win or lose the game."
Despite all their past success, the program still plays with a bit of a chip on their shoulder and works with blind abandon each year to improve for their spring season. After spending the whole school year practicing, Sparks and the rest of the leadership are able to build a team culture and cohesion that teaches players to "respect the tough competition, but meet it head-on with confidence, rather than worrying who beat whom last time."
At Conferences, Ottawa finished second after being handed just one loss — on double game point — to SUNY Binghamton. In their pool play game on Saturday, core handler Cassandra Jaffray went down with an ankle injury in the first half and the score quickly got away from the GeeGees, going behind 9-5. However, thanks to the work they've put in all semester tweaking their zone offense, they were able to stop the bleeding and earn back several breaks to almost complete the comeback. On Sunday, they were able to emphatically avenge that loss, taking down Binghamton 15-7 in the second-place game.
"We are always encouraging of one another and never let mistakes generate a negative attitude towards our teammates," says Blinder. "We know that at the end of the day, we all gave it our best."
Extending Their Legacy
After their back-to-back runs to the quarters in 2008 and 2009, Ottawa has returned to the US College Championships four times in the last six years. Although they have yet to break into bracket again since 2009, something needs to be said for their determination and quiet legacy in the Metro East. Aside from their first year competing in the USAU Series, Ottawa has only missed Nationals thrice in the last decade. This year, with rising stars like Camille Bedard and Corrine Giorgetti in control, will they be able to recover the glory of the late 2000s?
Perhaps unlike many collegiate level teams, most of the players at the top of the GeeGees roster compete together during the club season, for Stella. Captains and handlers Blinder and Marti Doucet quarterback much of their offense, looking to receivers like fellow captain and workhorse Bailey Quinn. Last year, Ottawa also added cutter Meagan Doyle, who adds a modicum of maturity to the roster after playing in Calgary for years past.
Ottawa has had a relatively quiet spring, competing in only one tournament prior to the Series, where they were blown out by Cornell and Tufts as well as a picked up a surprising loss to D-III Mount Holyoke. The GeeGees head to Connecticut this coming weekend for the Regional Championships unranked in the national Power Rankings. They'll have to overcome Cornell — who have won a staggering twenty-five games so far this season — amongst other challengers in order to emerge from the Metro East as champions once again. Columbia, Princeton, and Connecticut have also had successful springs, so Regionals is bound to be a potpourri of upsets, tight games, and blow-outs. But no matter who stands in their way, expect to see Ottawa in the mix on Sunday, fighting together to extend their history of regional success.
The GeeGees are a herd. Although historically they have built their systems around their strongest players, they never would have been successful without every teammate playing their role. This Regionals, they're going with a roster of only 15, and more than half of them are rookies. Sparks insists that this is one of the most adept squads they've ever had, but they will need to stay fresh and focused throughout the weekend. The team is fearless when they are united, and their roster is chock-full of charisma, height, and athleticism. Metro East Regionals have never been for the faint of heart, and ten teams will compete for one lonely ticket to Cincinnati.
In a region that always keeps us guessing, what will Ottawa do this year?
---