The favorites advance after a weather delay shortened rounds all weekend.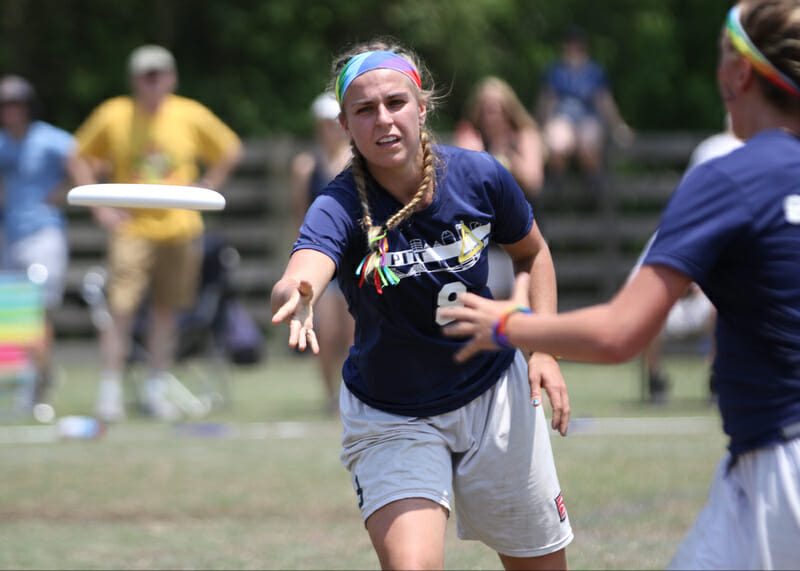 This article was written by guest author Sophia Knowles.
Although top seeds #5 Pittsburgh Danger and #11 Ohio State Fever qualified for Nationals as expected, the weekend was full of excitement for the Ohio Valley Women's Division, and nothing was certain until all the games were played out.
The excitement in Columbus began twenty minutes into the first round of the weekend when lightning was spotted and buckets of rain followed soon after. Games resumed three and a half hours later, with an adjusted format: shorter rounds, and all of bracket play moved to Sunday.1 After the delay, it turned into a perfect day for ultimate: 75 degrees, sunny, with little wind.
Ohio State And Pittsburgh Face Off In Pool Play
The big game on Saturday got even bigger once teams found out that there would only be three rounds on Saturday, so they didn't have to save legs for the fourth round. While the Pittsburgh vs. Ohio State game in pool play didn't make much difference for bracket matchups, but both teams came out hard, looking to pick up a statement win.
The teams traded breaks in the first half. Pittsburgh's Carolyn Normile and Ohio State's Stevie Miller looked deep early and often. Normile was involved in almost every score of the first half for Pittsburgh. First, she was throwing pinpoint hucks. Then, once OSU adjusted and started shutting down those looks, she was easily beating any defender upline and distributing the disc from there. Alaine "Shakes" Wetli was an impressive presence for Ohio State in the first half, with a huge layout score as well as a few scores striking upline.
A cheer battle waged between the two sidelines for the entire game. Fever had the home-field advantage, but Pittsburgh also had many parents and supporters in attendance. With the sidelines' help, the game changed on and off the field after halftime. Many OSU alum and B team players showed up late in the first half, and their presence was immediately felt. They brought drums, macarenas, and an energy that OSU ran with and used to break four times out of half.
Ohio State was playing with more energy, and their whole team was grinding to focse turns and work it up the field for the score. On the other hand, Pitt seemed to be relying more and more on the heroics of Callahan nominee Linda Morse and Normile.
Fever easily pulled out the 15-9 victory after completely dominating the second half. Although both teams played hard, neither team showed any of their zone looks and seemed to be saving some surprises for Sunday.
Penn State Surprises In Pool Play
In Pool B, Penn State Crisis came out strong against West Chester, breaking five times in a row before the lightning delay. Amel Awadelkarim and Jess Sourbeer worked together very well moving up the field, with Awadelkarim getting the disc almost every other throw. West Chester couldn't keep up.
After the delay, West Chester stepped up and showed how they beat Pitt at Conferences: with a nearly unstoppable deep game that they used all weekend. Rarely would West Chester throw more than two or three passes without hucking it, and Lindsay McKenna, Danielle Byers, and Liz Hart ran the show.
Teams may have tried to adjust, but Hart made huge play after huge play in the air, and Byers was too fast for anyone to keep up with. One moment Penn State was up 12-3, and the next it was 13-10. Penn State eventually pulled out the upset 15-10, but the second half run from West Chester showed they are a formidable team when they are connecting.
Penn State kept up the day's hot start with a comeback win on double game point against the Case Western Reserve Fighting Gobies. Crisis threw a cup which Case struggled with at first, but the Gobies were able to break open the defense with captain Lauren Ficek's around backhands, which opened the field up for Case all weekend. Awadelkarim was playing almost every point and helped Penn State easily break Case's zone. Late in the game, both teams moved away from their zones as Case's Maddie Strnad went toe to toe with Awadelkarim, making for a very exciting matchup. Both players are aggressive play makers for their teams and great defenders, though Strnad got the better of Awadelkarim in the air.
Case took half 8-7, but with the shortened rounds, soft cap came on making it a game to 10. Penn State's Molly Robertson had a huge layout score after half to give Penn State some momentum. Case Western held, and then Awadelkarim skied two Case defenders to send the game to double game point, 9-9. Case turned the disc on a huck, and Penn State broke on a score, fittingly, to Awadelkarim.
No Cake Walks On Sunday
In the semifinal games, Penn State took on Pittsburgh, and West Chester took on Ohio State.
Penn State and Pitt both threw zone looks despite the relatively calm conditions early in the day. At first, both teams were struggling to break through the zones, but a few points in, Pitt started to connect over the top and on cross field looks. Awadelkarim, Sourbeer, and Blake Ratner did well against Pitt's zone, but nevertheless Penn State fell 14-5.
The other semifinal was a completely different story and was arguably the most exciting game of the tournament. West Chester broke on the fourth point against Ohio State, who couldn't figure out their cutter spacing and timing. West Chester, just like in their game against Penn State, relied on hucks from McKenna to Hart and Byers as their preferred form of scoring. McKenna footblocked Miller and then threw the assist to get West Chester's second break and put them up 5-4. OSU held, and then broke back to regain the lead 6-5.
Fever's Sadie Jezierski had a solid start to the game, throwing multiple assists and hucks to run OSU's offense. She also marked up on Hart, which was the best matchup of the tournament.
Ohio State started running a zone to shut down West Chester's initial deep look, and the strategy earned them another break to take half 8-6. From there, it looked liked OSU had figured out how to stop West Chester and would pull away. But West Chester once again showed how dangerous their team was. As OSU mistakes began to pile up, every drop and misthrow lead to a huck from McKenna or Byers, and a score from Hart or Byers. Five breaks later, West Chester was up 11-8 in a game to 12.
Ohio State looked stunned. That's when Jezierski took over. She decided OSU wasn't going to go down that easily, and she cranked out four monstrous points. After an easy hold, OSU set their zone, leading to an easy deep block from Jezierski and a break to bring it to 11-10. Another zone D and a great sky by Jezierski brought the game to double game point, 11-11. Three McKenna hucks, one Jezierski block, and a Jezierski assist later, Ohio State would score to win the game. The relief was evident on OSU players' faces.
Pittsburgh Zone Frustrates Ohio State In Regional Final
While the storms from Saturday stayed away, 15 mph winds on Sunday meant all the zone looks that OSU and Pitt had withheld in their pool play matchup came out in full force for the final. The game seemed like it would be purely upwind downwind, but after a ten-minute first point, OSU broke upwind to grab the first advantage of the game. However, OSU failed to convert the downwind, allowing Pitt to stay in the game early. The teams traded breaks until the game was tied 4-4. At that point, Pitt started coming down with 50-50 discs and they pulled away to take half 8-5.
Again the shorter rounds took effect and soft cap went off during half time, leaving Ohio State too little time to mount a comeback; Pitt would take the game 9-6.
OSU struggled with Pitt's zone, especially after Danger moved into a box-and-one on Jezierski, preventing her from shredding their zone with her throws. Fever also struggled with miscues and execution errors as they did in the West Chester game. Their inconsistency was a problem all weekend, and could be real problem for them at Nationals.
Second Place Bracket Battles
In the second place bracket, Case Western defeated West Virginia, and Akron defeated Carnegie Mellon in prequarters. West Virginia had a small squad with only one sub, and their offense relied on low-percentage hucks. Jordan Roof was the star of the team as a handler who threw most of their hucks, but she could only do so much. Another player of note was Makenzie Priest who used her speed to get lots of blocks and came down with a large amount of West Virginia hucks.
Carnegie Mellon played similarly to WVU in that they had one main handler, Marissa Schwartz, who put up most of their hucks and were very reliant on her to run their offense.
Penn State and Case Western met for another tight game in the backdoor quarterfinals. The tides turned when Case started making lots of unforced errors, and Penn State started coming down with a lot of floaty throws. Despite a comeback in the second half, the shorter rounds and worsening wind helped Penn State hold on to win 10-7. On the other side of the bracket, West Chester easily took down Akron 13-7 in a huckfest of a game, despite the best efforts of Akron's Iris Javersak and her aggressive defense.
West Chester then came from behind to defeat Penn State 8-7 on double game point in the game-to-go to the game-to-go, which set up a West Chester vs. Ohio State rematch for second place. The wind made the game completely different than the one played only four hours earlier. West Chester didn't even try to break through OSU's zone, instead relying on static hucks that were severely affected by the wind. Even when they were able to get off a good huck, Jezierski was there as a deep deep and was nearly unstoppable.
This time around, OSU was in control for the whole game and easily won 12-7 to claim their ticket to Nationals.
---
Instead of semis being played as the fourth round on Saturday, as originally scheduled. ↩