A double game point finish in a sloppy final earns St. John's a trip to Lexington, while Carleton GoP misses out on D-III Nationals for the first time.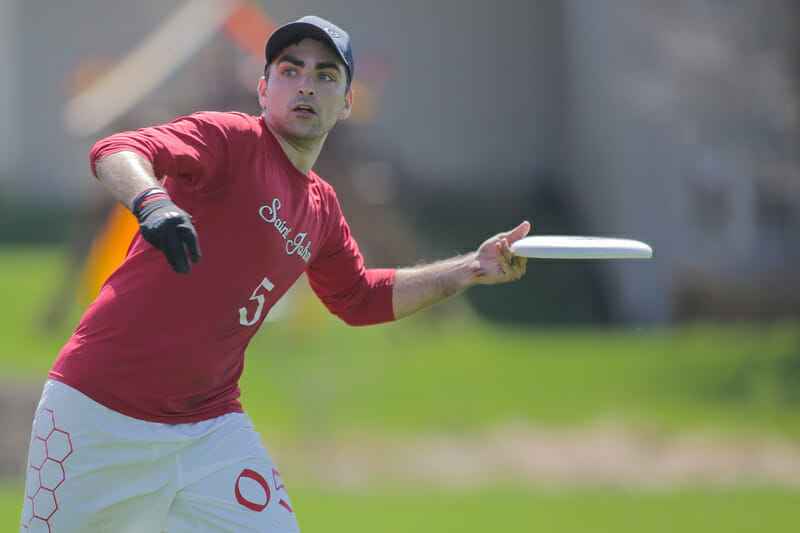 This post was written by guest author Remy Eisendrath.
BLAINE, MN – The 2017 North Central D-III Regionals began much like they had the previous year. Despite having two top 25 teams, #17 Carleton GoP and #16 St. John's BAM, the region narrowly missed earning a strength bid, as the two teams finished at 14th and 15th in USAU's final regular season rankings. With just a single bid on offer, all signs pointed to these historically strong programs meeting in the final.
With just a handful of small upsets by seed, results mostly held to form through the weekend. As the weather got progressively worse on Sunday, the expected finalists met in 20 mph blowing rain and temperatures in the high 30s. Despite GoP erasing a four goal halftime deficit, St. John's converted a hold on double game point to advance to the D-III College Championships.
Pool Play
With poor weather in the forecast for Sunday, pool play games were shortened to 13 and the day extended to finish all four games for each team on Saturday. Pool Play was rather uneventful, with both teams hitting double figures in just one of the twenty games.
Pool A's first matchup pitted No. 1 seed St. John's against No. 3 seed Macalester. In a close game throughout, Macalester was unable to overcome two early BAM breaks and lost 13-11, despite an opportunity to force double game point. The entirety of Pool A held seed, with No. 6 seed St. Thomas's 10-8 victory over No. 8 Grinnell the only other close game.
Pool B offered a bit more potential for breaking seed. No. 2 seed Carleton was joined by No. 4 seed Drake fresh off their first ever conference title, No. 5 seed St. Olaf just two years removed from qualifying for Nationals, and No. 7 seed Michigan Tech as the sole bid winner from their Conference. While Carleton comfortably rolled through their opponents to finish as expected at the top of the pool, St. Olaf, Michigan Tech, and Drake — three teams with similar gritty playing styles led by two or three strong, versatile handlers — fought hard as the wind picked up in the latter half of the day, bringing out a variety of junky zones. St. Olaf defeated Drake 13-6 to overtake the second spot in the pool as the only nominal upset of the tournament. Michigan Tech's victory over Coe ensured they would play another day.
Bracket Play
Only seven out of the eight teams in the bracket arrived on Sunday to play in unsurprisingly grim North Central conditions. With student-led protests against ongoing racist incidents on their campus, St. Olaf made the decision to skip bracket play and join their peers back in Northfield, MN in demanding change at their institution. This decision might not have been easy for the senior leaders on the team, but the Berzerkers headed home with messages of support from fellow schools in the region, while St. Thomas advanced into the semifinals by default.
GoP rolled through Grinnell, St. John's held on to a safe, but never overwhelming, lead over Michigan Tech, and Macalester finished ahead of Drake after trading points early, setting up a semifinal round comprised entirely of Northwoods conference teams.
The rain finally came as the semifinals began, and the hostile weather only aided the favorites. St. John's never looked back in a 15-9 win over St. Thomas, and GoP ended the Macalester Blue Monkeys' season with a 15-4 game that was never in doubt.
The Matchup We All Expected
As the conditions worsened, St. John's and Carleton stepped on the line for the game-to-go to Nationals. With fans crowding the sidelines and watching from parked cars, the two hopefuls began a sloppy match.
GoP's floaty around break backhands kept popping just out of reach of their receivers, and St. John's rode into half with an 8-4 lead. With BAM starting the second half on offense, the game could have gotten away from GoP. But Carleton rattled off four straight breaks, earning their points on a variety of throws, and frustrating St. John's players. With long points frequent, soft came on at 9-9 and a series of holds put the game into overtime at 11-11. St. John's managed to hold one more time, sealing their bid to Lexington with a 12-11 victory over their rivals from GoP.
U24 National Team invite Charlie Schuweiler unsurprisingly made the difference for BAM. His upwind hucks stood out in conditions where few other players even attempted deep shots. Carleton's defensive intensity kept them in the game, but they were not quite able to overcome St. John's superior athleticism and length.
Looking Forward
For the first time ever, D-III Nationals will not have Carleton GoP in attendance. St. John's travels to Lexington having run the table in the Series and played competitively in the regular season against some strong D-I programs. A 13-7 win over Wheaton and a 15-11 loss to Colorado College mark their matchups against other D-III Nationals programs during the regular season.
The region will undoubtedly push for a second bid next year, though such a bid diminishes the rivalry of St. John's and Carleton, who have yet to be unseated from the clear top two seeds in the North Central. Although Drake and St. Olaf will both graduate some extremely strong handlers — namely Mitchell McCarthy and Andrew Darby Lawrence — these programs have some young talent that will continue to develop. Macalester and Michigan Tech also made it further than they have in recent years and boast deep freshman and sophomore classes that will only be more invigorated should a second Nationals bid emerge.