British Columbia becomes the first non-Oregon Northwest regional champion since 2008 -- but Fugue still qualifies with second bid.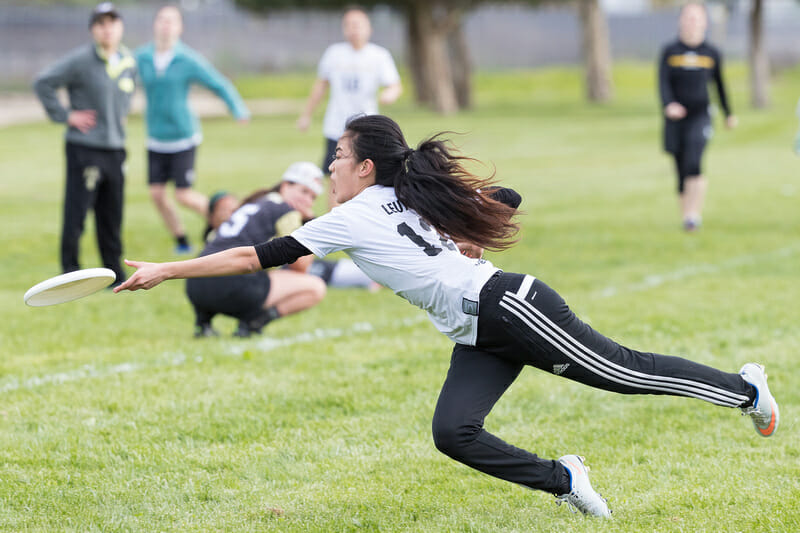 WALLA WALLA, WA – The sunny, warm weather and still air in Walla Walla on Saturday belied the high stakes of the weekend for the Northwest women's teams in attendance. The weekend went as expected: the top two seeds, #10 British Columbia and #9 Oregon, claimed the bids to Nationals, and the final rankings exactly matched initial seeding. But what looks like chalk on paper wasn't that simple on the field.
Saturday: Plenty Of Blowouts, One Upset
The first two rounds on Saturday flew by as the tournament's elite teams marched through points. Top seeds UBC and Oregon outscored opponents 52-7, while second seeds #19 Whitman and #25 University of Washington held their own with a 52-12 differential in the early rounds.
The disparity between the top four and the bottom four teams attending Northwest Regionals was apparent throughout pool play. University of Victoria Vixens put up the best efforts of the lower four teams on Saturday, sneaking eight points past Whitman before losing 13-8.
University of Washington Element looked the most polished they had all season, relying on big plays from Kate Dusenbury, flanked by Sophia Johansen, Kaitlin Kirkpatrick, and Nicole Cramer. They gave Oregon a tough game in pool play, but they couldn't contain Whitman's deep game in Saturday afternoon's semifinal, and the wind frustrated their offense on Sunday. Nevertheless, this team is young, and they're returning a lot of contributors next season.
The Portland State Osiks, Oregon State Dino, and Utah Spiral Jetty all played with solid fundamentals, which were tested in Sunday's wind. Sierra Jensen wore a lot of hats for Utah throughout the weekend, going where her team needed her — in turn-heavy points, she could reliably create space downfield as well as drop back to help swing the disc. Portland State's Shea Brennan was the cornerstone of the Osiks' offense — she played hub in their zone offense and was able to push the disc upwind in the gusts. Finally, Skylar Roach and Molly Buermeyer were the tough matchups for Oregon State, with their skills and speed in the backfield propelling the Dinos downfield.
The Upset To Rule Them All
The final round of pool play, however, delivered on all the drama promised for the weekend. Whitman came out hot to defend their home turf, upsetting UBC decisively 13-8.
The game didn't look promising for Whitman early. They broke early after several insane defensive blocks from senior Nina Finley, but UBC responded in force with several breaks of their own to build a 5-3 lead. UBC's zone pushed Whitman's handler core into poor decisions or execution errors, and the Sweets' shots over the top weren't quite landing.
Whitman held and set a zone of their own, and a block from Alissa Soo became a break when Kaitie Dong laid out over the goal line to score. The Whitman sideline fed off the energy, and they broke twice more to take half over UBC 7-5.
Their comeback wouldn't have been possible without junior Kaileah Akker. Akker transferred to the Sweets from the volleyball team, and at 6'1″, her height was unmatched in the deep space. Despite her height, Akker wasn't a dominant presence for Whitman last season. She was still new to the sport and developing disc skills. But Akker's deep cuts were the difference maker for Whitman. UBC hasn't found a good defensive answer for deep shots in their post-Donaldson era, and they could do little to contest the shots from Whitman handlers into Akker's waiting hands. She scored their second break to take the lead in the first half, and a deep put to her facilitated their break for half.
"I feel like our deep timing is a big [factor]," said Whitman co-coach Rohre Titcomb after the game on Saturday. "We have a lot of great throwers, some really speedy receivers, and some big receivers, and today the timing of those things was just on in a way it hasn't quite been all season."
Whitman would hold out of half, and two more breaks in the second half sealed UBC's fate. Whitman played crafty and well-executed zone defense against the Thunderbirds, and their deep shots to Akker or Liv Amorosi let them either break quickly or reset their zone. The Sweets were fired up; after a season of chemistry building, all the pieces were coming together. They upset UBC 13-8 to steal the 1-seed spot.
Oregon Fights Through The Backdoor
Oregon Fugue had played their Saturday games in true Oregon fashion: rapid fire give-and-go passes until a window opened in the end zone into which Kaitlin Brunik or Ella Hansen could rip a huck. Their measured zone made the most of the team's high ultimate IQ as they lured handlers into attempting throws through gaps where an Oregon defender would suddenly appear.
They probably weren't expecting to meet UBC in the semifinal, but the matchup wasn't a new one. The game is always high-risk, high-reward (Oregon) vs. speed and consistency (UBC), with a healthy dose of expert zone defense on both sides of the equation. Oregon kept a narrow lead for most of the semifinal, with their Callahan nominee Hayley Wahlroos making her presence known on every point. But UBC converted a few of Oregon's late game execution errors into breaks to surge past Fugue for the win, 13-10.1
It was official: for the first time since 2009, Oregon wouldn't be the Northwest Regional champions. They would travel a path to Nationals that was wholly new to this dynastic program: the backdoor bracket.
UBC Claim Regional Title For First Time Since 2008
British Columbia may have lost to Whitman once already in the weekend, but with all the stakes on the line, they refused to make the same mistakes in the Regional final.
Sunday's wind may have helped, too. Gusts of 18-25 mph winds added a new layer of drama to Sunday's games, and the windy conditions played into UBC's strengths. Beyond the laser-edged skill of their handlers, most of UBC's cutters can throw with touch and power to the break side downfield. The detail is small, but in games it opens the field for UBC and pushes the pace of their offense because defenders can't count on the chance to reset when cutters dump to their handlers.
"We're a good throwing team," said UBC coach Candice Chan. "We spend a lot of time working on throwing and wind is something we see all the time in Vancouver."
Sunday's wind hampered Whitman's deep shots in the final, and UBC's D-line quickly built a 5-1 lead. Their zone tried to trap Whitman against the windy sideline, and the Thunderbirds' midfield defenders smothered any open lanes. Without the reliable safety valve of Akker or Amorosi in the deep space, Whitman had to pass and reset endlessly in order to even hold.
UBC took half 8-2 and would maintain a sizeable lead for the rest of the game. The energy of the game had shifted 180 degrees from Saturday. This time, it was UBC rushing the field and cheering after every point. Their D-line mainstays Esther Au, Ellen Au-Yeung, Denise Su, and Laurel Oldershaw kept the pressure on throughout the second half, until they rattled off three statement breaks to win the game 15-5.
Of their victory and Regional title, Chan said:
"I don't think this has ever meant so much to the team."
Oregon And Whitman Battle For Lone Bid
The narrative couldn't have been crafted better: the longstanding dynasty has one last chance to get to Nationals, playing against last year's finalists who have spent all season building a new and different team. Both teams' seniors were freshmen for the first year of the Evil Empire in 2014, and after four years of easy sailing through Regionals, it comes down to this one game. Like I said, the narrative writes itself.
Whitman launched into the game with an early 3-1 lead, relying on defensive plays from Alex Hardesty and steady offense from Claire Revere and Amorosi. Oregon responded by setting a zone and earned a run of breaks of their own, with Brunik, Wahlroos and Hansen guiding the Fugue ship. Both teams tested the outer boundaries of their deep game, but the persistent wind wasn't forgiving. The hucks became turns, and points in the first half dragged on.
With seasons on the line, each team's stars played heavy minutes. Nina Finley played most points of the game, joined by Heffron on the O-line and Hardesty on the D-line. Revere was cleated up for the games and Sunday and still made jaw-dropping plays despite battling injury, but she wasn't the game's takeover player. Ella Hansen, Hayley Wahlroos, and Kaitlin Brunik became familiar faces on Oregon's line as well, no matter who was pulling.
Oregon broke twice to take half, and they doubled down on the lead early in the second half to build a 10-5 lead. With cap approaching, Whitman's biggest opponent was no longer Oregon; it was the clock. The wind dragged long points into marathons, and Oregon's zone kept the pace slow. Whitman fought hard, even as hard cap blew at 13-8 and everyone knew the game's fate. Oregon took a longer road to get there, but they had qualified for Nationals again.
"It was intense," said Hansen after the win. "It was the probably the best we've played all season… [being in the backdoor bracket] and being able to fight through it felt really good."
---
This semifinal should have been played to 15, but the teams agreed to play to 13 after some confusion over when to take half. ↩