What a field!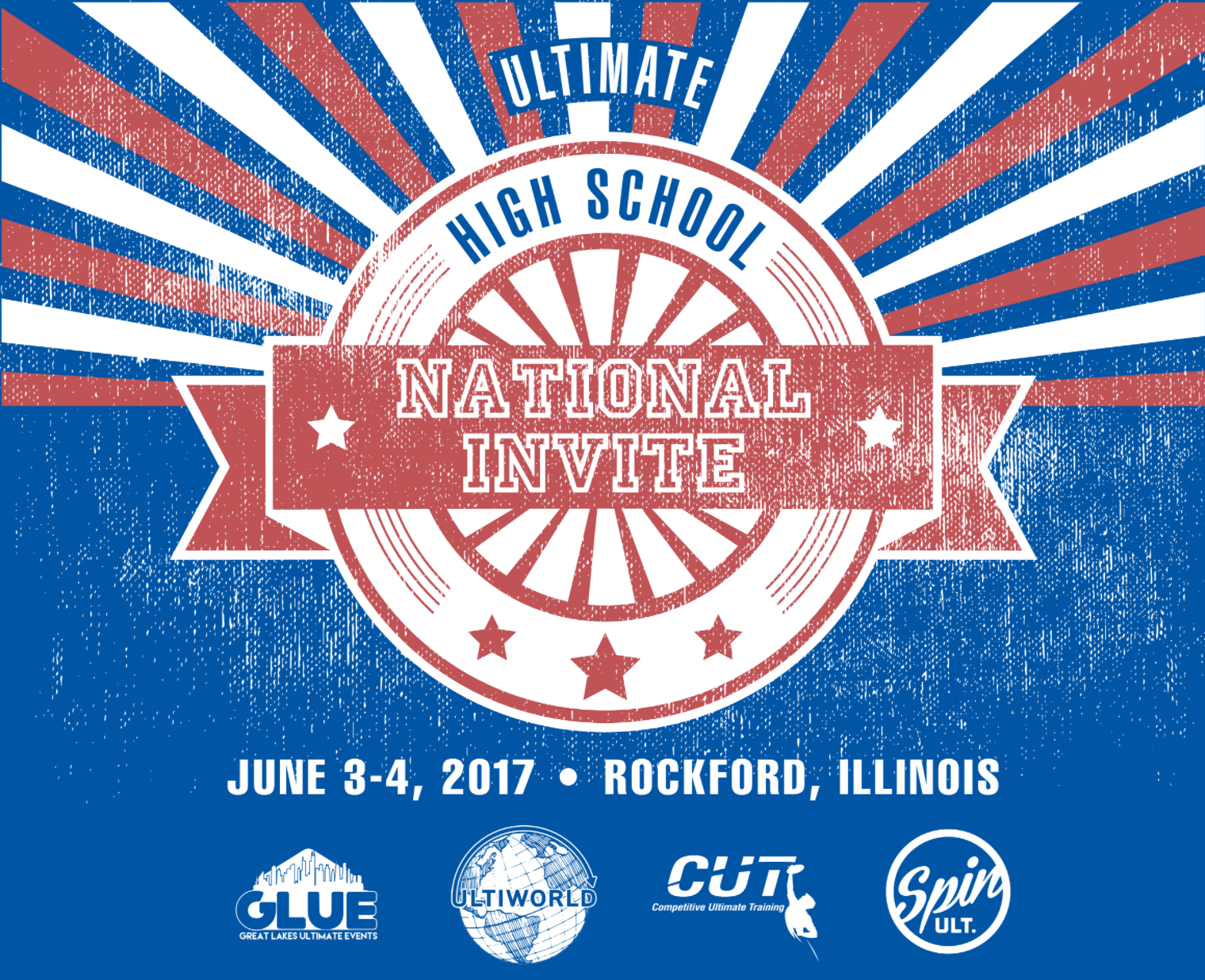 The inaugural edition of the High School National Invite is presented by Spin Ultimate.
Ultiworld, Competitive Ultimate Training Camps, and Great Lakes Ultimate Events are proud to announce the field at the 2017 High School National Invite! After months of competition, final bids to the Invite were sent out last week. Missouri Boys' state champion De Smet was the final team to accept their invitation.
Below, we list the eight girls' and 16 boys' teams that will compete for the National Invite crown on June 3-4, 2017, at the Sportscore 2 complex in Rockford, IL. Featuring high quality fields, unprecedented media coverage, a Saturday night dinner and trade night, and a truly nationally representative field, the National Invite will be a celebration of high school ultimate to cap off the 2017 season.
Girls' Division
#4 Holy Family Catholic (OH)
Powerhouse program Holy Family Catholic Omega has been the best team in the Midwest this high school season. Coming off of dominant tournament wins at the Rivertown Throwdown and Indy Invite, they entered the Neuqua Knockout as the odds-on favorite. They lost their first game of the season in a back-and-forth classic against Marcus (TX) in the semifinals and went on to finish third.
#7 HB Woodlawn (VA)
HB Woodlawn surged into the Top 10 of Ultiworld's Power Rankings after finishing 3-2 at the extremely competitive Paideia Cup, losing only to #1 ranked Lone Peak (UT) and #2 ranked Paideia (GA). Woodlawn was neck and neck with Paideia in the Pi Cup final and lost by just one point, 8-7. That performance followed up a run to the final at the YULA Invite, where they lost by two to Carolina Friends/Carrboro (NC).
#8 Northwest (WA)
Seattle-based Northwest School is coming off a third place finish at the Seattle Invite against a deep field and currently sits at 9-1 in Seattle league play. A program with a decorated history, Northwest has won the Washington state title five times in the last decade.
#17 Yorktown-Lee (VA)
Y-Lee has had a strong season so far, winning the Spring Fling in New Jersey and going 5-2 at the YULA Invite, losing only to #6 CFS and #7 HB Woodlawn. They also competed at a college tournament in early March, notching a win and hanging tough in some of their losses.
#18 Berkeley (CA)
The only high school girls' team in California, Berkeley is always competitive out West and will be traveling to the National Invite to test themselves against a wider range of teams.
#19 Roosevelt (WA)
Roosevelt came in 4th at the Seattle Invite, losing to #8 Northwest in the third place game. They sit at 5-3 in league play and look to improve upon their solid 2016 campaign where they finished sixth at Westerns.
#24 Neuqua Valley (IL)
Against #4 Holy Family, Neuqua Valley is 0-5 this season. Against everyone else? They are 15-2. eNVy is undoubtedly the top team in Illinois and one of the best in the Midwest, but they have not been able to unlock the Holy Family Catholic puzzle this year. Perhaps they'll get another shot at the National Invite!
Madison West (WI)
Madison West may not be ranked, but they have a pretty good case for being #26 in the country. They went 3-1 in pool play at the Neuqua Knockout, losing only to HFC, and then lost very close games to New England combo team Rush and #22 Great River. They have dominated their in-state competition this year and are still relatively early in their season.
Boys' Division
#1 Center Grove (IN)
The Center Grove Trojans continues their undefeated run through the 2017 season with wins at the Neuqua Knockout and the Indiana State Championships. They have won the blowouts and the tight games, the shootouts and the grinders. They will surely face their biggest test of the season at the National Invite.
#4 Lakeside (WA)
Players representing the Washington State champion Lakeside Lions are heading east for the National Invite. Lakeside was undefeated in their fall season, finishing off their year with a resounding 15-9 win over Cleveland in the state title game.
#6 Cleveland (WA)
Cleveland may have come up short to Lakeside in the Washington state final, but they had an excellent season, bouncing back from a loss to Nathan Hale during league play to defeat them in the state semifinals.
#7 Garfield (WA)
Garfield went undefeated in league play in the Seattle Public School league before losing to Cleveland in the SPL tournament final and then to Lakeside in the WA State semis. They were a clear top three team in Washington this year.
#8 Catholic (LA)
Catholic rode a 6-0 performance at Junior Terminus, including wins over #10 Grady and #13 Paideia, into a bid to the National Invite. Catholic — easily the top team in Louisiana — has been growing as a program and will get a chance to measure up against teams from outside the south for the first team at the National Invite.
#10 Grady (GA)
Grady dominated the competition at the Georgia State Championship and has looked like one of the best teams in the Southern region this year. Their only tournament losses this year have come to Catholic and Holy Family Catholic.
#14 Neuqua Valley (IL)
Neuqua Valley isn't quite as dominant as they were a year ago, but wins over Holy Family Catholic and Fishers have cemented them as one of the Midwest's top teams for another season. They are 0-3 against #1 Center Grove this year, but played them very close at the Indy Invite.
#15 Holy Family Catholic (OH)
Always a strong program, Holy Family Catholic has beaten every team not named Center Grove or Neuqua Valley so far this season. They are athletic and feature some younger players who should make the team extremely dangerous in coming years. Could they jump up a level at the National Invite?
#17 South Eugene (OR)
Oregon's top team this season, South Eugene went 5-1 at the Seattle Invite, including a win over #6 Cleveland. They fell to #4 Lakeside there in semifinals. With little competitive play to gauge them on this spring season, South Eugene will be a dangerous wildcard at the Invite.
#18 Chapel Hill (NC)
Chapel Hill has a case for being ranked even higher than #18 after defeating #9 East Chapel Hill at North Carolina States and playing tight with #2 Carolina Friends School. Either way, they will get a shot at the nation's best at the HSNI and a chance to bump that ranking up some more after debuting in the Top 25 last week.
#19 Fishers (IN)
Fishers has long been one of the strongest programs in a burgeoning Indiana scene, though this year they've been in the shadow of the undefeated Center Grove team. Make no mistake: they are talented and feature a deep attack that can really punish teams who can't match up with their athletes.
#20 Iowa City West (IA)
Iowa City faced some controversy at the Neuqua Knockout after getting DQ'ed from the Championship bracket for poor spirit, but they bounced back with an undefeated Sunday in the fifth place bracket (where they got perfect spirit scores) and have proven, when at full strength, to be a dangerous team.
#23 Watchung Hills (NJ)
One of New Jersey's finest high school programs, Watchung Hills has ramped up at every tournament they've attended this season, most recently going 5-1 at Born To Dive, losing only to #16 Westfield.
#24 Yorktown (VA)
Yorktown got off to a great start to the year with a 5-1 performance at the YULA Invite, falling only to eventual champion and #2 ranked CFS. Losses to Watchung Hills and Westfield at Born To Dive bumped down their ranking a bit, but they have been Virginia's best team this season.
Mason (OH)
Mason may not be in the Top 25, but you could certainly make the case for them. Mason nearly stunned #1 Center Grove in the prequarters at the Neuqua Knockout before losing in the 9th place game to #21 Pine Richland. They will likely be a pool four seed that nobody wants in their pool.
De Smet (MO)
De Smet has been in the Top 25 at points this year and really only dropped out because of a lack of games played as opposed to any negative results. They defeated Iowa City at the Indy Invite and lost to Center Grove and Fishers. This past weekend, they won the Missouri State Championships.