No pool has more combined victories so far this season than Pool C.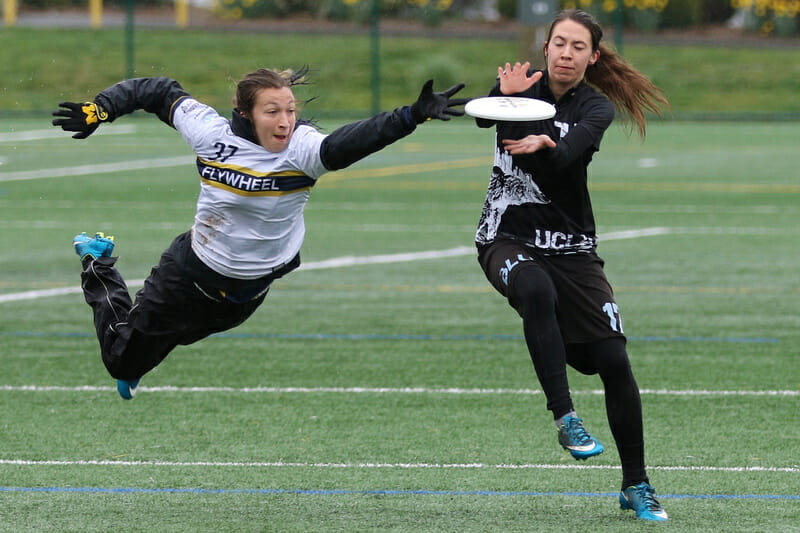 In the women's division, no pool has more combined wins than Pool C. It's a collection of impressive teams with plenty of potential to compete in quarterfinals. Aside from UC San Diego — one of the tournament's most surprising qualifiers — all of these teams have victories over some of the best teams in the country.
Getting past Virginia Hydra, though, looks very difficult. They are a fearsome opponent to top the pool, but it doesn't stop there. Pool C is replete with star power, so there will be plenty of big plays. Moreso, though, this could be the pool that will most be decided by who plays the smartest. The coaching staffs here are top notch and most of these teams have shown they are intelligent teams who can make quality adjustments. The chess matches that will be taking place in the huddles and on the sidelines will be fierce, as well.
Virginia Hydra
Seeding: C1, Overall #3
Power Ranking: #4
Overall Record: 36-2
Against the Nationals Field: 11-2
Against the Pool: 1-0 vs. UCLA, 1-0 vs. UC San Diego
Key Matchup: UCLA, 2:30 PM Friday
After wreaking havoc to last year's Nationals seeding, Virginia Hydra enters the 2017 College Championships as the no. 3 overall seed after a forceful 37-2 season. This season's Hydra should look strikingly similar to last year's powerhouse team; it's on purpose. The team, along with Ultiworld's 2016 Coach of the Year David Allison, built a culture and strategy grounded in collective strength. They don't create stars, they create systems.
Virginia plays beautiful small ball through the collected handling of Tess Warner, Christine DeRieux, and Laura Landis while cutters like Keila Strick and Ellie Wood create space downfield. This team lives to play zone offense because they're remarkably unflappable with the disc. Grad student Brandi Skanes (Michigan State) has added a hot streak of intensity to their D-line, which tends to earn its turns through strategy and tricky zones more than 100 mph person defense.
Virginia's record and depth put them on the shortlist to reach the semifinals again, but they're not a lock. They're 11-2 against the field,1 yet they haven't yet faced any of the other pool no. 1 seeds — Stanford, Dartmouth, and Texas — all teams with marquee stars who change the shape of the game.
Virginia faces more teams with that type of star power in the pool, too. Tufts and Michigan both have game-changing playmakers capable of testing Virginia's tactical strengths. Pool two seed UCLA will, of course, also have hopes of knocking off Virginia, but the two have squared off this season — an 11-7 Hydra win at Northwest Challenge that was closer than the final score. The rematch will likely decide who tops the pool and who is forced to play through a more grueling preqaurters round.
The game will feature two of the brightest coaching minds in college ultimate, but according to Allison, he isn't putting much weight in the teams' previous meeting. "Our game at Northwest Challenge was played on a knife's edge and could have gone either way. While we certainly didn't throw everything we had at them back in March, I expect they also had more to offer," he says. "We will approach our upcoming game against UCLA as if they're a brand new opponent. We can take a few lessons from Seattle, but I wouldn't put a whole gameplan together based on that one performance. [UCLA head coach] Alex [Korb] will certainly have BLU ready to play and his presence on the sideline will help them. In truth, there's enough talent on both sides that whichever team consistently executes their sets will likely prevail."
The game will likely be decided by how well that stellar Hydra zone offense performs against UCLA's equally exceptional zone defense. If Virginia wins that chess match, then they'll be in a commanding position to win the pool. Doing so will make their effort to return to semis much easier.
UCLA BLU
Seeding: C2, Overall #6
Power Ranking: #8
Overall Record: 29-6
Against the Nationals Field: 15-5
Against the Pool: 0-1 vs. Virginia, 1-0 vs. Michigan, 5-0 vs. UC San Diego
Key Matchup: Virginia, 2:30 PM Friday
It's hard not to look at this UCLA team and not see the shadows of the who the team has been the past couple of years. In part, that's because fireballer Han Chen is still an offensive centerpiece, much like last season, and has an array of athletic cutters to connect with. Their style of play hasn't drastically changed to the naked eye. And their end results for talented teams don't exactly shout powerhouse.
Over the past two seasons, UCLA has been the No. 3 seed and No. 7 seed. Prior to that, they had come into Nationals outside of the top eight in both 2014 and 2012. From those four appearances, they've only produced one quarterfinals appearance, and they were throttled by Oregon — who had just finished prequarters — in that round last year. They haven't won a prequarter in that time period nor have they gone through pool play undefeated.
There's plenty of reason to believe this year could be different. Their resume is commensurate with a real contender. Their 15-5 record against the field is very strong. Of their six regular season losses this year, three were to teams they have beaten in other matchups; the remaining three are to teams seeded above them at Nationals. They have multiple wins over Texas, Cal, and Michigan, along with a win over Oregon.
In addition, the roster still has plenty of weapons. Chen is a force of nature on the field and is in the thick of the Player of the Year race. But Camille Wilson, Kathleen Lo, and Sylvia Liang have all proven themselves this season, while depth like Tahlia Hodes, Maria Kazantsev, Bonnie Brown, and Jane Gunnar spread the workload. They have throwers, receivers, and defenders, and their defensive versatility is one of their most dangerous tools. Coach Alex Korb is building a reputation as a thoughtful strategist who makes shrewd in-game adjustments.
UCLA also has some experience against their poolmates. They have beaten both Michigan and UC San Diego (an astounding five times) this season; Tufts is the only team in the pool they haven't competed against. Their toughest test figures to be a highly tuned Virginia team that defeated BLU 11-7 at the Northwest Challenge this year. UVA has all of the game IQ and flexibility of UCLA and a higher level of execution, even if they don't have a player as explosive as Chen.
"We just need to tighten up on person defense," said the UCLA captains, before adding, "and make sure that we value the disc more!"
That exclamation point draws attention to the emphasis on the team's ability to protect possession. Their offense can be potent, but their level of execution with the disc needs to improve. When they are suffering from inaccurate throws or avoidable drops, things grind to halt and the team doesn't always have enough gas to stay in it. UCLA isn't the best team at grinding and they are much better served by scoring efficiently and keeping their best players fresh and involved.
If they can tighten up that deficiency and tidy up a few others areas, UCLA should not be considered below the line for a championship contender. The inputs are too strong to conclude they're out of the conversation. But if they want to get further than any of their other recent iterations, they'll need to find a way to survive the bouts of play below their best.
Tufts Ewo
Seeding: C3, Overall #10
Power Rankings: #12
Overall Record: 28-4
Against the Nationals Field: 3-4
Against the Pool: 1-0 vs. Michigan
Key Matchup: Michigan, 2:30 PM Friday
After a couple of down seasons, Tufts bounced back in a big way in 2017 to earn their 11th Nationals appearance in program history. It's been an interesting journey along the way. They began their season with the first tournament win for any of the players on the roster at Queen City Tune Up. While they've had an impressive season since then, they also haven't beaten any Nationals qualifiers since the February tournament.
In order to hold seed and make prequarters, Tufts will need to prove that their ability to beat the best teams in the country wasn't an early season fluke. But to be fair, they've had just three games against Nationals teams since QCTU, and those include a 12-10 loss to fourth seed Texas and a double game point loss to Ohio State. So it's not as if Tufts has been losing games left and right to elite teams; they just haven't been playing many.
So pool play will be a real opportunity for Tufts to test and prove themselves. On paper, they have the talent to match up with anyone else in the pool. Rachel Kramer is one of the most exciting players in the division and this tournament could be her national coming out party. JoJo Emerson is also immensely enjoyable to watch with her quickness and command in the backfield. Megan Wilson, another handler, and Meredith Bernstein, a downfield weapon, are dangerous too.
On the defensive side, Ewo are led by Vallerie Willocq, one of the best downfield defenders in the division. Tufts' defensive strength comes more from their strategic versatility, though. All year they've shown a number of effective defensive looks and a willingness from their coaches to experiment until they find what works against a single opponent. That should prove valuable in a pool with a lot of offensive firepower and teams that look to score in different ways.
While Tufts have the ability to beat a Virginia or UCLA, their season will likely come down to their game with Michigan. The winner will at the very least be in the driver's seat for third place and the final spot in prequarters out of the pool. Tufts does have the head-to-head win this season, but that came back in February.
It will be interesting to see how that game plays out and how the whole tournament unfolds for this Tufts team. Their talent warrants their seed, but the team's two-year absence from the College Championships means they aren't rich in Nationals experience. And, as discussed, they haven't played a ton of games against other Nationals teams this year. Can this talented bunch shirk the pressures of playing on this stage or will a relatively new moment be too much for them against more experienced teams?
Michigan Flywheel
Seeding: C4, Overall #15
Power Rankings: #13
Overall Record: 18-12
Against the Nationals Field: 5-11
Against the Pool: 0-2 vs. UCLA, 0-1 vs. Tufts
Key Matchup: Tufts, 2:30 PM Friday
The 2017 version of Michigan Flywheel has been fairly consistent in the months leading up to Nationals. They have only lost one game to a team that isn't seeded ahead of them at Nationals,2 but also only won three games over teams seeded ahead of them. Their tournament schedule was very strong, so they have mostly battled against Nationals-level competition during the regular season and never really got close to winning any of those tournaments. However, they didn't really roll over at any either; despite the strength of their schedule, they were only blown out twice all year and that was to close out Sunday in consolation play.
That consistency might be a product of a calm and experienced roster. "Our roster this year is one of the largest and deepest rosters that Flywheel has ever brought to Nationals, and it's full of several fifth year players that have been to Nationals a few times and aren't just happy to be here," said Michigan coach Ben Murphy.
While Flywheel has some big name fifth years — Callahan nominee Tracey Lo and 2016 All-American Hannah Henkin — Murphy's being honest about the depth and breadth of the team's experience. Players like Nina Janjic, Leah Bar-On Simmons, Lizzy Bennedetto, Brittany Wright, and transfer Vivian Chu are all vets who aren't afraid of tough situations. A large portion of their roster has been to one or two College Championships and played meaningful points there.
It's not clear, however, if all of that experience, both in these year's elite events and previous years', can get the level that Michigan is consistently performing at high enough to make a run into the bracket. They are 0-3 against the two teams seeded directly above them and who stand in their way. They know enough about Tufts' vertical stack to have some defensive machinations planned and have seen enough of UCLA's zone to prepare some alternative angles of attack.
"They present a compelling mental challenge with a few zones that make sure we play smart as we try to work the disc against them," said Murphy of UCLA.
Having a plan and executing it, however, are not the same. Michigan's composure and intelligence, garnered from their years of play, should help them turn tactics into turnovers and strategy into scores. Flywheel has shown the ability to play the type of ultimate they'll need to succeed. But getting the necessary wins to even make the bracket is going to take real improvement.
UC San Diego Psychos
Seeding: C5, Overall #19
Power Ranking: #24
Overall Record: 22-14
Against the Nationals Field: 0-9
Against the Pool: 0-1 vs. Virginia, 0-5 vs. UCLA
Key Matchup: Michigan, 8:30 AM Saturday
It's been a full decade since UC San Diego qualified the College Championships. Emerging from the deep and challenging Southwest Regional Championships with the fourth bid for the region is a tall task, but UCSD went through the other top challengers — UC Davis and Southern California — to achieve it. That's emblematic of their style of play and their journey to Nationals.
The Psychos will travel to Cincinnati with a wealth of experience against the expected level of competition. While they've only actually faced five teams from the Nationals field, they squared off with many of the best teams that didn't qualify: Whitman, Vermont, Davis, USC, Western Washington, and Colorado College to name a few. That's on top of the nine games they played against aforementioned five teams in the field.
Alas, the results have not been pretty. While their 0-9 record against the field is skewed by a startling 0-5 record against UCLA, the second team in Pool C, there's some rough losses along the way. Virginia, the top ranked team in the pool, crushed them earlier this year, as did Vermont. Their best win prior to Regionals was over Whitman, way back at Santa Barbara Invite, a victory that weighs a lot less than it did at that time. Fans should take heart in close losses to Texas and Carleton.
Despite the record, UCSD has nothing to lose and some solid weapons to lean on. It wouldn't surprise to see Dena Elimelech among the tournament's statistical leaders at the conclusion of pool play, as her ability to generate blocks and rack up goals is critical to the Psychos success. Those aforementioned blowout losses both came with Elimelech present and playing. Along with Leanne Go, who probably leads the team in touches, and Kelli Iwamoto, Elimelech will feature heavily for San Diego, and hope their strength, speed, and toughness can outweigh their lack of depth.
---
Four of the wins were against Delaware. ↩

Whitman, who did not qualify. ↩