Colorado State's Cody Spicer has burst onto the scene, along with his team, and emerged as one of the best players in the men's division this season.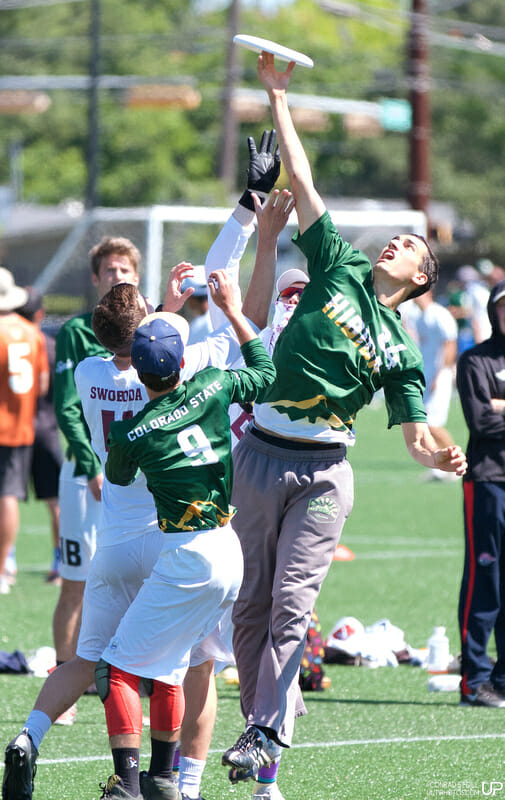 If you've had the chance to watch Colorado State Hibida in the last couple seasons you, like me, surely had a pair of questions pop into your mind.
"Why is that guy playing in sweatpants on an 85-degree day in Santa Barbara?"
Then, in short order: "that dude in the sweatpants has some serious game — what's his name?"
The answer, as you might have guessed, is Cody Spicer, CSU Hibida's Callahan nominee.
From Humble Beginnings To The National Stage
This is Spicer's third year on Hibida, but his fourth of USAU eligibility. He joined the team when he came to Ft. Collins for graduate school after helping found the ultimate program at his undergraduate institution, South Dakota School of Mines. Despite his tenure in the division, few people outside the South Central had any idea of who he was at the beginning of the 2017 season. His regional respect, however, was quickly earned — in both 2015 and 2016, his first two years in the region, Spicer was selected to the SC All-Region 2nd Team1.
This year, however, Spicer's name has started to surface in tourney recaps, all-tournament teams, and even POTY conversations. Colorado State has earned a Nationals bid and will attend the College Championships for the first time in program history this weekend. As the team's profile has increased, those watching Hibida — like those here at Ultiworld — couldn't help but realize that they had a bonafide star on their line.
What is it about Spicer's game that catches your eye? Surely one could point to his layout blocks and big skies as the hallmarks of a great player, but for Spicer those things are a bit of red herring. Many of the things that make him a great player — and that make him extremely valuable to his team — are more subtle. He certainly has the physical skills: top-class athleticism, a 6'2'' frame, a talent for physical defense, and outstanding agility — particularly for a tall player.
Here we'll try to break down those subtle skills that he brings to the table on both sides of the disc and how he leverages his physical skills to complement them. Spicer plays both ways for CSU, but despite being an excellent defender, starts on the O-line and only crosses over to D for big points or matchups.
Offensive Analysis: The Anchor
For being their all-around best player, Colorado State deploys Spicer a somewhat unorthodox manner on offense: he often mans the 'ace' position at the front of the stack. Generally, that's a spot reserved for the fill handler, but in the CSU scheme it's a little more important — and that increased role fits Spicer's preferred style of play and mental skill set perfectly.
The Hibida offense is frequently initiated by Spicer making horizontal cuts from the top of the stack. There are variations; sometimes he goes break and deep (where he is a dangerous threat), sometimes he goes open-to-break or vice versa. But, it's plain to see that the place he loves to receive the disc is the break side. Catching the break sets him up well to use his explosive quickness. As a team, Hibida loves to throw-and-go to the open side, and few people can stay with Spicer when he make his upline cut after a dish.
Spicer also contributes well to the overall motion of the offense from his position as ace. Mentally, he's one of the best in the division at reading the field and adjusting his position (on both offense and defense). As an ace, he can leverage that exceptional awareness to keep the stack connected to the handlers and to keep the shape of the offense.
Finally, Spicer's most basic (but likely most valuable) contribution to his offense is his counterbalance to the younger players on the line. CSU is in the midst of a windfall of high school talent, but high school ultimate doesn't necessarily instill the discipline necessary to succeed at the next level. Spicer is the calming presence on the line, leading his younger teammates to run the system instead of wantonly hucking away the disc. And, what's more, if they do end up turning it, Spicer is the best defender on the team and can help get it back.
Don't let his seemingly understated role in the offense fool you. He's not a rule-breaker player. He plays as though he relishes being a (very talented) cog in his team's offensive system, reminiscent of Texas' Will Driscoll. Sure, he could probably cut deep, have Hibida huck it to him all the time, and score some points — but that's not the player he is. He knows his role and executes it well. But, don't go thinking that he doesn't possess the ability to take over a game — in the South Central semis against Texas A&M, he put up a downright silly stat line: 7G, 2A, 4D (and he only crossed over for two D-points).
Defensive Analysis: Star Stopper
The best part of Spicer's game is his defense. He plays the role he needs to on CSU's offense, but on a top division club team (where we'll hopefully see him in the future), he would be best deployed as a defender. What position he would guard is a different question, but Spicer makes the answer easy — any position. Unlike many top defenders, Spicer can effectively guard a star handler or cutter and get great results. This year he's taken matchups from John Stubbs to Mark Rauls to Ben Jagt to Cameron Wariner — quite the range of players. The key to it all is his remarkably diverse set of physical gifts.
Spicer has what it takes to guard the best cutters: he stands 6'2'', has solid speed, and can get up. Though he's not nationally elite in any of those categories, combined it's a compelling blend. Players like Stubbs and Wariner might have an athletic edge, but nobody's going to dunk on him from pure athleticism. What's more, what he might give up in any of those categories he makes up for with his outstanding body positioning and mental grasp of the game. That mental edge starts before the disc even goes up, with his relative positioning on his downfield mark and continues once it's in the air. His coach, Tim Kefalas, puts it best, extolling that "he's the absolute best I've ever seen at real-time processing the field, reading the disc, and adjusting."
Watch here as he bodies up his man in the stack, checks in to see the thrower looking deep, peeling off to help as soon as the huck goes up, reads the disc, and puts his body in the way of the receiver to get the block.
Complimenting his ability to know the best position for the situation is his ability to physically assert himself on the field to both win that position and to dictate the route of his assignment. Spicer is exceptional at using his body on defense; his mark is constantly going to be feel his presence, and will have to adjust accordingly. His ability to assert himself with body position helps him both in terms of dictating a cutter's route as well as jockeying for position in aerial battles. At Centex, he was able to leverage that physical positioning prowess into two deep blocks against Minnesota big man (and Callahan finalist) Ben Jagt.
On top of all of the skills that help him shut down cutters, Spicer's best asset is his agility, which allows him to blanket the game's best handlers. Between his nimble and explosive movements and his ability to physically dictate Spicer can make a handler's life brutal, particularly on force middle dump defense (and, wouldn't you know it, CSU plays more force middle than just about anyone). Once throwers do have the disc, trying to throw around a player with Spicer's mobility and length is very difficult.
With his particular set of skills, Spicer is a nightmare defender for just about any matchup. That simple fact is his greatest utility to the Hibida defense. Having a defender who can credibly guard and shut down any opposing star is a huge asset; it forces teams away from what is generally their first option and takes away a portion of the game-breaking plays they're used to getting. It's a deadly simple formula for slowing down even the nation's best. Cody Spicer is not so much a star as a star killer.
Look for Spicer and Hibida to turn some heads at Nationals. Though they're the four seed in Pool A, CSU has their eyes on the bracket. And on an individual level, you can be sure that Spicer has his eyes on looming matchups against stars like Massachusetts' Ben Sadok, Washington's Khalif El-Salaam, Stanford's Elliott Chartock, and a rematch against Cal Poly's Cameron Wariner.
---
In a region that sent three star-laden teams to Nationals in both those years, that's no small feat. ↩