With a deep and talented collection of squads in the mix, it's hard to predict who will come out of Pool A.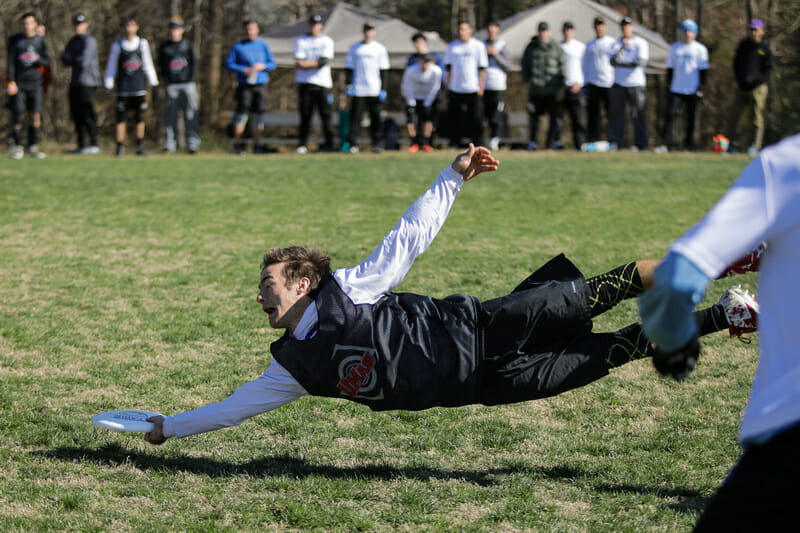 Ultiworld's reporting on the Men's division of the 2017 D-I College Championships is presented by Spin Ultimate; all opinions are those of the author. Please support the brands that make Ultiworld possible and shop at Spin Ultimate!
Pool A at the D-I College Championships comprises the Nos. 1, 8, 12, 13, and 17 overall seeds, so on paper is appears to be chalk for the tournament's top team. On the field, that's not always true — three of the past six No. 1 overall seeds did not win Pool A and the most recent victim of that trend is back again this year.
This year, Pool A has arguably the hottest No. 4 at the tournament, a No. 3 that's just hitting their peak, and a No. 5 whose variance in performance suggests that they can win (or lose) to anybody. So strap in.
Massachusetts Zoodisc
Seeding: A1, Overall #1
Power Ranking: #1
Overall Record: 21-2
Against the Nationals Field: 10-2
Against the Pool: 1-0 vs Colorado State, 1-0 vs. Cal Poly SLO
Key Matchup: Stanford, 8:30 AM Saturday
For the second year in a row Massachusetts Zoodisc enters Nationals as the No. 1 overall seed. That accomplishment alone is a feat, but it's made even more impressive by that fact that they managed to do so while recovering from the loss of both their star player Jeff Babbitt (2015 & 2016 DPOTY, 2016 POTY Runner-Up) and their best offensive cutter, Conor Kline (who led 2015 Club Nationals in goals scored). Despite that, it's the pieces that they retained that have kept Zoodisc atop the division, namely Callahan nominee, captain, and field-general Ben "Londish" Sadok and rising star Tannor Johnson. Those two led UMass to an outstanding regular season, notching marquee tournament wins at both Centex and Easterns. Though they haven't been untouchable — the team took two losses at Centex — no squad at Nationals outside the top five seeds has given them a serious run this year.
On the field, while Sadok is the engine that makes their offense go, Zoodisc is a solid team 1 through 24. Coaches Tiina Booth and Russell Wallack have implemented fundamentally solid systems on both sides of the disc; the offense is comfortable in multiple stack sets and the defense continues to thrive running their now-signature 1-3-3 zone, in spite of the Babbitt-shaped hole on the wing. Couple that solid foundation with a deep roster of above-average talent and experience and you end up with a team with a markedly high floor. It also doesn't hurt that 2015 ROTY Brett Gramman has a had a resurgent season for Zoodisc after flying a bit below the radar in 2016.
The question that Massachusetts will have to answer this year is whether or not they've learned from the mental letdown they had at last year's Nationals. After entering the tournament as a strong favorite to take it all, UMass was stunned by Georgia in Round 1. The dominant team from the regular season never looked quite themselves and were eliminated in prequarters by eventual champs Minnesota.
One has to believe that Booth and Wallack will have spent the past year helping the team develop an increased sense of mental toughness. Plus, last year was the first time in the modern era that UMass had played at Nationals as a favorite. This year, the players are a year wiser.
Zoodisc is positioned well to take the pool, but they face a trio of teams that seem to be peaking at the right time: Washington, Stanford, and Colorado State all won their regional tournaments. Stanford in particular may present a threat. In the past, UMass has relied on their zone look to put away Bloodthirsty, but they may need to prove that they can do it a different way. Stanford, captained this year by former UMass captain Max Perham, has debuted a 1-3-3 of their own during the Series and may now be better equipped to neutralize UMass' ace in the hole.
Despite the potential speed bumps, UMass is a solid bet to take the pool and a lock to make the bracket. As the top overall seed, Zoo is clearly eyeing a title and they have the horses to do it. All signs point to seeing them in the semis — at least.
Washington Sundodgers
Seeding: A2, Overall #8
Power Ranking: #16
Overall Record: 26-10
Against the Nationals Field: 7-7
Against the Pool: 1-0 vs. Colorado State, 1-2 vs. Cal Poly SLO
Key Matchup: Every game but Massachusetts
The Washington Sundodgers make their second consecutive trip to Nationals this year and enter with a perhaps surprisingly-high seed at No. 8 overall. Despite a middling regular season (for a Nationals-level team), Washington peaked at the right time and stole the Northwest regional crown from perennial favorite Oregon Ego on double-game point. Ego had beaten the Sundodgers 13-10 just two weeks prior and owned a 20+ match winning streak over their Cascadia Conference rivals. So what happened? Washington Callahan nominee Khalif El-Salaam happened. El-Salaam went off for nine assists and a goal to lead his team to a regional championship and a Nationals pool two seed.
The sequence of events at Regionals highlights the underlying story of the Sundodgers' season: without Khalif they're a decent team, but with Khalif they are a dangerous team. At both the Santa Barbara Invite and Stanford Invite, Washington played (almost entirely) without El-Salaam and the void was clear. Washington's vert stack is disciplined to a fault; they're too predictable. Worse, they lack a throwing cutter to make the offense dynamic. El-Salaam is the rule breaker who elevates the offense. He's their guy that will huck off of an under or throw a field-opening break. He's the playmaker for the Sundodgers, and a lot of their success rides on him.
That said, Washington is a far cry from a one-man show. Steven Benaloh and DY Chen are rock solid. Benaloh is a classic possession handler, shredding marks and keeping the offense moving. Chen is a handful in the backfield as well as cutting, on top of being an ace defender. Washington also thrives on their depth. They have a wealth of quality throwing talent up and down the roster and generally look very comfortable breaking the mark and playing small ball. A less visible aspect of their depth is their talented class of rookie defenders. In their third-place game against Cal Poly at the Santa Barbara Invite, coach Alex Wells ran out all-freshmen D-lines that performed like vets.
Based on their regular season (and counting on a healthy El-Salaam), what might hold Washington back may be a lack of schematic versatility. They run almost exclusively vertical stack and person defense, and that could leave them extra vulnerable in this pool. The junk look they show to change the pace has been a bit toothless in the past.
Stanford and Colorado State will be gunning to take down their pool No. 2 seed and, barring Washington adjustments, could be in position to do it. Stanford's side stack offense has rarely been slowed by person defense this year, so a strong change of pace look would certainly be called for. There were flashes of clam from UW at Stanford Invite, but it clearly was not a look they had polished at the time. Colorado State's base defense is a poachy force-middle look, which could spell trouble for UW's vert-heavy attack. Georgia effectively deployed FM against the Sundodgers at Stanford Invite.
Washington has earned their seed but sit in a precarious position. The Sundodgers may be the most vulnerable No. 2 at the tournament and not just because they'll face off against a dangerous No. 4 in Colorado State (who also matches up well with them). It's more likely than not that we see the Sundodgers in prequarters but that might be the end of the line, particularly because their crossover matchup will likely be one of Oregon, Wisconsin, or Minnesota.
Stanford Bloodthirsty
Seeding: A3, Overall #12
Power Ranking: #14
Overall Record: 26-8
Against the Nationals Field: 6-8
Against the Pool: 2-1 vs. Cal Poly SLO
Key Matchup: Washington, 12:30 PM Saturday
Stanford Bloodthirsty finally got the monkey off their back this year. After losing in the game-to-go three of the past four years, they capped another strong regular season with the Southwest regional title and a ticket to Nationals. The season has been a slow build for Stanford. They won their first tournament (Santa Barbara Invite) riddled with injuries. But as the season progressed, the disabled list cleared out and Stanford was left with 24/24 players cleated at Regionals, debuting a final form that looked formidable.
Bloodthirsty finally settled on their handler set at Regionals, allowing star thrower (and Callahan nominee) Elliott Chartock to lead the offense. Chartock's outstanding breaks and hucks shine in Blood's sidestack attack, which has efficiently handled the best defenses in the country this season. Though Chartock's throws are certainly the fulcrum of the offense, the dynamic edge that elevates it to the next level is Nolan Walsh. Walsh has become one of the best isolation cutters in the country and has developed top-notch hucks to complement his stellar deep presence.
Stanford has struggled some against zone looks, especially zones that clamp down on cup-crashing cuts; Oregon State scored an upset on Bloodthirsty at the Stanford Invite using such a look. The Bloodthirsty O-line, particularly on points without Chartock, struggled to navigate the cup zone, even in relatively calm conditions. However, coach Ryan Thompson will surely have prioritized shoring up the zone offense in the lead up to Nationals — especially with the UMass matchup looming.
On the defensive side, look for former UMass captain Max Perham to get the majority of the blocks when Stanford shows person defense. Bloodthristy's favored look is a backhand force that tries to stop hucks on the mark, a set that plays well to Perham's strengths — and he generally responds with at least one layout block per game. For their change of pace, Stanford showed a diamond zone look during the season, but they've run a 1-3-3 in the postseason that's similar to the Massachusetts defense of choice. Will the two use the look against each other?
On a turn, the D-line is piloted by breakout player of the year candidate Gabriel Hernandez and standout sophomore Nick Hirning. Hirning and Hernandez are an outstanding pair, each with top-shelf breaks and both difficult to cover on resets. Unlike the O-line, the D-line offense is highly handler-driven.
Stanford is better than their pool three seed suggests. They have top-class talent at the top of their roster and enough developed legs down the roster that they don't have to lean on their stars. One might reasonably question their lack of Nationals experience given their five-year drought, but it's not as though they haven't played in high-pressure games (though they lost all of them). They also consistently play high-quality tournaments so the teams they'll see in Cincinnati are the same one's they've faced all season. Odds are long that Blood scores the upset on UMass, but second in the pool is well within reach. They should make the bracket, though again the prequarter crossover with Pool D (likely one of Oregon, Wisconsin, or Minnesota) is daunting. But Stanford is talented, and they've only truly been outclassed once this year (a 13-3 drubbing by CUT). That said, it's hard to see them making it past quarters.
Colorado State Hibida
Seeding: A4, Overall #13
Power Ranking: #22
Overall Record: 26-9
Against the Nationals Field: 5-5
Against the Pool: 0-1 vs. Massachusetts, 0-1 vs. Washington, 0-1 vs. Cal Poly SLO
Key Matchup: Washington, 2:30 PM Friday
Colorado State Hibida will make their inaugural appearance at College Nationals when they arrive in Cincinnati. After missing Regionals in 2014, the program has been steadily building under the guidance of alumnus coach Tim Kefalas; they've finally broken through the top-heavy South Central — and did it in style with their first regional championship.
Hibida had an inconsistent regular season, but played well enough to hold on to a third bid for the South Central region. It made their dream of Nationals attainable, but still set up a game of musical chairs between them and the three perennial powerhouses — Colorado, Texas, and Texas A&M — fighting for three bids. Hib started off the Series with a bang, taking down their in-state rival Colorado Mamabird for the Conference championship and then stunned the division by repeating the feat at Regionals.
The 2017 South Central champs are led by their Callahan nominee, Cody Spicer, a two-way player who is poised to break out on the national stage. Spicer, a third-year grad student (in his 4th year of eligibiltiy), is CSU's star-killer. He's a fundamental defender with top-class athleticism that can match up confidently with anybody in the country. He makes sure that Hibida's opponents don't beat them with their star player. The other key piece for CSU is handler Jake Servaty, whose aggressive handler motion and smooth breaks keep the offense running.
Tactically, Colorado State is very impressive. Kefalas is a sharp game planner who makes good in-game adjustments and strategic calls. On offense, Hibida's vert stack is extremely committed to the concept of attacking aggressively upline after throwing an open side dump. They methodically eat up yards with this concept, reset and swing off the sideline, and attack up line again. The motif plays well into Servaty's strengths, and he thrives in the system.
Defensively, Colorado State wins over this reporter's heart by being one of the few teams to frequently use a force-middle. In fact, Kefalas describes it as their base defense. Hibida places a fair amount of trust in their individual defender's ability to be opportunistic in their FM, empowering them to poach off handlers to clog throwing lanes and to be savvy enough to properly reposition themselves downfield as the disc swings and the opposing stack moves (or doesn't).
Hibida is also stocked with a fair supply of youth ultimate talent and athletic role players, who excel within their systems. Even their star players are clearly cogs in the machine; they have no rule-breaking player. Spicer and Servaty certainly are often around the disc and clearly trusted to do the hard work (like initiating cutting or picking up the disc) but Hibida seems to also place great trust in players up and down the roster.
Fresh off two upset victories over Colorado and a South Central championship, Colorado State feels like the most dangerous No. 4 at the tournament.1 Couple that with the fact that their FM matches up quite well with No. 2 seed Washington's penchant for vert stack and that the Spicer vs. El-Salaam matchup could stunt UW's offense, and the recipe for the an upset is there. While it's hard to see CSU moving past the prequarters, they have a legitimate shot at advancing to the bracket out of Pool A.
Cal Poly-San Luis Obispo SLOCORE
Seeding: A5, Overall #17
Power Ranking: #13
Overall Record: 29-13
Against the Nationals Field: 9-9
Against the Pool: 0-1 vs. Massachusetts, 2-1 vs. Washington, 1-2 vs. Stanford, 1-0 vs. Colorado State
Key Matchup: Colorado State, 2:30 PM Saturday
Cal Poly SLOCORE returns to Nationals for the second year in a row, this time playing the entire season as a favorite to earn and keep a bid rather than reprising their underdog profile of 2016. Cal Poly made the jump into the elite tournament circuit this year, making appearances at the Stanford Invite and Easterns. SLO's results on the season against top teams were inconsistent all the way up through Conferences, where they were upset twice. Despite that, the clear takeaway from their on-paper schedule is they can hang with the top half of the Nationals field and occasionally steal a game — like their double game point win over Oregon at Easterns.
What's the story behind the inconsistency? Part of the answer is that Cal Poly's offensive efficiency varies heavily with the health of star O-line cutter Nate Pettyjohn. Pettyjohn has struggled with injuries this year, and the SLOCORE offense takes a big hit when he's absent. He is their best initiating cutter, as well as one of the country's premier deep threats. When Pettyjohn is available he serves as both the downfield cutting spark to start the offensive flow, and the 50-50 ball-winning release valve. When he's gone, it slides the rest of the cutters up a matchup, which puts them a little out of depth against Nationals-level defenses. The 2-4 cutters are captain Aaron Shi and standout freshmen Justin Ting and Connor Schofield. They're smart and solid continuation cutters, but none is particularly well suited to overpowering a defender, partially because none has the next-level speed or height to be a feared deep threat. And while Caleb Merriam has performed admirably as the new center handler for the O-line this year, he's not yet on the level of his predecessor Joel Anton in terms of throwing cutters open, particularly deep.
Pettyjohn missed nearly all of Stanford Invite as well as Easterns, Conferences, and the second day of Regionals this year, but reports say he'll be back and ready for Nationals. The last full tournament he played was Presidents' Day, where he roofed people left and right. If he can turn in another performance like that in Cincinnati, Cal Poly could pull off an upset or two.
On the other side, the calling card of SLOCORE continues to be their defense. Cal Poly spent significant time this year improving their person defense, eschewing the use of their tricky transition zone during much of the regular season. Expect to see the diamond junk gumming up pull plays and flustering handlers at Nationals. When they're not in their junk, SLOCORE relies on a stable of athletic defenders to earn takeaway blocks. They play classic defense, forcing cutters out with the confidence that they can win aerial battles or punish an under cutter with a layout block. Their playmakers on defense are the athletic Sean Liston and Callahan nominee Cameron Wariner, who grabs layout blocks like they're going out of style.
On the turn, Wariner and Ian Sweeney lead the offense, often initiated by the lanky Sweeney's break throws. However, the D-line offense has proved to be a bit of a sore spot. Cal Poly can get the turns but frequently can't punch in the break. This is another aspect of their game that might be helped by a recently-healed injury. Freshmen Jeremy Dolezal-Ng (WJUC 2016) has been out much of the year, but if he can manage to get healthy for Nationals it would be a boon to the D-line offense. SLOCORE often struggles to initiate cutter flow off of a turn, but if Dolezal-Ng can step in to handle with Sweeney, then Wariner can let his athleticism go to work down field and jump start the cutting.
SLOCORE is a dangerous team that should pull off at least one upset at Nationals. Unfortunately, they're in a tough position to advance as the bottom seed in the pool. When they play to their potential they're worth of a spot in prequarters, but they'll have to be on top of their game to make it happen.
---
Okay, Auburn is also really dangerous. ↩