A banged up UNC Wilmington was unable to pressure the consistent CUT offense.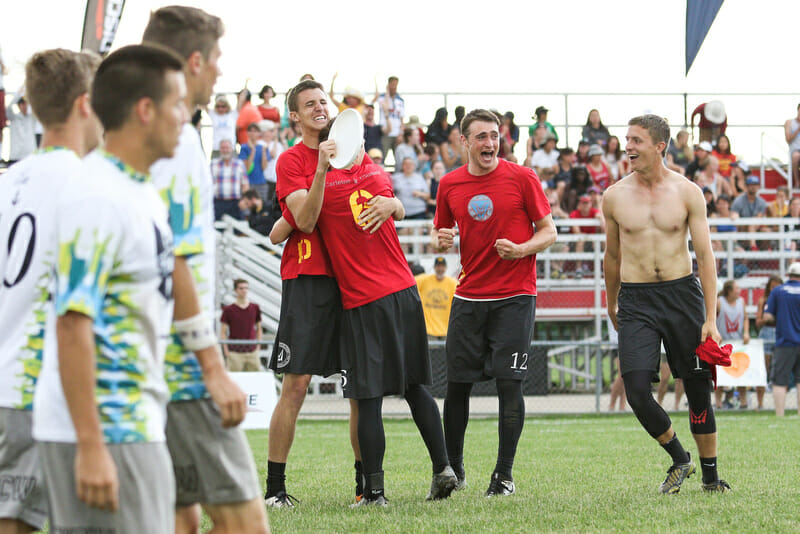 Ultiworld's reporting on the Men's division of the 2017 D-I College Championships is presented by Spin Ultimate; all opinions are those of the author. Please support the brands that make Ultiworld possible and shop at Spin Ultimate!
Carleton played a complete national final with technical offense and impressive depth to defeat UNC Wilmington 15-11, leading wire-to-wire. While a few CUT standouts were unstoppable the whole game, injuries sustained by Wilmington kept them from mounting another comeback.
After a clinically efficient first point hold from Wilmington, Carleton appeared far more nervy in their opening offensive point, throwing one away in the red zone before getting the disc back on a Dillon Lanier handblock. Carleton was able tp punch in their first goal on the second attempt, the, two quick breaks set the stage early for CUT. A heads-up play from Sol Yanuck gave them their first chance, and Tim Schoch found the end zone for the first break. An uncharacteristic drop from impressive Wilmington freshman Matt Ellis on the next point was a gift and one break quickly turned into two. Just minutes into the game, Carleton was up 3-1.
It quickly became clear that Carleton's separation of lines would make them much more consistent than their opponent. Even when Wilmington managed a hold against the likes of Yanuck, Schoch, and Joe White, the Carleton offense hit back with Alex Olson, Henry Fisher, and Stan Birdsong.
With the Seaman roster littered with injuries, winning back-to-back points against fresh lines proved nearly impossible for Wilmington's top players.
"They were having good success just grinding," head coach Brian Casey said. "We had four and a half of our best players out…I know those guys are worth four or five points."
Jack Williams was also not one hundred percent, with a hamstring injury that seemed to nag him more as the game went on. So much so that the hero of their comeback the night before was relegated to defense only for the majority of the contest.
Without Williams, role players stepped into the limelight for the Seamen. Kevin Mateer was calm through the Carleton zone, and freshman Ellis had a hot start to the game before he added to the unfortunate list of injured Wilmington playmakers.
Carleton capitalized on their energy advantage late in the first half. A big layout block from Sol Yanuck was followed up by an equally impressive sky from Eric Taylor, and Carleton had hoarded the momentum from a team that desperately needed it. CUT took half 8-6.
"We made it not about the result and not about who we were playing," said Carleton coach Phil Bowen. "It was about playing with energy, playing with love for each other, and playing selflessly.
In their semifinal and quarterfinal matchups, Wilmington feasted when the opposing offense took more risks. Errant hucks from UNC allowed the athletic Seamen defense to generate blocks and claw their way back into the game, but Carleton had cemented a style of technical precision and patience earlier in the weekend.
As the final dragged on, the offensive woes for Wilmington worsened. Perhaps with fatigue starting to play a factor, Stewart threw a bit behind Mike Richards, Hennighausen dropped an uncontested in cut. Carleton efficiently turned both mistakes into goals, going two for two on break chances in the second half. On the second, Yanuck found White for the 13-8 lead.
Wilmington had trailed in the tournament before, but with Williams ailing, another massive comeback felt like a distant dream. Still, the Seamen star would see the game through.
With Wilmington's season on the line, Williams moved back over to offense and stretched himself for a goal. But the oncoming wave that the Seaman usually ride out was too weak. Mateer and Hasting were playing nearly every point and the depth of Carleton was rearing its head; the championship dream was cut short for the 11-seed.
CUT was too good down the stretch. Stan Birdsong made his mark late in the game when he skied Hennighausen to save a break and bring his squad one step closer to a national title. Birdsong was one of several Carleton freshmen that played like no one was watching. Birdsong, White, Padilla, and Lanier combined for just one throwaway, as the four freshmen were lights out en route to a national title.
"To me it seems like we get younger every year," said Bowen. "A challenge for the team is to gain in just a few months the amount of experience that schools who have grad programs get."
Carleton received the disc up 14-11, looking to finish their run to an unlikely national title. Olson put up a huck to Fisher, a combination so deadly throughout the week. Fisher caught the huck wide open and Carleton had their first national title since 2011.
Alex Olson finished with four assists and three goals, a stat line to match the out-sized impact he had on the game. Sol Yanuk and Henry Fisher were as good as they've been all week, but it was the full roster that shined for CUT.
"I've always looked up to some of those teams that pulled in the national championships," Alex Olson said after the game. "It's really wonderful being here."
He now gets to add his name, along with his teammates, to the history of Carleton ultimate.