CUT Camps is in its eighth year.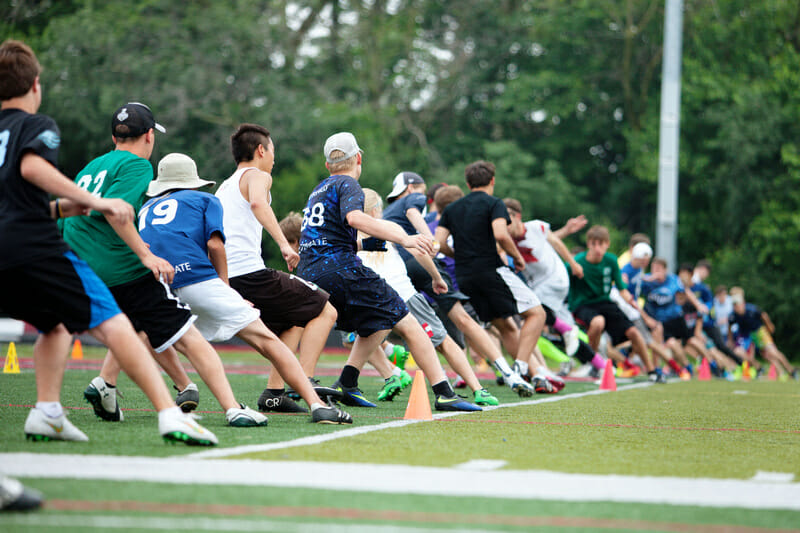 This post is sponsored by CUT Camps. Please support the brands that make Ultiworld possible and participate in CUT Camps!
It's been seven years since the Competitive Ultimate Training (CUT) youth summer camps launched with a humble day camp for fewer than 25 youth players from the Chicago area. How things have changed.
2017's CUT Camps are set to exceed 2016's record enrollment of over 300 campers across three regions. With two camps in each of Chicago, Portland, and North Carolina, it's a big year for CUT.
"It feels great to be covering both coasts and to see both camps growing as quickly as they have," said CUT Camps founder Arnoush "Java" Javaherian.
In recent years, Javaherian has focused on expansion: new cities, more camps, and fast growth. This year, like his campers, he's keying in on fundamentals. "I'm thinking about finding stability," he said. "To lay down a very solid foundation that we know we can build from."
That doesn't mean there aren't some new projects. CUT Camps Chicago has added a new Girls Elite Camp after a successful rollout of the Elite Camp in 2015. The Girls Camp — to be led by counselors including Kaela Jorgensen, Maggie Ruden, Kelly Johnson, and Lisa Pitcaithley — has already sold out.
Javaherian is also eying future growth by adding an assistant director and "maybe" a program director. There has been interest in international camps, as well as more camps in different regions of the US.
But it didn't seem like the right year to dive into more expansion after adding Portland in 2016 and North Carolina in 2015. "My concern — and my concern will always be — a quality camper experience," said Javaherian. "We have to be careful about how fast we grow."
This year's camps have already sold out one set of dates in each location. Waitlists are filling fast. There are still spots available for the second dates; interested campers can sign up before June 1st to save on registration fees.
Groups of six or more players from the same middle or high school can also get a $100 discount per player by enrolling together. Some schools are even sending their full team to camp for supercharged development in the summer.
Javaherian, a teacher by trade, says that the growth has prompted many questions about whether he would consider going full-time with CUT Camps. He's thought about it, but thinks he'd miss his students too much. He also spends a ton of time already on ultimate, from CUT Camps to coaching the Neuqua Valley boys' team to organizing major youth events. "I enjoy my life so much right now," he said.
The joy Javaherian finds in teaching naturally extends to the ultimate field. He hires many of the country's most talented ultimate players to coach at CUT Camps: Jesse Shofner, Dylan Freechild, Claire Chastain, Khalif El-Salaam, Opi Payne, and many others. His goal, of course, is that every camper comes away as a better player but also focuses on growing the sport by offering access to quality coaching, creating connections between campers and elite players, and developing leadership skills and integrity in every participant.
No matter how much more CUT Camps grows, those tenets will remain the highest priority. Perhaps that's precisely why more campers show up every year.
Find out more about CUT Camps on the Competitive Ultimate Training website. Sign up before Thursday, June 1st, to save $100 on registration.