Who are the frontrunners for the year's biggest awards?
The 2017 Player of the Year Awards are presented by VC Ultimate (Women) and Spin Ultimate (Men); all opinions are those of the authors. Please support the brands that make Ultiworld possible and shop at Spin Ultimate and VC Ultimate!
With the regular season winding to its close , it's time to check in on the status of the Player of the Year race. With a big weekend for the men's division coming up at Easterns and all of the Series still to factor in, this race is far from over, but a few players have already staked their claim as front-runners.
Women's
Julia Butterfield (Notre Dame)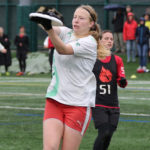 Julia Butterfield was one of Notre Dame's best players two years ago when she was tall, fast, and could catch anything thrown to her in the endzone. This year, she's the fearless, physical, and polished core of the Notre Dame team that just tore through Northwest Challenge. Her shots deep don't look like the perfectly edged shots we're used to, but they reach her target every time. Butterfield posterizes the defense when she streaks deep herself, and on a turn she eats layout Ds for lunch. If Notre Dame's winning streak continues late into Nationals, it will be behind Butterfield's talent and spirit.
Han Chen (UCLA)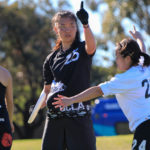 Han Chen is the Sandy Jorgensen of the college division. When she's on the field, she fundamentally changes decisions from the offense and the defense. Her remarkable closing speed and understanding of the game make her the kind of deep-deep that can take away that part of the field in a unique way. Offensively, she's a juggernaut with unmatched power with the disc in her hands. And beyond her skill, Chen is one of the most fun players to watch navigate the game. Her talent can't help but define the game for UCLA. A hammer or two doesn't hurt, either.
Julia Schmaltz (Texas)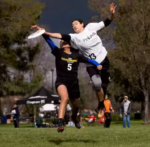 The Melee captain has been the biggest breakout star of the season. Schmaltz took over the Stanford Invite and instantly became a household name due to her staggering goal-scoring performance and highlight-reel athleticism. Schmaltz's skillset as an unstoppable deep threat has been an invaluable addition to a team that has had a number of dynamic throwers for a few years now. With Schmaltz dominating the downfield space, Melee is having a season for the ages and are one of the favorites to bring home a national championship in May.
Jaclyn Verzuh (Dartmouth)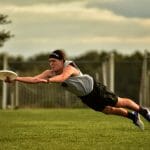 The most commanding downfield force in the women's game, Jaclyn Verzuh is the gold standard other athletic cutters are measured by. We try not to overuse the term "unguardable" here at Ultiworld, but Verzuh is redefining the concept. Verzuh is an immense talent, and as only a sophomore, has more elite competitive experience than nearly anyone in the division. If unchecked, she may just lead Dartmouth to a first-ever national championship.
Angela Zhu (Dartmouth)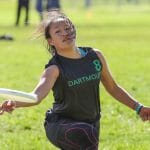 It's still easy to see how Zhu won Offensive Player of the Year in 2016. There is no more poised field general than Zhu. The Dartmouth senior makes the game look effortless as she casually tosses offhand backhand assists, lofts crossfield blades with a characteristic nonchalance, and consistently shows off remarkably refined mechanics on gorgeous deep throws. On top of that, she's a superb defensive piece in both matchup and space-based defenses.
Watchlist
Ellen Au-Yeung (British Columbia)
Courtney Gegg (Stanford)
Sadie Jezierski (Ohio State)
Kirstin Johnson (Colorado)
Carolyn Normile (Pittsburgh)
Hayley Wahlroos (Oregon)
Monisha White (Stanford)
Men's
Parker Bray (Georgia)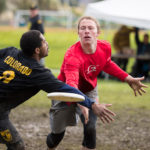 After their semifinals appearance at the Stanford Invite, Georgia captain George Summers told Ultiworld that his team didn't blink twice before sending Parker Bray out for damn near all of the team's points that weekend. The throwing phenom has been on fire in 2017, making the rest of our staff wonder what would have happened if he had been on hand with fellow star Sam Little in the 2016 quarterfinal matchup against Harvard's John Stubbs and Mark Vandenberg. Bray is comfortable everywhere on the field for Georgia. His throws have lit up defenses across the division, he releases well downfield, and —like Stubbs before him— his motor is neverending. With a talented team around him, Bray is poised set up Georgia as a sneaky semis contender in Cincinnati.
Michael Fairley (Central Florida)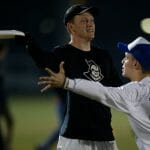 2017 hasn't been a banner year so far for Central Florida, but fifth-year star Michael Fairley is keeping the team relevant with his dynamic skill set. Headed into a big weekend at Easterns in Myrtle Beach, UCF is lurking just outside the bid cutoff, in large part due to Fairley's work. He is a rangy hybrid player with a full set of throws, who can take big matchups for his team and still rack up goals and assists. Years of big game experience have prepared Fairley for this kind of load, and so far he's holding up just fine. A push to Nationals is within reach —expect UCF's bonafide star to be at the heart of it, if and when it happens.
Ben Jagt (Minnesota)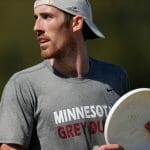 Beyond the snapchat preludes and successful water bottle flips, Minneosta's Ben Jagt has continued to both impress and grow as a player this season. Grey Duck's top receiver is tuning his throws while maintaining his cutting prowess, in a way that harkens back at times to Tyler Degirolamo. Remember when all Evan Lepler could talk about was how Ty D had tuned up his hammer and become a throwing threat? That's the way Jagt is headed, but with a more dynamic arsenal of throws and the sort of unparalleled cutting strength that's going to keep him a matchup nightmare headed into the postseason. A deep run at Nationals and a gamebreaking performance (say, under the lights against Pittsburgh) could push him into a POTY award.
Ben Sadok (Massachusetts)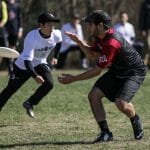 Watching a lefty who knows what to do with their throws can be mesmerizing. Since this iteration of UMass (under Tiina Booth) first appeared at Nationals back in 2014, they've had Ben Sadok, a savvy Southpaw, ripping full field throws on both sides, barking out encouragement (and occasionally exasperated reactions to calls), and streaking from sideline to sideline to get free. In 2017, Sadok returned looking stronger than ever. His feel for the game has leveled up. He breaks the mark effortlessly and can drive his offense from the backfield, but in the reset position, he's shown an uncanny ability to sniff out deep cut opportunities that rack up goals for UMass. We'll let Colorado State head coach Tim Kefalas, say the rest:1
"..by far the MVP of the game for [UMass] was their shorter, lefty handler, Ben Sadok, I believe. He broke the mark at will. They weren't short, easy to contain breaks. They were huge, field chunking breaks. He single-handedly destroyed our FM."
Jack Williams (UNC Wilmington)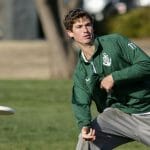 So far, two different instances of drama off the field have set the tone for UNC Wilmington's season, not the stellar play of Jack Williams and his Seamen teammates. Williams remains one of the fiercest competitors in the division and he hasn't had to turn on the jets quite yet. Easterns this weekend will put him right back in the spotlight,2 where he's thrived many times before. Williams is at his best downfield, an explosive athlete capable of huge grabs and blocks in big moments. He's added throws to his game in the last season and a half, boosting his excellent defensive and cutting work. There more work to be done before Wilmington makes another deep run at Nationals, but count on Williams to do it, his way.
Watchlist
Elliot Chartock (Stanford)
Matt Gouchoe-Hanas (North Carolina)
Adam Rees (Oregon)
Cody Spicer (Colorado State)
John Stubbs (Harvard)
Sam VanDusen (Pittsburgh)
Cameron Wariner (Cal Poly SLO)
---
Check out Kefalas' blog for great writeups from CSU tournaments. ↩

See the highlight pool play matchup against Pittsburgh on the streaming schedule this weekend. ↩