The best of the best face off in Minneapolis.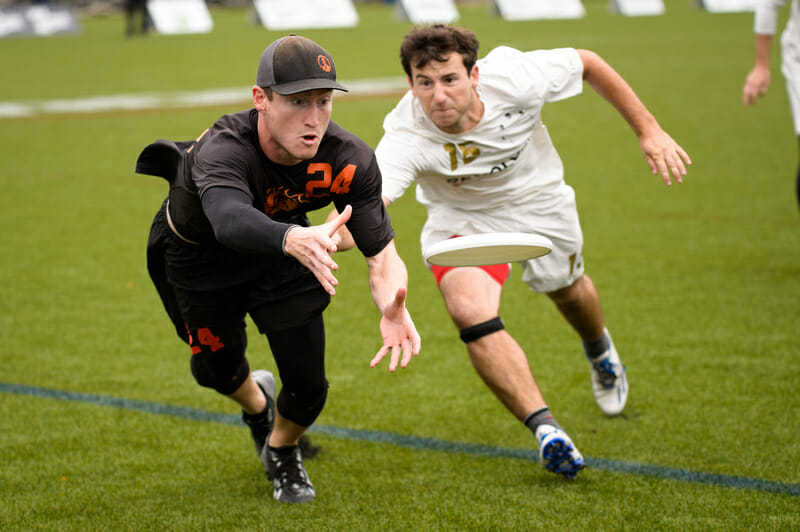 Ultiworld's reporting on the mixed division of the 2017 US Open is presented by Universe Point cleats. All opinions are those of the author. Please support the brands that make Ultiworld possible and shop at Universe Point!
After a tepid Men's Division at last year's US Open, the combination of the move to the middle of the season, the World Club Championships coming up in 2018, and a strong class of Pro Flight teams means this year's tournament is packed with great teams.
Teams were still dipping their toe into the water back at the Pro-Elite Challenge; now they'll be jumping in head first with strong rosters and a lot to prove. Here are five key questions we're asking heading into this weekend.
1. How Will Roster Additions Impact Teams?
It's a Worlds year and almost every elite team gunning for a title and a WUCC appearance in 2017 features new talent this year. We got a taste of how the 2017 arms race is shaking out at the Pro Elite Challenge. This weekend will give us a much more complete look at the impact of new firepower on the best men's squads.
With regards to new personnel, the top four teams in Pool A all have something new to offer. Ashlin Joye's return to Revolver's offense was complemented by the additions of former Sockeye players Nick Stuart and Justin Lim. With Grant Lindsley out this weekend and Revolver missing a few other key guys, this weekend provides a perfect opportunity for their new weapons. Their rivals from Seattle, on the other hand, picked up Chris Kosednar, Billy Katz, and a very well known Portland contingent: Dylan Freechild and Jay Janin.
Freechild is in his prime and put on a tenacious defensive performance for Sockeye at the Pro Elite Challenge (and looked like the best player on the USA World Games team in Poland).
Further down at the three seed, Ring of Fire has also brought in some dangerous additions. The Chicago contingent of Brett Matzuka, Jonathan Goose Helton, and Bob Liu adds a great deal of talent and depth to a team that nearly made the final last year. The return of the fiery Matt Bode (Durham Turbine in 2015 and 2016) will also be an interesting addition to keep an eye on as Ring makes their club debut this weekend.
In Pool B, the defending national champion Boston Ironside bring two notable additions this weekend: Peter Prial and Brodie Smith. Prial returns to Ironside after temporary hiatus playing for DC Truck Stop, while Smith makes his first club tournament appearance since he won a national championship with Johnny Bravo in 2014.
New Additions To Watch
Nick Stuart (Revolver): Stuart had a so-so weekend at the Pro Elite Challenge. Can he and the Revolver offense find a smoother style of play?
Dylan Freechild (Sockeye): Freechild is primed for a great 2017 run with Sockeye. He's one of the quickest defenders in the club division right now and could very well be seen playing every defensive point down the stretch at Nationals.
Jonathan "Goose" Helton (Ring of Fire): Whether downfield or behind the disc, Helton has become one of the most versatile players in the Men's Division. He's a killer in isolation and will have plenty of help from Ring's solid backfield when the stall count starts rising.
2. Is 2017 Ring's Year?
Ring's 2017 debut begins exactly the way their season ended in 2016: in a game with San Francisco Revolver. Both teams have clearly gotten better, at least on paper. We've talked at length about Revolver and their potentially historic roster. But don't crown them yet. This could be the best team Ring of Fire has ever fielded. From every angle, their personnel is excellent. They have a fantastic handler core in Jon Nethercutt, Noah Saul, Matt Gouchoe-Hanas and Sol Yanuck. They have some of the best young receivers in the game in Jack Williams and Jacob Fairfax and an army of seasoned athletic defenders. To put it in simple terms, Ring of Fire combines the best of two generations of ultimate players from North Carolina with perhaps one of the most capable coaching staffs in the country.
Barely twenty minutes after losing to Revolver on double game point last year, Ring of Fire head coach Mike DeNardis said, "Next season I think we can finally win big games in the regular season." DeNardis has coached Ring to two semifinals appearances in three seasons but has yet to get a taste of the final. Winning a regular season tournament, or at least getting Ring into big bracket games, is a clear first step in fueling this team towards that goal. Ring of Fire's roster itself in 2017 is a validation for the youth/college/club pipeline DeNardis constructed over the past four years.
If there's been one ding on Ring's performance in past seasons, it has been the inconsistency of their offense. No one has really ever doubted a Ring of Fire defensive line, but their offense has lacked the polish and consistency that one needs to have to win a club championship. The biggest sign that Ring of Fire has developed discipline is arguably the success of the AUDL's Raleigh Flyers this season. With a nearly identical roster, it may be hard to imagine Ring of Fire falling back into the trap of inconsistency that plagued its offense last season.
Ring's grit, which has always been defined by its tenacious defense, is the cornerstone of the team's identity. Ring's success — or lack thereof — at the US Open will ultimately come down to a combination of the new with the old.
3. Can Ironside Look Like A Title Defender?
It's clearly been a slow build for Ironside this season. From being upset by DIG at the beginning of the season in meaningless circumstances to looking a bit anemic at the Pro Elite Challenge with a thin roster, Ironside hasn't yet asserted itself as the returning national champion. Yes, Ironside is still a good team in 2017. Unfortunately we don't quite know what that team really looks like yet.
At the Pro Elite Challenge, we got to see Ironside-lite, without Peter Prial, Kurt Gibson, or John Stubbs. Add those three players alone and you have one of the most talented lines in the country. And that doesn't even consider the Brodie Smith lottery ticket they will start scratching this weekend.
The return of Prial should help to reinforce the O-line after some players decided to sit the season out after winning a title. Prial is returning to Boston after a few seasons playing for DC Truck Stop and should fit seamlessly back into a familiar Boston system. Brodie Smith, on the other hand, will be rejoining his Florida teammate Kurt Gibson for the first time since they both won a national title in 2014 (and before that in 2012 with Doublewide). Brodie's return to club this season is potentially one of the more compelling personal stories of the 2017 season. He is still an a elite thrower with an absolute cannon of an arm. More important, he has put in a tremendous amount of work to get back on the field to play. His return is certainly one you don't want to miss.
4. Can The International Teams Hang Tough?
Three European teams — Clapham (UK), CUSB La Fotta (Italy), and Inside Rakete (Germany) — are crossing the Atlantic to test themselves against the best from the United States. Since this is a Worlds qualifying year, there's some extra motivation to get reps against the USA teams that they will likely see again in Cincinnati next summer.
Clapham and La Fotta finished 1st and 2nd, respectively, at the European Ultimate Championships Finals last fall, marking them as the two biggest threats out of Europe. Clapham crushed La Fotta 15-7 in the final, continuing their dominance over the continent.
Can they bring some of that same fire to North America? A 15-14 loss to #22 ranked Madison Club in an exhibition match this week doesn't exactly instill confidence. Still, Clapham is very capable: they have been in the big games (their barnburner match against Revolver at WUCC 2014 comes to mind), they have world class players like Justin Foord and Ashley Yeo, and they have the physicality to match that of the American teams.
La Fotta has been less of a presence on this side of the pond. They're led by grizzled veteran and talented all-around player Davide Morri, and watch for the talented handler Tommaso Francini to continue to make a name for himself.
Inside Rakete is the traveling German national team that competes in non-Worlds years. As a number of top German players will not suit up for the team this weekend, look for some of the country's younger stars to step into bigger roles. Philipp Haas is certainly not a young star anymore, but a star he remains. He got a lot of recognition after competing on the 2012 NexGen Tour and played for Truck Stop back in 2013. He'll be an on-field leader this weekend.
5. Who Will Surprise?
Quick, raise your hand if you thought Machine was going to win last year's US Open. Exactly.
The US Open has not always delivered surprises on the top of the podium (Revolver has been great at this tournament historically), but the depth of skill this year suggests we could see some surprising results.
The four seed in Pool A, High Five, was just a couple points away from wins over Truck Stop and Johnny Bravo (who they later beat in consolation) at the Pro-Elite Challenge. Now they get to go up against Ring, Revolver, and Sockeye. They could definitely steal a win.
Could Bravo have a big bounceback after a lackluster PEC? Can Sockeye finally get a big win over Revolver? The storylines are everywhere.
With weather conditions looking favorable for offense, we could have some shootouts — and some big surprises.