A lesson emerged from a terrible moment.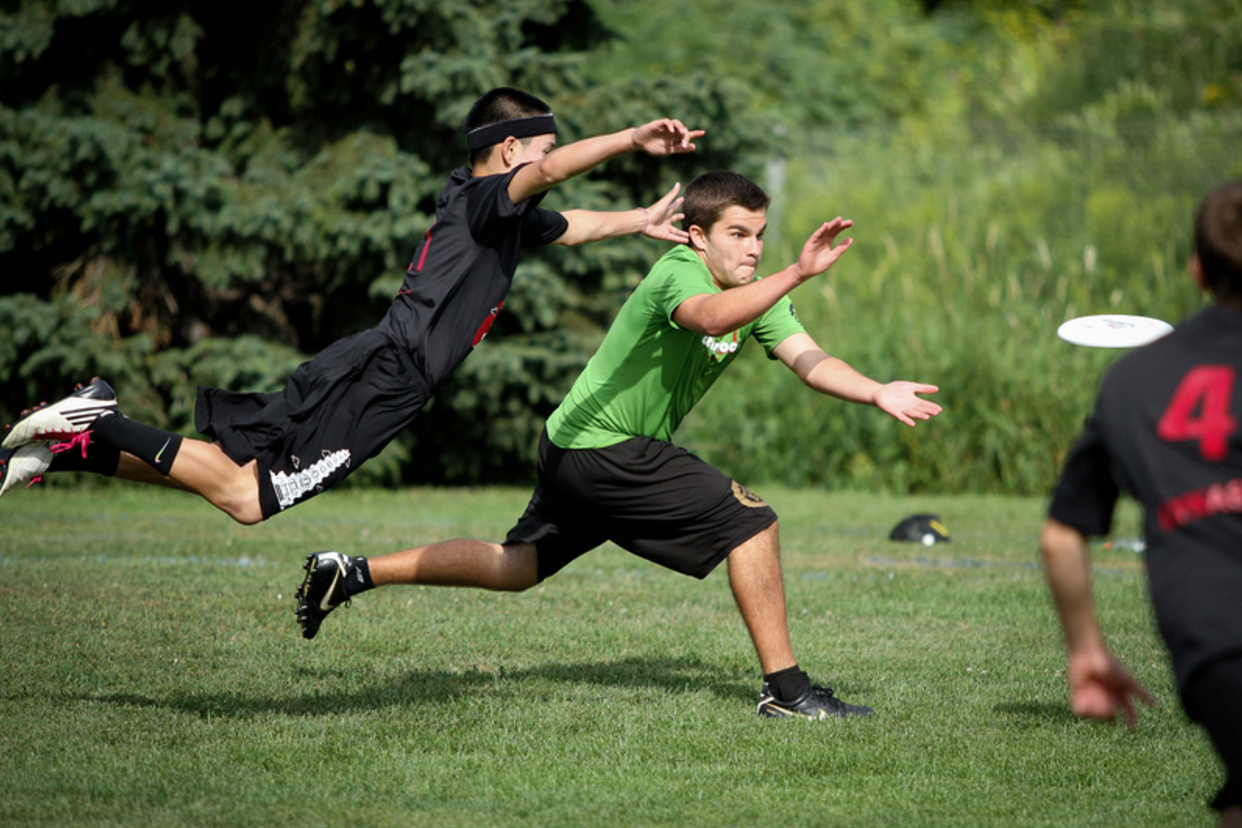 The moment we dropped the first pass off the pull and Maine scored on universe, I felt a knot in my stomach. As the results rolled in from the other fields, I soon realized the worst: losing that game had cost us access to the Championship bracket at Youth Nationals.
I was in shock. After the spirit circle, a parent and long-time player approached me saying, only half joking: "You know you screwed it up, right?" My head was spinning. I was disappointed with the team and furious with myself. I had compromised the whole championship. I felt my chest collapsing.
I couldn't deal with the consequences of what in that moment felt like both a personal and professional failure.
***
Each summer, the best U17 teams from around the U.S. gather for the annual Youth Club Championship in Minnesota. The previous year we had reached the semifinals, so our expectations were high. Throughout the year, I had scouted, recruited, and selected a solid team. For months we trained to gel a group of 20 young talents from all over the Bay Area. We took our approach seriously. I sent weekly workout plans to improve general fitness, footwork, and speed. I traveled around the region to meet the workout pods and help them refine and maximize the routines. We worked hard on technical fundamentals and advanced offensive and defensive strategies that we collected in a playbook. We had a series of team bonding activities, including hikes and a BBQ with the players and their families. I posted daily videos and highlights to motivate the players and share useful concepts of mental toughness. We were so ready for YCCs!
In a two-day championship, Saturday's results are key for moving up. We came well prepared and all my moves in the day one games against Pittsburgh and Minnesota paid off. After two wins, we were approaching the third game against Maine more relaxed and confident, since they lost their previous matches quite badly. "Great," I thought, "it's time to give more playing time to our youngest and less experienced players." That way I could give them more exposure and responsibility while resting our strongest line for the last game of the day against Seattle, a historical powerhouse and former national champion.
What happened in that third game was something that in Italy we call "la bestia nera," that thing that makes sports unpredictable and fascinating. That green team from Maine, with a bunch of preteens and the only girls in the division, played the game of their lives. Everything was working for them and they were getting more excited and brave with each play. You know what I'm talking about: that tide that slowly but inexorably grows with each wave. If you've experienced it, then you too fear those bewitched games that are an endless succession of "that-wasn't-supposed-to-happen" events.
And sure enough, our "easy game" turned complicated. Another unforced error for us and a bobbled pass ended right in the hands of our opponents. I sensed my sideline getting dazed and the tension climbing.
In the back of my mind, I was asking myself why, after all our hard work, the team wasn't responding and players weren't stepping up. Why weren't they taking this game more seriously? Meanwhile, Maine, the underdog, was fighting for every point and playing their hearts out. I had an uncomfortable surge of admiration and almost dared them to win to teach my guys a lesson.
I stuck firmly to my balanced lines, pairing less experienced kids with a few older players. We turfed the disc, then a hospital pass into a crowd gave Maine another break. The cap went on. I stayed the course and sent in a line of young players that had all the skills to take the game. But another miscommunication gave the disc back to Maine, and they found a way to tie the game at 10 with a jolt of excitement. Now it was universe.
I looked around. I looked my players in the eyes. Changing now and calling the top seven would send a terrible message to the team. In a matter of seconds, it would erase all the trust I'd given to this younger line I was hoping to develop. At the same time I could tell their body language was asking me to put on the strongest players and let them watch the last point from the sideline. The pressure was palpable, a silence with a stench of rigid muscles and soft hands. I'm pretty sure the assistant coach murmured something in my ear. Nevertheless, with the conviction that I was doing the right thing, I called the same young line that had just made the error. You know how that point ended.
I had failed my players and we were out. Out of a chance to display our best ultimate on Sunday and out of a chance at getting our first medal. My stomach churned with mixed feelings. I was angry with how the players performed. I couldn't muster to debrief the team as we normally did after each game. Everyone with their heads down was dispersing in small groups. I thought about the parents and all the economic sacrifices they'd made. The reputation of our program. I suddenly questioned my abilities as a coach. When had I even considered myself a coach?
I felt guilty too. I was begrudgingly happy for our opponents. Maine played with grit and never gave up. The joy they expressed at the end of the game was touching and well deserved. But how could I be happy for them? I was on the verge of a breaking point. I wanted to disappear, literally. "I need to get out of here," I thought. "I'll walk to the hotel, grab my stuff and go to the airport." I was so close to doing it. Really close. I couldn't coach the next game. Not even Sunday's. And maybe never again.
I remember I was slowly walking between fields like a zombie in a blaze of conflicting emotions, puzzling about what to do and unable to make any decisions. Our next game was about to start on a nearby field. I could see the Seattle players and coaches gathering and starting their warm-up. My team, dejected and unmotivated, was scattered along the sideline dragging their bags. In our mental condition, playing against Seattle, the high riding champion, felt like a cruel punishment.
Still incapable of joining the team, I walked to the far sideline and called the captains to come across to me. I put on the best straight face I could and told them something like, "In this game your are on your own. You need to prove we are a team that can compete, that we belong here. You'll decide strategies and call lines. Now go and talk with the rest of players. I'll stay here watching and supporting you in silence." In silence?! They looked at each other very surprised. If there is something I'm not, especially at that time in my career, it was being a quiet and laid-back coach!
What I witnessed next still gives me goosebumps.
I watched from afar as the players huddled together and had a serious conversation. Then, on the field, my team brought it together, got fired up, and played furiously but fairly, leaving everything on the turf. Compared to a mere half-hour before, it was truly amazing. No, we didn't win the game against Seattle. Maybe it's a cliche, but the large difference in the score didn't do justice to what happened on the field. In the words of their coach, Seattle really suffered during the game and expressed great respect for our team.
When the game was over, the team left the field transformed with new confidence and a growth mindset: "We can do this!" Formerly splintered along high school team lines, the players now bonded as friends. In fact, the following year we came with a different attitude, scoring a Callahan and bringing Seattle to 10-10 before losing 12-10. It was a leap in mentality that affected not only the team but the entire program, giving us faith in our system and potential. Such a leap would have been unimaginable in just a year without that traumatic experience.
As it turned out, we all learned a great lesson that day at YCC. The game with Maine was instrumental for discovering our potential and unity as a team. It taught my players to be independent and trust in themselves and each other.
I like to think that my educator instinct kicked-in that day and I rode the opportunity, but maybe it was just my worst day of coaching.
Edited in part by Laura Cincotta.